We'd entered a fairy realm, or so my son thought. Cascades of water fell from the rock as we hiked, pooling in the crater below. It was the dry season in Yosemite National Park, and yet, the Emerald Pools were still a site to see, especially for a baby and toddler.
Not much has changed when visiting the national parks with kids over the years. We still enter each park, always under committing to the awesome our boys will see, and naturally, over delivering. Mother Nature just makes it so easy.
Planning Your National Parks Vacation
Whether you road trip to a national park or fly in, rent a car or hop a tour bus, the best national parks for kids are just a step away, not a continent (unless you live abroad). As Americans, we often forget that we have some of the most beautiful spots in the world… right out our back doors.
When is the best time to visit a national park?
As many of you may have already guessed, summer is high season in most of the national parks. Kids are out of school, the weather is nice, and people are in the parks.
If you live close to a national park, try to go in the spring or fall, when the heat pulls back and hiking is a lot more pleasant. The bus loads of tourists have also left for the season. You are more likely to see wildlife (keep at a distance!) when the park is quiet too.
Weekdays are even better if you want the park to yourself. Kids are in school, and most people are at work. Weekend trips in the shoulder season are still popular with visitors, especially when those fall colors start to pop up. Don't stay away though; you still can find trails that aren't as crowded.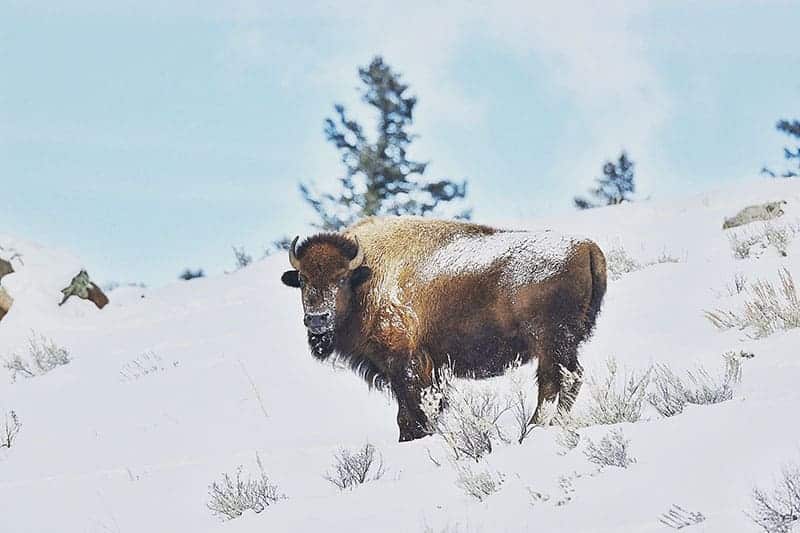 Winter in the National Parks with Kids
Winter may seem like the time for you to hibernate, just like the bears, but it is one of our favorite times to get into the parks. No one is there!
Yes, many amenities, visitor centers and roads will be closed in the northern parks. If you are looking for things to do in Glacier National Park, the Going-to-the-Sun road is closed to cars in the winter, although you could walk and bike it if you are so inclined.
Many parks that get snow do have amazing cross country ski trails, offer excellent snow shoeing opportunities and give you that zen space to reconnect with nature. It's a great excuse to get outside when your body needs to stretch after curling up on the couch for a few weeks too.
You won't see as many animals, but the ones you will see (bunnies, bison, maybe a bear, elk) are still just as spectacular.
And if you thought Yellowstone National Park was amazing in the summer, just wait until you see those crazy colored pools in winter!
America's National Parks Pass
The National Park Service makes kid-friendly outdoor adventure as accessible as possible for families. Park passes for vehicles are less than $100 per year. Grandparents can buy a lifetime pass once they hit 62, as long as they are a US Citizen or permanent resident.
Not only is the cost of a yearlong pass within reach financially, but the park service offer free passes for families of 4th graders.
As part of the Every Kid in a Park initiative, families of 4th grade students can get a free park pass that gives them access to hundreds of U.S. national parks, lands and waters for a year. Simply go online, fill out the form, print it out and bring it to the park. You will be issued your permanent year-long pass with your first visit. Apply for your pass here!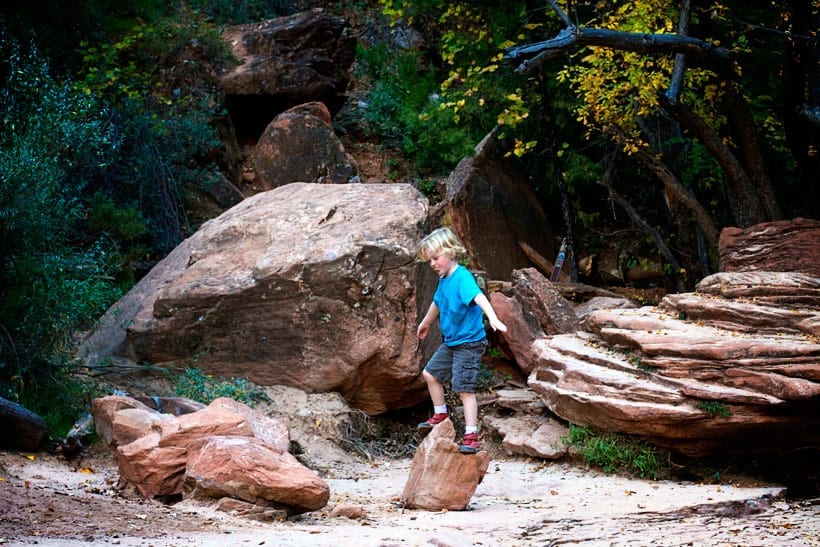 Junior Ranger Programs
Start your park adventure off with a little learning when you pop into the visitor's center to try out the Junior Rangers program with kids. At the ranger desk, your kids can grab their Junior Ranger booklet for each park. Booklets include the Junior Ranger pledge, activities to complete in the park, and loads of information about the sights and critters they will see as you tour the area.
Children are usually ages 5 through 13 when they participate, but adults and younger kids are known to tackle the challenge and become Junior Rangers. There is no age discrimination here. Everyone is welcome to join the National Park family.
Best National Parks for Kids
There are 419 official National Park Service units in the United States, but only 61 of these have the "National Park" designation. The park service handles national parks, national monuments, national historic sites, national battlefields, and national preserves, but for our purposes, let's just look at a few of the best national parks to visit with kids.
While every park has something to offer families, and trust me, we are working our way through them all, there are definitely a few that stand out. Your National Park Bucket List is sure to grow based on your child's school studies, interests and your own love of wildlife. So, let's dive in.
Shenandoah National Park
Shenandoah National Park was one of the first parks I visited as a kid. My dad drive us down Skyline Drive and the Blue Ridge Parkway to visit my cousins in South Carolina. It was a long, yet beautiful drive, I still remember decades later.
Just 75 miles from Washington, DC, this national park in Virginia is an easy day trip for city dwellers with kids, but worth a weekend or a week of hiking and exploring for the whole family. Drive in to see the fall colors, setting up in the park at one of the lodges or in Winchester, VA at the historic George Washington Hotel.
If you love waterfalls, Overall Run Falls is the tallest, but Rose River Falls and South River Falls may be easier with kids. For families who love a good rock scramble and overlook, try Eagle Rock, Signal Knob and Woodstock Tower. Storybrook trail is paved for those who need to bring the stroller, and very easy for young kids to walk from the car and back.
Best of all, Shenandoah is easy to road trip in and out of, while still experiencing the little towns that popped up around the area. Harrisonburg, Middleburg, Charlottesville and Roanoke all give you easy access into the park, along with loads of family-friendly fun, accommodations and food options.
Great Smoky Mountains National Park
The Smokys spans Tennessee and North Carolina, so they both like to claim it as their own, and for good reason. Great Smoky Mountains National Park has plenty of stunning views, family-friendly hikes, and a lot of early American history to explore.
The loop around Cades Cove is one of the most popular drives in the park, and easily accessible from the entrance outside of Gatlinburg, TN. Tour churches, mills, barns, and cabins from the early 1800s, and learn why so many settlers made this part of Tennessee home.
There are several easy hikes throughout the parks for families. Check the National Park newspaper and trail map when you arrive. Ask park rangers what trails are open and which might be the best for your age group, based on the time you have available and fitness level. We always love a waterfall hike, especially Laurel Falls, which even my toddler could do.
A very special event that happens every spring is the Synchronous firefly migration in the park. For just over a week in late May/early June, hundreds of thousands of fireflies show up to mate in the Smoky Mountains. You must lottery in to see this spectacular phenomena, as the park likes to limit the number of gawkers so that these delicate beetles can do, well, what they came to do. It may take a few years to get in, but it is worth it. You can lottery in each spring here.
Zion National Park
When you want to see sandstone cliffs, along with a mix of easy and more advance hikes in national parks with kids, you go to Zion National Park. Here is where you can hike the Narrows in winter (summer too, but it is more crowded), climb the Emerald Pools with a toddler, or see the world stretched out below you from Angels Landing.
And when you don't want to hike at all, you can simply sit on the tram that drives you around the park. I love the hop-on, hop-off option the Zion National Park tram gives you. You can see more of the park, plus there are no cars in the valley jamming up the roads.
If you want a peek at that famous Zion slot canyon, The Narrows, hike the Riverside Walk from the last shuttle stop. It's paved, making it easy for strollers to get down, as well as grandparents in wheelchairs if you are feeling strong. There are a few tricky spots though, so a baby carrier is best.
We opted to walk part of the way along the river in autumn when our boys were young and the water levels were low. Always respect the Virgin River, which can see flash floods at any time, especially in winter and spring months when the weather can warms up quite suddenly.
Yosemite National Park
There is a lot to see in Yosemite with kids. Plan on staying at least two, hopefully four or five days, to see a few things. There is no way to see it all unless you can set up camp for a week or more. Tenaya Lodge at Yosemite, just outside of the park, is perfect for families, with large rooms, a great pool, year round activities, and perfect star gazing at night.
Once you are in the park, have a plan. There is a lot of ground to cover, hikes to check out and sites to see. For families looking for a unique way to see the park, rent bikes or bring your own into Yosemite National Park. Biking around the valley floor, gives you access to a lot more of the park in a shorter amount of time than you could with a car.
Vehicle access is restricted in many parts of the park, so be ready to hike and bike in to see all of those photo spots you have been reading about. Top spots not to miss in the park include:
Bridalveil Fall
Yosemite Falls
Mirror Lake (it can be dried up in early autumn)
Half Dome (easy to see at Glacier Point if you don't want to hike)
Tuolumne Meadows
Tunnel View when you first enter the park
Vernal Fall
Nevada Fall
Mariposa Grove of Giant Sequoias.
Headed to Yosemite?
Grab our one-day in Yosemite with kids guide!
Grand Canyon National Park
The Grand Canyon with kids is just one of those bucket list parks you have to cross off your list. Been there, done that seems to be the way many people think about it. Dive in a little deeper during your visit though.
You don't have to hike to the bottom and back up to feel like you have been to the Grand Canyon either. Many parents with babies and toddlers just can't do that hike. It is OK. Drive to the various lookouts. Enjoy a leisurely breakfast at El Tovar. Most of all, book at least one night, maybe two, in the park so you maximize your time.
Bright Angel Trail is one of the easiest to tackle with kids, even if you have one child in the hiking backpack. If you are up for a longer Grand Canyon hike, try the Rim Trail, which is a solid 13-miles long. Maybe you don't hike the whole thing, but you can at least tackle a few hours.
And don't miss the sunrise. Yes, you could see those sunset colors on the Grand Canyon, but if you are on the South Rim and you want to see the sun actually peek over the rocks, it's sunrise you will want to check out. Take advantage of those early waking hours your children have forced you into. Get out, explore and hit those hiking trails early to avoid the heat too.
Mount Rainier National Park
I'm not going to lie, Mount Rainier National Park with kids is epic, and that's not just because it was the first national park both of my boys ever visited. When living in Seattle, we would drive up to Paradise lodge, pick a different trail, and just wander around. Our favorite, and one of the easiest for younger children to explore, was the Glacier Vista Loop trail.
Parents with a toddler in the backpack and grandparents who don't want a 10-mile uphill hike can make this journey. The walk through wildflower fields to see the Mount Rainier glacier is certainly worth it. Don't be surprised when you see people with skis and snowboards strapped to their backs hiking past you either. There is snow on Mount Rainier year round, and the downhill skiers and snowboarders hit the snow year round.
Heading to a national park? Don't forget to grab your travel insurance. While we all hope everything will go according to plan, accidents, trip delays, and cancellations do happen. Don't let your travel investment be wasted on poor planning. We renew our annual travel insurance policy every year. Do you?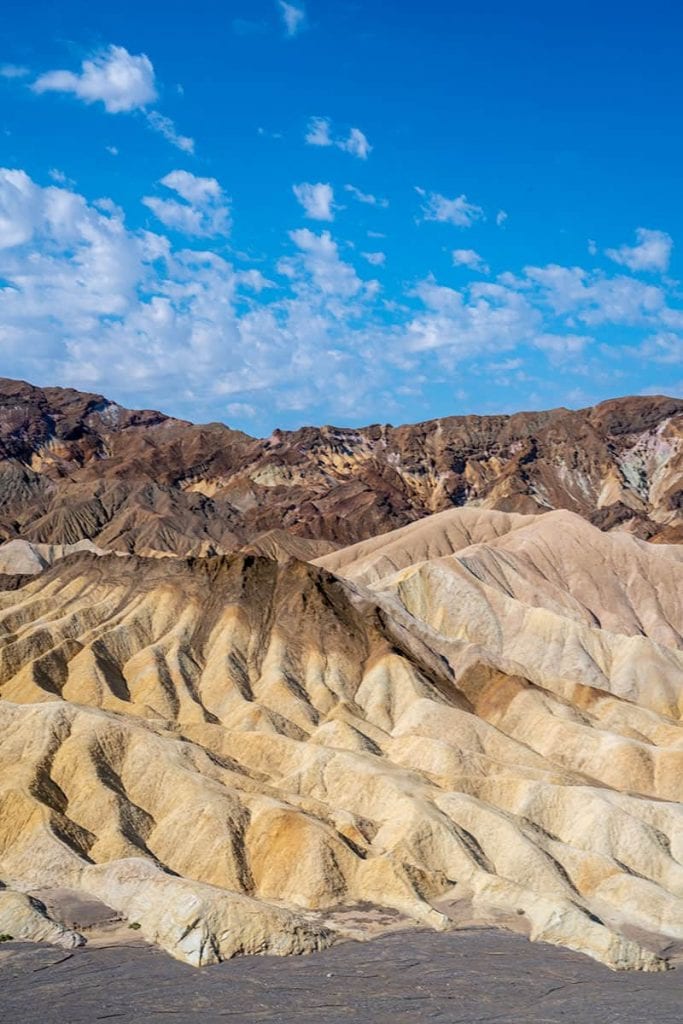 Death Valley National Park
Do not go to Death Valley May through October unless you want to skip the crowds, and be out of your hotel before 8am (back in it by 10am). You will roast. Outside of that, Death Valley is one of the most bizarre national parks to explore. It is about a five hour drive from Los Angeles, but only two hours from Las Vegas, making it fairly easy to road trip several spots if you plan your route (you can see Joshua Tree and Death Valley all in the same trip).
The Inn at the Oasis and The Ranch at Death Valley are the easiest in-park accommodations for families to relax in while exploring the parks. Both are family friendly, have swimming pools (a must in the heat year round) and solid food options.
While Death Valley isn't a park you will want to do any long hikes in with kids, at least we opt not to, there are plenty of spots to explore and climb around. The Artist Palette is a must, as well as the Bad Water Basin. Get up early so you can walk all the way out to where the salt rings really start to take shape on the basin. It will take you at least 20 minutes, a trek you don't want to make in the middle of the day if it is hot.
The best way to beat the heat of Death Valley is to stay up late at night for star gazing. As a dark sky preserve, you could easily see the Milky Way on a moonless night. Death Valley National Park is also the largest Dark Sky National Park. Complimentary Star Parties are hosted by The Ranch, which the kids will love as they try to find different constellations, all while eating s'mores of course.
Joshua Tree National Park
My number one tip when you go into Joshua Tree National Park- don't hug the trees. It can damage and kill the tree. I had no idea until someone clued me in. And yes, by that point I had already hugged a tree.
It is our job to protect these beautiful, bizarre, Dr. Seuss- like trees, and to pass that need to protect onto our children. While you hike through the park, climb the giant boulders (my kids love bouldering, as I'm sure yours do too), point out the fragile eco-system you are now part of. Not sure how to do that? The park rangers are filled with knowledge and the visitor's center is filled with books.
Joshua Tree with kids can easily be seen in a day, but if you plan to hike, give it two days. The weather moves swiftly across the landscape, so if you have rain in one part of the park, just keep driving, you will find sunshine soon.
We love to set up in Palm Springs, where there are plenty of family-friendly hotels with pools, and drive into Joshua Tree for the day. You can get a 7-day park pass for multiple day trips if you like too.
Crater Lake National Park
Do not enter Crater lake without a full tank of gas. You have been warned and I only say this because I did that once and still have nightmares about what could have happened. My friend almost had to drive out with a canteen of gas to rescue us.
That being said, Crater Lake National Park with kids is probably one of my favorite Pacific Northwest road trips. You get this crazy lake in the middle of a volcano, plus loads of rocks for your kids to scramble around, easy hikes for parents and grandparents, and one circle route that you can't get lost driving along.
If you are very intrepid with kids, you can take a Wizard Island Boat Tour in the lake. I say intrepid, because it is a very steep hike down to the shoreline along the Cleetwood Cove Trail. It could take you up to 45 minutes to hike and is just over two miles round trip.
Rim Trolley tours are also available at the Rim Village Visitors Center. Trolleys and toddlers were made for each other, so give it a go. However, if your kids can't sit for very long, skip it and just drive. You will have more flexibility to get out and walk, or keep going if your trip occurs over nap time.
More Great American National Parks
with Kids to Explore
Grand Teton National Park
Rocky Mountain National Park
Cadillac Mountain
Acadia National Park
Great Sand Dunes National Park and Preserve
Glacier National Park
This post is part of a paid partnership with Allianz Travel. As always, my opinions are my own. My family has been paying Allianz annual trip coverage customers for the past four years, and we are thrilled to have this peace of mind on every trip.
This post contains affiliate links. If you make a purchase after clicking one of those links I will receive a small commission.