Autumn is the perfect time to get out and explore in the Pacific Northwest. The weather is mild, the sun is usually still shining and prices have begun to drop in the more popular tourist areas. Most of the tourist crowd has also gone back home.
Weekend trips are ideal if you don't want to worry about pulling kids out of school or taking time off of work. There are so many amazing spots to visit; you don't have to drive far to escape your every day life.
One of the easiest city escapes for those of us living in Seattle is our neighbor to the south Portland. It offers up offers tax-free shopping, luxury hotels and food carts using more tasty local ingredients than your mouth can handle. Browse through scads of local artist's work at the Saturday Market or head over to the zoo to say hello to Packy the elephant.
The line up at VooDoo Donut may just be a little shorter now that summer has moved into fall, but somehow I doubt it. Instead grab a beignet at a food cart as you walk over to the Lan Su Chinese Garden for a little break from the city norm.
Cannon Beach, Oregon
Our family's personal favorite summer getaway quiets down a little as the seasons change over. Storm watching is the main attraction as fall rolls into winter. Most of the crowds have left the Oregon Coast; only retirees and overseas visitors are left to wander downtown.
Bring your rain boots and a kite to take advantage of the quiet beaches. Don't forget to pop by Ecola State Park and Hug Point for a little hiking and amazing views. Once you have had your fill over nature head back into town, pull up a bench and chow down on a piping hot crepe from Crepe Neptune and watch the people stroll by.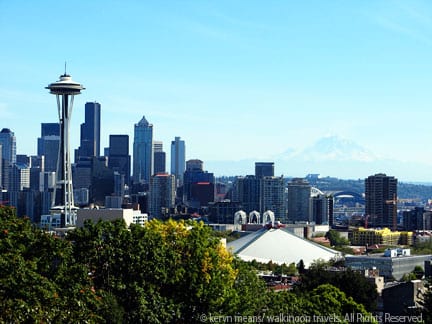 If you aren't lucky enough to call Seattle home (and yes, I am biased because I do) than you can at least pop in for a weekend to sample some of the amazing things this city has to offer. Shop downtown or in the nearby city of Bellevue; eat your way through Pike Place Market or just check out some of the local green spaces that give credit to this Pacific Northwest hotspot's nickname the Emerald City.
Better yet, wander into any one of the neighborhoods; each has its own flavor and vibe. Check out where the grunge music scene began in Capital Hill or rub elbows with a few young families that still love city living and even better food over in Ballard. Need an escape from the rain? Get up close with some sea life at the Seattle Aquarium or a few butterflies in the Pacific Science Center.
Orcas Island, Washington
A quick ferry ride and you will think you are in another country, or at least back on the east coast in a quiet New England town. By early October the crowds have left and the leaves are starting to change in this small community in the San Juan Islands.
A few shops may be closed for the season, but plenty places are still open if you crave a bit of shopping or a nice meal on the water. Make your way to Mount Constitution in Moran State Park on a clear day and you might just be able to see all the way to Vancouver.
Sip your morning coffee as you stroll the pebbled beaches, skipping stones in the quiet water. Watch starfish slowly creep their way across the sandy bottom of the sound or do a little eagle spotting in the skies.
Head north to our Canadian neighbors for a weekend of outdoor fun and delicious endeavors. If the rain's got you down, head to the Vancouver Aquarium to play with a few dolphins or wander over to Telus World of Science for hands-on learning or to see an IMAX movie.
Once your taste buds need a little workout eat your way through Granville market to sample some of Vancouver's finest fresh treats. Looking for a little local sit down for lunch? Check out Meat & Bread. Their piled high pork sandwich will not disappoint.