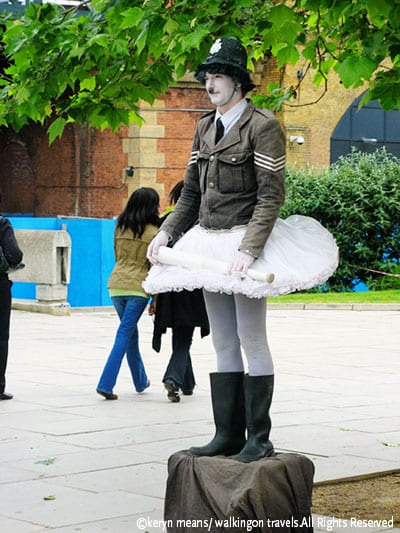 Meeting people when you travel can be tough, especially if you aren't a big fan of hostels. If you aren't spending more than a week or two in any given location it can seem even more daunting to immerse yourself. This is when a few good pick up lines finally come in handy (because the ones you tried in college sure didn't work!)
And yes, many of these are real pick up lines
I found doing a little Internet research.
Do you come here often?
A classic pick up lines but when it comes to travel, it actually works.
Recently I've started saddling up to the staff of local hotels whether we are staying there or not. There are always locals working the doors. They know all the best spots.
Last winter I chatted up a bellhop in Victoria, BC. I found out he liked to have a little too much fun some nights, and had the perfect pick-me-up spot to send us for breakfast. He had steered us in the right direction the first time with breakfast; I figured he could do it again for lunch and dinner. And he did.
I'll show you my passport if you show me yours.
Oh how I love the show off game when it comes to traveling. Actually no I don't. It's annoying. But I do love hearing where people have been and where they hope to go.
As you wander around a new place keep your ears open. Even if you don't know the local language, there may be another traveler wandering those same streets that you can strike up a conversation with. Maybe they have been there before. Perhaps they know the best places to eat, swim and go for a hike.
Or maybe they are just as scared and out of their element as you are.

I'm new in town. Could you give me directions?
It's no surprise that Mike and I have gotten lost in many countries. I'm bull headed and refuse to ask for directions; he usually doesn't learn much of the language in the places we have been (Japan is the exception to this).
While in Rome, I had to swallow my pride and ask someone at the local bus station how to get back to town after a brief side trip out to Villa d'Estes. My Italian was horrible, but I was able to ask a local woman which bus we needed to be on. We chatted a bit more while waiting and then were off.

Be unique and different, say yes.
Yes, this is an actual pick up line. It is cheesy, but it is also a frame of mind we as travelers need to have. You never know when opportunity will come knocking at your door.
Be open to trying new foods, asking questions of your host, taking the recommendation of a waiter and hopping on that tour bus. You just never know where it might take you.
Most people like to watch the Olympics, because they only happen once every 4 years, but I'd rather talk to you cause the chance of meeting someone so special only happens once in a lifetime.
Another very real pick up line someone, somewhere has tried out. Yes, it's sad but true. However, it is also a great example of taking advantages of the little moments that happen in your travels.
Stop and look around you when you travel. Is someone doing something interesting? Is there a street performer polishing up his flaming bowling pins or a human statue sipping a cup of coffee. Go say hi. Ask them why they do what they do.

Wow! Are those real?
Street fairs and open-air markets; this is where you can rub elbows with the locals. How do I know this? I go to them in my own city, so it must be true.
You will see extraordinary things at local markets and fairs. Some will be familiar, while others will be entirely new and exciting, or maybe just a little creepy that you can't believe your eyes. Either way you will get a good story out of it.
Talk to vendors. Talk to the person buying a kilo of strawberries next to you. Pull up a plank of wood at the nearest picnic table, plop down your lunch and find out the story of the people you are sitting with.

Whatcha eatin'?
When it comes to food I have no reservations about leaning over to another table and finding out what they have on their plate. This is probably my #1 way of meeting people when we travel, whether they be fellow travelers or locals.
My favorite memory was back in 2008 when Mike and I had stopped in Venice for a few days. We were headed to an Irish pub to watch the Euros qualification match between England vs. Croatia for Mike's birthday. We needed to grab dinner so popped into a spot serving up homemade gnocchi. I leaned over to the woman next to me and asked her if her pesto dish was any good.
The couple was from England, and no, her dish wasn't her favorite. She told me if they had more time she would order something else, but they had to get going to watch the game; the very same game we would be watching. We ended up chatting a few more minutes and made plans to meet up at the pub later on to watch the game.
This short encounter with strangers leads to a night of soccer followed by another dinner together a few nights later. We kept in touch via email. Mike and I ended up visiting them in London 7 months later. We were even invited to their wedding.

There isn't a word in the dictionary for how good you look.
Who among us has not looked at someone at some point in our travels and wondered where they go what they were wearing, riding, etc.? I constantly lust after other people's clothes and jewelry.
I recently walked up to a woman at the beach to see where she had picked up the very flattering swimsuit she was wearing. Sadly she bought it years ago but it got us chatting about the latest trends in swimwear and how a new mama could look her best.
I'm an Arsenal Fan.
This statement will either insight rage or excitement when you travel. Declaring the soccer team you rally for is a dangerous subject, but can also lead to some great conversations.
Just the fact that we are Americans who follow international soccer has opened up more doors than I can count. Mike's knowledge of the English Premiere League and Bundesliga, all things Champions League, The Euros and World Cup gives us something in common with almost everyone we meet.
I never thought I would be happy to have such a sports crazed husband. My Saturday mornings may be plagued by the TV being on, but at least those international games start early and allow me to sleep in while Mike gets up with the kids.
Oh what a cute _____.
Fill in the blank with whatever you like; t-shirt, kid, puppy, kitten, shoes, etc.
Dek is a magnet for local families and travelers. He likes to join them whenever he can. Apparently he is trying to trade up.
In 2011, Dek ingrained himself with a family at Splendid China in Shenzhen, a kitschy tourist attraction that is home to miniature versions of all of China's famous monuments. Before I knew it we were all taking pictures together and Dek was chasing their older son around. I knew 3 words of Chinese and they didn't seem to know any English, and yet we still had fun together.

This time next year let's be laughing together.
A smile will get you everywhere.
While traveling in China we would simply smile and people would come up to say hi and introduce themselves. Having a blonde haired, blue-eyed child certainly didn't hurt, and being some of the only westerners for miles was also helpful. We were a novelty, but we embraced that instead of closing ourselves off from the experience.
In Japan we met other kids Dek's age because of his brilliant smile and our willingness to let him play with the other children at attractions and historical sights we visited. I met more school children at ancient temples and pavilions than any other country we have ever been too simply because I was willing to be a part of their English homework assignment.
The lesson in all of this is to stay open, look out for opportunities and don't be afraid to ask anyone, local or not, questions when you travel. You just never know who you will meet.