You've picked the dates, the destination, the hotel, the car rental; you've scheduled the adventures, you've planned the routes. But before you can get there, you need to GET THERE.
Flying with a toddler is typically the part that gives most traveling families heart palpitations. How are you going to actually GET there with a toddler? Especially a nuclear powered toddler that needs to run around all the time?
Most parents will advise a thorough regimen of movies and games on a tablet to fill the hours, but the truth is, a trip is such an adventure for kids, from airport arrival to landing at your destination. Help your kiddo enjoy the process and you'll have a happy traveler with minimal screen time.
Travel adventures start well before the trip itself. It may seem like a lot of preparation, but it lays the groundwork to create a curious and adventurous travel companion!
Lay The Groundwork for Curiosity Before Your Trip
While you're planning the trip, get some maps that show the destination: talk about the trip, what they might see, places you'll go together; point out the roads and routes you'll travel. For kids, every step is magical: you could tell them about a gas station and they'd be enchanted.
See if you can find some kids movies, tv shows and books that feature your destination. In the last year, while I've been planning a trip to France, my daughter discovered Pixar's Ratatouille – and the images of the Eiffel Tower have left an indelible image on her brain.
I've also left an inordinate number of Paris and France photo books around the house.
As I write this, we haven't left for our trip yet, but she gets excited whenever we see any reference to Paris: "Mommy! Will we see the Eiffel tower? And Notre Dame?" (My only potential hang up: she wants to eat at Ratatouille's Gusteau's restaurant….. anyone have any hot tips about a Parisian restaurant that can stand in for a discerning 4 year old??)
Start Discussing Airport Logistics
A few days before departure, start talking about the coming adventure. Take the time to talk about the whole experience: from the ride to the airport, check in, security: "All your buddies will go through the x-ray, but you and I will walk through the scanner."
I talk about what we'll have for a snack in the airport, and that while we wait for the flight, we will sit by the windows and watch airplanes on the tarmac. You could spend a 5-hour delay just pointing out all the activities outside the window when flying with a toddler!
Involve Your Toddler In The Packing Process
When packing, I always let my daughter pick out a pair of jammies and a favorite t-shirt or two, and have her help put them in the suitcase – she loves helping in the preparation. She has a small backpack that I dubbed her "adventure backpack," and she's welcome to fill it with any books, toys or stuffed buddies that can fit.
We usually have a small bag of cars and small figurines, as well as a light blanket, and a couple snack options (nuts, dried fruits, etc). The night before departure, I ask her to help pick out her adventure traveling outfit – and then it's time to sleep, to get ready for the next day.
Turn A Trip to the Airport Into an Adventure
With all this preparation, by the time you clear through security, your kid is an airport pro! Tell them the departure gate, and ask them to help you find it.
At the departure lounge, ask if they want to pick the seat by the window to see the planes. Pull a couple cars out of the adventure pack if the time goes by slowly.
When it's time to board, ask your kiddo to hold the boarding passes (when traveling with a kid, I always use paper boarding passes), and then help find the seats – count the numbers, show the seat letters.
Get into the seats, help them tuck their bags under the seats, and let them work the seatbelt themselves (be sure to check that it's on correctly and snug).
On board, there's so many things happening: people putting their bags away, the flight crew preparing the cabin, an array of sounds and smells. As you settle into the flight, encourage your child to look out the window and observe inside the cabin. From taxi to takeoff and initial ascent, there's so much to see and hear – we usually get to our cruising altitude before we even need to open up the adventure backpack.
Inflight Entertainment When Flying With A Toddler
In addition to the cars, figures, dolls, etc, I also throw some crayons, pencils and a small sketch pad into my own bag. I try to cycle through these with certain prompts: let's sketch the airplane; draw a beach; make a map of our destination.
The tablet is one of the last items I pull out, and that's only on flights that are more than 2 hours long. Pre loaded with a select few videos (currently Nature Cat, Dinosaur Train and the PBS Kids app) and games (coloring, alphabet and so on), I usually let her watch about 30 minutes at a time before interrupting to point things out the window: cloud formations, ground patterns, weather, the sunset.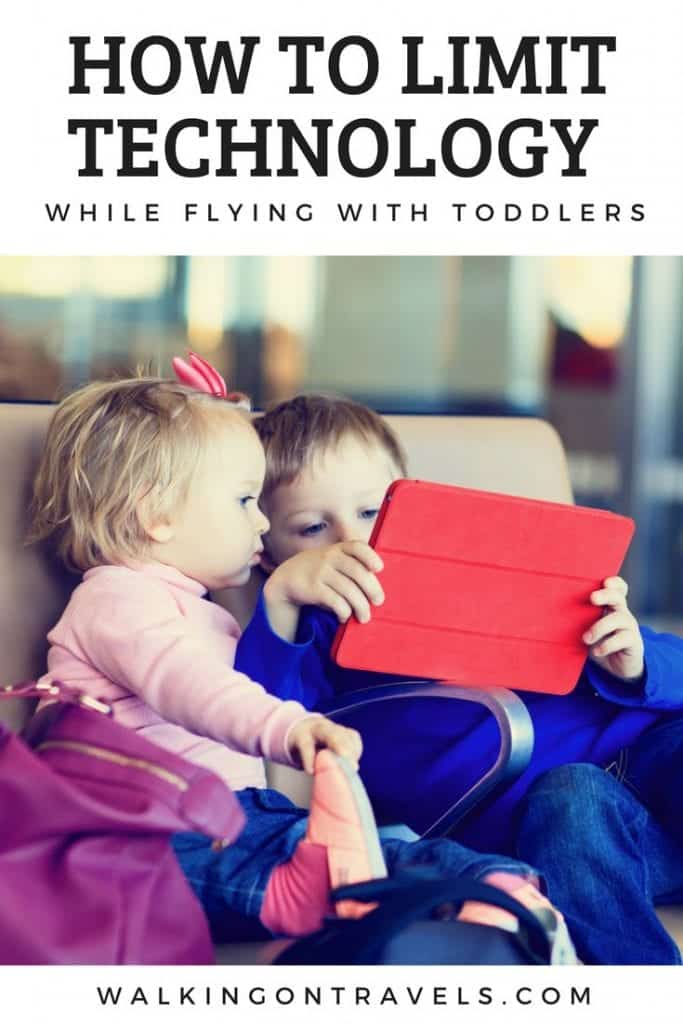 It's a much different flight than those I used to take solo – headphones and a nap, please! – but overall, traveling is about experiencing new realities – and helping your kiddo become an engaged observer from pre-flight to arrival builds that sense of wonder!
Airport photo, child pretend flying on suitcase, child outside photo via Shutterstock.