Many visitors taking a trip to Brazil each year plan to see Christ the Redeemer or those beautiful beaches (and bods) in Rio, but I doubt many trek to the Amazon rainforest with their kids.
And yet, that is exactly what I did with my son the day after he ended second grade this year.
Was I nervous? Of course! What mother wouldn't be nervous taking their child to a different country, where she didn't speak the language and there were a 1,001 things that could eat her (OK, maybe that's an exaggeration). However, I knew I was in good hands.
We were going on an Amazon river cruise with the help of Our Whole Village, a U.S.-based agency that took all of the heavy lifting and planning out of my hands.


Planning a Trip to Brazil
All I had to do was get my son and I to Manaus, Brazil.
The flight is actually quite easy. As long as you can fly into Miami for the connection, it is a direct, five-hour flight down to this northern city in the middle of the Amazon rainforest.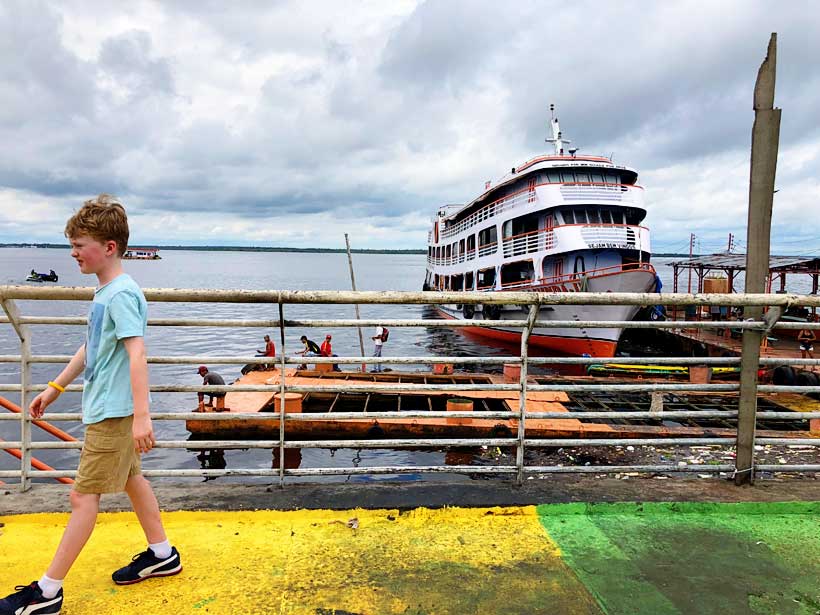 Patricia Monahan, the founder of Our Whole Village, has built a travel package with Katerre Expeditions in Brazil that managed our entire trip. Katerre Expeditions picked us up at the airport, had all of our hotels, excursions, meals, etc., figured out and then even brought us back to the airport at the conclusion of our trip.
Our visit to Brazil ended up being the easiest trip I've taken in years.
Check out How to get a Brazil Visa for US Citizens and Minors

Booking Your Katerre Expedition
U.S. travelers can only book a Katerre Expedition through Our Whole Village. And trust me, knowing Patricia, who runs Our Whole Village, for several years, it is the best way to go. She can walk you through your options. She has built out a specific package for families that makes it easy to arrive in Manaus without any added steps on your part.

OUR WHOLE VILLAGE PACKAGE
Rates for a 7-day Brazilian Amazon Cruise Adventure package:
$2,499/adult

$1,899/child (ages 7-9)

$1,240/child (ages 3-6)
INCLUDES (+ extras you can book):
Transportation to and from Manaus airport
One night hotel stay at Casa Teatro in Manaus
Dinner in Manaus at Caxiri (extra cost)
Transportation to Amazon river cruise launch point via Novo Airão taxis
Lunch at Flor do Luar + first dip in the Rio Negro
Four nights onboard the Jacarè-Açu + meals on the ship + beer, caparinhas, soda and juice (no wine, but you can preorder wine to be onboard)
One night at the Mirante do Gavião lodge+ meals at lodge (alcohol not included)
Package Options
Number of Days: 7 days or 10 days (best is 10 days so you can go farther up the river)
Ages
Minimum age: none
Recommended ages: 4 and up (comfortable in the water)
Group Charters for the Boat
Price: $15,000-$20,000 (approx. US$3,640/day on the boat)
8 cabins, 16 people is max capacity in beds (can add extra mattress on the floor for smaller children in second floor rooms)
It makes a lot more sense to charter the boat for yourself if you have 10 or more adults who want to travel together. For instance, if you have a group of friends with kids, or your extended family who want to take the trip this is a great option. It cuts the per person trip costs way down.
You should book your trip at least three months in advance if you want to do this option to get the dates/ season you want, especially if you want to travel during the high season. Americans luck out because Spring Break is NOT high tourist season.
Seasons
High (rate) Season:December- January, July and Carnaval,
Dry Season: October- February (best for beaches and turtles). December the river is at is lowest.
Wet Season: March – August with flood peaking in July

This does not mean more rain. It means that the river is higher, so you can take a boat inland further, but some or all white sand beaches will be covered up.


Optional Tour Add-On from Manaus
Meeting of the Waters: If you would like to spend an extra day in Manaus at the beginning of your trip, I highly recommend you book the Meeting of the Waters tour. You can spend part of your morning at the fish market or touring the opera house, and then see where the Amazon River begins.
Your tour includes a stop for lunch on a floating river, getting a peek at the large water lilies and seeing where the Rio Negro and the Rio Solimões come together near Manaus. Due to the different temperatures of these two rivers, the waters do not merge when they meet, so you can see the distinct water colors wave together on the tide.

Stay at Mirante do Gavião Lodge
Definitely book at least one night at Mirante do Gavião lodge after your tour on the Jacarè-Açu. If you have time, book two nights so you can enjoy the Amazon lodge, but also to explore the town and local artists shops.
Almirinda Malaquias Foundation (FAM), the foundation your Katerre Expedition Amazon river cruise supports, is based in Novo Airão. Ask the lodge if you can get a tour or at least visit the shop at FAM to get a better idea of the work they are doing and how your dollars are supporting this integral organization. FAM works to educate the local youth about the environmental impact current forestation and other harmful ecological practices are having on the Amazon and how we can all help.

Brazilian Visa
You can now get a Visa for U.S. citizens online for adults and children. You will need a valid passport, a NEW passport photo, parental consent form for all minors traveling, and the Brazil Visa fee. Also, a lot of patience if you are getting a Visa for a minor.
Read our full Brazil Visa guide here.


Manuas Hotel
Hotel Casa Teatre, Rua 10 de Julho, 632 – Centro, Manaus – AM, 69010-060, Brazil. This is a budget hotel, pure and simple. You will get a double bed, or you can book a room of bunk beds (it was used for hostel-style accomodations during the Olympics). Each room does have a private shower.
Request a "quiet" room, even if it means you won't have a window. The restaurants stay open late and the music will pump into your single pane windows into the wee hours of the morning, especially on the weekends. If you have a late night flight in from Miami, you won't even care that you don't have a window. What you will care about is sleep.
This hotel does have a killer location and a generous breakfast. Fill up in the morning at the buffet at ground level. You can order eggs from the ladies in the common room where you will eat. Take a stroll just up the street to see the Amazon Theatre, a stunning pink opera house that is worth touring before you head to the boat if you have time.

What you need to know when booking your cabin on the Jacarè-Açu
Life onboard the Jacarè-Açu is similar to camping on a boat, except better. Accomodations are efficient and practical for your needs as you cruise down the Rio Negro. There are loads of spots to relax and unwind away from the kids and your fellow passengers. Before you stress, yes, you will have air conditioning and a bathroom in your room. You might not have a lock that works however.

Beds on board the boat
Each bed comes with a fitted sheet and a top sheet. Not all beds come with a blanket. It's the tropics, so they assume you will not need one. If you get cold, you can open the window and turn off your air conditioning unit. If you are like me, and need a blanket to snuggle at night, you can request one. The crew is there to meet your needs. The sooner they know what you need, the better though. Don't suffer (or grumble) in silence.
Here's the breakdown of cabins, beds and rooms onboard the boat.

Two beds = Bunk beds
First level cabins
Front two cabins are quietest on the boat
Smaller room than single bed, second level rooms
Bunk bed mattress are firm
Beds come with one pillow and one sheet
Request blankets ahead of time
Bathroom: Small sink + shower + toilet all in one open space (two front cabins have no window in their bathrooms)
Bathroom comes with bar soap only
Four small shelves are built into the wall for storage
Space under bunk beds to store luggage

Single bed= Double bed
Second level cabins
Two cabins closest to common room are laid out best, but can be louder if people are in the common room.
Double beds are softer than bunk beds
A single mattress can be placed on the floor if you have a child that needs to go into the room, making it a triple cabin.
Beds come with one pillow and one sheet
Large window next to bed can open
Request blankets ahead of time (some cabins come with one comforter already)
Bathroom: Small sink in vanity + shower + toilet all in one open space (window in all cabin bathrooms)
Bathroom comes with bar soap only
Shelves are built into the wall, also one long top shelf above the desk
Small desk in cabin

Life on Katerre's Jacarè-Açu
Life aboard the Jacarè-Açu starts with a welcome from the men and women who run the boat. Your captain is at the helm, but it is the women in the kitchen who will keep you fed and your rooms clean.
The men onboard will be with you on excursions and will also have one eye on your kids. This is not to say you shouldn't have both eyes on your kids. It's just nice to have a few extras in case someone falls overboard.
Electrical Power
There is electricity on the boat. You will just need a Type- N adaptor for your U.S. electronics so you can plug in. Please be aware that if the boat is off (and the a/c in your room), so too is the power. It is best to charge all of your devices at night when the boat is on.

Internet and WiFi
There is zero Internet or WiFi provided on the boat. If you opt to bring a hotspot, MiFi device or use your International data plan, please be aware that there is no cell service up river. The closer you get to Novo Airão when you return, the more likely you are to have coverage, but you will be without service and connection to the outside world for at least four days depending on the length of your journey. I promise that it will all be OK. Enjoy the unplugged vacation.
Air Conditioning
You can stop sweating (pun intended), there is air conditioning in each cabin on the boat. There is even a bit of a/c in the common room. There is no a/c in the dining area or top deck as they are open to the elements. It gets a good breeze though, even when the boat isn't moving, and can even get chilly at night.


Meals on the Boat
Your Our Whole Village/ Katerre Expedition includes three full meals per day, plus drinks and snacks. All meals are served buffet-style, and include loads of fresh fish, meat, rice, beans, fruit, salad fixings, breads, meats, cheeses, pizza (at least one night), scrambled eggs, omelets, and other local delicacies you need to try to really experience the flavors of the Amazon. You will even learn how a few are made when you visit the local communities.
Drinks included:
Bottled water (don't drink the tap water coming from the river)
Sodas
Juice
Beer
Caipirinha (traditional Brazilian drink using cachaça, a liquor like rum, but made from the best part of sugar cane. Try our recipe here. Try alternates with passion fruit, coconut, cupuacu, or vodka instead of cachaça.)
Wine is NOT included, but can be preordered and stocked for your trip for an additional fee.

Cabin Bathroom 101
Don't throw toilet paper into the toilet. Put in waste basket next to toilet.
Shower in bathroom is open to everything else in the bathroom.
All water comes straight from the river.
Do not drink the river water. Grab a Grayl bottle if you don't want to stress about where your water is coming from.

Entertainment on the Boat
There is no formal entertainment onboard the ship. With so many activities throughout the day off the boat, and enough time to swim in the river most days, kids tend to want a bit of downtime when the boat needs to move locations during the day.
Parents tend to take naps or sit at the dining table enjoying a Caipirinha or beer, while the kids read in the common room or play on the top level.
This is where the beauty of being unplugged for a week comes into play. Kids learn how to rely less on electronics and more on each other and their imaginations to find fun again. More than a few books were read onboard, although there were a few games played on phones and Kindles to be sure.
There is a small library and in the evenings there is the opportunity to watch a PBS series on the Amazon. If a group wanted to watch movies at night, there is a projector in the common room that can be hooked up to a laptop.

Safety Onboard
Helicopter parents beware, the Jacarè-Açu is a place where kids should let loose and have fun. Parents should kick back and relax. If you hover over your child the entire time, your kid will throw you off the boat.
The Jacarè-Açu is small enough that you can keep tabs are your kids, but large enough that your child can have their own space to wander. As long as you don't have a baby and toddler with you, allow your child some independence. Make sure everyone knows the ground rules (no climbing over the railings, don't throw stuff in the water, no jumping off the boat unless the captain says its OK, etc.) and it will all be OK.
Most importantly, YOU will actually have some fun on your unplugged vacation too.

Rhythm of the Day with Our Whole Village
Each day has a fairly steady rhythm to it. Mornings start at about 7am with coffee and a buffet-style breakfast. Excursions happen throughout the day, depending on the activity and time of year. You may stop at a waterfall in the morning or go on a hike.
Afternoons may include a visit to a local community for a game of soccer or to tour the local school. Evenings could simply be sitting on the top deck watching the sunset.
Every day is different, which is what makes an expedition so exciting. If the crew hears something is better one day than another, they will switch up your itinerary. When a beach is submerged or fishermen are occupying it, an alternate activity is arranged. This is why you need to stay flexible at all times. Your itinerary is just a guideline, not set in stone.


Excursions Off the Boat
Always remember that this is an expedition, not a tour. It is a very important distinction when you book this trip.
The Amazon is an ever changing, natural environment. Rain storms roll through, creatures move, water levels rise and fall, and as Brazil moves on in the World Cup, effectively shutting down the country as each time they play at a global event it is a national holiday (Seriously. We were there to witness this twice). Here are just a few things you may do on your expedition:
Night safari to find caiman and other nocturnal creatures
Piranha fishing
Visit Monkey Island
Swimming in the river
Beach stops (if the water levels are low enough)
Stops at local communities to learn about turtle conservation, Yucca harvesting and flour making, meet local children and see how local communities are living in the Amazon.
Forest hike to learn survival skills
Visit an abandoned rubber plantation village

Guides Onboard
The onboard guides are there to help you. The guides are locals who have grown up in the waters and communities. They know the animals, trees and trappings of the forest. Ask questions, get to know them. Your guide will sit with you at dinner and be part of your daily life on the boat. Enjoy their company. Make them part of your family.
Who Should Book an Amazon River Cruise
This type of adventure is not for everyone. It is not a luxury yacht or a classy river cruise. Like I've mentioned before, it's a step up from camping in some ways with a few modern amenities. What you are getting is an expedition on a very unique vessel that you won't see anywhere else in the world, in the heart of the Amazon.
If you want to explore the lungs of the planet, this is the trip for you. When you need to truly unplug and reconnect with your family, you book this trip. Those who want the ultimate bragging rights, unexplainable scenery and to find themselves again, well, you know what to do.
Many thanks to Our Whole Village and Katerre Expeditions for hosting my portion of my trip while in Brazil. I did pay for our airfare, tips and my son's fee to join the expedition. As always, my opinions are my own. When they aren't, you will be the first to know.