It's an early, bone rattling winter in Chicago – already more than 20 degrees below average, and it's only December! Coupled with the darkest week of the year (hey Solstice!), we needed a little break from the tundra, so we headed over to the Garfield Park Conservatory.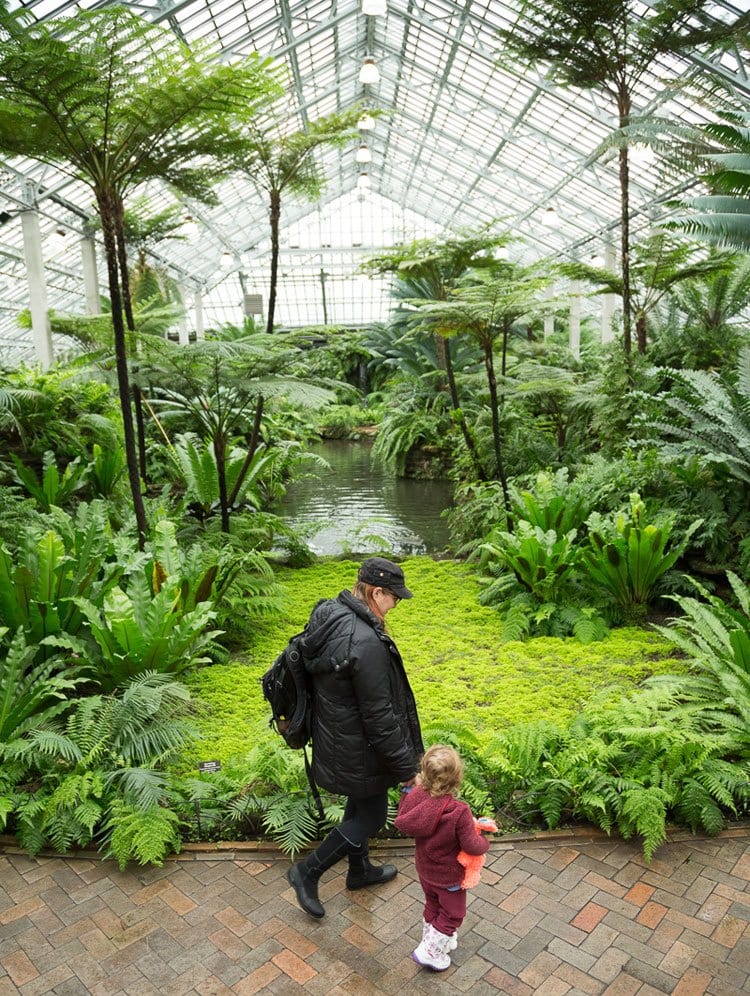 The Palm House at the Garfield Park Conservatory
The enormous main greenhouse is called the Palm House, the first encounter of the 4.5 acre complex propagating rare and unusual plantings in a series of tropical, semi tropical and arid settings, as well as outdoor space. The vast greenhouse was designed in 1906 by famed landscape architect Jens Jensen; composed of a simple, strong shape evoking midwest haystacks, the Palm House at the Garfield Park Conservatory houses towering palm trees, lush lilies and dozens of other tropical plants. The first thing you notice are the benches flanking the entry: a welcome place to peel off the layers of outerwear as you acclimate to the surreal heat and humidity within the Garfield Conservatory!
Traveling with teens? Read this great guide to Chicago with teens!
Small paths invite exploration, and informative signs identify plants and also explain their everyday uses. It's crazy to think the towering Caranuba Wax Palm is used in all kinds of everyday products like candy coatings, shoe polish and dental floss, but – there it is! The Garfield Park Conservatory is welcoming and hands on, though picking plants is not allowed.
The adjacent Fern House is literally a world apart – at 80+ degrees and high humidity, it literally drips with condensation. Imagined as a pre-historic Illinois landscape, limestone outcroppings are covered in mosses while giant fern fronds unfurl across pathways. Imaginations can run wild – perhaps you're tracking dinosaurs in Jurassic period, anticipating a screeching velociraptor at any turn; maybe you're a modern day adventurer seeking emeralds in the jungles of Central America. In either case, skipping across waterfalls and watching the fishies in the lagoons may make you wonder, yet again, why *exactly* you haven't moved to Costa Rica yet…..
Garfield Park Conservatory with Kids
Just beyond, another greenhouse display called "Sugar From The Sun" provides explorers of all ages an interactive, engaging landscape telling the story of photosynthesis. From a larger-than-life climbable seed housing a hidden seedling, to fruiting orange and kumquat trees, interpretive signs, hands on docents, a twisting slide and a digging soil pit and soft rubber walkways, this area is the "wild child" greenhouse. There's plenty of space for kids to run and play, and even a convenient coat rack to stash your gear for a bit.
Avoid the Arid House at the Garfield Park Conservatory
The Arid House poses a certain set of challenges ("yes, I know that cactus looks soft but THE SPIKES ARE AWFUL!!!) so we usually hustle through there to the Show House. The display changes seasonally, and this week we were delighted by the Sky Forest – sparkling christmas trees of all sizes floating above the ground (galvanized buckets are a charming and obvious way to keep the trees watered!). The lower beds were blanketed in an array of poinsettias and other lovely red, white, fuchsia and green blooms, and really, it was all too festive to bear!
As my husband and I prepared to head out of the greenhouses back into the sub zero temps, adding on layer after layer of sweater, coat, hat glove scarf, we smiled to each other: with the predicted arctic winter, we will return. Soon. The $5 suggested donation is well worth the tropical escape!
Know before you go to Garfield Park Conservatory
Garfield Park Conservatory, 300 N Central Park Ave, Chicago, IL 60624.
Click for more information
Admission fee: FREE, although a small donation is always appreciated to help cover the costs of keeping the gardens open.
Strollers? No. It would be better to hold the baby and walk with toddlers.
Food? Snacks are available at the Conservatory Gift Shop. You are welcome to bring your own picnic too. Need more food options in Chicago, check out our Best Places to Eat in Chicago guide.
PIN IT FOR LATER!
All photos via TylerMallory.com
This post contains affiliate links. If you make a purchase after clicking one of those links I will receive a small commission.