It was the Thursday before MLK weekend in Washington, DC. A massive blizzard was imminent. My husband had bought my daughter a coat at Uniqlo, in NYC, that was too small for her. I had thirty days to exchange it but had to do so at a store. The closest Uniqlo to us was in Philadelphia. I looked at my keyboard, I looked at the weather forecast, I looked at the coat and I decided we were headed to north for a weekend Philadelphia food tour, with a little shopping on the side.
I love Philadelphia. I really do, and everything about this winter trip reinforces my love for the city of brotherly love!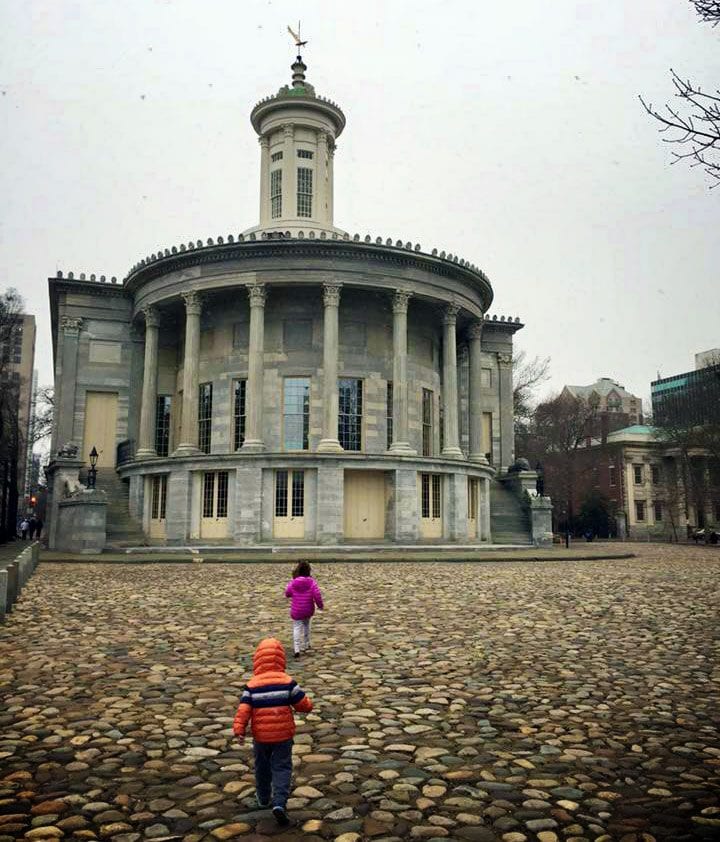 I have a family of foodies. All four of us (ages 3-46) love to eat. Our Philadelphia food tour kicked off around lunch time and we decided to check out the South Philly on our way to our hotel. My husband insisted on hitting the cheesesteaks and we were up for the challenge. I updated my Facebook status to read…"Pat's or Geno's?…where should the Ochoas go?" which immediately opened the flood gates to a massive cheese steak duel the likes social media has rarely seen!
The winner….Geno's. I have to say…I wasn't SUPER impressed. Maybe it was because we ate outside and it was windy and thirty degrees but it just didn't do it for me. I convinced the gang we needed to wander around the Italian market and I'm so glad we did.
Two of the biggest gems we uncovered were Cardenas Oil & Vinegar Taproom and Grassia's Italian Market Spice Company. Both stores let our kids sample, sniff and stroll which made it much easier for us to shop. By far, we spent the most amount of time at Claudio's. Walking into their main store and their mozzarella depot is like walking into a little salumeria in Rome. I bought enough cheese, pasta and tomato sauce to last me five years.
We stayed at the Hotel Monaco in downtown Philadelphia, and we couldn't have asked for a better place to call home. When the staff saw my kids were traveling with us, they put us in a gorgeous room overlooking Independence Hall and the horse-drawn carriages. That coupled with the complimentary hot chocolate bar in the mornings and hot toddy bar in the evenings, rocked our universe.
After a day of driving, eating cheese steaks and swerving through cold tourists at the Italian market, my husband and I needed a stiff drink….after our hot toddies of course! My husband vaguely remembered a place on Market Street that made excellent martinis, so a Googling we went. Sure enough, we found the Continental Restaurant and Martini Bar. Yes, we took our kids to a martini bar BUT, the best part was that they totally accommodated our littles! The minute they took us to our table, they brought over a huge heap of shoestring fries!
The kids were happy, mom and dad enjoyed a nice meal and some excellent martinis, and all was well with the world. I felt a little guilty about enjoying my martinis so much that we decided to indulge the kids a bit. Naturally this meant we took them to get ice cream. A few blocks down from the Continental resides the infamous Franklin Fountain. We stood in line…outside…in the middle of January …for a good thirty minutes, but it was SO worth it. The ice cream is incredible, the staff is accommodating and the vintage décor takes you back to an amazing era– a must for anyone going to Philadelphia with kids or without. Yes, even in winter.
After a quick National Park Service guided tour of Independence Hall on Sunday morning, we hit the Benjamin Franklin Museum. We lucked out because it happened to be Ben's birthday and they had a slew of fun activities for kids planned. When we walked out, it started to snow and really, nothing is prettier than walking through a metropolitan city in the snow.
Appetites got strong and we jumped in a cab to have the best pizza I've ever had in the U.S… Pizzeria Vetri. Their pizza is amazing and authentic and it's a great place for kids to dine. We conveniently went to their Chestnut Hill location so I could hit Uniqlo. After buying three times the amount of clothes we intended to return, we decided we needed a pick me up. We went to the one restaurant I faithfully need to visit every time I go to Philadelphia….Gran Caffè L'Aquila. This place truly is a gem. I discovered it during Spring Break 2015. We walked in front of it and I noticed a sign that said gelato lab. I was intrigued and walked in. We had a panino and espresso that could rival any bar in Italy and then we went upstairs to the lab.
Gelato champion, Stefano Biasini, was enclosed in his glass room. He was listening to Italian rock music full blast and was very focused on the task in front of him….concocting fruity gelatos for spring and summer. My kids watched in awe as he worked his magic and then, he stopped, opened the door and invited them in. His cherry gelato was just coming out of the machine and he offered them a taste. Their eyes peeled open and their mouths opened wide. I fell in love with this place right then and there.
We returned the next day for lunch and tried the carbonara dish topped with Stefano's Italian bacon gelato which just melts quickly into the pasta. This was heaven on earth for Italians transplanted in America and this must be a definitive stop in any Philadelphia food tour.
Of course, no trip to Philly is complete without a stop to the Reading Terminal Market. I like to make this my last stop before heading home so I can buy fresh meat, produce and pastries without having to worry about refrigeration.
Philadelphia with my fab four posse is always a great time but when you can eat your way through it as well, it a FANTASTIC weekend away!
Photo credits: Reading Terminal Market and Philadelphia City Hall via ShutterStock. All other photos via the author.