Fly down without a clear plan on things to do in Nashville and you will be lost. Trust me. I did just that.
Thanks to an emergency trip to Best Buy though, I quickly figured out my agenda. I was going to dive into the neighborhoods of Nashville and see what sets them apart.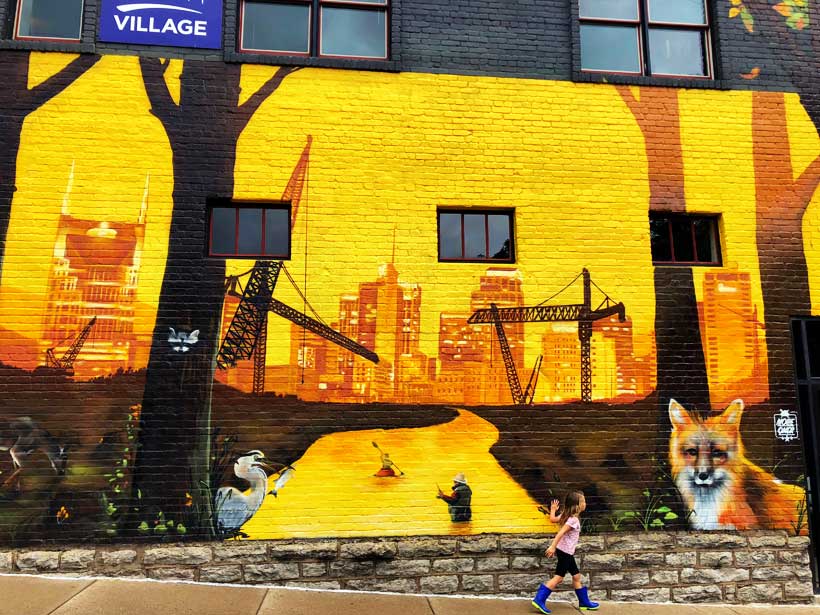 How did a box store help me do this? I opted to only take the back roads, not the highway, to run my errand. I'm telling you, this is the best way to dive into a new city. Run an errand. Tell Google Maps to shove it and go your own way. Get a little lost.
I headed straight out of downtown Nashville on Charlotte Avenue, and quickly found my first neighborhood. I would later find out it's called "The Nations" (how do people come up with this).
The following day I met up with my sister's best friend, who proceeded to take me through four additional neighborhoods. My last day in town I was left to explore on my own.
Having a local show me the ropes and exploring a little on my own was the perfect balance. Just when I thought I was going to be bored in Nashville all by myself, I discovered why so many friends were moving back to this southern city.
Things To Do In Nashville: By Neighborhood

The Nations: Thrift Shop Heaven
As I cruised down Charlotte Avenue, I noticed one thing—thrift shops. Now, I am a rabid thrift and consignment shopper for my boys and furniture for our house (Hello Habitat for Humanity Restore!). I miss my thrift shops in Seattle. They had the best stuff!
The Nations Thrift Shops
Southern Thrift
Unique Thrift
Salvation Army
Goodwill
If you start feeling a bit peckish, Bobby's Dairy Dip is a local institution and located across from a Hattie B's if you like Hot Chicken. Five Points Pizza is also on Charlotte Avenue, along with a bunch of breweries, burger shops and other restaurants popping up in this gentrifying area.
There is a massive "NASHVILLE" mural spelled out in food right near Richland Park at 50th Avenue N and Charlotte Avenue. The letter "A" made out of a fried egg and bacon was my favorite, and there is a good coffee shop right across the street.

East Nashville: Outdoor Awesome
If you are headed to the Grand Ole Opry, East Nashville is a great neighborhood to grab a bite to eat. Just make sure you make a reservation. Butcher and Bee, which serves up mezze and craft cocktails, fills up fast, but is the perfect amount of food before a show. The outdoor seating area is great for kids as well.
When you need a brunch spot, head to Marche. Their croissant French toast is a must before you head to Shelby Park. For those needing to get outside and explore, pack up your bikes or running shoes. Shelby Park is the perfect place to explore the outdoors while still staying in the city.

12 South: Boutique Shops and Big Houses
Once a residential street lined with beautiful homes, 12 South is now a thriving commercial avenue filled with boutiques and restaurants. Shops like Draper James (Reese Witherspoon's fashion label), White's Mercantile and Craft South had me wandering for hours.
A Farmers market sets up once a week at the park, where locals load up on fresh produce. Jeni's Splendid Ice Creams also has a location here if you need a cool treat. Take a wander down the side streets to see the large homes that have made this neighborhood so desirable to live in. You will see plenty of families hanging out. If you have kids, head to the park for some downtime.

Downtown Nashville: Parks, Museums and Hotels
Most visitors end up staying at one of the many hotels in downtown Nashville and stick around there to explore. While there is plenty to do, Nashville is filled with many great neighborhoods to explore.
Centennial Park is perfect for picnics, learning about the history of the city, and letting the kids run off some steam. The Frist Art Museum has an incredible art collection. Better yet, they have a fantastic children's area to explore.
CLICK for the best rates and availability on Nashville hotels
The Farmers Market (yes, THE farmer's market) is technically Downtown, although some would argue it is in Germantown. No matter where you think it should be located, go on a weekend, when this market is really bursting with vendors.
During the week, it is an easy place to grab lunch. On the weekends, the produce vendors fill the outdoor market, making it worth the (possible) parking hassle. There is also a garden shop with some of the most beautiful and imaginative pots and plant display options we have seen.

Germantown: Best of the New Food Scene
Restaurants are popping up all over Germantown and I just couldn't say no to tasting my way through a few of them. Geist was by far my favorite, with a pulled-pork tagliatelle pasta, key lime dessert that was approved by a Key West native tending the bar, and a very creative cocktail menu. They were even using charcoal in a few of their concoctions – who knew?
Butchertown Hall was a great spot to get my feet wet (literally, it was raining when I arrived) the first night. Service was a bit slow at the bar, but as a gal sitting solo at the bar I was perfectly comfortable chowing down my tacos and cocktail. Their happy hour is worth arriving early for, especially if you like margaritas and pork tacos.

Hillsboro Village: Boutiques and Brunch
Vanderbilt University takes over the heart of Downtown Nashville and spills into Hillsboro Village, giving this neighborhood a distinctly college vibe. Breakfast spots abound, with local favorites Fido, Biscuit Love and Pancake Pantry. On a weekday, Fido's line was next to nothing, so I enjoyed a truly scrumptious smoked salmon scramble and local honey latte (seriously, honey lattes are my new love language).
Once you're fueled up from brunch in Nashville, you need to hit the streets and go shopping. Within a four-block strip you will find shops that cover all price ranges. I found Dress Up and United Apparel Liquidators to be the most economical with the best selection. Higher priced options included Posh, The Impeccable Pig and Altar'd State.
8th South: Vintage and Antiques
I'd never actually heard of this new neighborhood before. A travel editor friend of mine lives there and told me I had to check it out. Eighth Avenue has a small strip of shops, many of which offer antiques and vintage wear.
Pre and Post Modern was a gold mine of clothing, and even LEGO figures I'd never seen before, like PBS painting legend Bob Ross, Skeletor and Lion-O (yes, I got them for my husband for Father's Day).
Baked on 8th, Grimey's New & Preloved Music (an institution in Nashville) and 8th Avenue Antiques should also be on your radar when cruising through. Just don't blink. It's easy to miss these shops as there is a lot of construction popping up.


Gulch: Music, Munchies and Murals
Locals pretty much say this neighborhood was built for the tourists. However, if you are looking for that mural of the white wings on a black wall, this is where you will find it.
The Gulch is also home to Biscuit Love, which always has a huge line. The French Toast biscuit and honey latte are your best bet if you really want to wait in the line. Personally, I'd hit another spot instead of waiting.

Neighborhoods I missed
Did I miss any Nashville neighborhoods? Of course! When you only have two days to explore, covering eight neighborhoods is pretty impressive. Each has several different things to do in Nashville this weekend when you visit.
Weekdays offer up music every night. Weekends will offer even more options. Do a little research, ask your hotel concierge, or better yet, the valet at your hotel. I found valets and bellhops tend to know everything that is happening in the city, especially when it comes to music, bars and breakfast.
Speaking of Nashville hotels…


Nashville Hotels
The Hutton Hotel, 1808 West End Ave, Nashville, TN 37203. The Hutton Hotel is swathed in rich, saturated colors, leather and wood, giving it a masculine feel with a decidedly feminine, southern charm. Yes, it's a thing and it is possible. Go, you'll see what I mean.
The rooms are comfortable, although many will have a pillar near the window. These pillars are structural, so there isn't much you can do about it. Happy hour is from 4-6pm each night, where you will find the bartender shaking up a few signature cocktails.
Do book a room on a high floor if you are sensitive to noise and like to go to bed early. There is a concert venue on the second floor. Shows don't run too late, but you will hear the sound check start up in by 3pm.
This post is part of a paid partnership with the Grand Ole Opry. As always, my opinions are my own. When they aren't you will be the first to know.