I'm a big fan of Pennsylvania. Our family has taken countless trips to Lancaster County and Philadelphia but we had never explored the Western side of the state, or discovered the things to do in Pittsburgh with kids.
Working in the arts, I was very keen on the idea of going to Pittsburgh. It's a city that has exploded, culturally, in the last decade. When I would mention Pittsburgh in conversations, I always got an overwhelming praise from previous visitors. Fun, friendly, and authentic are adjectives that I constantly heard when referring to the western PA city, so, when I received the opportunity to discover all of the things to do in Pittsburgh with kids, I just couldn't turn it down.
I kept hearing the phrase Pittsburgh is Kidsburgh and I thought it was a catchy PR slogan. Then I arrived there and realized it wasn't just a motto, it truly was the real deal!
I think the most striking thing to me about the city was a.) how green it was, and b.) how many bridges there are. And when I say "green", I mean in both the environmental sense as well as the tangible sense. It's rare to be in a city but have so much vegetation surrounding you, especially in mid-July. I found it to be both refreshing and alluring.
Where to stay in Pittsburgh
We stayed at the Homewood Suites by Hilton in Pittsburgh's Strip District. The hotel was modern, accommodating, friendly and ample. Most importantly for mini-guests, it had an indoor pool! An extra bonus that I loved was that it had laundry rooms where you could wash and dry your clothes. I love this feature as I feel like, especially in the summer, I'm constantly changing my kids after sweltering hot afternoons or ketchup mishaps.
Pittsburgh with Kids
Our adventure began with a visit to the Children's Museum of Pittsburgh. Thanks to Netflix, my kids are big Mr. Rogers and Daniel Tiger's Neighborhood fans. They absolutely loved exploring the Daniel Tiger's Neighborhood exhibit and also finding Mr. Rogers' encased mementos like a pair of his sneakers, a sweater and his puppets scattered throughout the museum. Their favorite room, by far, was the Garage where Luca, my three-year-old son, obsessed over driving the SmartforTwo car while Anna-Cecilia, my six-year-old daughter, tried to master Henry Loustau's Pulley, Slowly, Rolling, Bop! Mommy's fave room was the Nursery where everyone got to chill a bit and play with a gigantic Lite-Brite (shout out to 1983!).
Later that evening, my kids were in for a gigantic treat as they attended their first professional baseball game. We watched the Pittsburgh Pirates take on the Milwaukee Brewers on a gloriously beautiful night at PNC Park. Coming from D.C., I can't complain about baseball stadiums because both National's Stadium and Baltimore's Camden Yards are spectacular but PNC Park really knocks it out of the ballpark.
The alarm clock rang bright and early the next morning as we headed to a yummy breakfast at Kelly O's diner. Heard of it? That's because it was featured on the Food Network's Drive-Ins, Diners and Dives! We fueled up on chocolate chip silver dollar pancakes and scrambled eggs with sausage as we needed lots of energy for the busy day ahead.
First up….a Just Ducky tour. We loved this tour! As much as I'm all about fun and games, I think it's really important my kids learn historical facts about a new place we're visiting. The Just Ducky Tour takes visitors on a narrated land and water tour of Pittsburgh. The tour started in historic Station Square then took us to the city's business and cultural districts before splashing down into one of the three rivers. Both Luca and Anna Cecilia got to drive the boat while learning about this great city. Two thumbs up, duckies– Quack, Quack, Quack!
From duck tour to amusement park, we explored Kennywood Amusement Park. Luca and Anna- Cecilia had never been to a real amusement park and this was the perfect introduction. Founded in 1898, Kennywood was designated a national historic landmark in 1987. While it's technologically modern, with fun, cutting-edge rides, I love how the park has maintained its vintage feel. With two kids six and under, and a not too adventurous mommy and grandparents, we spent most of our time in Kiddieland. Lil' Phantom, the pint-sized coaster, packed more than enough thrills for me. Our crew attempted the newly renovated, 80-year-old Noah's Ark. We walked through the mouth of the blue whale, entered the Biblical Ark, and found the jumps and jolts to be a bit too thrilling but loads of fun. Highest ratings were given to Red Baron auto race.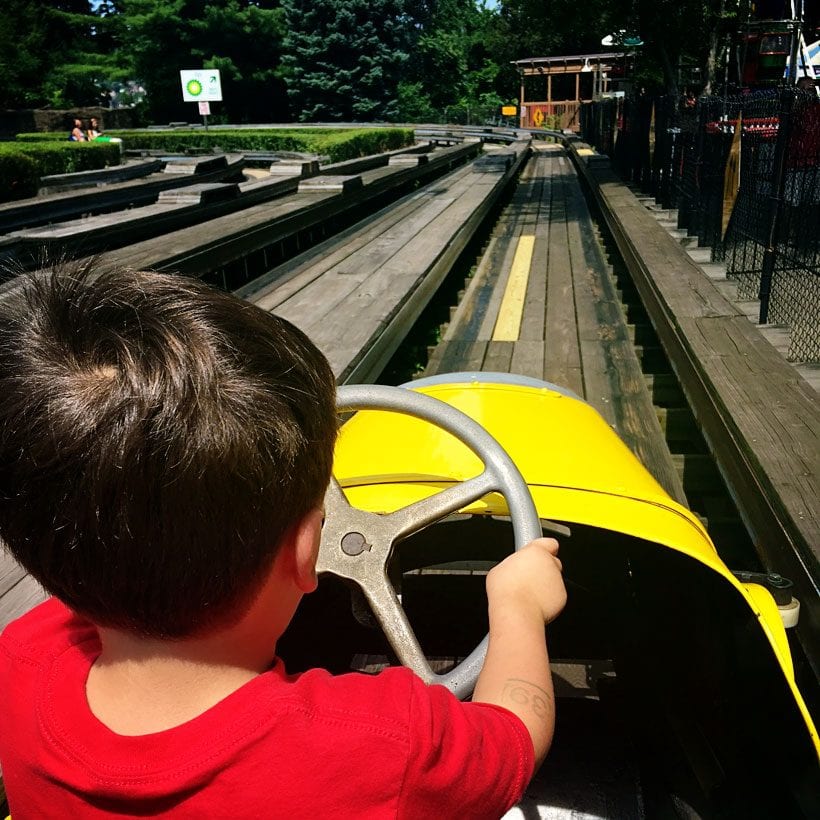 Nothing marks the end of a busy, hot day better than an ice-cold beer. After a thrilling but exhausting afternoon at Kennywood, we reenergized at the Hofbräuhaus Pittsburgh. Modeled after the impressive Hofbräuhaus in Munich, which I've been too, I honestly felt like I was back in Germany. From the traditionally dressed waiters to the cold abundance of beers and delicious food, I was transported back to Europe in a heartbeat. Sitting outside with views of the river and lush, Pittsburgh greens just added to the ambiance. A great way to end a busy day.
Our last day in Pittsburgh with kids was spent at the Pittsburgh Zoo and PPG Aquarium. Coming from the home of the National Zoo in D.C., I'm pretty picky when it comes to zoos but this one was amazing. Most striking to me was how the exhibits showcased the animals' natural environments in the wild. Giraffes, zebras and elephants roam together, providing a more realistic and enjoyable experience for both the animals and the visitors. We loved seeing the flamingos and ostriches, and walking through the verdant zoo was a cool and comfortable break from the heat of the day. I think our favorite part was having the aquarium right there within the grounds though. After walking the entire zoo outdoors, the mellow, air-conditioned aquarium building was a welcome relief. It feels like you're diving into the sea and it's definitely needed after the physically and visually rigorous zoo. We loved seeing the jellyfish, starfish and sea horses. But I must say, we were definitely partial to the adorable penguins. The kids were able to sit and stare at the penguins as they dove into the water and swam then popped back up onto their rocks. It became a slight obsession that I couldn't tear them away from but, in all honesty, I became hooked too.
We had a marvelous experience exploring all this wonderful city had to offer and really did discover that the things to do in Pittsburgh with kids truly makes it Kidsburgh.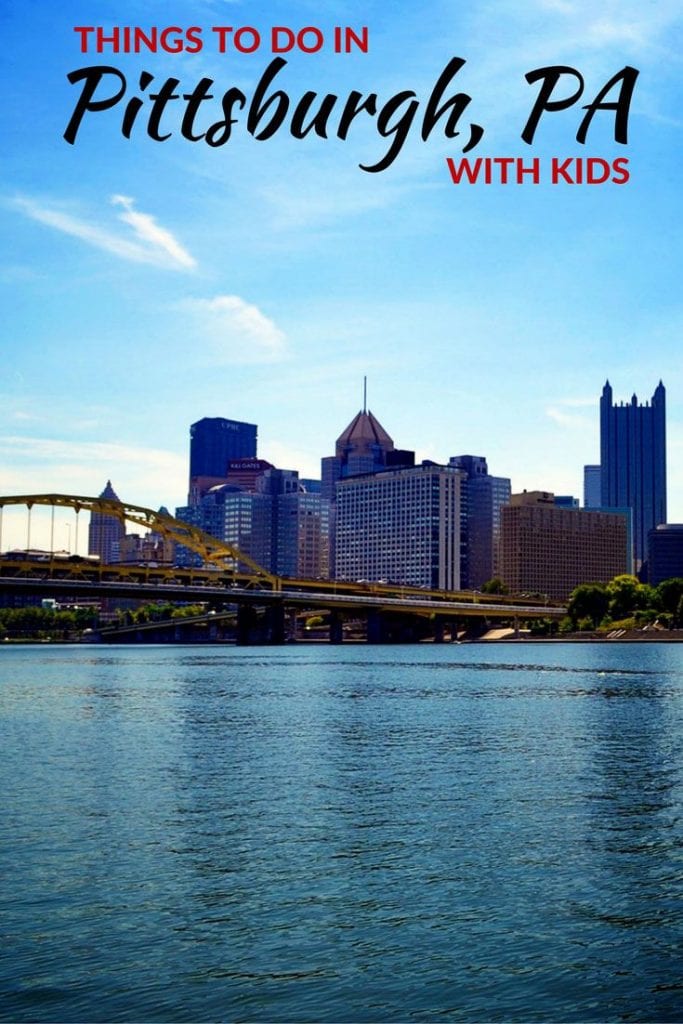 Many thanks to VisitPITTSBURGH for hosting me and my family for three days and two nights for the purpose of review and to find all of the things to do in Pittsburgh with Kids. As always my opinions are my own; when they aren't you will be the first to know.