Booking a successful girls getaway with your besties requires a few key ingredients. There should be sunshine, easy access to pools and beaches, all-inclusive food and alcohol – who wants to cook on vacay? – and plentiful options for fun in the sun. An all-inclusive Punta Cana getaway should do the trick.
All-Inclusive Punta Cana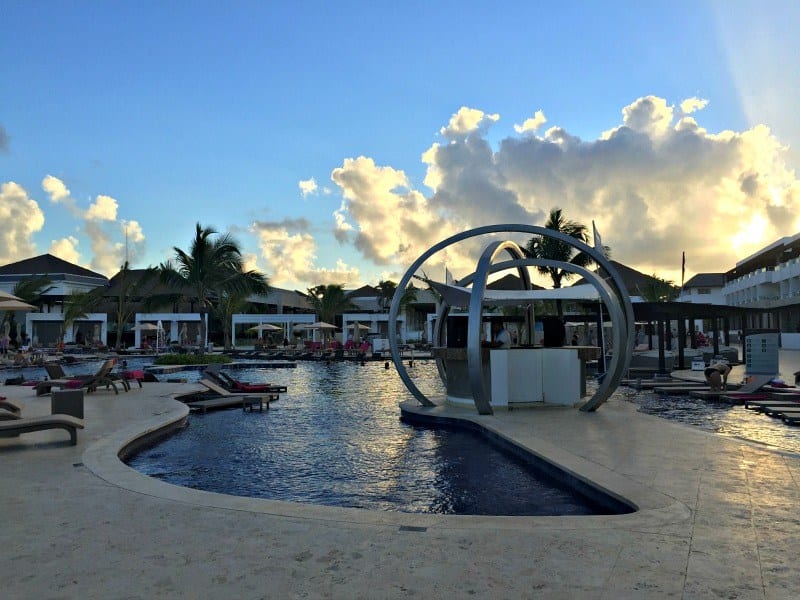 The resort area of Punta Cana in the Dominican Republic has all of that, complete with those especial touches of luxury that one shouldn't do without. With direct flights from the eastern seaboard – just four hours from New York City or less than 2 1/2 hours from Miami – a merengue-filled long weekend with the girls is in oh-so-easy reach.Enjoy the Pools and Beaches of the Dominican Republic
Most hotels will be all-inclusive Punta Cana resorts in this popular section of the country. Pools and sandy beaches are in good supply.
The main pool at the adult-only CHIC Punta Cana has a great swim-up bar, DJ booth and concert stage. Dancing in your bikini has never been easier, or more welcome. For Diamond Club Lounge members, there's even a Mermaid Pool, offering entertainment via mermaid swims, and evening shows. The Diamond Club status also allows access to a member lounge with snacks, premium liquor and a lovely bartender to mix your drinks.
At the Hard Rock Punta Cana, you have your pick of 13 pools. The Eden pool offers a 'European-style' (i.e. topless) bathing option, or meet up with friends at the Central or Guitar and Drums Pool. If you'd prefer a more sedate sunbathing spot, the Sax pool is a quiet option, as is the lovely sand beach. The water is bathtub warm, but mind the active surf and rip tide zone in these waters. You don't wish to turn your back on the ocean here.
Grab the cheapest rates and check availability in

Punta Cana

now!
Things to do in Punta Cana


SUNRISE BALLON RIDE WITH DOMINICAN BALLOONS
Yes, the prospect of seeing the sunrise from a hot air balloon is worth getting up before the crack of dawn. Float above sugar cane fields, farms and waving children with Dominican Balloons, the only operator in the Caribbean. Owner Luis is an enthusiastic guide and an expert balloon handler.
Though I was apprehensive about my first balloon ride, the quiet, floating sensation was a wonderful feeling. Of course, the quiet of the ride is broken up by the firing up of the burner, creating hot air that rises and brings the balloon up with it. The views of the fields and towns were breathtaking. The obligatory champagne toast at the end of the ride is a traditional celebration of the experience, one which I was very happy to have enjoyed.

CATAMARAN TO SAONA ISLAND
Saona Island is located in Parque Nacional del Este, one of the Dominican Republic's national parks. The Island is about an one hour bus ride from your all-inclusive Punta Cana resort, and then a short distance from the mainland. Booking a smooth ride in a catamaran is a chic way of visiting this island paradise.
The icing-sugar white sand is pristine, leading to calm water that shifts from blue green to turquoise as the depth increases. Boat tours include drinks, snacks and lunch on the island, usually langoustines and seafood. You'll have lots of time to spend sunbathing, swimming or snorkeling.

DAY TRIP TO SANTO DOMINGO
A girls getaway can include some culture, no? Santo Domingo, the capital of the Dominican Republic, is a place of history. Founded by Bartholomew, the brother of Christopher Columbus, the old town, or Colonial Zone, showcases colonial buildings from the 16th century that remain in use today as hotels, museums and government buildings. Completed in 1540, the Basilica Cathedral of Santa Maria la Menor is the oldest in the Americas, with 14 chapels and a coral limestone facade.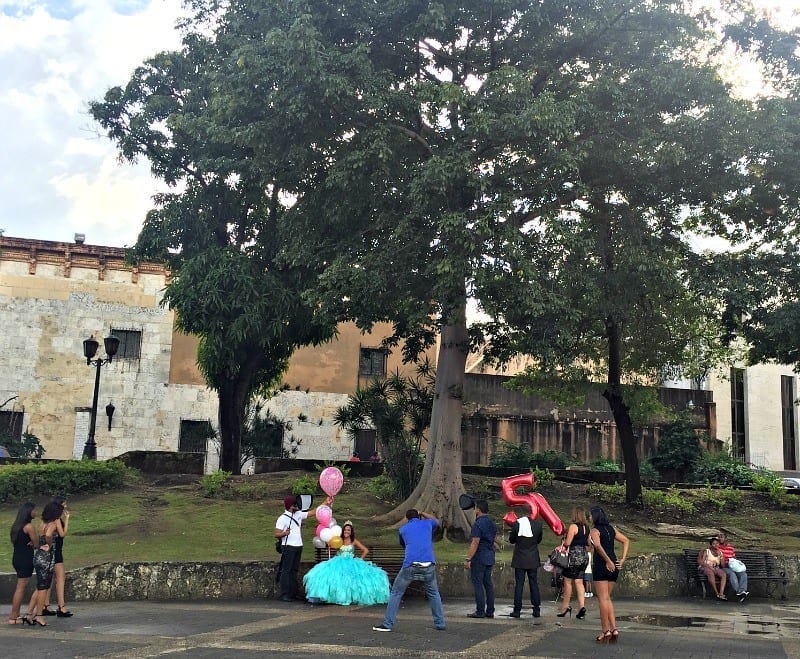 The old town is easily walkable, but you can bike, take the choo-choo train (as it's known), or enjoy a horse-drawn carriage ride through the cobblestone streets. On Sundays, the public squares are filled with photo shoots of young girls and their friends in elaborate gowns, celebrating quinceaneras, a 15-year old girl's right of passage into womanhood.
Note: The trip between Punta Cana and Santo Domingo is about 2.5 hours one way. It's a long day trip, but well worth it.

DR. FISH OCEAN SPA
As far as unique experiences go, booking a half-day spa boat and visit to the
Doctor Fish Ocean Spa
ranks pretty high. The experience begins with the 'doctor fish' pedicure. The tiny fish are
Garra Rufa
, known as Doctor Fish. They have no teeth, and work at scraping off dead skin by secreting enzymes that promote skin regeneration. If you're ticklish then the sensation of the fish pedi may cause some surprise. It's not everyone's cup of tea.
The ocean portion of the spa experience involves a yoga session, excellent massage and body exfoliation abroad the large catamaran. Attempting downward dog on a moving ocean craft is a test of your core strength, have no doubt. Blissed out relaxation time occurs on floating mats tethered to the boat, or nap on the catamaran should you prefer. A tasty lunch, with wine, is included aboard a floating barge off the coastline.

LOS TRES OJOS OF SANTO DOMINGO
At the entrance to the capital is Los Tres Ojos, (The Three Eyes). These open-air limestone caves in the Mirador del Este park are an incredible natural site, created centuries ago and fed by water from an underground river. Descending into the caves via a stone staircase brings you to pathways to the three lakes. Large stalactites and stalagmites are evidence of constant moisture and change in the limestone caves.
Stop for lunch at Meson d'Bari, a bright, two-story turquoise building containing some of the tastiest Dominican food in the capital. Enjoy delicious empanadas are made from yucca, crisp tostones (plantain), grilled fish in coconut, and goat stew, among other delicacies.

VISIT ALTOS DE CHAVÓN AT CASA DE CAMPO
If you didn't think you'd find a 16th century replica Mediterranean village in the heart of the Dominican Republic, think again. Altos de Chavón is unique village is the heart of the private Casa de Campo estate that also includes villas, golf courses and a luxury hotel and spa.
The village is a shopping and cultural center for residents, tourist and artists, including the renowned Altos de Chavón School of Design, affiliated with the Parsons School of Design in New York. There is also an archaeological museum, church, 5,000-seat amphitheater, and lovely views of the Chavón River and valley. Head towards the water to enjoy an exquisite lunch with a magnificent view at the Beach Club by Le Cirque.

Party at Coco Bongo
Darth Vader. Beetlejuice. Lady Marmalade. The only common thread with these cast of characters – and so many more – is they appear in the craziest show in Punta Cana – Coco Bongo.
This late-night party palace is nearly indescribable – is it a variety show? Star Wars revival? Costume party? It doesn't matter! The fun gets going late, around 11 p.m. By 2 a.m., it won't matter why they were there, just that you were. And remember, what happens at Coco Bongo stays at Coco Bongo.
Booking an all-inclusive Punta Cana with your BFFs is a perfect way to enjoy a fun and relaxing tropical holiday in the Dominican Republic.
PIN IT FOR LATER!
Photo Credits: Claudia Laroye • Disclosure: The writer was hosted by Dominican Republic Tourism. As always, her opinions are honest and her own. This post contains affiliate links. If you make a purchase after clicking one of those links I will receive a small commission.