A weekend in Paris. I know, on the one hand it sounds like a total dream but on the other it sounds like a total nightmare, because how can you see Paris just for the weekend!? Well, even if a weekend in Paris sounds too short, believe it or not – you can still do and see a lot in just two and half days, but you just can't do and see it all!
Planning a Weekend in Paris
My daughter and I went away for a weekend in Paris to celebrate my daughter's 12th Birthday. We live in Barcelona so the flight was cheap. This was a quick mommy and me trip. We were not going to run around trying to see and do everything. That is travel tip #1. When you have limited time you need to prioritize and keep your list of to-do's short. Ask yourself what do you want to get out of the weekend and focus on only those things.
We wanted to wander the charming streets, sit in adorable cafes, indulge in all the sweet treats and of course see the Eiffel Tower. That was it, anything more than that would have been exhausting and stressful during a short weekend in Paris. I actually went to Instagram to help with my trip planning and to gather inspiration for our weekend in Paris. I highly recommend doing this, it will give you a visual plan of action and get you excited too!
Where to Stay in Paris
One of the reasons this trip was so fantastic was because we stayed in the perfect little apartment in an ideal location! Since it was just the two of us (we were leaving the boys home) we did not need much space, but we wanted it to be quaint and a bit Parisian. We stayed at this Elegant & Hip Parisian Apartment, which is located right in the middle of one of the most popular neighborhoods in Paris, the Marais neighborhood.
The apartment has been recently renovated with the loveliest of details, a beautiful fireplace, a gorgeous iron staircase, exposed wood beams, wall sconces and all of the modern amenities you would want in a vacation rental. The loft upstairs to the bedroom was definitely my favorite part of this apartment. It had a very low ceiling but the wood beams and the chandelier with the luxury linens made this a perfect cozy cave. Even though there was a pull out bed downstairs, my daughter and I snuggled in the bed upstairs together – neither one of us was giving that up!
I loved all the adorable mirrors they used to decorate the bathroom. The bathroom also had a washing machine and dryer so if you are planning on staying for longer you can wash some clothes. There is a full kitchen with everything you would need to make breakfast or a light meal, but the espresso machine was the only thing I need for this short weekend trip to Paris. We were also welcomed to the apartment with fresh fruit, a variety of cheeses, water, and milk in the refrigerator.

IDEAL PARIS APARTMENT GUESTS
This apartment is ideal for a romantic weekend for couples, a girlfriend getaway, mother-daughter trips or a couple traveling with a baby or one older child. The apartment does sleep four, but I am not sure I would rent this as a family of four, since I know how siblings usually need a bit more space. It is perfect for a couple traveling with a baby because while you sleep upstairs the baby can sleep downstairs and you are only an ear shot away for any crying or fussing in the night.You can rent this Hip & Elegant Paris Apartment through Air BnB.

EXPLORE LE MARAIS, PARIS
Marais is one of the oldest neighborhoods in Paris, a neighborhood that was once filled with French nobility. After the 18th century when most of the nobles had left this area, many of the beautiful buildings and mansions were abandoned. Then in the 19th century this area became popular with the Jewish community and fast forward to today, not only is this neighborhood also known as the Jewish Quarter, but a very chic and popular place to live. The main street, Rue des Rosiers, has a Jewish bookstore, specialty shops, and many restaurants that offer kosher food.


GETTING AROUND THE MARAIS NEIGHBORHOOD
If you are taking the metro you will want to get off at the Saint Paul Metro stop. This lets you out right in the heart of Le Marais and literally at the Saint Paul Cathedral. You cannot miss the Saint Paul Cathedral and its gigantic red door. The apartment is located on the popular street of Rue De Rosiers, which is about a 5 minute walk from this station. Rue De Rosiers is a very narrow cobblestone street that is some-what pedestrian only. Cars are allowed but most cars and taxi's try to avoid it because of all the people walking around. In fact, on Sunday's cars are not allowed at all.
Travel Tip: If you are in Paris on a Sunday, you'll find that many things are closed. So head to Le Marais neighborhood because this is the one neighborhood where most everything is open! There is plenty of great shopping, boutiques and restaurants galore. You can simply wander around and find so many beautiful streets, historic buildings and squares.
Where to Eat in Marais
Le Voltigeur, 45 Rue des Francs Bourgeois, 75004 Paris, France. Great brunch spot in Paris.
Royal Turenne, 24 Rue de Turenne, 75003 Paris, France. Fabulous morning cappuccino and croissants.
Hugo's, 12 Rue Papillon, 75009 Paris, France. Great for birthday crepes
L'As Du Fallafel, 34 Rue des Rosiers, 75004 Paris, France. To-Go food at its best!
Little Cafe, 62 Rue du Roi de Sicile, 75004 Paris, France. Nice for spot for lunch.
La Favorite, 6 Rue de Rivoli, 75004 Paris 4e arrondissement, France. Best for brunch, burgers and cocktails.
Le Rusti, 8 Rue des Tournelles, 75004 Paris, France. Perfect if you are craving Italian (my daughter wanted pasta for her birthday)
Camille, 24 Rue des Francs Bourgeois, 75003 Paris, France. French Cuisine for dinner
She's Cake, 20 Avenue Ledru-Rollin, 75012 Paris, France. Best spot for individual birthday cakes.
Une Glace à Paris, 15 Rue Sainte-Croix de la Bretonnerie, 75004 Paris, France. Perfect for a quick scoop of gelato.

LE VOLTIGEUR PARIS
After we arrived at the apartment we were starving so we ate at a sweet cafe that our host recommended. which is right down the street called, Le Voltigeur. I will remember this particular cafe the most because it was our first cafe where we had a delicious brunch (in Paris!). They make these amazing frittatas that come with a large salad on the side and of course a basket full of fresh bread. My daughter had fresh squeezed orange juice and I had a mimosa to kick the weekend off right.
Every time we walked past this place it was packed, except for one early morning when I went for a jog. I noticed that on each chair they put out fuzzy brown blankets for people to cuddle up and stay warm while having their cappuccinos. I actually saw that many cafe's in Paris do this, which is a blessing as the weather gets colder, but you want to stay outside to people watch.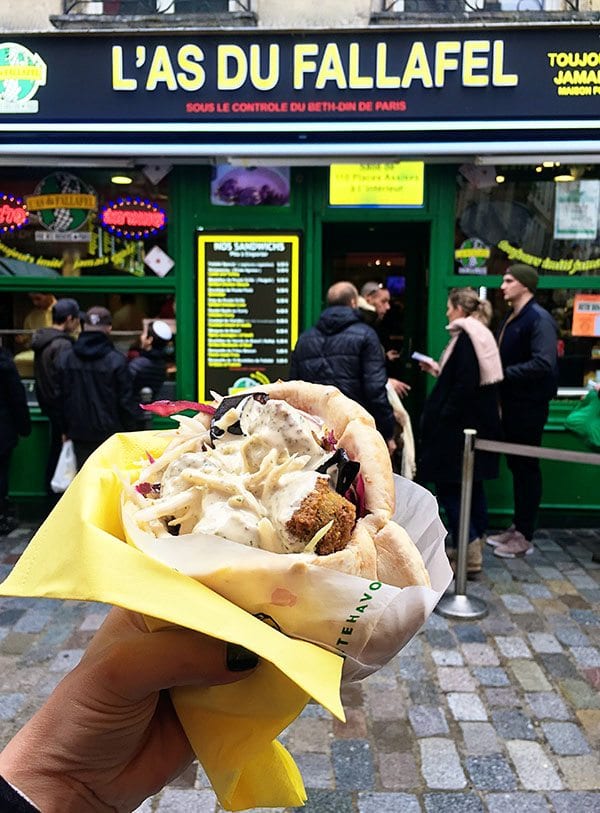 L'As Du Fallafel
One of the biggest draws that brings people to the Marais neighborhood is the world famous L'as Du Fallafel. This place is directly across the street form the apartment and it had a nonstop line all day on Sunday (it's closed on Saturday for Sabbath). We knew we had to have one before we left, so we grabbed one for lunch on our last day, and my daughter asked if she could have another one!
She's Cake in Paris
I realize that macarons are the thing to get when in Paris, and we went and had some over at Laduree after seeing Saint Chapelle, but our favorite dessert we had in Paris was the cheesecake at She's Cake in Marais. We actually had this as my daughter's birthday cake. It was the perfect size and we were both able to get our own flavors. We both about melted in our seats. It was incredible cheesecake!!
Une Glace à Paris
We stopped in Une Glace à Paris for a little scoop of gelato but we discovered a whole lot more! This beautiful little white and blue shop is adorable and created by two top pastry chefs, Emmanuel Ryon and Olivier Ménard. McKenna got her scoop of gelato she was craving and said while licking it "ah…. this is so satisfying". I was actually maxed out on sweets so I just stared at all the beautiful works of pastry art.

HUGO'S
My favorite place in Marais was Places De Vosges, I think we walked through here twice each day. We were lucky enough to still catch some of the fall colors on the trees. One morning we had croissants and crepes at Hugo's, which sits right on the corner.


MORE THINGS TO DO IN PARIS FOR A WEEKEND
We made it to the Saint Chappelle, Locks of Love Bridge, Notre Dame and of the Eiffel Tower (twice)! We ended up just taking a cab to get there because it was raining and we just wanted to save time and energy. A cab ride from the Marais neighborhood to the Eiffel Tower was about $14.00 but well worth it in my opinion. We had him drop us off at the popular spot the Place du Trocadéro for iconic photos. If you say this to the driver he will know exactly where to take you.


AU REVOIR TO A WEEKEND IN PARIS
Our weekend in Paris was short and sweet but we did exactly what we wanted to do. We didn't try to overwhelm ourselves with visiting museums and doing a lot of the top tourist things in Paris. We wanted to just casually see Paris in our own way and celebrate my daughter's birthday by seeing the Eiffel Tower. I also wanted to spend time in the Marais neighborhood experiencing a little bit more of the local side of things. We are planning a trip back with the entire family, and that is when we will tackle some of the bigger items on our Paris with kids bucket list! For now, it's back to Barcelona we go.
PIN IT FOR LATER!
Many thanks to the Hip & Elegant Paris Apartment for hosting my daughter and I throughout our wekeend in Paris. However, all my opinions are my own and I would gladly pay to stay here again, and probably will! Photo credit: Images courtesy of Andrea Fellman and Sunrise Eiffel Tower via ShutterStock.com
Paris Destination Guide
Paris Hotels
Hotel Du Printemps: Gorgeous boutique hotel with free Wi-Fi, paid private parking, and a bar/lounge.
B Montmartre Hotel: Close to the famous Moulin Rouge, this hotel features laundry service, airport transportation and free Wi-Fi.
Novotel Paris Les Halles: Four star hotel in the center of Paris. This hotel features a children's playground, nightclub (with DJ!), walking tours, and free Wi-Fi.
Paris Airbnbs
Cozy Studio: Sleeps 2 guests in 1 bedroom + 1 bath.
Luxury Apartment in Heart of Paris: 2 guests in 1 bedroom + 1 bath.
Center of Paris Apartment: Sleeps 4 in 1 bedroom + 1 bath.
Paris Metro images via Flickr Dustin Gaffke and zoetnet
Eiffel Tower image by Keryn Means