Sunset: swallows swooping and wheeling across cobbled rooftops, the sun kissing the chimneys, glowing fire red. This is what Tuscan dreams are made of: you can't even talk about the colors without evoking the countryside. Burnt umber plaster walls, siena brown clay tiles – a medieval clattering of slopes and tiles and rooftops and chimneys cascading down tiny alleyways, passageways no wider than a donkey, streets graded with steps.
Cortona.
An ancient city, first Umbrian, then Etruscan, then Roman – and we haven't even hit AD! By the 15th century it was Florentine, but right on the edge of Papal Umbria; the first bastion of commercial trade or the last stop, depending on your direction of travel. Featured in 19th century travel guides for its charming churches and as the birthplace of Signorelli, Cortona was a peaceful, sun drenched hilltop village overlooking the verdant Valdichiana – until a certain book was published in the 1990s.
Frances Mayes dragged this sleepy little village into the public eye with her love letter to the countryside in the bestselling Under The Tuscan Sun, in 1997; if you hadn't caught it that way, the movie made short work of it by 2003. Suddenly, this relatively quiet town was overrun by tourists of all sorts – many of them looking for a romance of their own, be it with the landscape, a home, a local, or even themselves.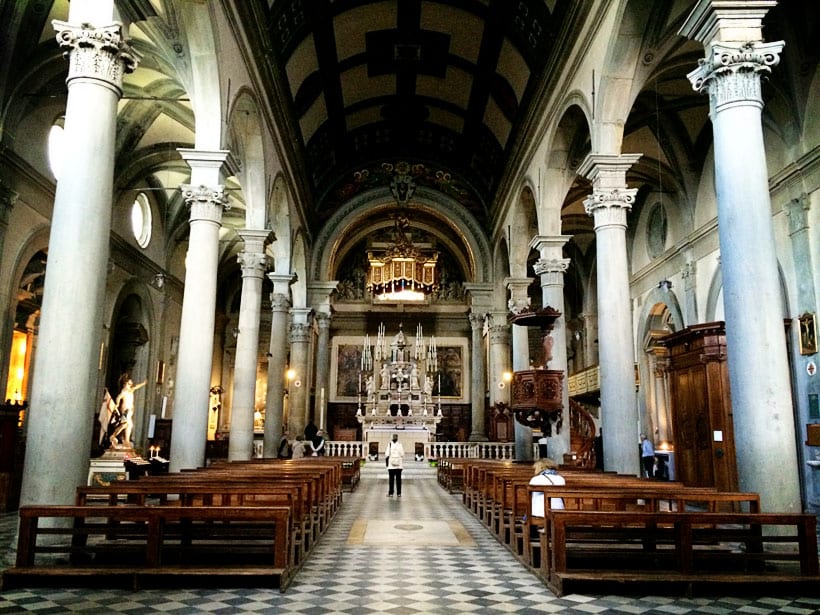 On a map, Cortona seems like a compact little town – it's not until you point the car up a tiny alleyway that you are thrilled that a) you've got automatic transmission and b) those tiny cars really make sense. Cortona rises above the rolling valdichiana, clutching the hillside like a barnacle. Steep switchback roads propel you to the base of the village, where Piazza Garibaldi offers a bit of respite before the rest of the ascent begins. Mostly pedestrian, with only a few streets open to vehicles, the warren of medieval paths can seem imperceptible at first; thankfully, our Flipkey.com apartment was run by a local property management company and they were there to show the way.
After checking in at the main office on Via Nazionale, the property manager led us back around the base of the village walls and through an ancient wood portico, into an alleyway and past the pasteria, a latteria, a few trattorias – and then a hard turn up Via Maffei, past the best restaurant in town, and up to our little apartment. Villa Luisella is a medieval home about halfway up the village that has been remodeled into 3 full apartments. Each level's living area, and all the bedrooms have a fantastic view – whether down the valley or towards the quiet cobbled street, the scenery is enchanting. Equipped with multiple bathrooms and a full kitchen, as well as washer dryer, this was an excellent base for our southern Tuscan adventures.
Our in-town location was stellar for a self regulated pace – as two moms, we were able to split up at times, and then reconvene to share a lunch or a walking adventure. We started our morning at Pasticceria Banchelli, on Via Nazionale – a delightful bakery, offering an espresso con panna for me, a cappuccino for Keryn and a couple of plates full of dolci for all of us to enjoy. Bombolini, tiramisu, tarte – tutto e possibile!
We spent a few days wandering the town, peppered with day trips throughout the area: Siena for an afternoon's gelato; Assisi for a rainy, damp pilgrimage. Cortona is a fabulous day tripping base with a few museums, churches, villas and shops to while away a few days, and a robust selection of significant cities and villages – Arezzo, Perugia, Assisi – within a short drive. We especially appreciated the amenities and proximity of our Flipkey apartment – just a 10 minute stroll (5 if you don't have kids with you) from the main piazza in Cortona, we could quickly join the village's energy, while having enough of a retreat to relax in.
Cortona's tiny streets are perfectly scaled to the attention span of young children. A couple hours wandering narrow alleyways, spotting kitties basking in the sun, and marveling at the potted flowers is adventure enough for the young ones; ample distractions can be found in the toy store off the Piazza Signorelli, and simply by watching the world go by in the Piazza della Republica. The Gelateria Dolce Vita on Via Nazionale offers a lovely reprieve, not only with its cornucopia of flavors, but also with the array of balloons on offer. Gelato and balloons? Dolce Vita nailed their demographic!
We spent the first morning wandering the piazzas and cobbled streets, letting the children run around for a while. Lunch at Il Cacciatore was abundant – the piatto antipasti featured a variety of bruschette, cheeses and salumi, as well as fried olives (a revelation!) and marinated artichokes. A pizza margherita, pici al fumo (pici pasta with smoked rosemary tomato sauce) and a bistecca fiorentina rounded out the lunch selections. Paired with a cortonese white (viognier!), the moms delighted in a quiet respite
La Locanda Pozzo Antica caught my eye the first time I wandered near – a varied menu, cleary local but not the same typical pastas and cacciatores on everyone else's list. The interior is delightful – elegant but comfortable, bedecked in lemon and sky and cream; and the proprietress, Paola, took every effort to make sure that we were comfortable and attended to. A steaming bowl of ribollita eased the days rainy chill – a thick vegetable soup heaped with thick slices of tuscan bread, perfect for cold days.
A beautifully clean tagliolini with fresh shaved truffles was a revelation in its bright flavors; the rosemary chicken fillet a delightful counterpoint. They have a bed and breakfast attached to the property, and clearly revel in taking care of each and every guest, making even a rainy, cranky day for a handful of children fun and welcoming.
We discovered via Nazionale's Pasticceria Banchelli within moments of arriving in Cortona (author's note: I think when Keryn went to "get the keys," she was actually checking in to her first 2 platters of pastry…..) A delightful array of bombollini, cremas, cornetti, biscotti and amaretti are too tempting to pass by. With a full array of coffee options, everyone's morning fix is handled here!
The incomparable Galleria il Pozzo is the most family-friendly art gallery I've ever encountered – not merely tolerating children, they invite them to marvel at the well – a glass topped cistern from the etruscan era, complete with koi, and delightfully lit from within. The kids can delight in the fishies while the parents browse watercolors and oils from local artists, as well as artisan leather and woven goods.
The Molesini family has held court on the Piazza della Republica for almost a century – and we are thrilled they are! The enoteca itself is a small wine shop, focused on regional delights but also featuring wines from the entirety of Italy. They also have a small refrigerated case of salumi and cheeses, olives and pates – delights for a picnic lunch, or to pack home. Across the Piazza is the Molesini mercato – a small but well stocked supermarket offering all kinds of staples, as well as a phenomenal salumi, cheese and olive selection behind the deli counter.
In short, Cortona offers an abundance of discovery for every age group: a choose-your-own adventure of narrow streets and walkways, a dozen churches, and countless cafes, enotecas and shops thrill all the senses. It's a marvelous place for a quiet daytripping base, with its proximity to numerous villages in the area; a daydreamy loll across the verdant hills is also completely welcome.
Many thanks to FlipKey.com for sponsoring a portion of our stay. As always, my opinions are my own; when they aren't you will be the first to know.