One of the most exciting and terrifying adventures when traveling in Ireland for the first time (or fifth) is to drive on the opposite side of the road. Note that I say "opposite" and not "wrong."
Unless you learned how to drive on the left, you can assume that anyone who normally drives on the right is just thrilled by the idea of driving on the left… and sitting on the right side of the car (hear the sarcasm in my voice? Good).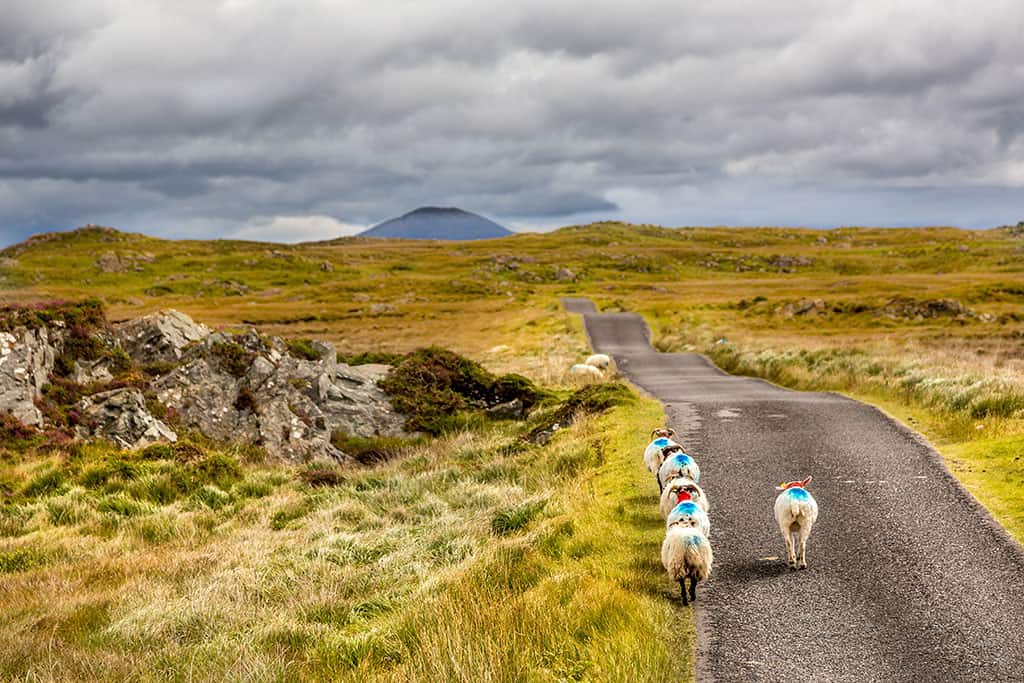 Driving on the left while in Ireland is unavoidable, unless you want to fly into Dublin and take organized day tours OR hire a private car with driver for your entire trip. Both are great alternatives, but you loose that flexibility and whimsical wandering that is one of the keystones of a trip to Ireland. You might not be able to detour to the smaller towns you pass, get lost down any number of rural roads or try to figure out what type of fuel to fill up your car with at the petrol stations.
Ok, so these factors might not be selling points for you, but having rented cars multiple times while on an Ireland vacation, I can tell you that I never regret renting a car in Ireland, squeezing passed another car down roads lined with stone walls so that I can explore the rural countryside, or experience life on the left hand side of the road all so I could experience an Ireland road trip.
Why Drive in Ireland?
If you want to wander those ancient country roads of Ireland on an epic road trip, you will need to drive in Ireland. It's the best way to find undiscovered sights and witness sheep crossing the narrow roads along the Wild Atlantic Way. You will also have more flexibility with your time, can make a grocery store run whenever you feel like it, and hit the road on your first day in Ireland.
Helpful Tips to Renting a Car in Ireland
Do I need a Credit Card to Rent a Car in Ireland
Short answer– yes. Most rental car companies still want you to pay with a credit card, not a debit card. There are exceptions, but triple check with your car rental agency to make sure you have the proper payment method on hand when you pick up your car.
Do I need car rental insurance in Ireland?
Yes– we dig into this more in our guide to renting a car in Ireland, but you will need mandatory CDW insurance (collision damage waiver) insurance in order to rent a car.
Your credit card company may not cover rental cars in Ireland, nor will your travel insurance, so do not show up at the car rental desk without calling both companies, as well as your home auto insurance, to see if they will cover any damage or accidents to an Irish rental car.
If they do not cover rental cars in Ireland, you will want to buy the extra car insurance BEFORE you pick the car up at the airport. It's always more expensive at the airport rental car desk.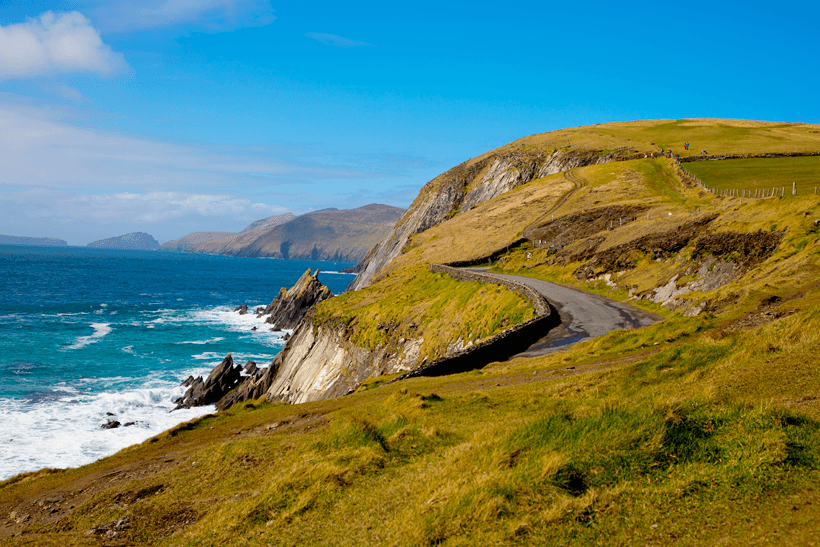 Can you drive with US license in Ireland?
Good news for U.S., Canadian and European Union residents! You don't need to get an international driver's license. You can drive with a U.S. license in Ireland and Northern Ireland, as long as it is valid while you are traveling.
However, you must meet the usual car rental age requirements (check your rental car agency for details). The same goes for Canadian and EU citizens.
So, save yourself the $15 (or so + passport photo costs) on that international license when going on a trip to Ireland. Just don't forget your home country driving license AND passport; both are required to rent a car in another country.
What to do if you loose your drivers license while traveling abroad
If you loose your driver's license, which can and does happen, there are a few things you can do.
1. Before you leave home, make copies of the front and back of your license and passport to take with you. Leave these in your suitcase or the hotel room safe. We always leave a set of copies at home as well just in case.
2. If you need a replacement or temporary driver's license, go onto your local DMV website to see if you can print out a temporary license that can hold you over until you get home.
3. Call your local department of motor vehicles to see what your options are if you don't see anything online. Many DMV locations can issue a temporary ID in a pinch, especially if you are in the system, but if you are from a small town, you may need to call a larger DMV location in your state. 
What is the minimum age to rent a car in Ireland?
The minimum age for most car rental companies is 21, but many have a supplemental fee you will have to pay if you are under 25 years old.
Can I drive with a learner permit in Ireland?
No, you can not drive with a foreign learners permit in Ireland. You must have a full, valid license at the time you will be driving in Ireland. Many rental car agencies require that you have had your drivers license for a minimum of one year, which can make it hard for a new driver to rent a car, but it's the rules. Some Irish car rental companies even require two years.
If your child has their learners permit, they can NOT drive the rental car, even if you are in the vehicle with them. Unless your child has their driving license, and they are added as an additional driver through your rental car company, they can not drive the car, even for a little bit.
Learn more about Renting a Car in Ireland
Should I rent a manual transmission or automatic transmission car in Ireland?
If you only drive automatic cars at home, then you should only rent an automatic vehicle in Ireland. This is not the time to practice your manual transmission shifting skills, especially when you are sitting on the opposite side of the car. Unless you bring your own car to Ireland, you will want to stick with what you know.
On the other hand, if you do know how to drive a stick shift (manual transmission vehicle), and you want to challenge yourself by shifting on the left as well as driving, by all means, go for it. My brother-in-law loves it.
You will save money, as manual cars tend to be cheaper in Europe, but be aware that every Irish rental company agent will laugh at you when you try to get into the driver's seat on the left side of the vehicle. And if you start off your journey grinding those gears as you pull out of the lot at the Dublin airport, they will take the car away from you before you can rip out the clutch.
Driving in Ireland as an American with a US license, as well as those ingrained American rules of the road can be tricky when visiting Ireland, so staying calm is half the battle.
So… maybe rent a car with an automatic transmission if you aren't a season veteran on a stick shift. Don't ruin your vacation budget by having to replace a major part of a car. Windshield wipers are one thing, a transmission is a different beast when it comes to insurance claims, especially due to negligence (AKA arrogance in this case).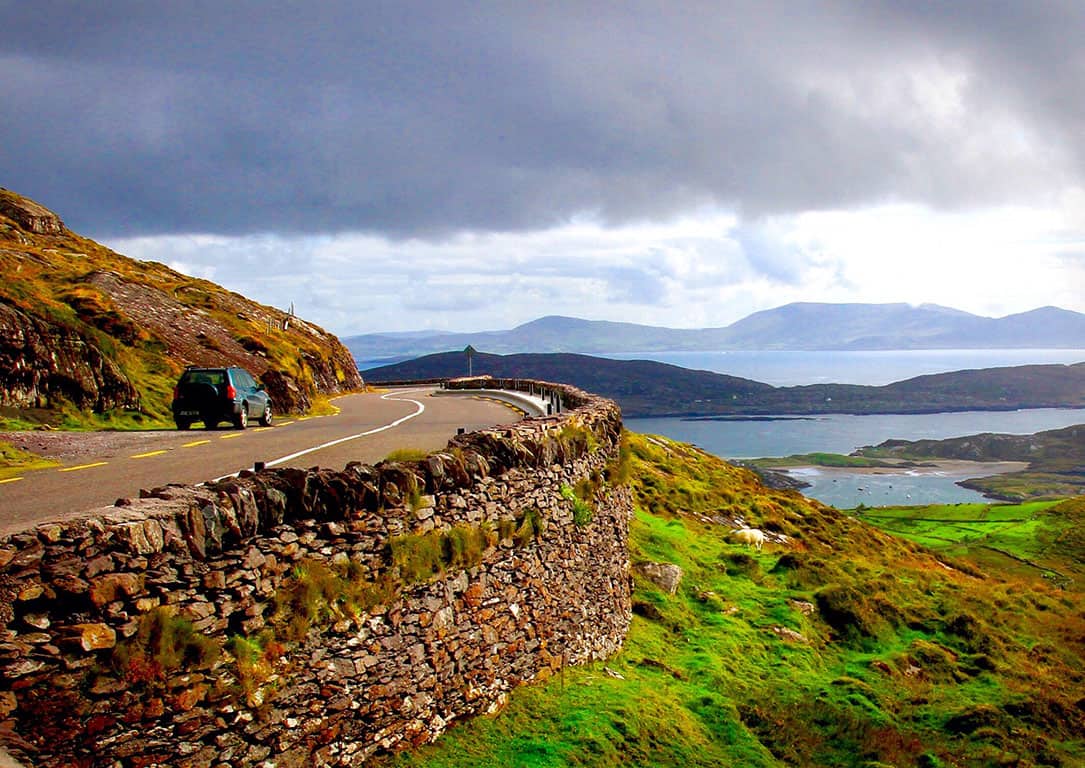 Tips to Driving in Ireland
Have no fear my brave right-hand American driving friends (and any other right-side-of-the-road drivers) –You CAN drive on the left-hand side of the road.
Your brain will adjust. You just need to pace yourself, avoid major cities when you land in a fog of jet lag, and take things slow.
No Speed Racer reenactments in Ireland, please. Obey the speed limit. There are enough tour buses trying to run everyone off the roads as it is.
There is no "wrong side of the road"
When someone says you are driving on the wrong side of the road they imply that you are driving into oncoming traffic in the opposite direction of the rest of traffic, which as you can imagine, is a problem on major highways and narrow country roads. Just because they drive on the left in Ireland and the United Kingdom (as well as any other country that was part of the British Empire at one point– Australia, Hong Kong, etc.), it does not make it "wrong," it simply makes it different.
Please refer to driving in Ireland as driving on the opposite side of the road you are used to at home, or driving on the left. This will make you sound less like an ignorant American who thinks their way is the only right way, and endear you to the local population just a smidge more.
Kilometers versus Miles
The Republic of Ireland uses km/h (kilometers per hour), while Northern Ireland uses mph (miles per hour). This can get tricky if you rent in Ireland, and your car only has km/h markings on the speed dial. When you drive into Northern Ireland and road speeds are posted in mph, you will have to pretty much guess how fast you are going or do some fast math.
Unless your vehicle has both, which many cars in the USA have since we drive in Canada and Mexico too, you will have to do some quick math to convert km/h to mph. Here are a few common conversions:
20 km/h = 13 mph
30 km/h = 18 mph
50 km/h = 31 mph
60 km/h = 37 mph
100 km/h = 62 mph
120 km/h = 75 mph
We generally round up or down to whichever makes sense (ex. 30km/h = 20 mph). When in doubt, cut the KM/H in half to get around the MPH number just to be safe.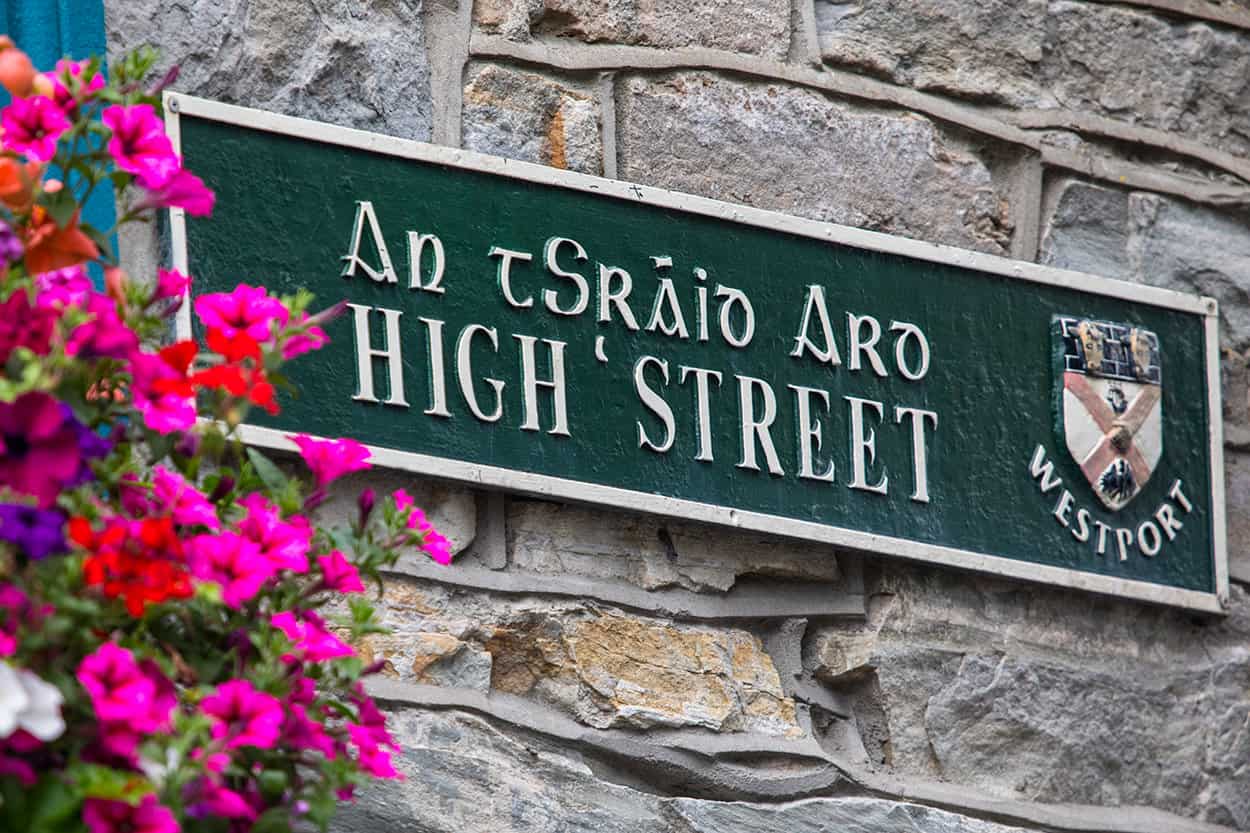 Speed limits in Ireland
Knowing the kilometers to miles per hour conversion is one thing, but what if there are no speed limits posted? Too many times while driving in Ireland I have looked to my husband and asked what the speed limit is. Neither of us had seen posted signs, so we weren't sure.
On the highway, you pretty much can go with the flow of traffic and assume you are OK. Irish drivers don't tend to speed. On the back roads and smaller motor ways, you may be the only car on the street so you can't exactly go with the flow.
According to the RAC, these are the general speed limits based on road type and circumstance. 
| | |
| --- | --- |
| Motorway | 120 kph (74 mph) |
| National roads (primary and secondary) | 100 kph (62 mph) |
| Non-national roads (regional and local) | 80 kph (49 kph) |
| Roads in built-up areas (e.g. cities and towns) | 50kph (31 mph) |
| Special. speed limits for densely populated areas | 30 kph (18 mph) |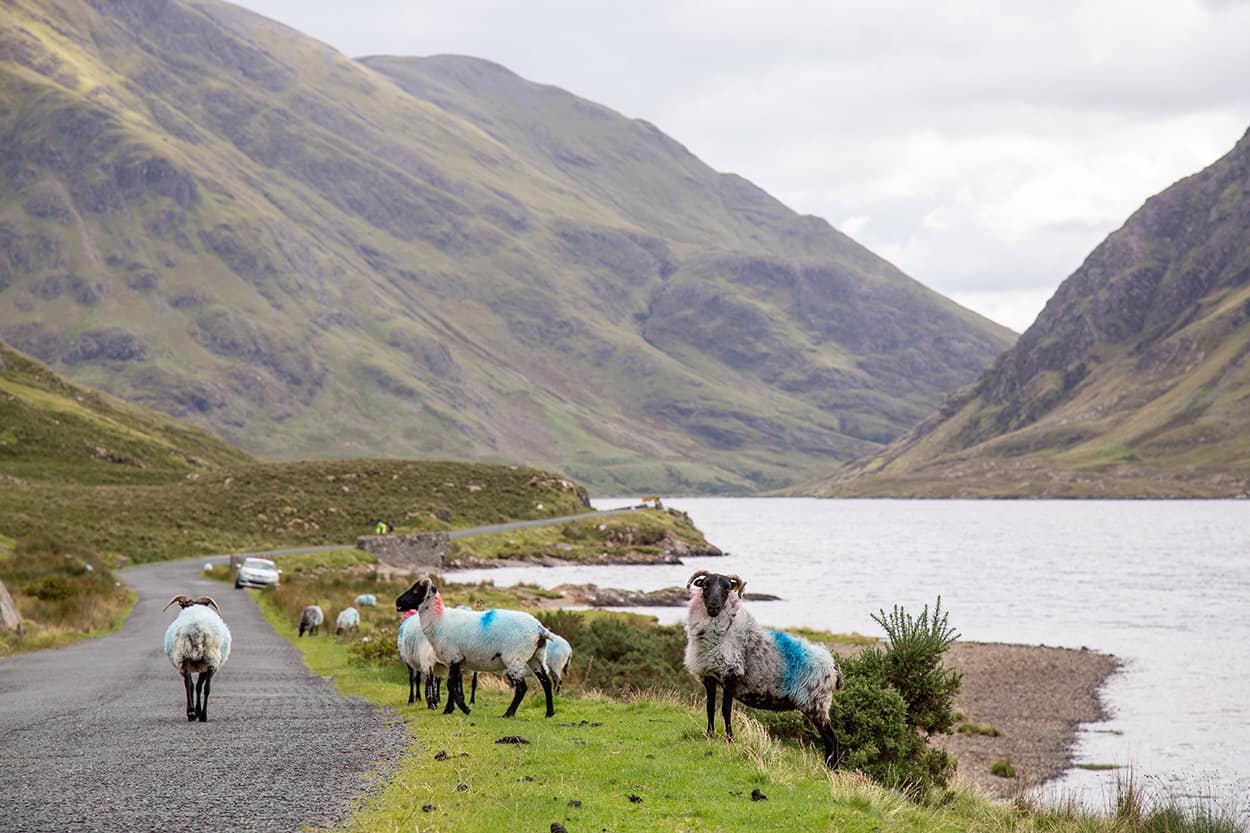 Toll roads in Ireland
There are most definitely toll roads and toll booths where you pay to be on those roads, especially as you drive out of Dublin. The fee isn't too crazy and worth it to be on those national roads, so make sure you bring cash and have a credit card handy.
You can pay with a credit card at the major road toll booth or using coins. You can also ask your rental car agency if they have a transponder you can use, which they will charge back to your credit card.
Most toll booths use a "pay by mail" system, which the rental car company is happy to pay for you when the toll booth sends the bill to them. Just be aware that there is a service fee every single time the rental car agency pays for your toll, and that is on top of the price of the toll. 
On the smaller toll roads (last I checked there were 11), you will need coins, so always make sure you have a few Euro on you.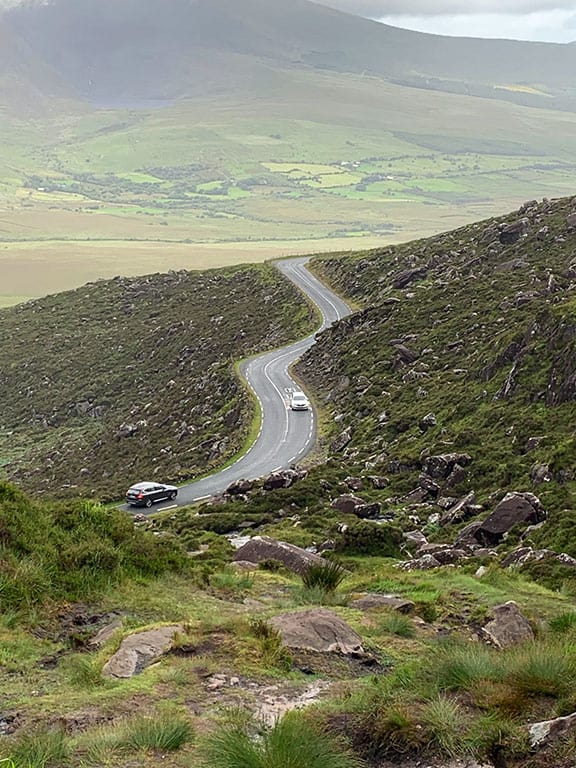 Where to get gas in Ireland
Like most countries, Ireland has gas stations where you can fill up on diesel or gasoline. These fuel stations could be one pump in front of a tiny shop along a rural road, a megaplex near or outside of big cities, or along a dual carriageways (two or more lane highway), where you can not only get gas, but coffee and lunch too.
Most petrol stations will accept credit cards or cash. Try to have Euros on hand just in case you have to fuel up at one of the very small gas stations in Ireland.
What kind of fuel should you use in your rental car?
Most rental car companies offer cars, vans, luxury vehicles and SUVs that take either gas or diesel, so be VERY careful to check which kind of fuel your car takes before you fill up. These days, rental cars have signs all over your vehicle and even on your keyring to remind you what petrol type to use in your rental car. As an American driver, this can be very handy since we mostly use unleaded gasoline to fill up our cars.
Do you need a GPS in Ireland?
In the States, I rarely use my in-dash GPS. "She" is generally useless and has no idea where she is going. The Google Maps app on my phone is better 9 out of 10 times.
The same goes in Ireland. Google Maps is your best friend. Yes, you can rent a GPS for an additional fee, saving yourself some data on your cell phone plan, but Google Maps isn't a data hog, plus you can download maps via Wi-Fi to use in your car as you explore.
If you do want a GPS, the car rental companies offer a daily rate for GPS rental, but it is not nearly as expensive as you will find in the states.
Read our guide to Renting a Car in Ireland now!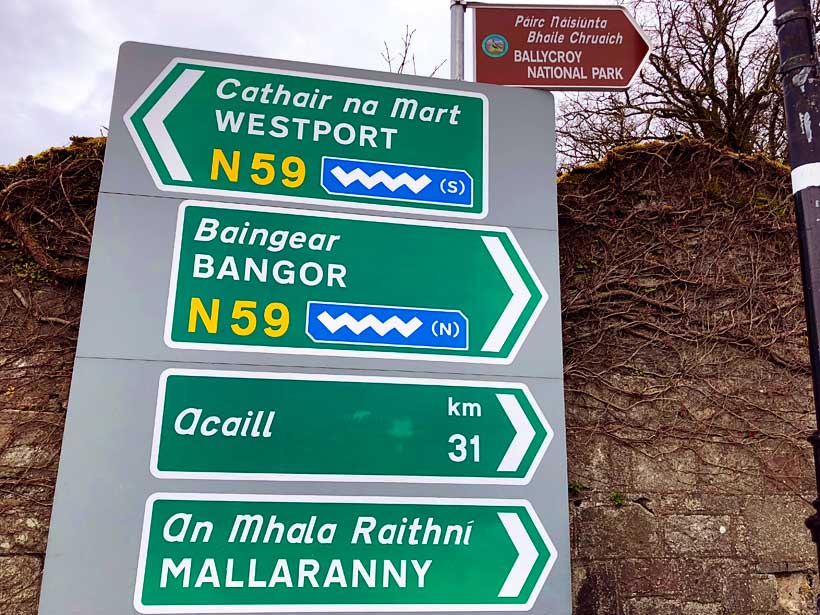 Rules of Driving in Ireland
When in doubt, consult the Road Safety Authority (RSA) website. This is Ireland's version of the department of transportation where local drivers can get their driving permits, learn the rules of the road, take their driving test, etc.
If you don't have time to read the entire Irish driver's manual, here are some of the basics to driving in Ireland that most American drivers will understand. There are a few wonky things Americans driving in Ireland might not understand, so it's a good idea to follow the flow of traffic.
Driving rules in Ireland
Drive on the left. There are constant reminders in your rental car and on the road in case you somehow forget.
Always obey the speed limit (there are traffic cameras and you will be ticketed).
Always wear your seat belts. It's the law in the Republic of Ireland.
The left lane is the "slow" lane on the highway (motorways). You will need to pass on the right.
Only pass on the right. If you are not passing or overtaking another car, you need to stay in the left lane.
There are roundabouts on the highways.
In general, you can expect roads to be labeled as such:

N + a number = a highway.
R + a number= larger roads or main roads.
L + a number =smaller roads or local roads.
If there is no number, you are basically on tractor roads or secondary roads

Your GPS is messing with you. It will send you the "most efficient route" or so it thinks. Even Google Maps can take you some weird ways.
Always carry your cell phone in case of emergency.
Do NOT text and drive, or hold cell phones in your hand while using it and driving. This is a great way to get arrested in Ireland.
Tour buses get the right of way. Always. Pull over to the side of the road if one needs to pass. You won't win that game of chicken.
Drive during the day if you aren't confident driving on the left, as it gets very dark at night.
A tight white dashed line means it is a two way traffic street.
Learn what a few of the road signs mean before you go.
Traffic cameras are everywhere. If your GPS tells you one is coming up. Do not ignore it.
Toll roads do exist. Have small change or your credit card on hand whenever possible.
Traffic lights in Ireland
Yes, just like in the United States of America, this is a country with traffic lights to help keep people safe. However, they have more colors than we do in America.
What do Irish Traffic Light Colors Mean?
Red = STOP!
Amber/Orange = STOP if you can because the light is about to change
Flashing Amber = yield to other traffic, but go when it's safe
Amber arrow = go in the direction of the arrow, but yield to other traffic
Green = go if the road is clear
Green Arrow = You can only go in the direction of the arrow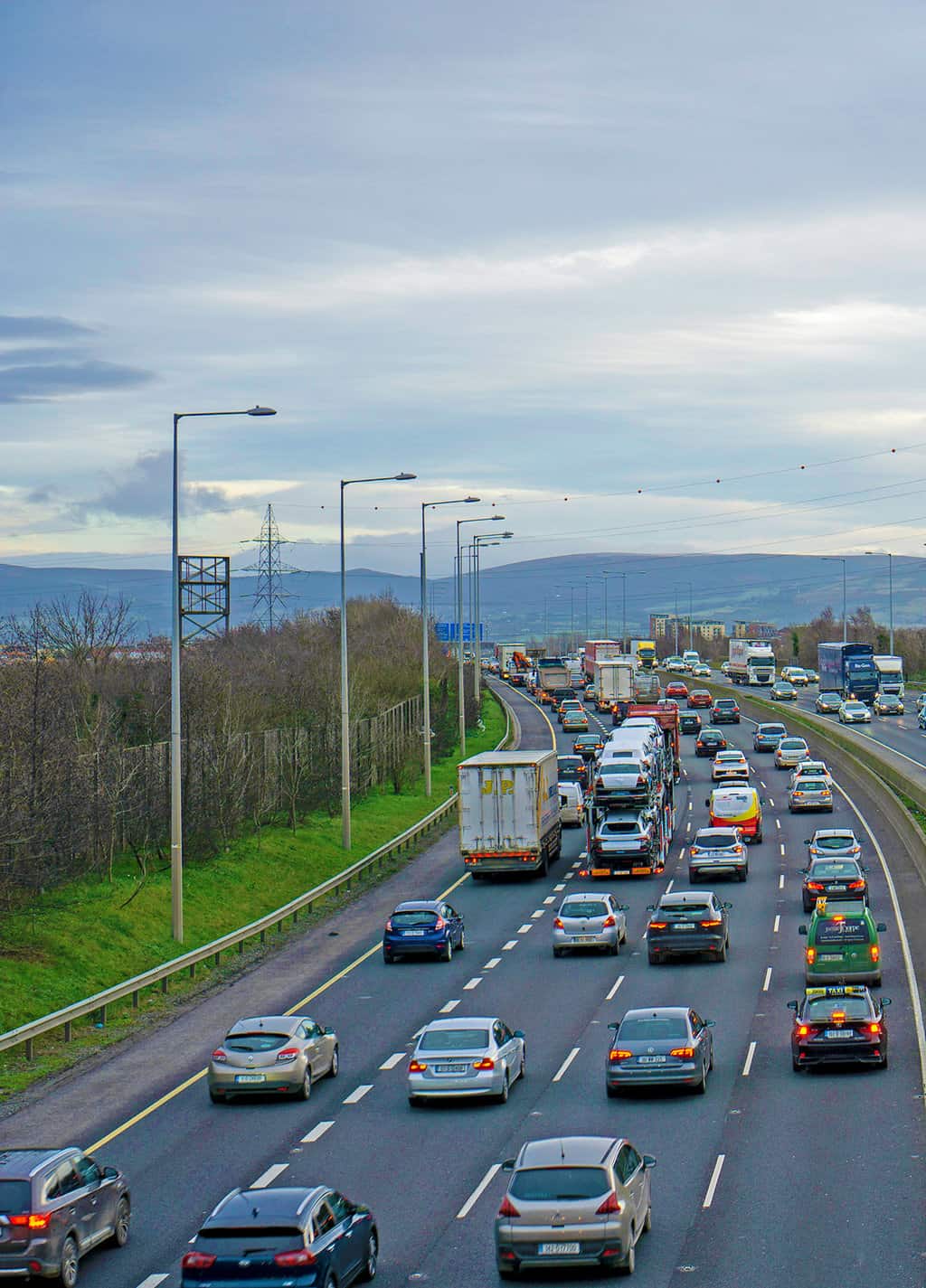 Slow lanes and fast lanes on Ireland Highways
Just like in the U.S., there are passing lanes on the highway, or as I like to call them "the slow lane" and the "fast" lane.
This is true in Ireland as well, but just as you drive on the opposite side of the road, so too are the lanes. The left lane is the "slow" lane, while the right lane is the passing lane. Irish drivers take that passing lane very seriously. If you aren't overtaking another car, move back into the left lane to allow others to pass you as needed.
What to do if you see or hear an emergency vehicle
If you hear sirens and/or see the flashing lights on a police car, ambulance, fire truck or other emergency vehicle, pull over to the side of the road as quickly and safely as possible. Just like anywhere else, these emergency vehicles need to get where they are going quickly. It could save a life, so do not ignore those sirens.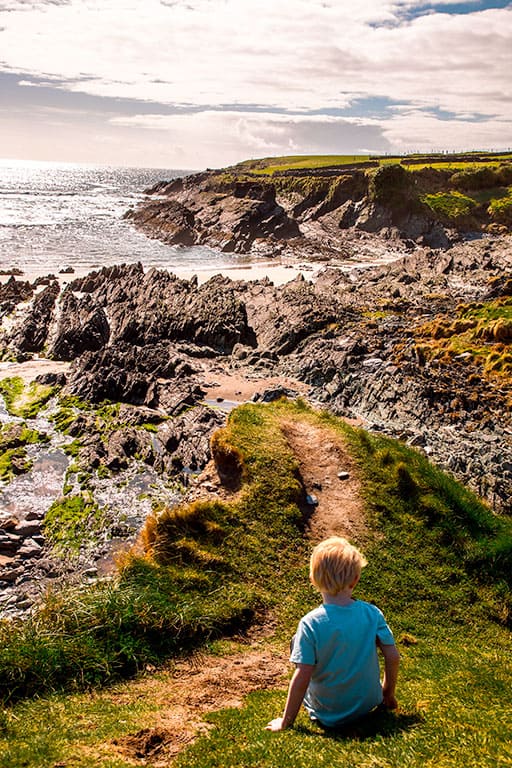 How to Drive on the Left Side of the Road
The biggest hang up most people have is to driving in Ireland is driving on the left-hand side of the road.
Now, granted, I think driving in Rome during rush hour is hilarious (and driving in Sicily was even better), so take what I say with a grain of salt when it comes to driving in Europe. I also hit a sideview mirror and almost crushed a bicyclist while trying to parallel park in Dublin our first hour in Ireland on our very first trip. We all make mistakes, right?
Driving on the left, if done in a smart way, is easier then you are giving yourself credit. I'm not a pro. Give me tiny lanes with only a small passing spot every mile and I'm in heaven.
And don't worry– the Irish instantly know you aren't from around there no matter what because you drive like an American (and always look lost).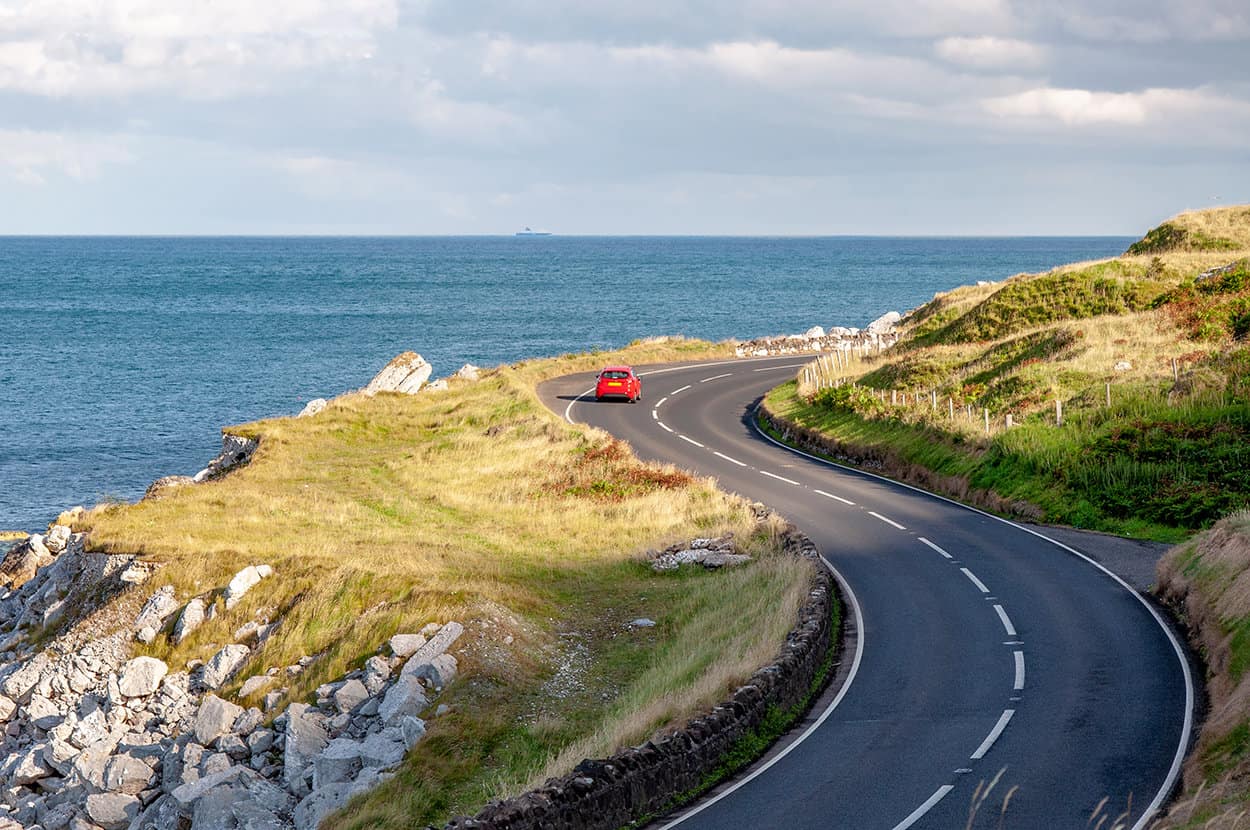 Getting your feet wet driving on the Left
Arriving in Dublin
First off, don't drive directly into the city. If you plan on spending a few days in Dublin, grab your rental car when you are ready to leave the city.
You won't need a car while in town, so save the cash and the headache. Parking fees will just add to your budget, as will those additional rental car days. You can always book a car hire to get you to and from the rental companies.
Or better yet, rent a car from the local office in town and then return it to the airport when you are done.
Arriving in Shannon
If you are flying into Shannon, head out of town immediately. Shannon is a very small airport and you can get onto the national roads (major roads) within minutes.
Driving on the highways is the fastest and easiest way to get comfortable on the left side of the road.
Get used to where your body is positioned, where your mirrors are and where that left side of the car is in relation to the lines on the road.
Once you get to those smaller, country roads during your road trip through the more rural areas that left line will be crucial, but not as scary.
Need a car? Grab the best rates and availability on Ireland rental cars HERE.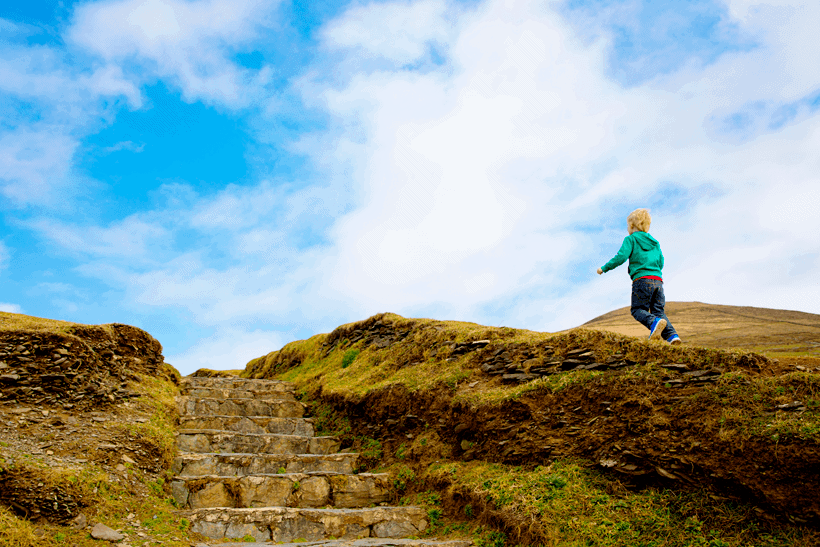 Mind the Right Road Line… and the Left
One of the hardest things to get used to is watching that right line as you drive down the smaller roads. You will meander over into the middle of the road, scared to get too close to the left side, especially if there is a stone wall on your left.
This is all well and good if no one is coming, but when another car comes and you whip over to the left and have only a stone wall to bounce off of things do not end well for you or the wall.
Know where you are on that right line at all times. Keep an eye on the left line as well, so you know how much space you have if a larger truck or tour bus comes down that tiny lane as well. I am always checking my side mirrors when I drive in Ireland; it's the only way to truly understand your space on the road and it is OK to continue to check even if no one is trying to pass you.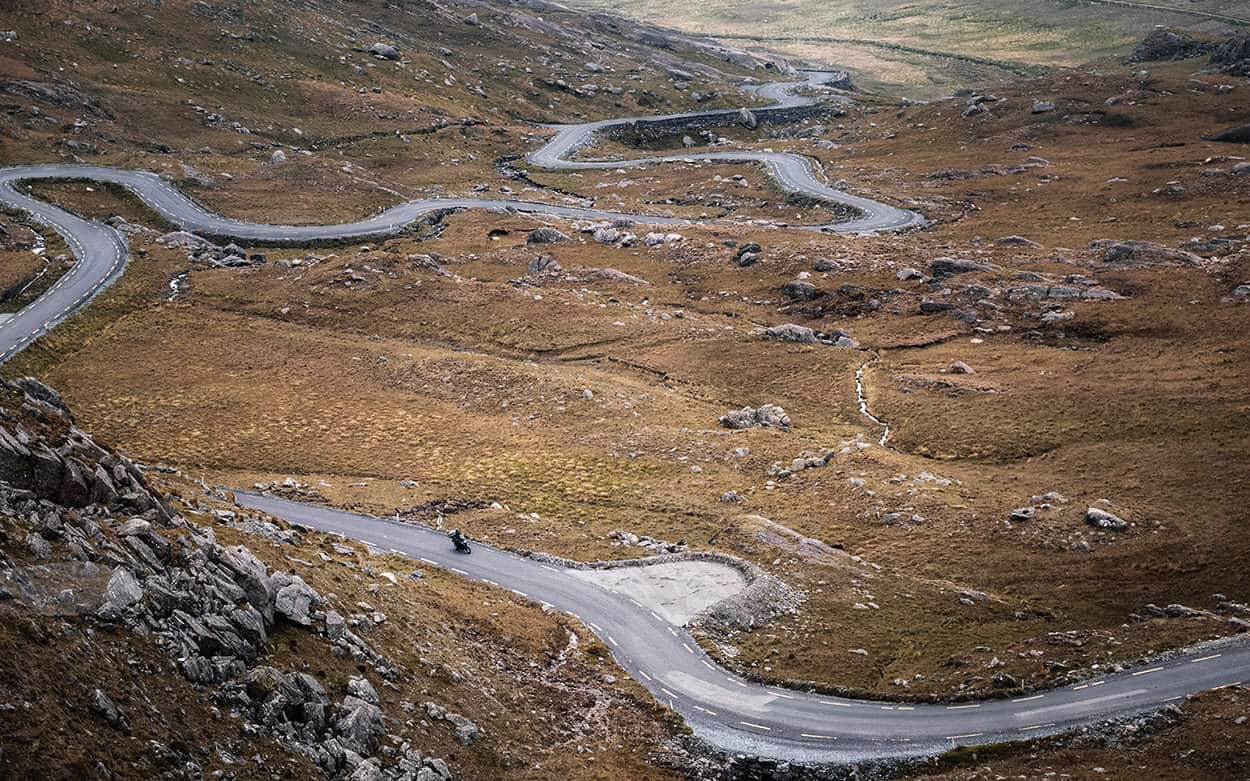 Roundabouts in Ireland
Traffic circles or roundabouts in the middle of the road are another big stress for people. Everyone thinks they will enter them on the wrong side, when really, there is no way for you to do that.
There are arrows EVERYWHERE directing you into the roundabout. Other cars are also going through that same traffic circle with you. Just follow them.
Do be mindful if you are in the inner or outer lane though.
LOCAL DRIVER TIP: The left lane on a roundabout is used to go to the first and second exits on a roundabout. The right lane in a round about is for the third exit only (or any other exits after 6 o'clock).
If you miss your exit because you are in the wrong lane and can't get off without hitting someone, simply go back around the circle, moving into the lane you need as you go.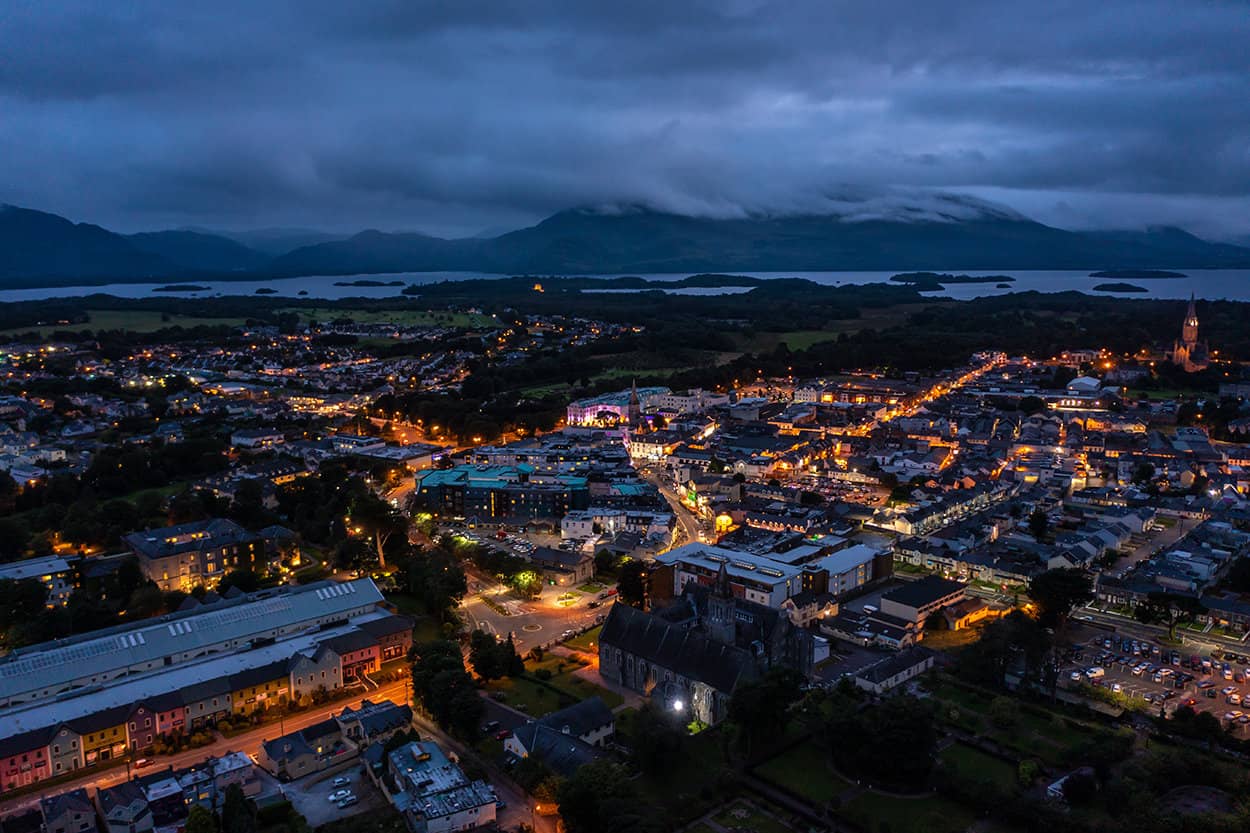 When in Doubt, Drive in Ireland during the Day
Nervous drivers should drive during the day as much as possible. Ireland is very dark at night. Those tiny winding roads can be intimidating.
For example, my father wanted to see the moon shining on the Cliffs of Moher. His GPS got him to what he thought was the parking lot, but he couldn't find the visitor's center, which is built into a mountainside.
We are all very happy he did not attempt to walk out and find the Cliffs of Moher without one of us, least he fall over the Cliffs.
Always remember that goats, sheep, birds and people are walking on those roads, and even on the highway it can be very dark out in the middle of the country. If you are not a confident driver, get to your destination by sundown for all of our sakes.
Driver courtesy on the road
There is a wonderful little custom when driving in Ireland, as well as Scotland, Wales and most of the UK. When you allow someone to pass, or make room for another car on the road, especially narrow roads, the driving will put up two fingers or even four fingers to give a little wave of acknowledgement for letting them pass you.
This is something I wish we did more in the United States. Perhaps I can petition the U.S. Embassy in Ireland, as this fairly simple gesture is far better than the rude hand gestures we too often seen when road rage is at play.
Pin it and Start Planning Your Ireland Vacation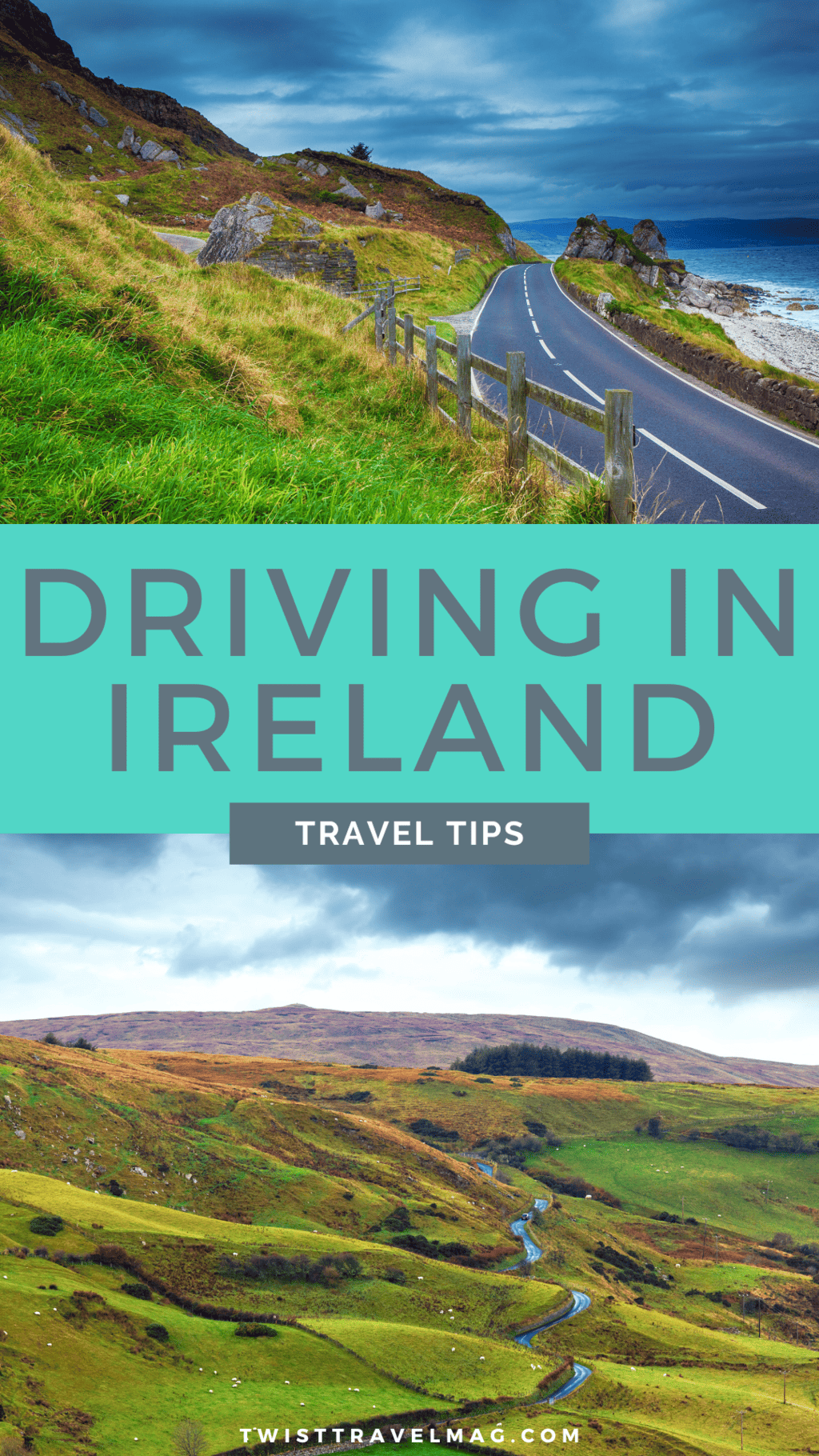 Frequently Asked Questions about Driving in Ireland (FAQ)
Do I need a special license to drive in Ireland?
If you're visiting from the United States or most European countries, your regular driver's license is usually sufficient. However, it's recommended to carry an International Driving Permit (IDP) as a translation of your license if it is not written in English.
Which side of the road do they drive on in Ireland?
In Ireland, you drive on the left side of the road. The steering wheel is on the right side of the vehicle, so always remember to enter the car on the right as the driver. If you accidently go to the left, just throw your daypack onto the seat and move around the car as if you meant to do that.
What's the legal age for driving in Ireland?
The minimum legal age to drive in Ireland is 17 years old. However, rental car companies may have higher age requirements. Some will rent to 21 year olds, but most will only rent to drivers over 25 year olds.
Are seat belts mandatory in Ireland?
Yes, seat belts are mandatory for all passengers in the vehicle, both front and rear seats.
Are Baby Car Seats and booster seats mandatory in Ireland?
Yes, children up to 12 years old or 150cm tall must be in appropriate child cars and child restraints, even if you are not from Ireland.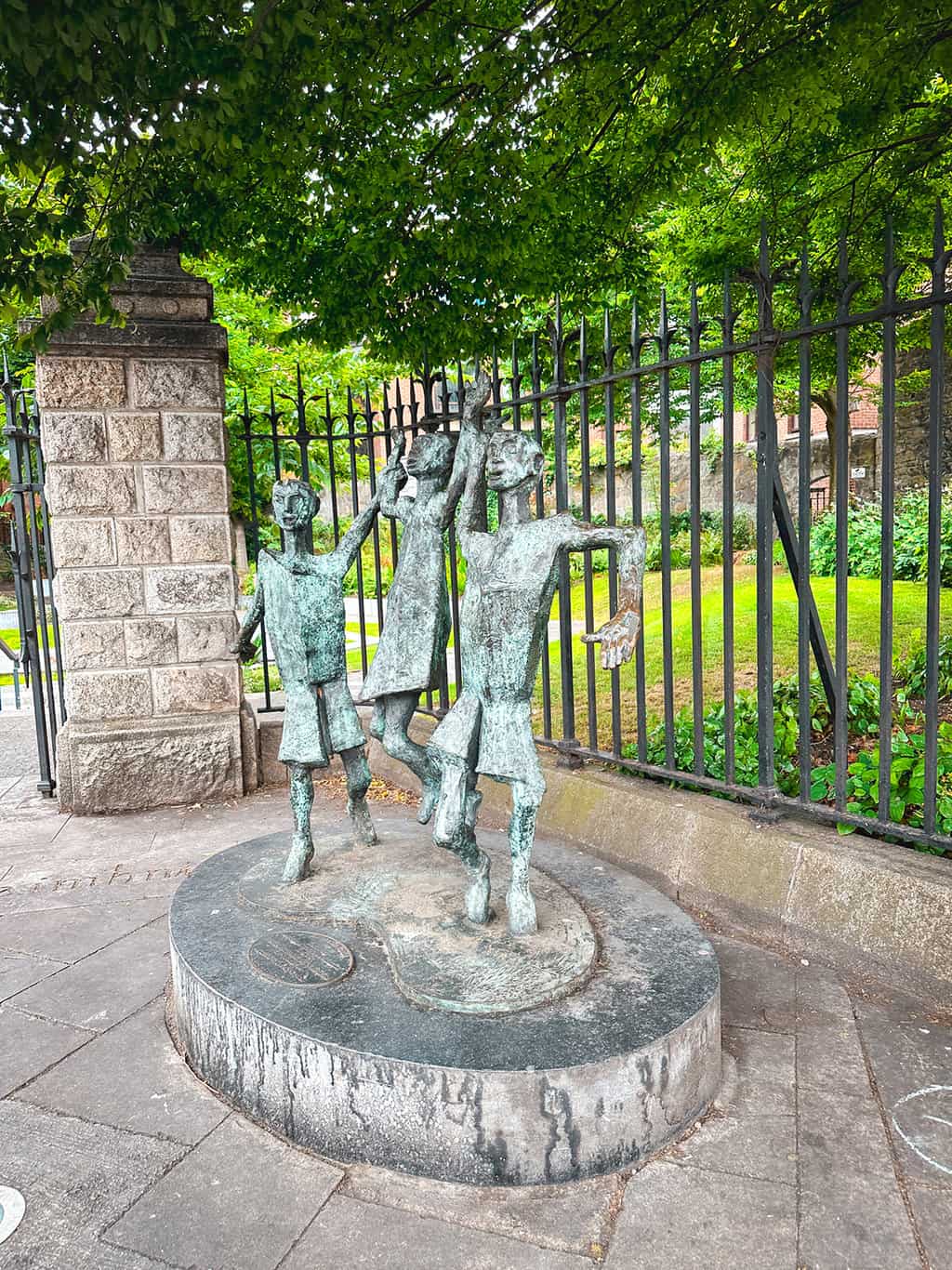 What's the speed limit in Ireland?
The speed limits in Ireland vary depending on the type of road. Typically you will drive 50 km/h in urban areas, 80 km/h on regional roads, and 120 km/h on highways or motorways.
Can I use my cell phone while driving in Ireland?
It's illegal to use a handheld mobile phone while driving in Ireland. Hands-free devices are allowed, which allows you to talk with an ear piece, listen to your music and follow GPS directions on your Google Maps. Many rental cars have Apple CarPlay, which makes it easier for iPhone users to access everything they need to drive in Ireland handsfree.
Are there tolls on Irish roads?
Yes, there are tolls on some Irish motorways and bridges. Be prepared to pay in cash or via electronic payment methods like E-Toll, or pay by mail.
What's the deal with roundabouts in Ireland?
Roundabouts are common in Ireland. Traffic flows counterclockwise, and you must yield to vehicles already in the ring road.
As an American driving in Ireland, you may wonder where all of the overpasses are and exit ramps. Roundabouts replace the majority of these types of roads, which definitely makes Ireland more beautiful and less of a concrete jungle than we see in the big cities in the United States.
However, it also means that on major highways you could finally get up to 120 km/h only to have to slow down or stop at a roundabout two minutes later.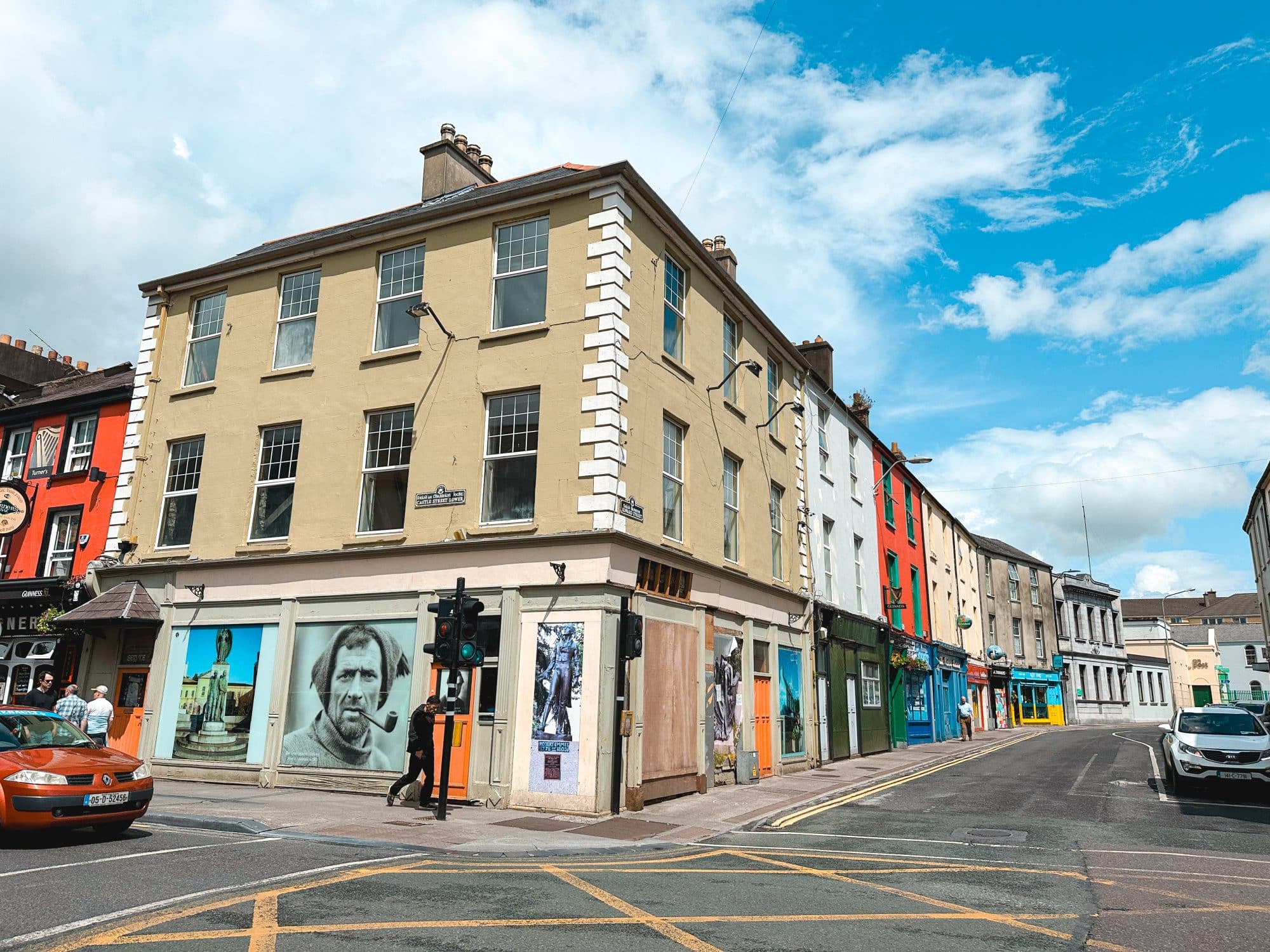 Are there any unique road signs I should be aware of?
Yes, some road signs in Ireland may be different from what you're used to, and many will be written out in Irish (or Irish Gaelic). Get familiar with the various road signs and their meanings before you hit the road. MOst are similar to U.S. road signs, or at least intuitive, but some, like the periodic speed limit signs, can be confusing.
'Speed limit' sign
Periodic speed limits (an electronic sign that turns on at specific times of the day OR a sign with hours/ road condition information)
'National speed limit' sign
'Yield' sign
'No entry' sign
'Two-way traffic' sign
'Roundabout ahead' sign
'Mini roundabout' sign
'Series of dangerous bends' sign
'School ahead' sign
'Children crossing' sign (usually in a residential area)
'Dangerous corner ahead' sign
'Dangerous bend ahead' sign
'Crossroads' sign (thick or thin lines indicate one road being more important than another)
'Crossroads with a dual carriageway'
'Staggered crossroads'
'T-junction' signs (thick and thin lines delineate the importance of one road over the other)
'No stopping' or 'Clearway' sign
'Max width' and 'Max height' signs
Flagman ahead
Uneven surface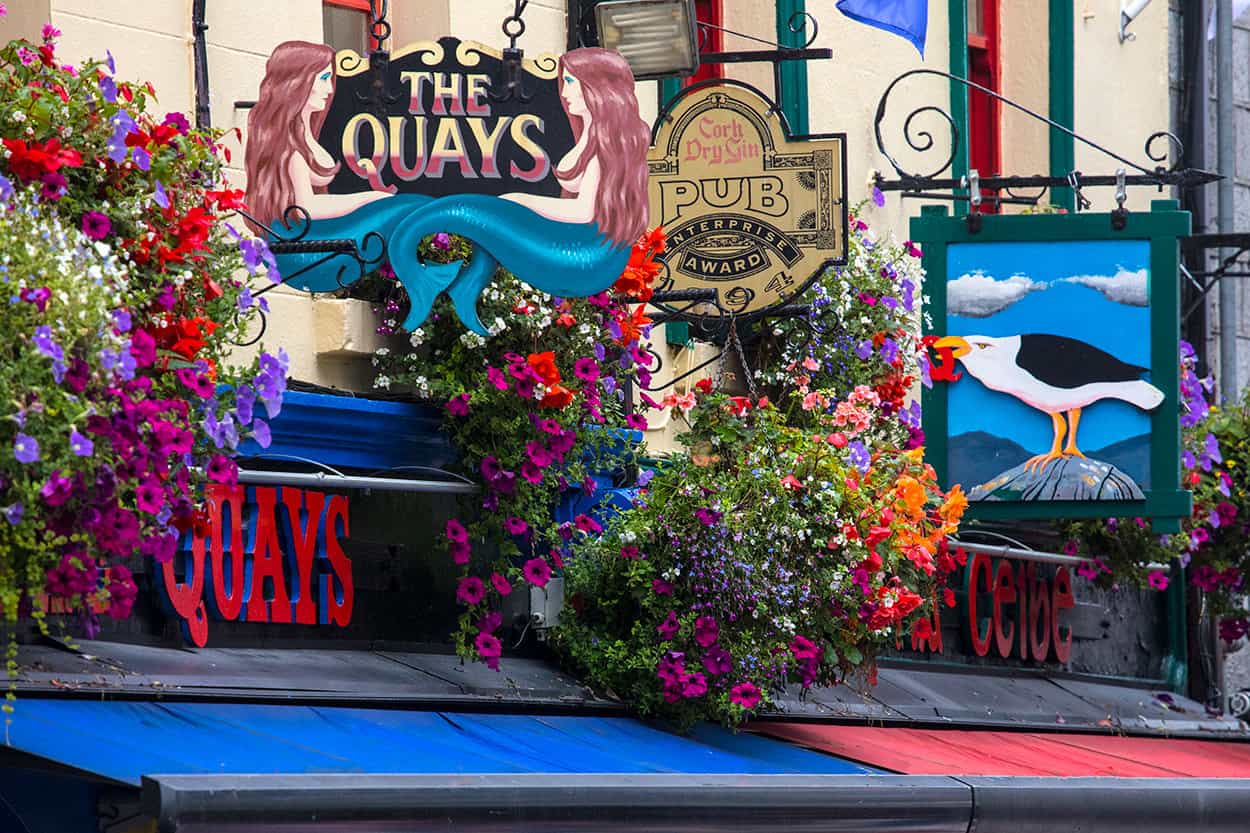 Can I drink and drive in Ireland?
No, Ireland has strict laws regarding drinking and driving. The legal blood alcohol limit is very low, and penalties for DUI offenses are severe.
The max Blood Alcohol Concentration (BAC) is 20mg for professional, learner and novice drivers. For everyone else, the limit is BAC 50mg, which is about one or two alcoholic beverages. My best advice– park your car for the night before you grab a pint at the local pub. This way you won't have to worry about going over the legal limit.
What's the deal with parking in Ireland?
Parking regulations vary by location. In urban areas, you'll often find pay-and-display parking or larger parking garages, while rural areas may have free parking. Be sure to follow local parking regulations and check with your local hotel to see if they get discounts at any of the local parking garages or have a garage onsite.
Are there specific rules for driving in the countryside?
In rural areas, roads can be narrow and winding. Drive cautiously, and be prepared to encounter cows, goats, sheep, baby lambs, and other farm animals on the road, especially in more remote areas.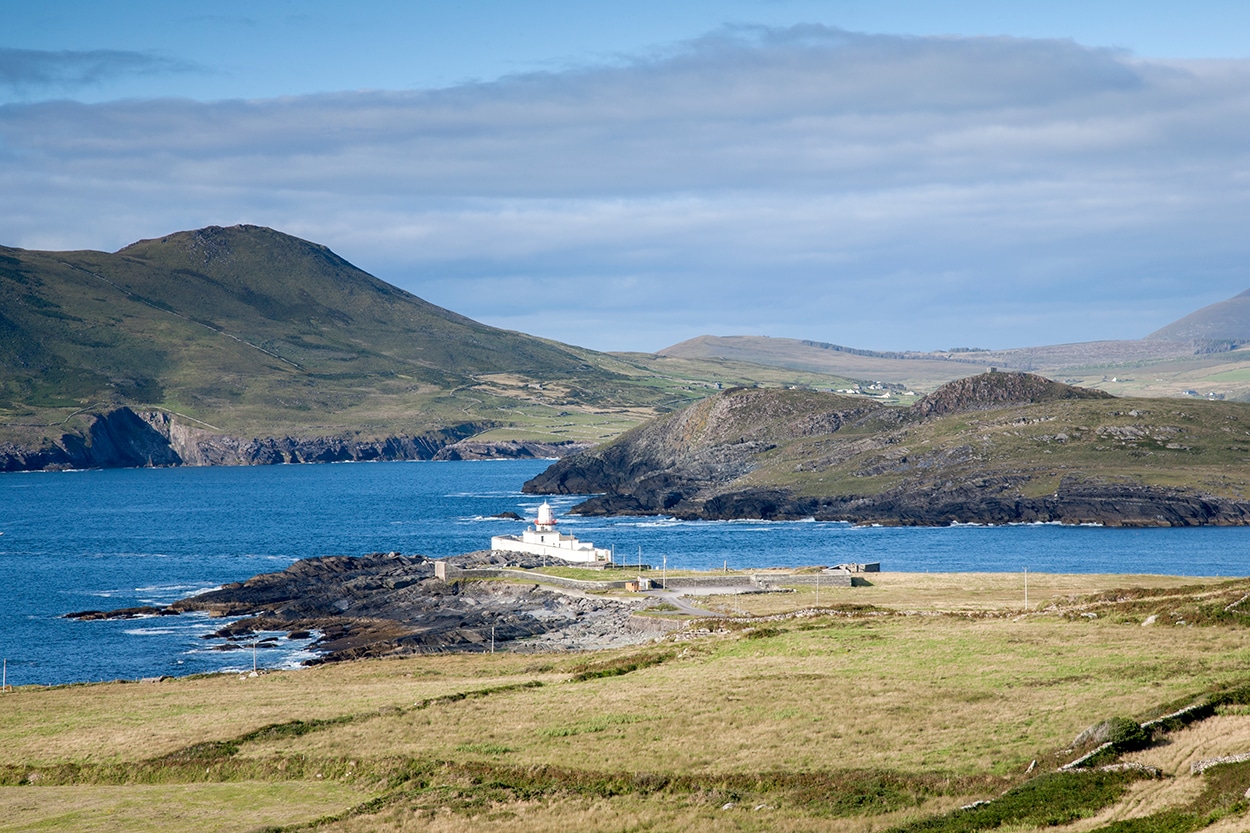 Do I need to purchase car insurance in Ireland?
Yes, it's mandatory to have car insurance in Ireland. Ensure you have the necessary coverage before driving, as not all credit cards, USA car insurance companies and travel insurance will cover you in Ireland.
How do I handle a breakdown or emergency while driving in Ireland?
Contact the emergency services by dialing 112 or 999. If you have breakdown assistance through your rental company or insurance, use the provided number for help. Remain calm, pull to the side of the road if possible, and make sure all parties are OK if you are in an accident with another car. Take photos of your vehicle so you have proof for the car rental company and your insurance too.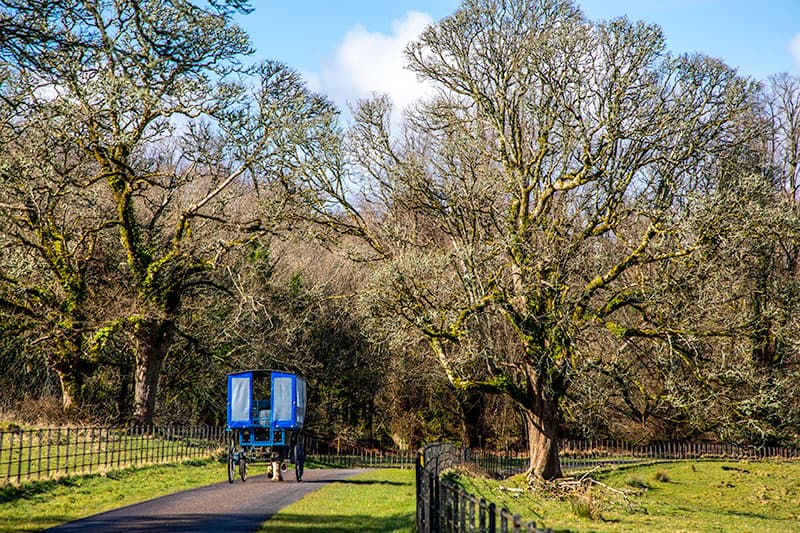 Can I use my foreign driver's license for an extended stay in Ireland?
If you plan to reside in Ireland for an extended period, you may need to exchange your foreign license for an Irish one. Check with the National Driver Licensing Service for specific requirements.
What's the deal with Irish road conditions in winter?
Ireland experiences milder winters compared to some countries, but it's still possible to encounter icy conditions, like hail, especially in the northern regions. Ask your car rental agency if snow tires or other inclimate weather protection will be needed.
Are there any notable scenic driving routes in Ireland?
If you don't already know that Ireland has some of the most beautiful road trip routes in the world, allow me to enlighten you about a few of our favorites. Here are four drives you will not want to skip!
Causeway Coastal Route (Northern Ireland)
Can I rent a car in Ireland with my regular driver's license?
Generally, you can rent a car with your regular driver's license, as long as it is written out in English. If you have a driver's license in another language, you will need an International Driver's Permit (IDP). Always check with the rental company as they may have more specific requirements.
What's the deal with Irish road etiquette?
Irish drivers are pretty polite and considerate, especially compared to American drivers. Use your indicators (blinkers), obey speed limits, give a wave if someone lets you pass on a small road, and just be nice to people as you drive. Leave your road rage at home, because it won't be welcome in Ireland.
Are there any specific tips for driving in Irish cities like Dublin or Cork?
Driving in cities can be challenging due to congestion and limited parking. Consider using public transportation or park your car outside the city center and use public transport to navigate within. Ireland has a great train system, so utilize it whenever you don't want to deal with rush hour, crowds, or simply driving on left hand side of the road.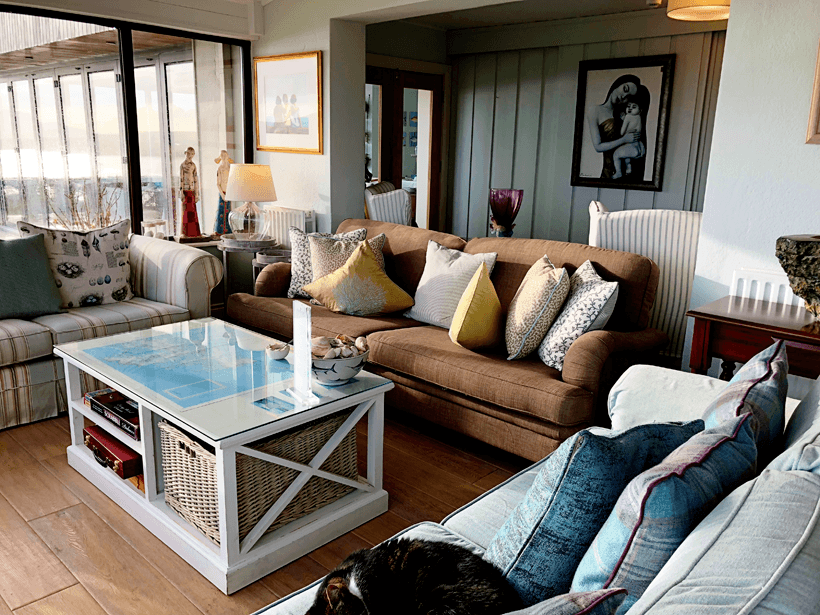 Ireland (Dublin) Destination Guide
This page contains affiliate links, meaning if you book or buy something through one of these links, I may earn a small commission (at no extra cost to you!)
Dublin Hotels
Looking for more? Search for the best Dublin hotel on Expedia.com.
Dublin Vacation Rentals
Need a car? Grab the best rates on rental cars HERE (and yes, we use this site for every trip).
Pin it and Start Planning Your Ireland Vacation