If you have ever been to an American grocery store, you have probably seen a bright orange bag filled with bread in a display case. Hawaiian dinner rolls are a favorite at Thanksgiving, used as sandwich bread and even an afternoon snack with tea.
When you think about the islands of Hawaii, you don't necessarily think about bread. Right? You think about juicy pineapples, mangos and avocados the size of your head. Maybe some shaved ice and macadamia nut ice cream to enjoy after a plate of fresh fish.
But, bread has a long history in Hawaii, even before Hawaii became a U.S. state.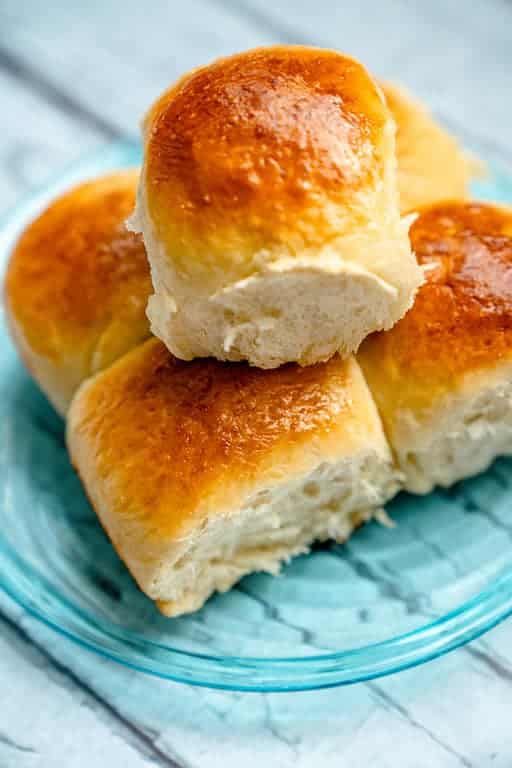 History of the Hawaiian Sweet Buns
Hawaiian sweet rolls have their roots in Portuguese bread. Portuguese farmers who settled in Hawaii brought their bread recipes with them, and enjoyed these sweet buns while working in the farms and plantations across the islands.
Japanese-American Robert Taira opened Robert's Bakery in Hilo in the late 1950s. This small bakery would later become the famous King's Hawaiian company who distributed rolls across the U.S.A. But before that could happen, many tourists started bringing the bakery's breads home to friends and family.
Eventually, we started to make our own Hawaiian dinner roll recipes, tweaking it along the way until it was perfect for our families.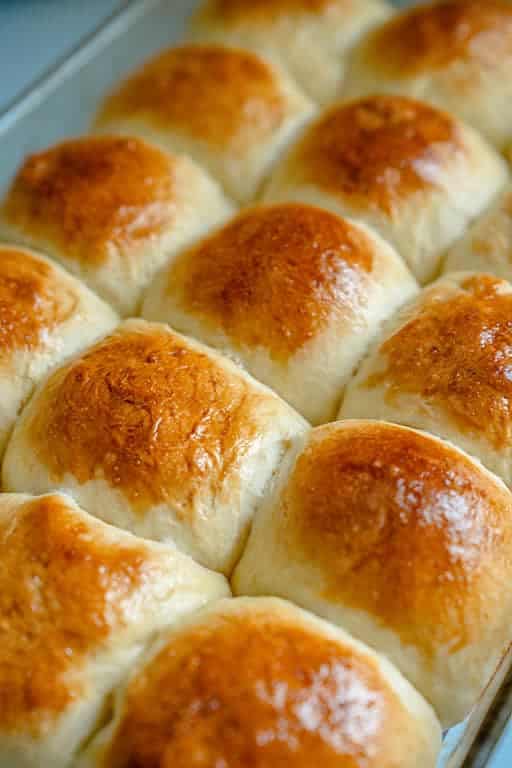 Hawaiian Dinner Roll Recipe
Hawaiian dinner rolls are all about that touch of sweet that comes through in the warm dough of these golden on the outside, soft in the middle buns. While pineapple juice isn't traditional, it does add a little bit of the tropics to your recipe.
Kings Hawaiian Rolls doesn't use pineapple juice as a sweetener in their bread. Personally, using pineapple juice gives it that sweet, tart taste.
The pineapple isn't the star of the show, but it does make a noticeable difference when you make several batches of this Hawaiian bun recipe.
What can take over is the honey in this recipe. While I love the honey version, as do my loyal taste testers (my kids and a few neighbors), to get a more subtle sweet, you should use white sugar and an egg wash. Keep that pineapple juice though!
Any combination of honey or sugar and washes works, so play with it a bit. I've listed out where alternates come into play in the recipe.
What to do with Hawaiian Dinner Rolls at Home
Kings Hawaiian rolls are always a crowd pleaser in my house. We love that bit of sweet paired with a savory meal, like stew or soup. I even use Hawaiian dinner rolls to make small tuna fish sandwiches when we travel.
It sounds weird, but trust me, it's amazing.
These sweet rolls are best eaten hot out of the oven, but they do take several hours to allow the dough to rise twice.
Start your dough around lunch and your Hawaiian sweet rolls will be ready by dinner.
Stand Mixer or Hand Kneading the Dough
Making bread with a stand mixer with a dough hook attachment, or even a bread machine, can save your arms a bit of work. However, if your KitchenAid dies on you (like mine did while making St. Lucia buns), you can knead this dough by hand.
Honestly, a lot of this recipe requires hand work.
If you don't feel like getting your mixer dirty, don't stress and just use a bowl and spoon that can pop into the dishwasher.
Hawaiian Sweet Rolls Ingredients
1/2 cup buttermilk (2 tbsp buttermilk powder + ½ cup water)
6oz pineapple juice (about ¾ cup)
1/3 cup honey (or white sugar)
1 tsp salt
2 eggs
1 tbsp vanilla extract (don't use imitation)
6 tbsp butter (use melted butter)
1 packet fast-rising instant yeast (2 ¼ teaspoons. Do not use active yeast!)
5 cups all-purpose flour + more as needed ((bread flour makes the dough too dense)
Honey butter (2 tbsp honey + 4 tbsp butter melted together)
Hawaiian Dinner Roll Instructions
In a small, microwave safe bowl, combine buttermilk, pineapple juice, honey and butter.
Heat wet ingredients for 30 seconds at a time, until you reach 110°F.
Sift flour into a large bowl, add salt to one side and yeast to the other. Give it a light stir to combine.
Add vanilla and whisked eggs to warm wet ingredients.
Slowly combine dry ingredients one cup of flour mix at a time to wet ingredients until combined (dough may stick to the sides of the bowl)
Knead dough for about 2 minutes on a lightly floured surface, until you have a slightly moist dough (should not stick to your hands, but not be too dry).
Add more flour as needed.
Shape the dough into a large ball.
Place dough into a large, clean bowl. Cover with dry towel or saran wrap.
Allow to dough to rise in a warm, dry place for 1- 1 ½ hours (until about double in size, so rising times may vary).
TIP: set your oven to 100°F. Turn off your oven. Place a towel below the bowl, as well as on top of the bowl of dough.
Punch down dough once, and separate into 15 equal-sized balls (about 85 ounces each).
Roll balls of bread dough until smooth and place in a buttered 9×13 inch glass baking pan.
Cover the Hawaiian dinner rolls again and allow to rise for another 1 hour (until about double in size).
Uncover the rolls.
Brush with honey butter using a pastry brush. (Alternately, you can use an egg wash- 1 egg + 1 tsp water whisked together).
Adjust oven rack, so top one is in the middle of the oven.
Preheat oven to 375°F.
Bake for 20 minutes, rotating pan halfway through bake, until tops of the rolls are golden brown (be careful, they will brown quickly).
Allow to cool on a wire rack for 10 minutes.
You can brush more honey butter on top if you love honey as much as we do.
Serve warm.
Freezing your dinner rolls
There are a few ways to freeze these Hawaiian sweet rolls. You can bake your rolls, allow them to cool and then freeze the buns.
Or, you can allow the dough to rise the first time, shape your rolls into balls and freeze the dough. Once you are ready to bake your dinner rolls, simply take them out of the freezer and stick in a warm dry place. You will allow the dough to do it's second rise.
Just remember- your dough will have to defrost before it starts to rise, so expect a 2-3 hour rise the second time. Make sure you stick your dough in a warm, dry space again too.
Hawaiian Sweet Roll Combinations
Like I said, there are a lot of things you can do with Hawaiian dinner rolls, besides just slather them with butter and enjoy hot out of the oven.
Rolls with jam and butter
Homemade hot honey
Honey, apples and cheese buns
Bread pudding
Ham and Swiss sandwiches
Turkey and cheddar with mustard sandwiches
BLT sandwiches
Tuna with lettuce finger sandwiches
Hamburger Sliders
Mini-Meatball Sandwiches
Pizza rolls
Breakfast sliders with eggs, bacon and cheese (or whatever you love)
Love it? Pin it for later!