We are all working from home more these days, even if we have an outside office to go to during the week. Bringing work home, starting personal projects or a new business at home is becoming the norm. When innovation happens, so does the need for a few home office set up ideas to make your life just a little bit easier.
I've been building my perfect home office for a few years, grabbing ideas from Pinterest, friends offices and products I just love for an office set up.
Art I've picked up on my trips surrounds me, so even in Zoom calls I have a great background to show off. Plants burst in front of my window (I have a sick obsession with trying to get my orchids to bloom again. So far I'm at about a 15 percent success rate with six of them) and my shelves are stocked with file folders, markers, pens and random supplies my kids keep stealing.
Most important is my desk, chair and everything that makes me function when I plug in at home. Ready to set up your home office so you are more productive?
Perfect Home Office Set Up
Here's what my set up looks like, plus the home office ideas that will have you breathing a little easier as you dream about the trips you will take.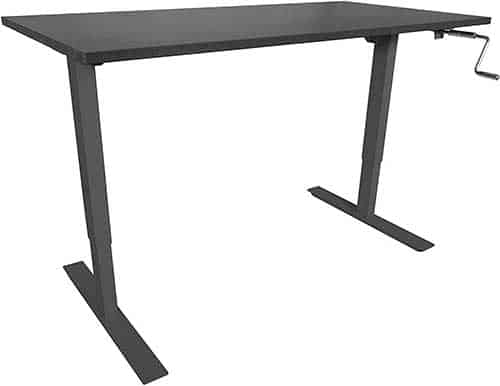 Best Stand Up Workstation
My husband and I had been dreaming about adjustable stand up desks for some time. I hate sitting all day, and think best when I can move around.
My husband is hunched over his desk all day at work, which means he doesn't want to do the same when he is at home. He also needed a much longer desk (60 inches) to hold his three monitors (yes, he is that guy).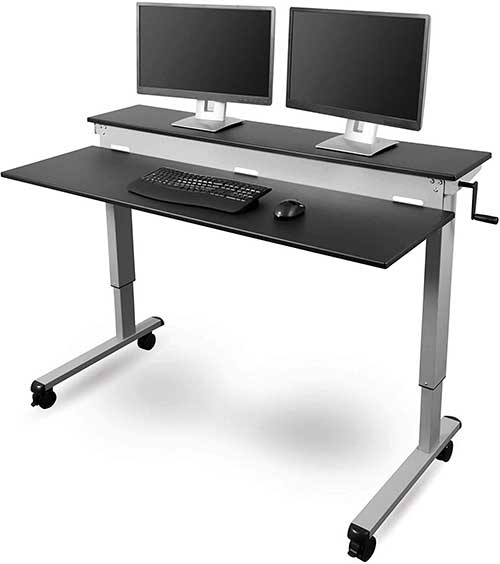 I, on the other hand, wanted a two-tier, stand-up computer desk so my monitor could be up higher, but still have space to hold my laptop, which hooks into my mega monitor. It's the little things that make life more organized and it easier to work from home.
Buy my dual-layer desk on Amazon.com
Buy my husband's single layer desk on Amazon.com
Comfy Stand Up Desk Chair
I can't stand up ALL of the time, but I didn't want to crank my desk up and down either. I grabbed am ergonomic drafting desk chair for when my legs need a break. It has an adjustable foot ring to rest my feet on, plus flip up arms… for one day when I don't want to relax my elbows.
There are several different drafting desk chair styles you can grab, but this one gave my back the best support where I needed it. I also didn't need a head rest, which was an option too.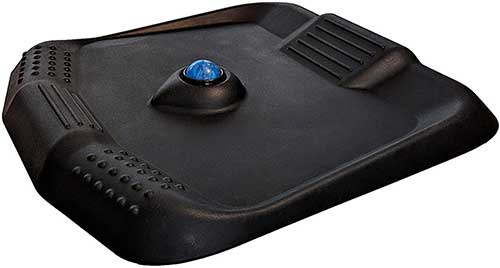 Standing pad for standing workstation
While we all know you need to stand when you have a stand-up desk, having your feet on the hard ground isn't so great for your back. Or your feet for that matter.
I picked up a standing desk, anti-fatigue mat with stretch points in the front and back, as well as an acupressure rolling ball for my feet. My husband has tried to steal it for his home office several times, so I finally ordered him one too.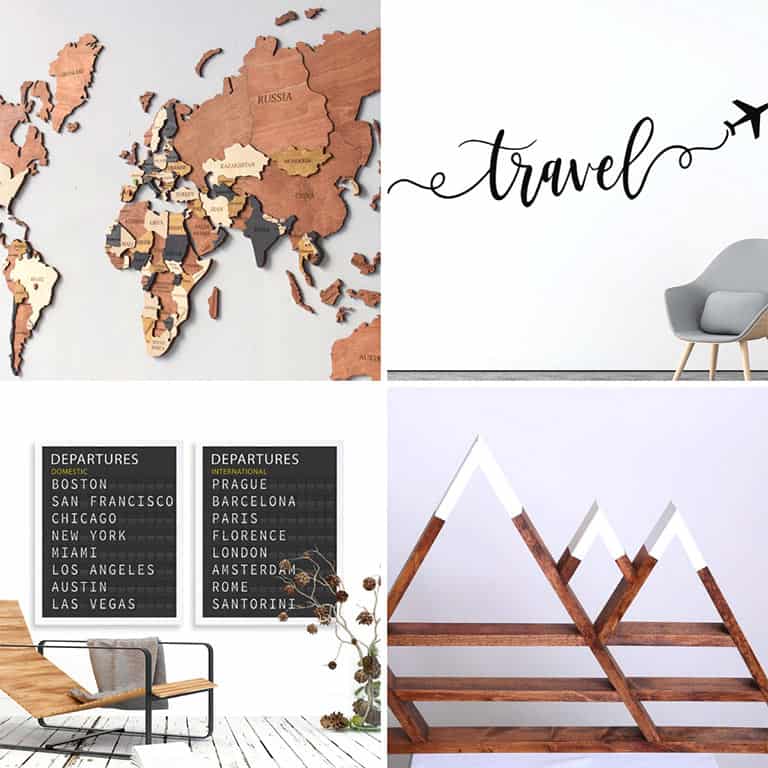 Travel Wall Decor
Add a little travel inspiration to your home office design with some fun wall art. From decals to custom wood maps you can put pins in to mark your world wanderings, we love these fun pieces that add to your office environment.
3D Wooden Wall Map: Buy on Etsy.com
Travel Wall Decal: Buy it on Etsy.com
Customizable Train and Plane Departures Board Prints: Buy it on Etsy.com
Custom Mountain Shelf: Buy it on Etsy.com
Plants bring the tropics to your Office SetUp
My house is filled with live plants in my living room and dining room. So, of course, my small office at home is no different.
I love the color and texture of plants that also brings fresh air and life into home office spaces. Plants bring me back to tropical destinations, lush rain forests and places I dream about visiting one day.
Here are a few of my favorites that are easy to take care of, especially if you have natural light in your office space. They will fit in any space in your home, so move them around if you need to find their happy place.
Tradescantia: buy it on Etsy.com
Calathea Medallion: buy one on Etsy.com
Lemon Button Fern: buy one on Etsy.com
Monstera Deliciosa: buy one on Etsy.com
Peace Lily Air Purifying Plant: buy one on Etsy.com
All you need is some pretty pots, and you are good to go. Need pots? Here's some of my favorites too.
Stay Fit at Your Stand Up Desk
I recently added "The Level" FluidStance board to my home office. I'd wanted a balance board for some time, but couldn't find the right one for me.
I love the FluidStance because you can actually increase the balance difficulty by popping on a "Challenge Cap." The wooden material, which comes in many different finishes, is also stylish and matches my stand up desk perfectly.
Made from 90% recycled material, the FluidStance is a product I could feel good about as well. Plus, they make FluidStance "The Grade" balance boards for kids. Naturally, my boys are begging me for one each.
Start laughing, because I also have a mini stair stepper. While it is next to impossible to type and step at the same time (trust me, I've tried), you can take a break and get a few steps in while at your desk.
The kids probably use it more than me, but on rainy days, I do a few 5-minute sessions of stepping at a time to get my legs moving. I'm thinking a desk cycle might be next though.
Add a minimalist Moroccan Rug
If you haven't been on a trip to Morocco lately, you may not have one of the traditional Berber rugs you will see in a lot of design magazine. Have no fear, nuLOOM has a Moroccan Blythe rug we are obsessed with that would go perfectly in a home office. This Artistic Weavers Hana Area Rug (see it here), is perfect for neutral tone lovers.
Pick from minimalist with with grey patterning for a modern office, or something a pop of color to show off your interior design style.
Load up on tech for Your home office
Ok, it's weird, but I have an Amazon Echo Show in my office. For one, I can listen to music and grab the weather without having to type at all. I also like to have movies or shows running in the background when I edit photos.
Even better, it's hooked up to our Waze cameras, so I can check the front door or yell at the kids in the basement without ever leaving my office.
Buy an AMAZON ECHO SHOW on Amazon.com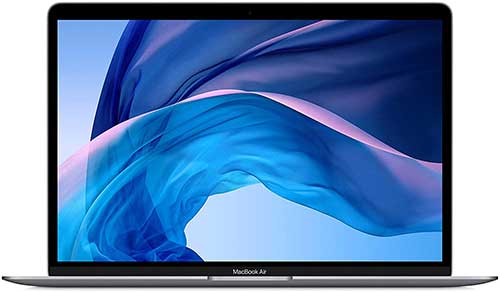 Laptop for on the go
My MacBook Air is my lifeline to my business and the world. It fits in most of my purses, I can run all of the Adobe and Microsoft software I use on it, and get work done from anywhere in the world.
Whenever I get a new Macbook, I do order the one with the largest processor and RAM upgrade. My laptop needs to be powerful, yet light, which the newer MacBook Air certainly provides.
Large Monitor for Dual Screen Set Up
When I was doing more video work from home, my husband bought me a widescreen monitor to hook up to my little MacBook Air. I thought he was a bit crazy. I didn't need something that big.
Well, fast forward a couple years and I love my monitor.
I can work on three things at once—two screens open on my monitor and one on my laptop, making it easy to research, pull files and find music all at the same time. My husband wants to steal my monitor. I told him that is fine, as long as he orders me the newer model. Ha!
Buy your extra monitor on Amazon.com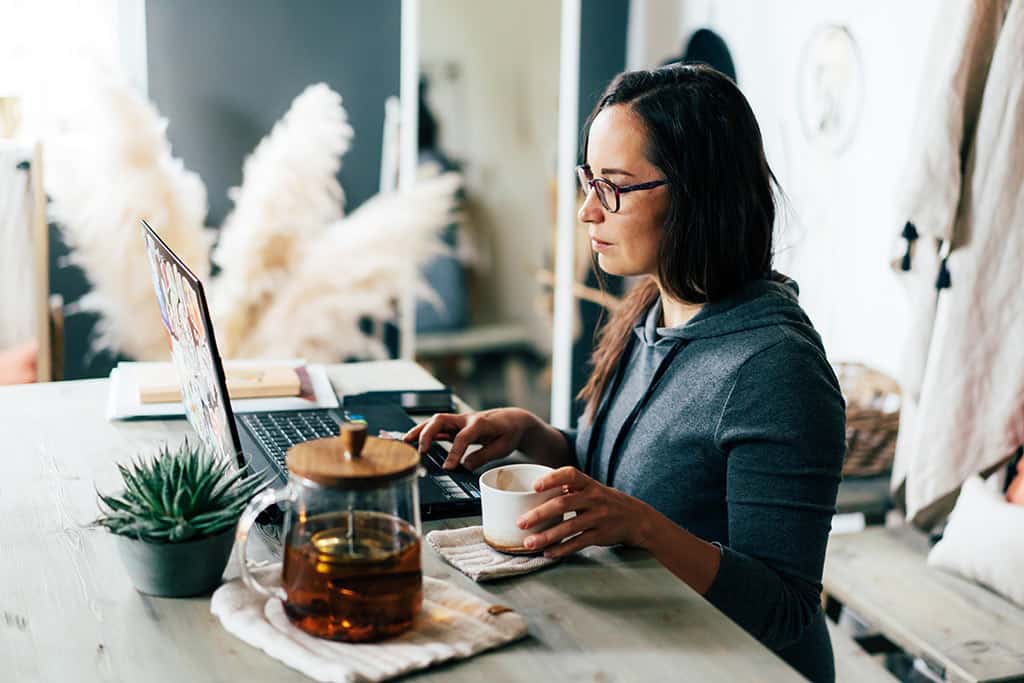 Essential Home Office Accessories
Blue light blocking glasses
I'm on a screen a lot, which isn't great for my eyes. I added a blue light blocking coating to my prescription glasses last time I got a new pair.
For the family, I ordered one pair of blue light glasses for men and two pairs of kids blue light glasses. We are all on screens more and more. School, work, even reading has us on screens these days.
What do blue light glasses do? They block blue waves from your screen, causing a bit less eye strain, especially if you are on the computer and tablet for long periods of time. There are conflicting reports on how well they work, but my husband and I have experienced a lot less eye strain and headaches since using them.
Buy Adult Blue Light Blocking Glasses on Amazon.com
Buy Kids Blue Light Blocking Glasses on Amazon.com
Ergonomic Vertical Mouse
As I sit at my computer more, I've developed carpel tunnel issues. It's hard to wear a brace when you want to type, which is why a vertical mouse is handy. T
his mouse was recommended by a friend who also struggles with wrist issues, and has changed her world. It's a much more natural way to use your hand without over extending your pointer finger. While this one doesn't travel well for me (too big), it is great to have at home.
External Hard drive
I have several desktop external hard drives at home to store photos, video, designs, website back ups and articles. There is nothing in my life that is only backed up in one spot. I'm currently building up a hard drive to leave at my parents' house, just so all is not lost if something happens at home.
When you work mostly online or remotely, backups are key. I've had too many friends loose photos and videos because they thought they had backed it up, or even worse, a hard drive gets corrupt and they can't access anything. This has also happened to me, but thankfully, I always back up my little portable drives too.
Portable Hard drive
Whenever I travel, I have an external portable hard drive with me. Every year I grab a new one to start fresh. This way, I don't have to over extend my little laptop's built in hard drive with big photo and video files, but I can still access everything I need from the road.
Once I get home, I back up what I added to my portable hard drive, onto a desktop external drive.
Perfect Office Desk Mugs
Even for those of us who remote work from home, we still need our travel mugs to keep the coffee flowing throughout the day. You will see my crazy mug collection if we are ever on a video call.
And since the kids keep breaking my favorites, I'm always on the lookout for a fun mug (or five) to bring to virtual meetings with me.