Going for a winter hike in the Zion Narrows, the park's famous slot canyon, is a dream outdoor adventure, but there are a few things to know before you hit the trail. When to visit and how to travel to Zion, what gear to pack, where to stay, and where the trail actually starts are all important points to consider as you plan your trip to the Narrows of Zion National Park.
Most important of all, visit with a sense of adventure, be prepared for your plans to change due to weather, river flow rate and stay flexible. Keep in mind, when it comes to nature, anything can happen.

Getting to Zion National Park
Getting to Zion National Park from the East Coast can happen in three ways:
Move back to the West Coast and take a quick direct flight to Las Vegas or St. George, Utah. This was one of my best friend's suggestion. Not that practical in my case since I had to be there rather quick, but you can't blame the woman for trying.
Fly to Las Vegas and drive about an hour and a half to St. George, Utah (or two hours to Zion). You can base yourself in St. George, Utah to explore their state parks and do a day trip to Zion National Park. Alternatively, you can travel a bit farther to Hurricane, Utah, which puts you a bit more in the middle of everything.
Fly to St. George, Utah with a likely stop through either Las Vegas, Phoenix, Los Angeles, Salt Lake City or any other number of stopovers, especially if you are coming from the East Coast. In the winter, this can be extra fun because any stopover can cause weather delays.

What to pack for the Narrows in Zion National Park
Camera Gear:
GoPro (if you don't want to worry about water)
dSLR + Tripod (if you plan on taking awesome shots or low-shutter speed photos)
iPhone (because it really can take decent photos in there – I have proof!)
Extra batteries
Extras:
Gear you need to rent to hike the Narrows
Drysuit
Neoprene Socks
Booties
Hiking stick or walking stick
You can reserve all of your equipment from outfitters like Zion Adventure Company which is just outside of Zion National Park. It's perfect if you just plan on a day hike.
Don't forget your travel insurance! Better to be safe than stranded.

Zion National Park Entrance Fees
Every car and person entering Zion National Park will either need to have an annual National Park Pass or pay a fee to enter. These fees help to preserve and maintain the beauty of our National Parks including trash pick-up and staff payments.
Check the NPS.gov website for the latest park entrance fees. If you plan on going to more than three National Parks this year, it might be worth investing in an annual pass.
Do you need a permit to hike the Zion Narrows?
No, you do not need a permit to hike the Zion Narrows as far as Big Spring. However, if you plan to go past this point in the Narrows, you will need a permit and to register with the National Park Service. You know, so someone knows if you go missing or something.
Don't ignore this need for a permit. If you are caught without one in Zion canyon you will be in big trouble.
CLICK to buy travel insurance before your trip!

When's the best time to hike the Narrows?
Winter. No, I'm not joking. Winter is the best time to hike the Narrows in Zion National Park. It's less crowded, the heat isn't too intense and the water level isn't very high.
You do need to be mindful of the weather though as flash floods can happen if it is going to rain or has snowed recently. Summer is a great time to hike the Narrows as well, but it is often hot and crowded. One benefit however, is that the water will cool you down and you won't need a dry suit to fend off that chilly water flow.
Fall in Zion National Park is gorgeous, and if the draught continues through the summer, water levels might be low, making it easier to navigate the river.
I'd still stick to winter if you want to avoid crowds and get some truly amazing photos.

Where are the Narrows in Zion National Park?
You can access the Narrows at the end of the Riverwalk at the Temple of Sinawava tram stop, the last stop on the tram. At the end of the trail you will see rock stairs leading down to the river bed. Simply walk down and continue heading up river.
How do you hike the Narrows?
There are actually two ways you can hike the Zion Narrows– top down and bottom up.
Bottoms Up: Hike through the Virgin River from the Temple of Sinawava in Zion National Park. You can go as far as Big Spring before turning around.
Top Down: You can hike 16 miles down from Chamberlain's Ranch to the Temple of Sinawava. This hike will take you one to two days and does require a permit from the parks department.

Should you hike the Narrows with Kids?
No. Yes. Well, maybe. Hiking the Zion Narrows with kids is a tricky call.
My boys are currently ages five and eight years old. Some kids this age are totally up for it, while others will not be. The same goes for parents.
While mom might be an outdoor adventurer and able to help a younger child cross the river, dad might not be as comfortable carrying a toddler in a pack for five hours through slot cavern.
You need to go with your gut and always play it safe. Keep a close eye on the park reports. Never go into the Narrows if there is a threat of flash floods. This is true whether you have kids or not.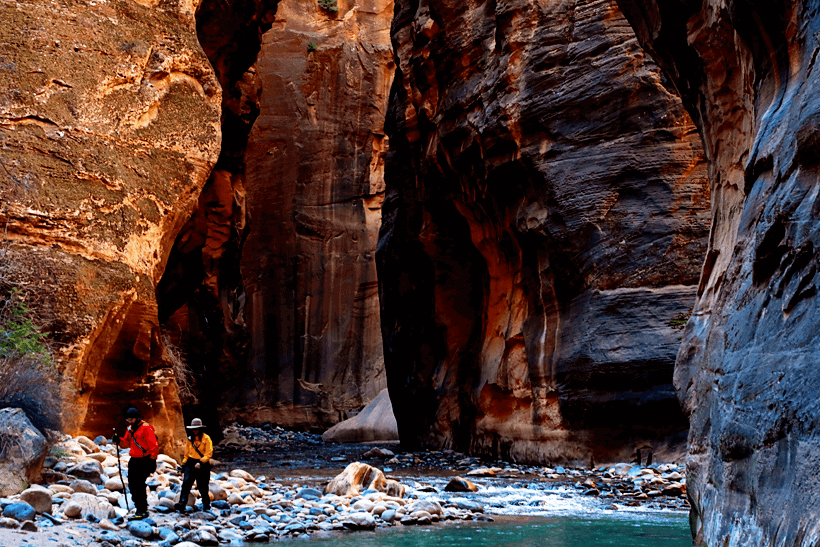 To give you a little perspective—I am in reasonably good shape. I exercise off and on, and I could do the Narrows for five hours. It was exhausting, but I managed. As I went up and down the river, I thought, "Could I do this while helping my five-year-old?" My answer was no.
There were points in the river when I almost fell over because of the force of the water against me, the slippery rocks, or my own exhaustion level. I never felt unsafe, but I don't think it would have been possible to hike with my sons and keep them safe the entire time.
As a result, I told my husband we were not ready to hike the Narrows in Zion National Park with our kids quite yet.
I saw other families with children my boys age turn back at points. I'm sure I would have done the same. It's hard to make that call, but you need to, no matter how much you want to see beyond the next turn and get to at least Wall Street on the trail.
Hotels near Zion National Park

ST. GEORGE HOTELS
Amira Resort and Spa, 1999 W Canyon View Dr, St George, UT 84770. This four-star resort is tucked away in the hills of a housing community, with great trail hikes just up the street, and a five-star staff. Never have I been so warmly, or genuinely welcomed.
The rooms are minimally decorated in light woods and white linens. The gas fireplace warms up the space at night, and the mini kitchenette tucked into a bureau hides a coffee maker, microwave and other necessities to make a snack or quick breakfast.
Two pools, one heated with an attached hot tub, are great for the kids to unwind and for adults to cool off from a hot day outside. The spa is a relaxing haven after a long day of trekking through one of St. George's four state parks, or a full day in the Narrows of Zion National Park.
Grab the best rates and availability on St. George hotels now
Zion Airbnbs
Need a bit more space and amenities? Check out the Airbnbs near Zion National Park.
Studio suite
Red Rock Inn cottage
Treetop apartment

Springdale Hotels
Cliffrose Lodge and Gardens, 281 Zion Park Boulevard, Springdale, UT 84767. Just a 5-minute walk from the entrance to Zion National Park, you can't get much closer to the Visitor's Center unless you want to camp in Zion.
The lodge boast a beautiful swimming pool surrounded by lush, desert gardens. Breakfast is included in your stay, and served outside year-round. Rooms, suites and villas are perfectly set up for groups large and small .
Families can take over a two-bedroom suite, while a couple will be more than comfortable in a king-bed sized room. Friends traveling together may want to grab a three-bedroom villa so they have plenty of space to spread out, cook their own meals and stay up late without waking the neighbors.
This post is part of a paid partnership with Travel Mindset and Visit St. George. As always, my opinions are my own. When they aren't, you will be the first to know. This post may contains affiliate links. If you make a purchase after clicking one of those links I will receive a small commission.