Looking out over the clear blue sea, you may think that it doesn't get any better than this. Your children are digging in the sand, splashing in the water, and getting a little Vitamin D.
You know there are other things you can do on the beautiful island of Kauai, the garden island of the Hawaiian islands, but you figure why bother; there can't be much you can do with in Kauai with kids.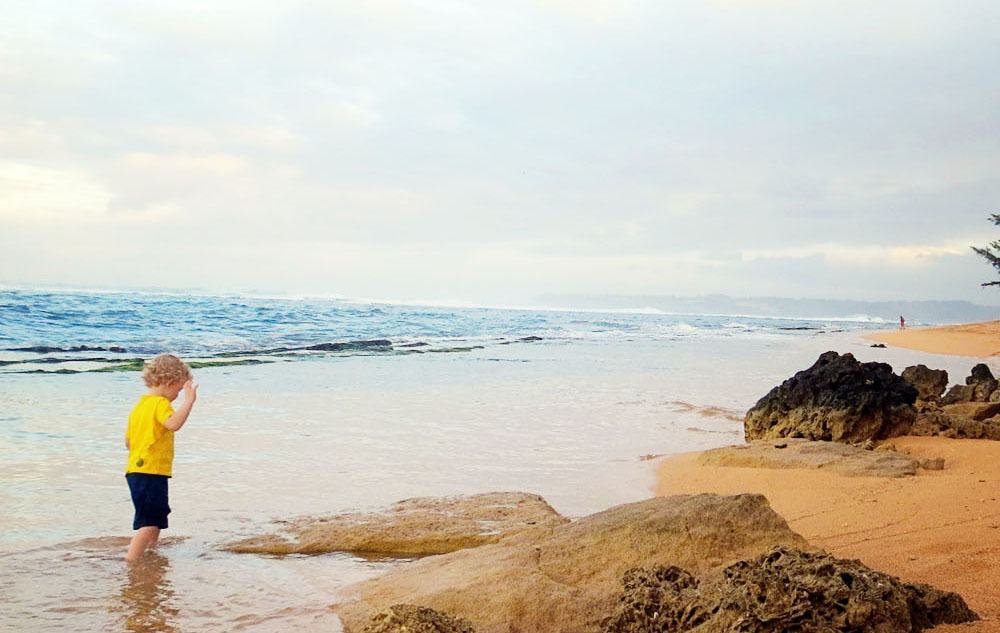 Oh boy, are you wrong.
Here is a list of things to do in Kauai (and things to do on a budget in Hawaii) you may think you can't do with a toddler, but you actually can. Take the leap and do something a little different on your vacation. Show your kids your adventurous side and eat a few new foods in the process.

SNORKELING
Natural water babies will rejoice as they dive into the warm tropical waters surrounding Kauai. With a simple pair of goggles your little swimmer can dive in and look for sea creatures close to shore thanks to a few of the amazing coral reefs around the island.
If you want to bring your little one out to a slightly farther reef, strap a lifejacket on them and tow them out with you. Keep in mind that you should not let go of your child or go above waist level in the water. You want to be able to keep your footing if the water suddenly gets rough.
A great alternative for a nervous little swimmer is to grab a boogie board with a clear hole cut into the top. These are readily available at local shops, Costco and Walmart. The hole acts as an above water set of goggles so your child can still see the water below them, but not get their face wet.

Luau
All you can eat buffet, never ending drinks, and a show to cap off the night? What's not to love! If you can find a Luau with fire spinners in their performance, like the one at the Grand Hyatt Kauai, you will hold your child's attention even longer.
Your evening will start off with drinks (water or punch for the kids) and a little pre-entertainment. Look into luaus that allow your child to interact with the performers before the show. This way they can look out for the dancers they met during the show and feel a little more connected.
After cocktails you get to dive into dinner. Kalua pork, salad, rolls, chicken, and fish are generally part of the menu. But don't forget dessert. You can bribe your kid to do almost anything with a delicious slice of coconut cake!
If your little ones get antsy you can bring them to the back of the performance area to run around a little bit, while you still enjoy the show.


Helicopter Tour
Yes it's true. You can take a toddler (and even a baby!) on a helicopter tour of the island. Watch your little aviator's eyes pop out of their head as they climb aboard and take to the air, not in a plane, but in a tiny helicopter that will soar above the mountains, near waterfalls and out over the ocean.
Prepare your child for this experience by getting them used to wearing headphones. They will have to wear them to block out the sounds of the propeller and also hear the pilot.
If you bring your baby along, ask for an extra set for him or her. Since they will be sitting on your lap they will not have their own headphones. If your toddler gets bored (yes, it can happen) make a game out of spotting waterfalls, looking for whales off shore and counting cars on the roads down below.

Fine Dining
The beauty of island life is that children are welcome almost anywhere on Kauai. You can have a fabulous meal without the wait staff staring you down or the other customers making you feel like a monster for daring to disrupt their meal with your rowdy kids.
Fabulous food from restaurants like the Mediterranean Gourmet and Huke Lai Lanai are not out of reach just because you have kids. Arrive early to beat the rush and get some food in those hungry little tummies before they meltdown for bed.
If dinner is too terrifying for you, try popping by during lunch when the crowds are a bit more jovial.

Whale watching at the lighthouse
Word of warning to all parents: you cannot bring a child under age 5 onto a boat in Kauai (last we checked). The insurance restrictions are numerous for the companies, so they don't allow babies and toddlers onboard. This is disheartening if you did not do your research and you had your heart set on seeing whales up close.
Have no fear, you can still sneak in a little whale watching, and it's cheaper than hopping aboard a boat. Or you can try out these other fab things to do on Kauai.
Head over to the Kilauea Lighthouse on the northeast side of the island. Pay your nominal entrance fee and walk to the fences surrounding the lighthouse. From here you can see groups of humpback whales and pods of dolphins off shore.
This may not get you up close and personal with these massive sea creatures, but it will give your kids a taste of what is to come. Better yet, the volunteers available can tell you stories about the whales in the area and point out some you may have missed.