A short 9-mile drive east from Santa Cruz and a great spot to visit for a day trip when you're driving down the Pacific Coast Highway, Aptos CA is a calm and serene destination that's much different than Santa Cruz or Monterey. But it's perfect for those who aren't looking for a wild spot to spend time enjoying views of the Pacific Ocean.
The two hotels the town offers sit right on the beach, and there are numerous delicious restaurants anyone can enjoy.
If you're planning to visit soon, you're in the right place to learn about all the best things to do in Aptos. Read on!
Going to Aptos? Let's Plan Your Trip!
This post contains affiliate links, which means we may earn a small commission from your purchase. This adds NO extra cost to you.
Flying into San Jose?
The closest airport to Aptos, CA, is San Jose (SJC) Airport. We love to track flights via Expedia.com. Not only do we find great rates, but we earn points to use on future travel too.
You can also keep an eye on GOING deals, which is how we got to Ireland roundtrip from LAX for under $500 each. The free version is good, but the paid subscription will save you way more than the cost of the actual subscription.
Hotels in Aptos
Find more Aptos Hotels HERE
Need a Rental Car?
We use DiscoverCars.com to get the best rates and availability on rental cars. Find your car HERE, along with all of the extras you may need (insurance, car seats, ski racks, etc.)
Travel Insurance
Do NOT forget to buy travel insurance for your trip, even if you booked through a travel agent.
Things do and will happen, and it's cheaper to buy travel insurance ahead of time instead of paying out-of-pocket later.
Check out Travelex for rates on a single trip or an annual plan that could be right for you if you take more than one or two trips a year. And travel insurance usually covers you if you are more than 100 miles from home, meaning that road trip to the national parks is covered too.
Don't Forget about Your Vacation Photos!
Don't forget to book your Flytographer session to capture awesome memories from your trip. We do it as often as we can. Sometimes, this mom just wants to be in a few photos with her kiddos, or gorgeous shots at sunset.
Top Things to Do in Aptos
Rio Del Mar State Beach
Address: Beach Dr., Aptos, CA
Paying a visit to the Rio Del Mar State Beach is one of the best ways for families to enjoy Aptos. Ideal for outdoor activities, the beach is dog-friendly and perfect for fishing, surfing, and bird watching.
If you hit it at the right time of the season, you might also get a glance at marine life like whales migrating into the colder waters in CA.
Lifeguards are also on duty during the summertime, making it the perfect spot for families to spend the day.
Hidden Bear County Park
Address: 660 Cliff Dr., Aptos, CA
Bring the entire family to enjoy the gorgeous scenery of Hidden Bear County Park, located right off the beautiful beach.
Take a walk with the family dog, enjoy a picnic lunch with the kids, and just let loose in the sunshine.
The park also offers a playground, BBQs, access to the beach, and even vista points for phenomenal photos.
Sumner Beach
Address: Sumner Ave., Aptos, CA
Sumner Beach, also known as Beer Can Beach, is a big sandy area that offers beach access via stairs and near a hiking trail for those who love exploring and hiking.
Dogs are allowed on the beach, which is well known for surfing, so you and your canine friend can sit down and enjoy the view.
Forest of Nisene Marks State Park
Address: Aptos Creek Rd., Aptos, CA
This redwood forest is a great destination in Aptos, featuring more than 30 miles of trails that offer steep inclines and beautiful slopes.
Heading into this state park is perfect for escaping the craziness of your day and enjoying some fresh air.
Ready to explore more of CA? Check out our California Travel page!
Seacliff State Beach
Address: State Park Dr., Aptos, CA
If you're still seeking ocean views in Aptos, check out Seacliff State Beach.
Established in 1933, Seacliff State Beach is a fun place for swimming, picnicking, and fishing. Take a short walk on the beach or, if you're an angling family, head out to the long fishing pier.
Keep in mind this beach is one of the most popular in Aptos, so expect crowds.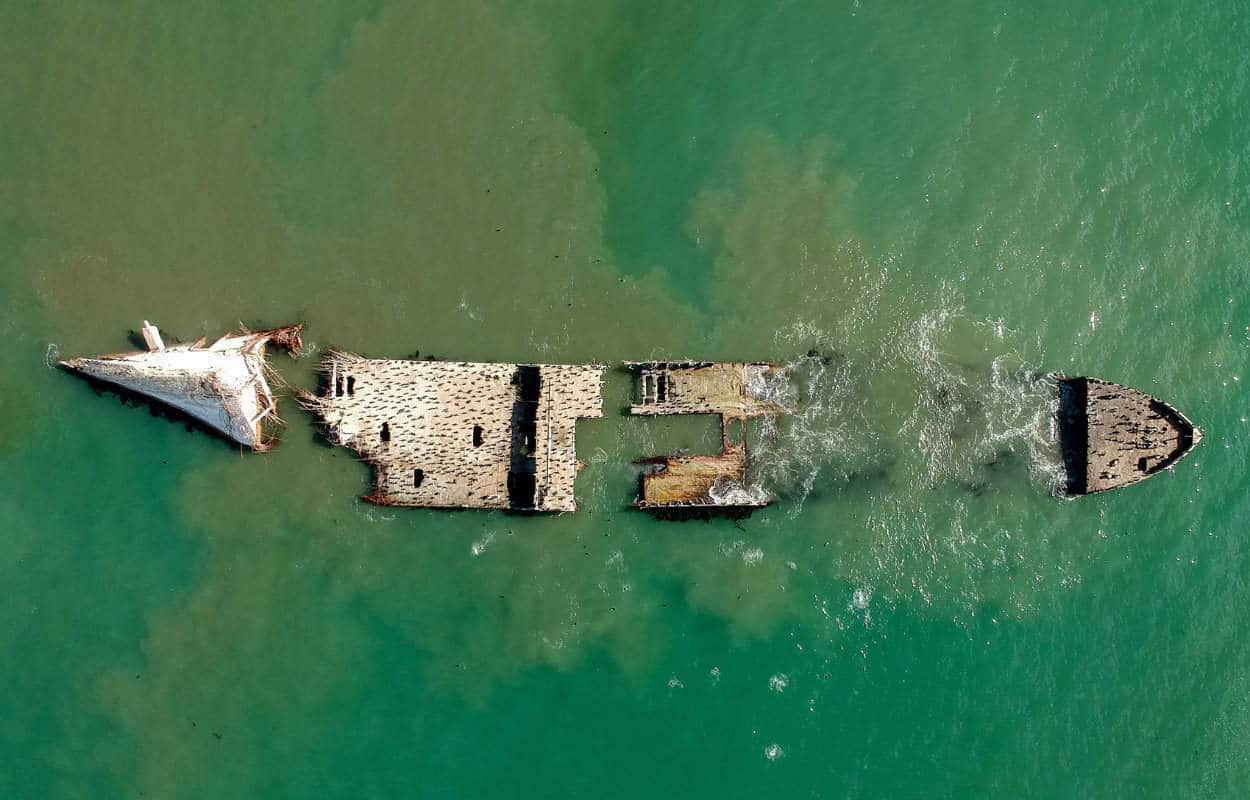 SS Palo Alto
Address: 201 State Beach Dr., Aptos, CA
Want more fun things to do in Aptos? This spot features the WWI ship SS Palo Alto, located at the end of the pier at Seacliff Beach.
A well-known West Coast concrete ship that was initially built as an oil tanker until it was intentionally grounded in 1929, the SS Palo Alto is closed to the public. But you can still head out and view the wreckage from the pier.
Aptos History Museum
Address: 7605 Old Dominion Ct. #B, Aptos, CA
Although Aptos is a smaller town, it is still filled with history and culture, particularly at the Aptos History Museum.
Featuring local artifacts, photographs, and exhibits to show what life was like in Aptos, the museum covers events from as far back as 7000 BC, when Native Americans lived in Santa Cruz County.
Among the best places to see in Aptos, this museum is family-friendly and a great stop for a little fun away from the beach. Learn more on their official website.
Pleasant Valley Vineyards
Address: 600 Pleasant Valley Rd., Aptos, CA
If you're looking for some wine tasting, head into Pleasant Valley Vineyards and enjoy one of the many varietals they produce in the unique Monterey Bay climate. Their signature wine is the Estate Dylan David Pinot Noir, which locals love much as visitors do!
Head to their website to discover all their labels or to get in touch for a visit.
Café Sparrow
Address: 8042 Soquel Dr., Aptos, CA
A great place to hang out downtown Aptos, CA, is this quaint café, once an old Post Office and general store.
Preserving the rustic Post Office vibe, the cafe serves unique dishes like chicken with brie, French profiteroles or crème caramel. They are open seven days a week and offer a brunch menu on Sundays.
Severino's Bar and Grill
Address: 7500 Old Dominion Ct., Aptos, CA
Honestly, Severino's has it all: koi pond, cascading waterfalls, and an incredible menu.
They feature award-winning clam chowder, a full bar, and an incredible drink menu, as well as classic dishes like tempura prawn tacos or calamari steak.
The bar and grill even offers live music some evenings.
Nicholson Vineyards
Address: 2800 Pleasant Valley Rd., Aptos, CA
Sitting in the Santa Cruz Mountains, this fabulous vineyard is perfect for grabbing a glass of wine and enjoying the view.
Their tasting room is open Saturday and Sunday, where you can enjoy a flight of their favorite wines either indoors or under a giant oak tree on their outdoor patio.
If you have a group and want a little more fun, book a private tasting and tour instead.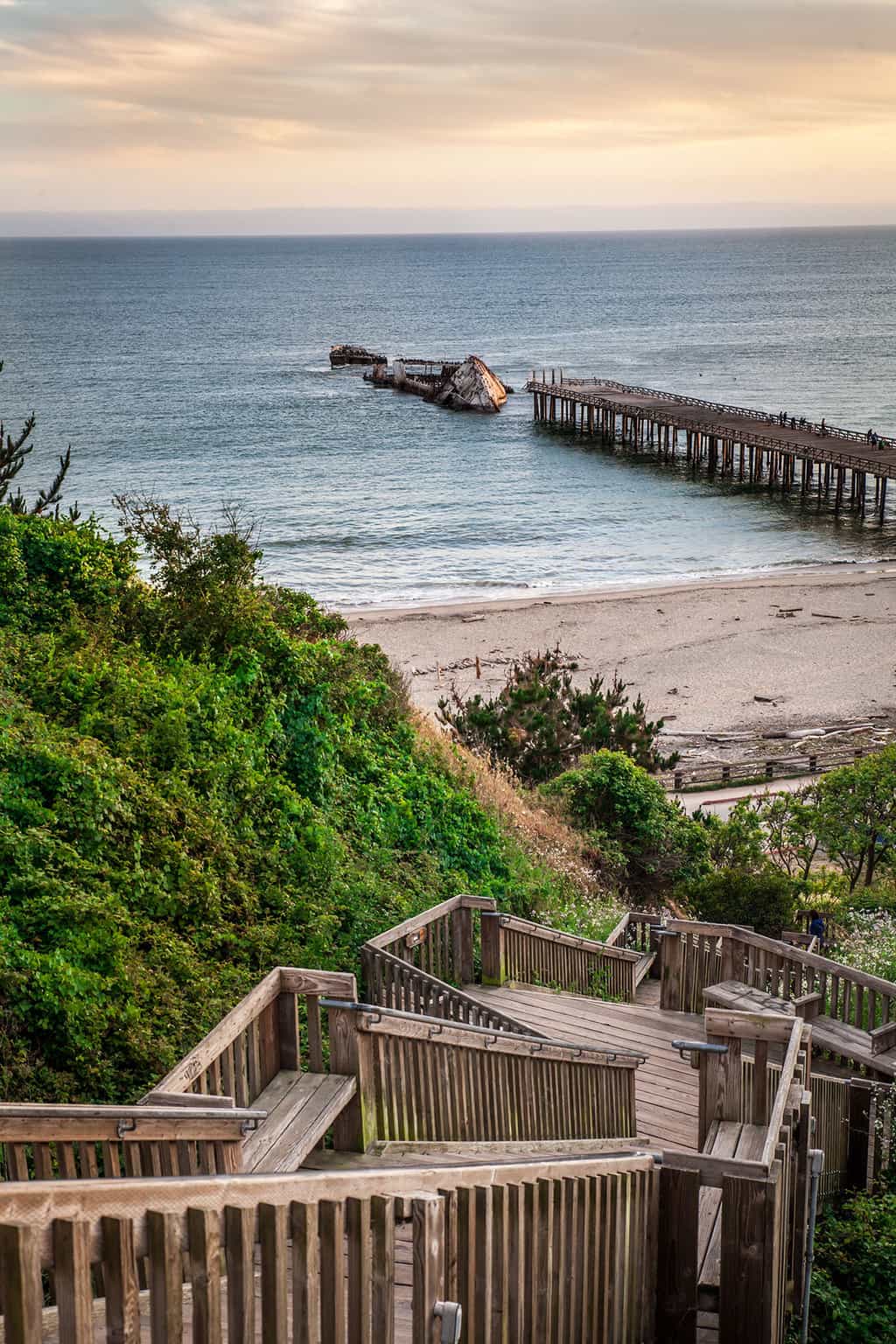 Frequently Asked Questions About Aptos, CA (FAQ)
Where is Aptos, California, located?
Aptos is located on the northern edge of Monterey Bay in Santa Cruz County, California, roughly 75 miles south of San Francisco and 35 miles north of Monterey.
What is the best time to visit Aptos?
The ideal times to visit are the late-spring (April to June) and early-fall (September to October) months, when the weather is mild, and the tourist crowds are smaller.
The town enjoys a Mediterranean climate year-round, though, so it's a good destination any time of the year.
How can I get to Aptos?
The nearest major airport to Aptos in San Jose International Airport (SJC), located about an hour away.
You can also fly into San Francisco International Airport (SFO) or Monterey Regional Airport (MRY). From there you an rent a car or rent a shuttle service to reach Aptos.
Is public transportation available in Aptos?
Yes, Santa Cruz Metro buses serve Aptos and nearby areas, making it possible to get around the town and explore the Santa Cruz County region.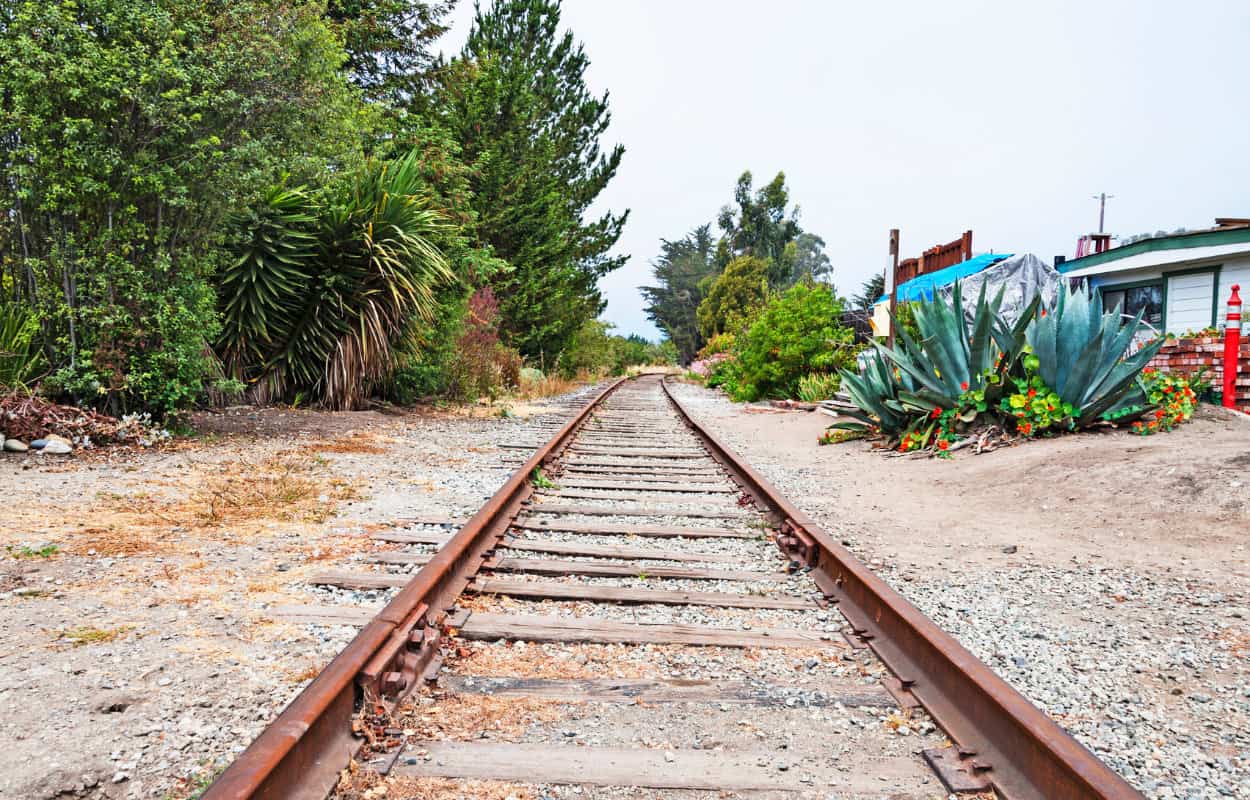 What are the popular attractions in Aptos?
​Aptos offers a range of attractions, including:
Seacliff State Beach: Known for its scenic views and the SS Palo Alto, a historic concrete ship.
Nisene Marks State Park: A beautiful park with hiking and biking trails through lush redwood forests.
Aptos Village: A charming area with shops, restaurants, and a relaxed atmosphere.
Rio Del Mar Beach: A family-friendly beach with picnic areas and water sports.
Seacliff Village Park: A great spot for birdwatching and enjoying the coastal scenery.
What outdoor activities are available in Aptos?
Aptos is a paradise for outdoor enthusiasts that offers hiking, biking, horseback riding, kayaking, paddleboarding, surfing, and more.
Nisene Marks State Park and the nearby beaches are popular spots for these activities.
Are there any wineries in Aptos?
Yes, Aptos is home to several wineries and tasting rooms. Two of the best options options to sample local wines include Nicholson Vineyards, Pleasant Valley Vineyards and Bargetto Winery.
What are the dining options in Aptos?
The town offers a diverse range of dining options, from seafood restaurants with oceanfront views to casual cafes and bakeries. Some popular choices include Manuel's Mexican Restaurant, Cafe Sparrow, and Severino's Bar & Grill.
Can I go whale watching in Aptos?
Yes, whale watching tours are available in nearby areas like Monterey Bay.
The bay is known for its rich marine life, and you can often spot humpback whales, gray whales, and dolphins during certain seasons. Peak migration usually occurs mid-January and mid-March.
NOTE: There is also an increased chance of spotting Killer Whales in March, April, and May!
Are there any festivals or events in Aptos?
Aptos hosts several events and festivals throughout the year, including popular ones like the Aptos Farmers Market, Aptos 4th of July Parade, and Aptos Wine Wander, annual events that attract both locals and visitors.
Where can I stay in Aptos?
Aptos offers a variety of accommodation options, including hotels, vacation rentals, and campgrounds. Popular places to stay include the Seascape Beach Resort, Seacliff Inn Aptos, and various vacation rental listings (like this one).
​Is camping available in Aptos?
Yes, there are camping destinations in the area. One great option is Nisene Marks State Park, which offers both traditional and backpacking campsites in a beautiful redwood forest setting.
What should I pack for my trip to Aptos?
Like any trip, you should pack comfortable clothing suitable for the season. Top items include sunscreen, hiking shoes, swimwear, and outdoor gear if you plan to explore the parks and beaches.
Don't forget your camera to capture the stunning scenery.
Is Aptos a family-friendly destination?
Absolutely! With its safe beaches, parks, and kid-friendly attractions like the Santa Cruz Beach Boardwalk, which is a short drive away, Aptos is great for families.
Are there any pet-friendly accommodations in Aptos?
Yes, some hotels and vacation rentals in Aptos are pet-friendly, but it's essential to check with the specific property in advance about their pet policies.
Can I visit nearby cities from Aptos?
Of course! Aptos is conveniently located for day trips to nearby cities like Santa Cruz, Monterey, and Carmel-by-the-Sea, which offer their own unique attractions and experiences.
What is the cost of living in Aptos?
Its coveted coastal location means the cost of living here can be relatively high. Dining out and accommodations may be on the pricier side compared to inland areas.
Is there a nightlife scene in Aptos?
While Aptos is not known for a vibrant nightlife, you can find some bars and pubs for a casual evening out. Most nightlife options are centered around nearby Santa Cruz, which is a destination all its own.
How can I book activities and tours in Aptos?
It's easy to book activities and tours in Aptos through local tour operators, online travel agencies, or directly with the attractions and activity providers.
Be sure to plan ahead, especially during peak tourist seasons.