The bells are ringing 7am – slow dings, quiet though pervasive. Sunrise over the hills to the east. The sea, visible just through the olive grove to the south. A tiled patio, cool from the evening's chill. A perfect place for a quiet cafe, a little sun salute and downward dog – the best place to start your morning.
Levanto Italy. Home sweet home. At least for a few days.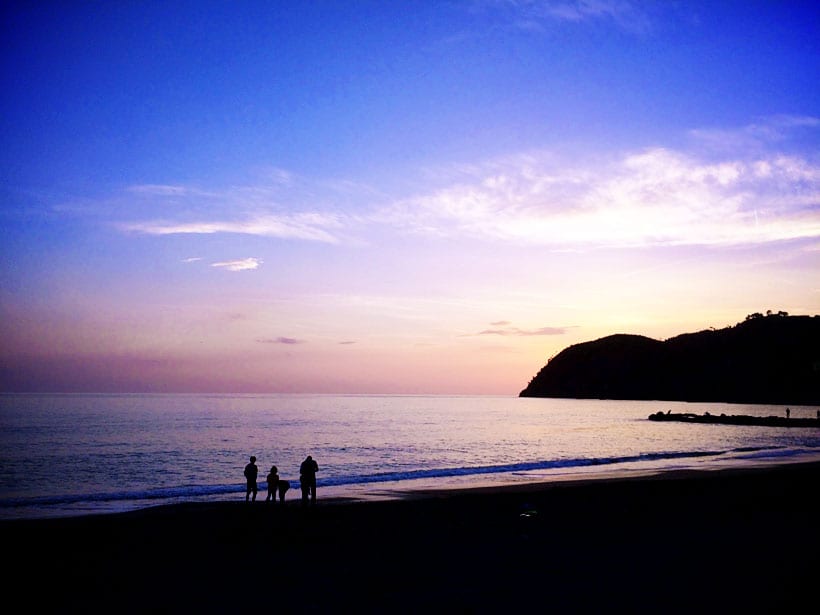 When Keryn and I decided to visit Italy, we had two demands: the sea and gelato. Conveniently, Italy has plenty of both!
We set our sights for the Ligurian coast, near the Cinque Terre region: ground zero for sea and mountains, rocky cliffside walks, gorgeous turquoise Tyrrhenian waters, lemons, pesto, and an abundance of gelato.
Traveling as 2 moms and 3 kids, we wanted to find a place that would make our lives fairly easy: convenience to major sites in the area, plenty of space for the kids to run around in; quick access to town and adventures – all while maintaining easy parking, a kitchen and, ideally, laundry facilities. After weeks of research, we zeroed in on a Booking.com property- Il Veliero Apartments in Levanto.
Levanto is immediately west of Monterosso, Cinque Terre's westernmost town – conveniently connected by train and road, with a vibrant town center featuring a kids playground and a well equipped beach area. A winding 15-minute drive off the Genoa-La Spezia highway, it's ideally situated as a base for exploring and enjoying the region.
We pulled up around 6pm on a Saturday evening, and smiled to see people of all ages laughing in the streets, busy cafes and gelaterias. Il Veliero, our rental apartment while in town, was easily accessed off the main road in to town, and when we parked, the lush scent of jasmine and roses washed away the exhaustion of the days' travels. We went straight to Il Veliero, wanting to check in quickly so we could catch the sunset and still have dinner before the kids melted. The staff was marvelously accommodating – simultaneously directing us to parking, providing maps and a quick lay of the land, and showing us our third floor walk up and helping with the bags. We were settled in record time.
Stepping back out onto the entry terrace, we breathed deeply, letting the travel stress slip away. The air was abundant and floral – olive groves, lilies and roses, rosemary and basil perfumed the walk to the shore, only a touch of humidity as we strolled down. Noting the artisanal food vendors as we passed (a cafe, a pesto shop, a pasta shop and a fishmonger), we arrived at the vivid Piazza Staglieno after only a quick downhill walk. The piazza was flanked with three (THREE!) gelaterias and a handful of enotecas. We knew this was going to be the first visit of many.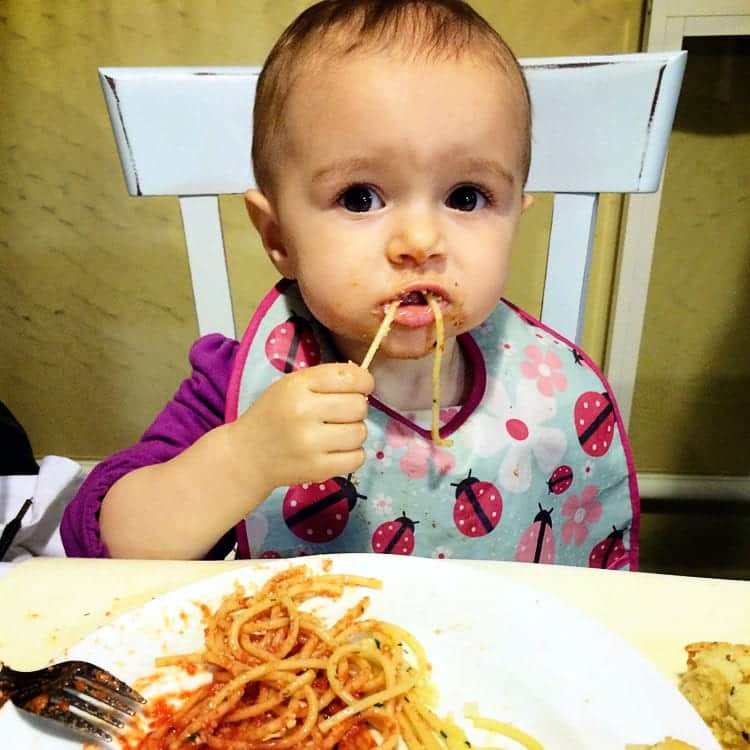 After a brief visit to the shore to bask in the honey gold sunset, we settled in at Osteria Cantarana's sheltered patio. A welcoming glass of prosecco relaxed the moms; the kids were way too excited about the park just beyond, though they focused on the task at hand when the fabulous rosemary focaccia arrived at the table. A bottle of Colline di Levanto and heaping bowls of housemade pasta with regional pesto and a linguine al vongole put the long day to rights; a short stroll back to the hotel, and all crashed out.
The next morning we took stock of our rental building. Il Veliero is perfect for the self-directed traveler, as it offers a wide range of rental options for all needs and travel groups – from separated bedrooms with shared kitchen facilities, to multi-bedroom apartments complete with kitchen, bath and laundry. Many units have an outdoor space, whether it's a small balcony or an abundant patio. There's a grocery store just 2 blocks away, and the town's Wednesday market takes place at the end of the block. As we discovered the night before, the main piazza, playground and gelato options are just minutes away. We chatted with guests of all ages, from around the world. The staff speaks English, German and Italian, and offer helpful tips for any request. Our apartment was quite spacious – not only inside, with plenty of room for the kids to run around in, but also a huge patio, ideal for morning yoga, midday family meals, a quiet evening wine – and just watching the pace of the town unfold around us. The bathroom featured a soaking tub and shower – perfect to wash kids of all ages, and ease the weary muscles of traveling moms! The kitchen was fully stocked with a variety of spices, glassware, plates and utensils, making meal prep effortless.
Levanto itself is a charming town. Once a vibrant seafaring fishing village, the main focus remains on the shore: a number of beach-operators offer chaise lounges, umbrellas, lockers and other amenities for half day and full day rental, and a Casino with cafe, bar and swimming pool anchor the seaside. The restaurants, cafes and enotecas embrace the sea, with regional seafood dominating the menus and the local Ligurian white wine filling glasses. Though the permanent population may be aging, the main square feature a popular playground with plenty of shaded seating, letting kids of all nationalities find common ground in slides, swings and soccer. Siesta is rigorously held: most businesses are open until 7 or 8pm seven days a week, though everyone seems to close from 3-5pm.
After a couple of quiet days exploring Levanto, we decided to visit the Cinque Terre national park, and enjoyed a short walk to the train station on Monday morning. The ticket agent was extremely helpful, explaining in English and Italian that the train pass was valid in all directions all day until midnight; we explained our intended path, and she gave us a few tips. Most importantly, we discovered that the paths we wanted to walk were being restored and closed to the public. Could you imagine if we had shown up with three kids under the age of 5 to do a hike and found that it was closed?!
We took the train to Monterroso, and then enjoyed the ferry ride to the subsequent towns (see our upcoming post on the Cinque Terre). After a long day enjoying the sea and sun, we caught a train back from Manarola. A short walk brought us back home, in time for dinner, wind down and a lovely evening enjoying the sunset, and the perfumed air.

Things to know
Getting there and the lay of the land: The dramatic coast eases out at Levanto, creating a wide sandy beach and a relatively flat landscape. Just off the A80, Levanto is about a 4.5 hour drive from Rome, 2 hours from Genoa and 3 hours from Florence. It's also on the La Spezia – Genoa train line and has a station located about one km from the town center – the walk from the train to the shore is comfortable and won't tax your calves too much.
Most hotels and rental units will offer parking, or show you the nearest public/paid lots. We noted that the daily rate was between 8-12 euro for street parking, and 12 euro up for lot parking. Research the parking rules so you do not get towed or ticketed!
Dining. The streets radiating off Via Dante Aligheri feature abundant dining options, though it may be tough to get a seat if you have a number of kids. Some places we loved:
Osteria Cantarana: family owned with locally sourced seafood specialities, handcut pasta and gnocchi, and a fantastically welcoming attitude. They are right next to a kids park, and next to a cafe/bar that shows all the important futbol matches! The outdoor terrace offers a roof to shelter from the weather
Focacceria Dome – Via Dante Aligheri 18 – a bakery and foccacia shop, perfect for a snack on the run. Chickpea flour is regularly used in the Liguria area, making gluten-free focaccia and pasta a very accessible reality!
Pasticceria Bianchi e Figli Drogheria – a little cafe at the corner of Via Dante Aligheri and Via Vinzoni, this was our first stop each morning – and, more importantly, the first stop for the locals. We chatted with nonnas and zias, locals and tourists every morning. Perfect caffe, lovely fresh squeezed orange juice, and an abundance of pastries made this a "must do" every morning. The mercury mirrors and soft buffed carrera marble counters only add to the charm….
Gelaterias: There are 3 on the main square! Try them all!!
Booking at stay at Il Veliero
When we went looking for a place to stay in the Cinque Terre region, rentals were few and far between. Everything was either booked, too small for our group or out of our price range. That is until we looked on Booking.com. Il Veliero Appartamenti was just one of the properties we found that would fit our needs, but it was that massive patio that really sold us.
Booking.com has been offering up a variety of properties to travelers for years. Hotel rooms are certainly in the mix, but what really makes this booking site unique is that it will also give you a list of rental properties. Anything from studio apartments or tw0-bedroom walkups to castles and villas can be found depending on your destination. It is an easy, one-stop shop and has long been on the Walking On Travel's list of top vacation rental sites.
Booking is quick and easy. You can pre-pay OR pay onsite. Best of all, instead of booking through a generic vacation rental site where you really aren't sure what you are getting, Booking.com has 24/7 customer service, free cancellation on most properties (restrictions do apply) and over 49 million verified reviews. Keryn, the founder of Walking On Travels, has been using Booking.com to plan her family vacations for years. The properties are unique, well priced, and Booking.com often has more listings in places than other vacation rental sites, which means you have more choices instead of being pinholed into one property. Check them out before you book your next vacation. You won't be sorry.
Many thanks to Booking.com for sponsoring our stay in Levanto. I was not asked to express a specific opinion, just share my experiences using a service I actually really like. As always, my opinion is my own. When they aren't you will be the first to know.