If you are staying near the Acropolis you will have no end of dining options. Walk up Makrigianni street and you will be inundated by restauranteurs welcoming you into their small restaurants. The good news is, unlike many other tourist areas across Europe, the food is decent and the prices are good.
Find one that looks good. The meals will generally be about the same. However, if you want to take the guest work out, here is our quick and simple Athens restaurant guide when you visit Greece.
Best Athens Restaurants

Little Tree Books and Coffee
Kavalloti 2, Athina 117 42, Greece. Athens is filled with cute little, hole in the wall coffee shops. You turn a corner and there is another one. Many turn into wine bars at night. The Little Tree Books and Coffee shop is exactly that– a coffee shop and book store. There is a small seating area, a nice selection of books and journals, plus decor that would be at home in any hipster shop. And the coffee? Divine! Get a double cappuccino. And then remember how to get to this place so you can go back for another one each morning. The staff speaks English. Oh and the orange juice is fresh and cheap, so load up on your Vitamin C too.
Artopiotis O Takis
Hailed as one of the best bakeries in all of Athens, and it just happens to be a five minute walk from the Acropolis. Better yet, there is a coffee and wine bar across the street to grab a beverage throughout the day. The cream-filled croissants make a great breakfast treat, and this is where you want to pick up baklava to bring home. The freshly made breads and sandwiches are also great to eat for snacks and lunch while you explore the Acropolis and opposite hill of Filopappou Hill (aka Hill of the Muses).
You Yappa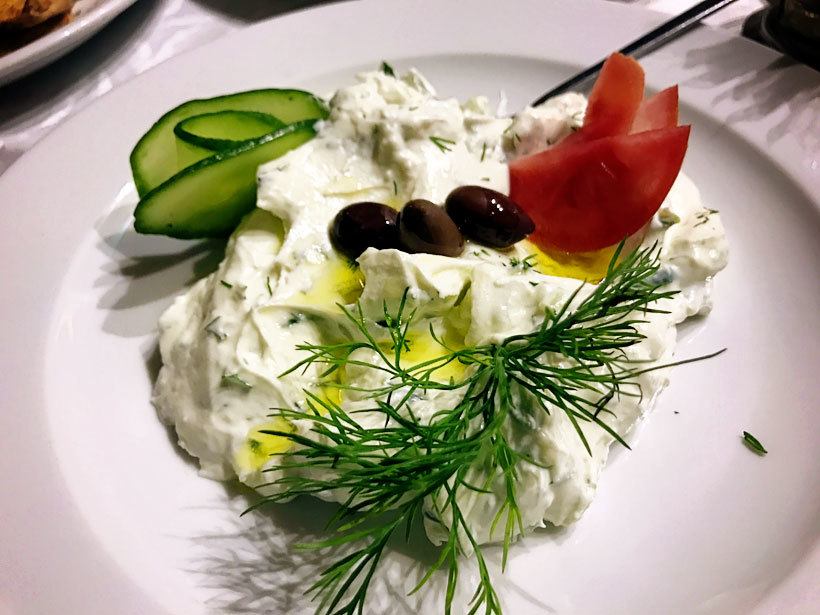 En la zona. De Placa, Athens, Greece. Off the main drag of La Plaka, you will find a massive restaurant broken into several buildings, as well as tables on the street and a killer rooftop bar. The zucchini fries and spicy cheese are a must-order when looking at appetizers. For your main course, just go for the Lamb in a clay pot. I was dining with a group of friends who all ordered different things, and yet they would all agree that the traditional lamb in a pot with vegetables was the best thing on the menu. The meat falls off the bone, and the sauce is light and flavorful with hints of cinnamon mixed in.
Liondi Traditional Greek Restaurant
Makrigianni 19, Athina 117 42, Greece. You will never feel more welcome than when you visit Staverous at his restaurant Liondi. The Tzakiki is one of the best I've ever had and if his lamb meatballs in lemon sauce are available, order them. I don't like ground meat, and yet I would eat several helpings of these meatballs with plenty of bread and potatoes to soak up the heavenly sauce.
A Taste of Home
Dekeleon 3, Athina 118 54, Greece. Just a few stops from the Acropolis metro station, you will find the restaurant and club district. After about 10pm or 11pm you won't find anyone older than 19 years old in the area, but before then you can bet on some fantastic meals. A friend brought us to A Taste of Home, here several countries are represented, including my friend's native land of Syria. Everything is freshly made and you must leave room for dessert. If you are craving vegetables or need vegetarian meals, this is your happy place. They do serve meat, but the vegetarian options are plentiful, which is why my vegetarian friend enjoys the chef so much.

Little Kook Tea Coffee and Cakes
Karaiskaki 17, Athina 105 54, Greece. This may be one of the craziest shops you will ever walk into. Think Alice in Wonderland meets your grandma's attic. I believe this tea and cake shop is now in three buildings to hold all of the customers that find this back alley location. Waitresses are in costume and are ready to serve up some of the sweetest treats around. Massive cake slices, decadent crepes and boozy coffee are just a few of the options. If you go to Athens, but don't go to Little Kook, you will be sorry.
Gyro and Souvlaki Stands
Athens is home to quick bites that you can eat standing up. The gyro stand near the Acropolis metro station is a well oiled machine. It's gentle on even the most budget-conscious traveler's wallet too. My favorite souvlaki stand was near the Victoria metro stop. Most travelers would not venture that way since there are very few tourist attractions close by. Pretty much any gyro (meat rotating upright on a stick) and souvlaki shop (grilled meat on skewers) that smells good is safe to stop at and indulge in.
Gelato
Yes, Athens has gelato. And yes, some are better than others. Da Vinci's on La Plaka is one of my favorites. The Bueno gelato is the perfect mix of vanilla and chocolate hazelnut. The cookie gelato should definitely not be missed either. Closer to the Acropolis museum you will find Patisserie Artemis with a gelato stand at the front of the store. Their Baklava gelato is a house speciality. The chocolate chip mint is one of my favorites. The lemon sorbet will make your mouth pucker in the best way if you love citrus.