There was one hour of sunlight left in the park and we were going to use every second of it to see the Painted Desert and Petrified Forest as we cruised through Arizona via Route 40. This was meant to be a quick stop on our cross-country journey from Seattle to Maryland. We had no idea what was in store for us.
We had toured the Grand Canyon all morning and had to be in Albuquerque by bedtime. The Petrified Forest was on the way, so we decided to make the stop. Instead of entering off of Route 40 though, we dipped down onto Route 180 so we could do a one-way trip through the entire park. It seemed like a logical decision, at least at the time.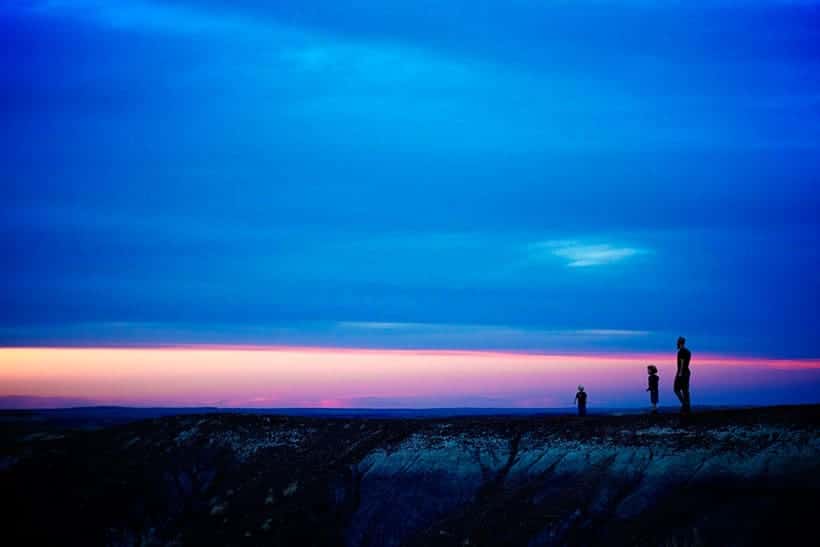 As we rolled up to the park gate to pay our admittance fee, a very surly park ranger informed us that we had to be driving out of the park by 6pm. We could not stop no matter what. It was 5pm when we entered the park. We had one hour to cover 28-miles of road in the park. Surely we could see at least a few stopping points, right? Wrong. We saw one.
We stopped on the side of the road for a few photos, but finally let everyone out of the car at the Crystal Forest Trail. This easy 0.8 mile paved trail loop brought us through fields of petrified wood that changed colors as the sun began to set. And what a sunset it was.
Never in all my life have I seen a sunset as vibrant and tear-worthy as this one over the Arizona desert. The clouds created swirls of magenta across the dimming sky while oranges and blues encircled the sky in shades that could rival any painter's canvas. I just had to stop and watch as the sun dipped below the horizon.
We missed every other hiking trail and viewpoint in the park. I guess we could have checked out one more spot before the sun was gone and the night sky took over, but what would have been the point? We would have been in the car as the sun set and missed the spectacular show nature was putting on. We were certainly disappointed to miss the rest of the park, especially as we drove by signs lit up by our headlights that told us what we would have seen a little earlier in the day.
I wouldn't have missed that sunset for anything though. It was worth it. A trip back to the Painted Desert and Petrified Forest with kids is already a must on our list.

Hikes
There really aren't any hikes in the Painted Desert and Petrified Forest that you can't do with your kids. It's a pretty flat park. There are some overlooks and cliff edges that you want to be careful of with your kids, and you always want to stay on the trail. The elevation also averages 5,600 feet, so if you become winded, slow down. This isn't a sprint to the finish line to complete every hike in the park. Pick a few to enjoy. Leave the rest for viewing out of the car window.
Sampling of trails you can tackle:
Crystal Forest and Trail
Blue Mesa and Blue Mesa Trail
Tawa Point and Rim Trail
Giant Logs Trail
Kachina Point and Rim Trail
Long Logs Trail
Agate House Trail

Petrified Wood
Do not touch, climb on or take the wood. "Federal law prohibits collecting petrified wood, fossils, rocks, plants, animals and archeological objects," according to the park brochure. You will see signs around the park as well. If everyone takes the petrified wood there will be nothing left to see. If you fall on petrified wood you can be seriously injured. It may look like a normal stump of wood, but this is a hard piece of rock that does not mess around.
Food
There is only one place in the park to get food and that is in the Painted Desert Visitors Center just off Route 40. If you come in through Route 180 you will need to wait until the end of your park visit to load up on snacks or grab them before you enter the park.

KNOW BEFORE YOU GO
Entry fee: $10 (covered under National Parks Annual Pass)
Park closes at 6pm. You must be driving out of the park without stopping by 6pm. No exceptions.
Check what time the sunsets. Make sure you are almost out of the park before then, but stick around for the sunset. It's pretty spectacular.
Enter with a full tank of gas. There is no gas in the park. Although it is not a large park, you don't want to get caught with an empty tank.
Extend your road trip by dipping south into Texas to Visit Big Bend National Park with kids
PIN IT FOR LATER!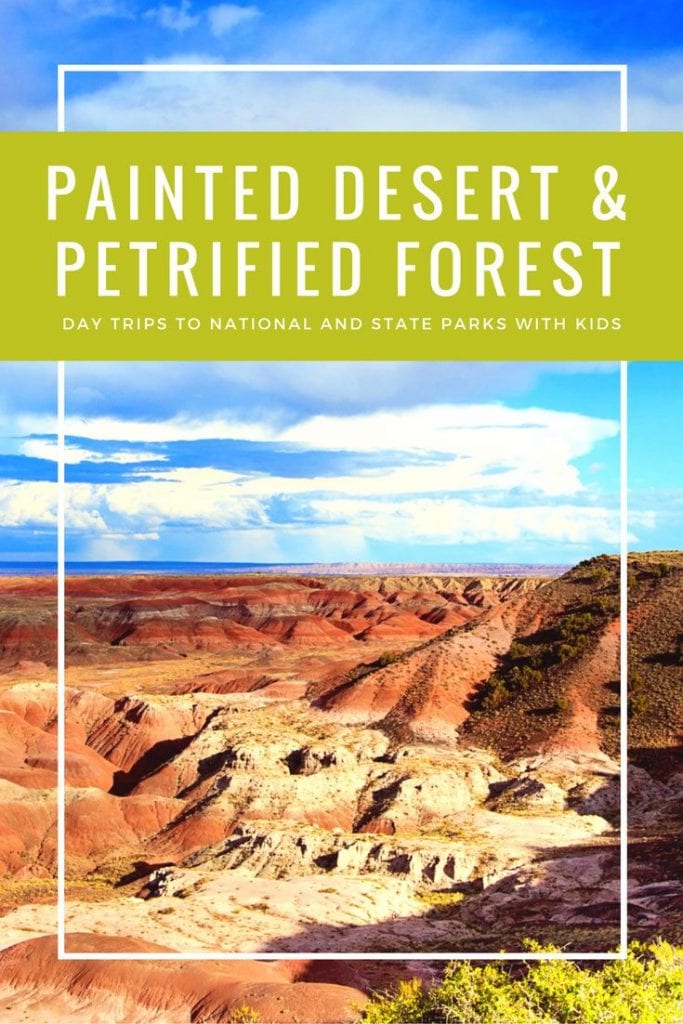 Rock formations- vertical via ShutterStock.com