Glencoe Scotland with kids is a must when you are traveling through the area. There are no massive screens, video games or even a petting zoo to keep them entertained. What you will find are wide-open spaces, with plenty of trails to hike, old bridges to cross over and stones to throw in creeks.
Even in the spring you can see snow on top of the mountains. Sheep and cows pop up now and then, as well as local deer and birds. This is Mother Nature at her best though, and oh boy does she like to show off. This is why you go to Scotland with kids. This is how you will reconnect.

Hiking Glencoe
Pick any parking lot along the A82 outside of Glencoe and start walking. Waterfalls, rivers, glens and mountains await you. It's hard to tell you exactly where to hike since there are very few markers. Basically you can just pull over if you see something that looks pretty. You will find this a lot in Scotland with kids. Magical scenes just springs up wherever you go.
You won't be totally in the dark as to where to start though. Head to the Glencoe Visitor Centre. There you will find maps, a gift shop, a little museum, and a few trails that go behind the centre. When we were there a lot of logging was happening around the visitors centre, which just made the landscape look sad, but we did get some gorgeous views of the mountains.

Scotland Photo stops
There are multiple pull offs and parking spots to take photos, but don't get too excited and fill up your memory cards and phone before you are halfway there. Pack an extra charger or a car charger to keep your phone full of juice anything you head to Scotland with kids or you will be very disappointed before you head back to your rental or hotel.

SCENIC DRIVE through Oban
For a really scenic drive take the A82 north until it connects to A85 back to Oban. This circle will take you about two hours, which does factor in a few quick stops for photos, but not for hiking.

EATING in Glencoe
Pull off the main road and grab some lunch at the Clachiag Inn, just off of the A82 north of the center of the town of Glencoe, Scotland. Picnic tables outside are perfect on a dry day, where you can let your kids blow off steam on the huge play set, while you sip on a pint.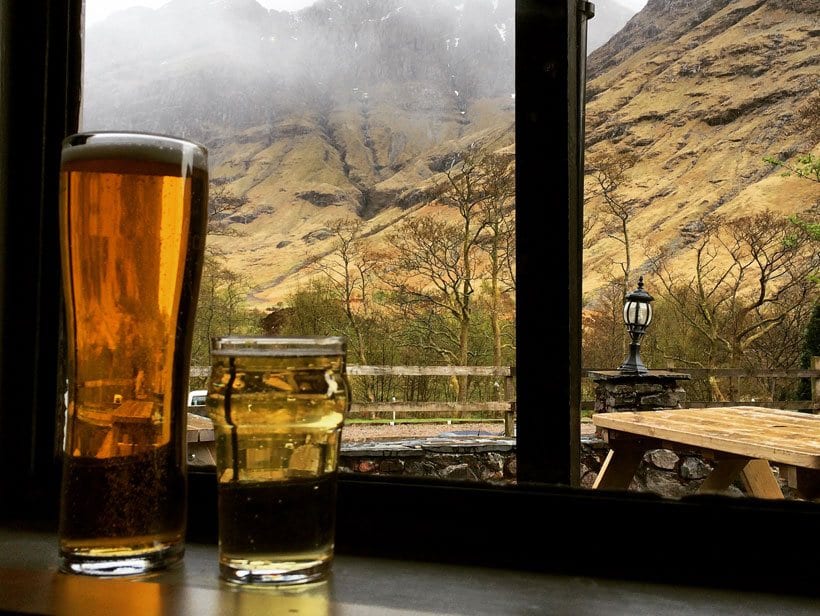 Order a Thistly Cross Cider to wet your palette, and dine on their steak pie to refuel after a morning of hiking Glencoe. There are rooms available at the inn if you plan on doing several days of hiking, but we opted to set down closer to Oban to see more of the western part of the country.

Where to stay in Oban
Just 20 minutes north of Oban is the tiny (and I do mean tiny) town of Benderloch. If you pass through town you will find the sweetest Scottish cottage you could ever imagine- the Argyllshire 4* Self-catering Traditional Scottish Hill Farm Cottage on Homeaway.com.
This cottage is perfect for a large family or multigenerational trip to Scotland with kids, parents and grandparents.
There are plenty of spaces for everyone to spread out and have a little space. The Wi-Fi works perfectly and the house manager, Sandra, has milk, flowers and plenty of staples waiting for you when you arrive. William, the farmer, pops by everyday to look after the 200+ prizewinning Highland cows that live on the farm.
He is extremely friendly and always willing to chat with curious guests and will even take the kids up to see the cows that are roaming around the hills behind the property.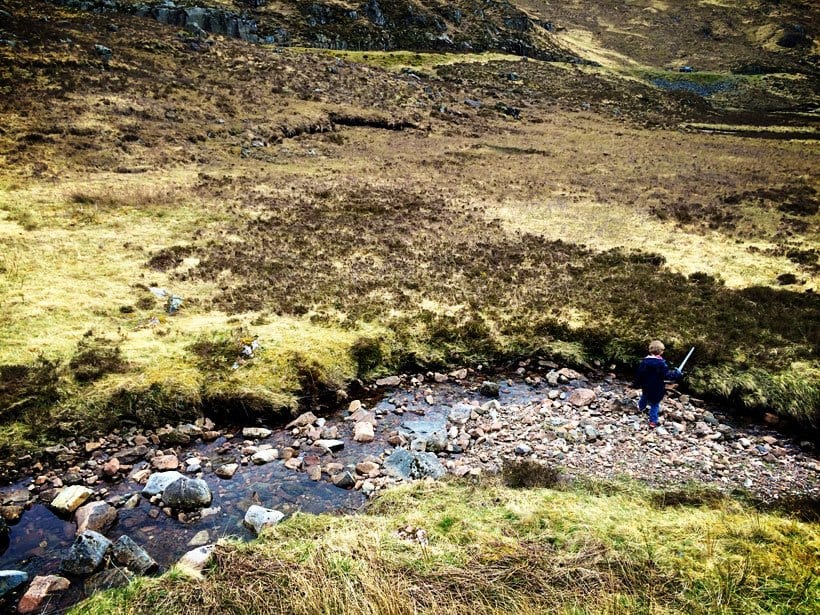 Not once did I need to break out the tech while touring Glencoe with my kids. There was plenty to see and do in the area, and more than enough places to run. This is what we had come to Scotland with kids.
I'd heard it was a gorgeous country, and I found out just why so many people hail Scotland as their favorite place on earth.
Pin it and Start Planning!