When it comes to New York, you can't get much more iconic than Times Square. This bastion of neon, shopping, noise and crowds draws millions of visitors each year. Kids want to see it, parents too, but no one wants to be kept awake at night by a flashing image glaring through their window.
The Sheraton New York Times Square is the perfect solution for families traveling to New York to see the sights, but maybe don't want to sleep in the middle of the action.
The Sheraton, originally called the Hotel Americana when it opened its doors in 1962, recently underwent a $180 million renovation that spruced up the old interior and added a state-of-the-art fitness center.
The highlight for me though was their Club Lounge with 24-hour coffee, stunning views of the city, and an easy place to get some work done or grab breakfast in the morning.
Rooms
Through the multi-million dollar renovation, the Sheraton's room got a facelift to give the rooms a more sophisticated feel.
Standard rooms come with two double beds and a small bathroom with tub. Rooms may feel tiny, but keep in mind that the Sheraton has one of the top five largest rooms in the city. Like many European hotels, rooms run small in New York.
There was room for a travel crib near the window, along with a small table and chairs to set up my laptop and get a little work done. The view from the 47th Floor didn't seem like anything special at first, but then I looked down to the left and found Radio City Music Hall.
Beds are comfortable, and extra pillows are just a phone call away. Make sure you call early in the day, or quickly after check in if you want any extras for your room though. With 1,781 rooms in this hotel, you will want to make sure they don't run out of your favorite pillow.
Noisy neighbors: Be aware that although the hotel underwent a renovation, the doors are heavy and very loud when you simply let them close behind you. Be mindful of your neighbors at night and early in the morning and try to close your door softly. Rooms are also not completely sound proof.
While sitting in bed working, I heard my neighbors chatting through the opposite wall. It did not seem like they were speaking above a normal speaking voice. My sound machine easily drowned them out once I was ready for bed.
If you continue to have problems with noise, particularly if rowdy guests come in late from a night on the town, call down to the front desk, or even tweet the hotel through your Twitter account. They will try to help you as soon as possible.
Yes, I had to test this idea one night and was pleasantly surprised at how fast someone responded on Twitter to my complaint.
Suites for families
One-bedroom suites are available to all travelers, but families exploring with young children and larger families should definitely consider booking a suite so they can all rest more comfortably. A king bed takes over the bedroom, along with a long couch that doubles as a single bed.
A door connects the bedroom to the living area, where you will find another couch that pulls out into a double bed, a table and chairs, plus a kitchenette with a microwave and mini-fridge; essentials for parents traveling with milk drinkers and early risers who want breakfast at 5 a.m.
Club Lounge
One of the best deals at the hotel is the Club Lounge. For $50 a day your family (two adults plus two kids) can grab breakfast and evening hor d'ourves, plus coffee and snacks 24-hour hours a day. This may feel like a pricy extravagance at first, but if you price out breakfast for a family of four, you can spend well over $50 in midtown Manhattan.
Add in the unlimited hot beverages, and evening snacks and you've got yourself a bargain.
If you have older children, having access to the Club Lounge can give you all a bit of freedom. Your kids can run up for breakfast while you take a quiet shower.
Or if you are staying in a standard room and one parent wants to get a little extra sleep or the baby needs to nap, the other parent and kids can hang out in the club lounge, watch TV, enjoy some snacks and browse the web.
Think of it as your living room at the hotel. More space for a lot less than an extra room.
Location
Times Square is just a few blocks south of the hotel, while Broadway is also just a hop from the hotel if you are looking to see a show. Families can walk to Central Park to play at one of the playgrounds, stroll the gardens or head to the zoo.
If you get tired of midtown, hop in a taxi or head to the subway to travel down to the Village, Tribeca and visit the World Trade Center memorial. The fabulous thing about New York is that no matter where you stay, you never seem to be more than 10-20 minutes away from where you want to be.
If you need to be in the center of the action, without the bright lights and unending crowds though, there is no better spot than the Sheraton New York Times Square.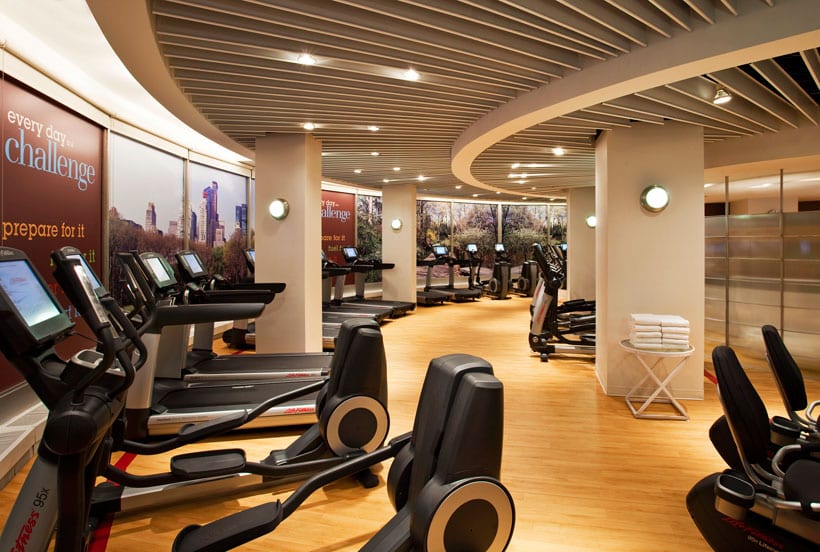 Know before you go
Sheraton New York Times Square, 811 7th Ave at 52nd Street, New York
$15 per day for Internet in your room
Free Wi-Fi in the hotel lobby
$4 per bag for hotels to hold bag for you before you depart
$50 for Club Lounge access
Free access to the hotel fitness center
Valet and self-parking is available for a fee
Cribs are available upon request
Small pets under 40lbs are welcome at the hotel
Get the best Sheraton New York Times Square hotel rates HERE.
Many thanks to the Sheraton New York Times Square for hosting me for two nights for the purpose of review. As always my opinions are my own; when they aren't you will be the first to know.
New York City Destination Guide
New York City Hotels
Park Central Hotel New York: Great for leisure or travel, Park Central Hotel New York is situated near Central Park, Rockefeller Center and Times Square.
Yotel New York: A first class experience with an affordable price. Beautifully designed smart suites await.
Stewart Hotel: An upscale hotel with lavish guest rooms. Dog/pet-friendly with free high speed internet.
Looking for more? Search for the best NYC hotels on Booking.com!
New York City Airbnbs