"If I'm going to be that close to Roman ruins, then I want to see them," my dad told me over the phone. We were planning our first multigenerational trip to Europe and everyone had an opinion about what they wanted to do. A side trip from Madrid to Segovia was now on the itinerary.
Now, my father doesn't usually have strong opinions. He and my husband leave that to me and my mom. When my dad does speak up I take it seriously. I began to read up on the Madrid to Segovia train right away.
I had seen Roman ruins in Rome, but I could always see more. It would be a bit of a hike to reach Segovia from Madrid, but there were enough things to do in Segovia in a day. It was worth the train from Madrid to Segovia.
But what really sealed the deal was the pig. Roast suckling pig is a staple of Segovian cuisine. I'm a sucker for roasted meats, especially pig. You should see me seeking out Kalua pork in Hawaii. It's an obsession.
A Segovia day trip was officially on the agenda for our two-week trip through southern Spain. We would head out on our last day in Madrid. Now we had to weed through what to do in Segovia once we got there.
The baby would have to skip a nap. He'd live. We had a Roman aqueduct, a colossal cathedral and a palace to explore, pig to eat and hot chocolate to devour; the latter being the best we would have on the trip to Spain.

Getting from Madrid to Segovia
You can take a bus from Madrid to Segovia or you can take a Madrid train and the bus in Segovia. Personally, with kids, I will always opt for the train. My boys can stretch out, walk around if they need to, and really, trains are just more fun. Whether you take the bus straight to Segovia or the Madrid to Segovia train, it will take about the same amount of time.
Buying tickets: You can buy tickets at the train station directly through Renfe (Spanish rail line), or you can go to El Cortes Ingles (a large department store) near Puerta Del Sol in Madrid and visit their travel agency. They also have a smaller office at the Chamartin train station where you will hop on the train to Segovia.
If you need a little hand-holding, go to El Cortes Ingles. It will only cost you about one euro more per ticket.
Arriving by metro, train and bus: It may sound daunting, but it's pretty easy to get to Segovia from Madrid.
Metro: Take the Pinar de Chamartin line (line #1 on the metro map) to the Chamartin station north of the city. You can pick up the Pinar Chamartin line at the SOL metro stop in Puerto Del Sol.
AVE train station: Walk to the AVE train station from the Chamartin metro station (there are easy-to-follow signs) and get on your appointed train.
Renfe train to Segovia: Your train number (Avante) will be on your ticket. The trip will take about 30 minutes from Madrid to Segovia.
Bus into town from the Segovia Train Station: Once you get to the AVE train station in Segovia, hop on the #11 bus. Do not get off until the end. You will see the aqueduct and this is where the bus turns around to head back to the train station.
Skip the hassle and take a tour: If you are looking to simplify your life and hop on a tour to Segovia that includes a little vino, Turismo de Vino has tours that hit the highlights of the town and a winery on the way. The first stop, just before reaching El Escorial, allows kids to sit in the chair of a king that was built into stone five centuries ago. The views are fantastic, making it fun for not only kids, but parents too.
At the winery, there is grape juice for the kids and plenty of room to run around and play in the courtyard. The tour also includes a visit to the castle of Segovia (El Alcazar- one of the top things to do in Segovia) and a stop at the beautiful gardens of La Granja that allow parents and kids to enjoy nature and the outdoors.

Where to eat in Segovia Spain
Roast Suckling Pig: As previously mentioned, roast suckling pig is a pretty big deal in Segovia. There are more than enough restaurants that catered to tourists along the main road into town, but we wanted to find some place special.
According to my guidebook Meson de Candido was the place to go, but we wanted something a little less flashy. We opted for the equally good (with a mix of locals and tourists) Jose Maria. Reservations were recommended, but at lunch we didn't find it necessary. It is located across the square from the Segovia cathedral, making it the perfect location to stop in the middle of our explorations.
Ordering: Note that when you order cochinillo (roast suckling pig) that is all you will get– just meat on a plate. And it won't be cheap (about 24 euros per person). If you want any sides you will have to pay extra.
Desserts: Segovia does not lack in the sweets department. Simply stroll down the main drag and you will find donuts (called Berliners), cookies, croissants, marzipan, cakes and more to satisfy your sweet tooth.
Market days: Thursday is Market day in Segovia. You can pick up fresh produce in Plaza Mayor from about 8 a.m. until 3 p.m.
Alcazar café: If you have ever been to a museum, you know that their cafés aren't always the best, especially in the United States. Mediocre food that is overpriced is what you tend to find.
The café next to the Alcazar in Segovia is worth the walk for a cup of chocolate and a few churros. The hot chocolate we had in Segovia sure was delicious after a morning of exploration, cold temperatures and low blood sugar. The service was quick and there was a beautiful outdoor patio to sit at while you savor your treat and take in the views of the landscape below town.


Things to do in Segovia
Segovia has three main attractions — the Alcazar, cathedral and Roman aqueduct. Each deserves plenty of time to explore, and can fit into a long day. I suggest starting at the Alcazar, farthest from the bus stop. Make your way back from there so you have plenty of time to sight see. You will also have time to eat and shop before heading back on the Segovia to Madrid train.
Alcazar. The Alcazar, originally a palace in the middle ages, has also been used as a prison and the Royal Artillery School. Sadly, a fire swept through in 1862 and since then the Alcazar has been kept as a museum. What you now see is a grand reconstruction of what was once more humbly built on that spot.
Your tour through the Alcazar in Segovia is one-way with beautiful Moorish décor. Don't miss the Mudejar (Iberian decorative style of the 12th to 16th centuries) ceilings. Enjoy the views from the terrace, the armory complete with crossbows and cannons, and the Hall of the Monarchs that features 52 busts of rulers from Castile and Leon who ruled during the Reconquista (711-1492).
To enter the tower you will have to exit the main Alcazar and pay a separate, nominal fee. Grab a combo ticket for both from the Real Laboratorio de Chimia to the left of the palace. Walk up 152 steps in the spiral staircase to get a total view of the city and surrounding countryside. You will be sorry if you miss this perfect spot for a photo op.
Segovia Cathedral. The Segovia Cathedral was built to impress during the Renaissance, but has many Gothic features that take on a life of their own, including flying buttresses. Segovia Cathedral's soaring interior may seem simple to some, but you are sure to find a few hidden treasures the longer you explore.
Make sure you look up to take in the ceilings; one of my favorite parts of any religious building, but especially cathedrals. Take a peaceful stroll through the cloisters (closed on Sundays) as you reflect on the lives of those who came before you.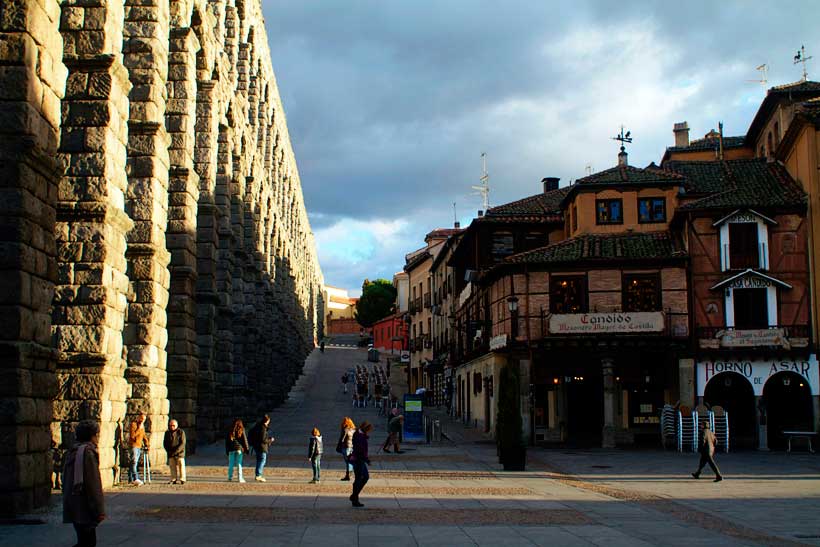 Roman Aqueduct: As soon as you arrive in Segovia you will see the aqueduct. It's hard to miss. Emperor Trajan's engineers built the Roman Aqueduct, a 2000-year-old attraction, to bring water to the Roman military base of Segovia. You can walk up a stairway from the Plaza del Azoguejo to the top. This will get you a closer look at the stonework and views of the town below.
Best of all, it is free and open year round. It's a stunning way to take in the views and get up close with some Roman history.
A day trip to Segovia is certainly worth a day out of your Madrid itinerary if you can spare it. Getting from Madrid to Segovia is a lot easier to do than it may seem from the directions. There are enough things to do to keep you and your kids busy. What are you waiting for? Start booking your trip!
PIN IT FOR LATER!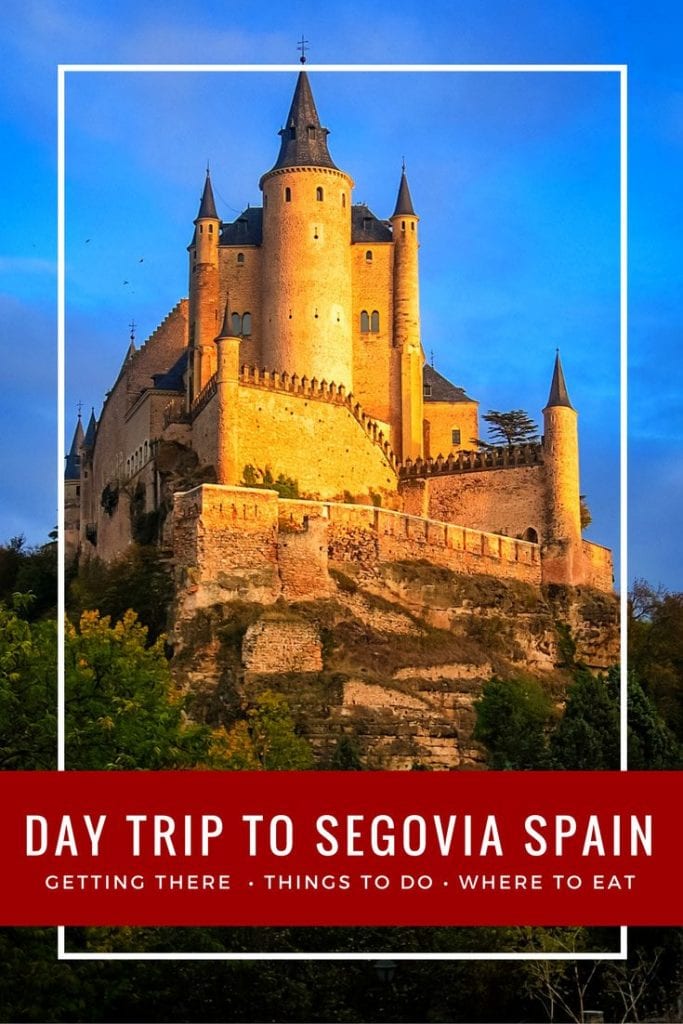 Alcasar via ShutterStock.com