The Louvre. It is the world's largest museum in a massive building with a monumental collection of art. Over 35,000 works are on display in the more than 650,000 square feet of this conglomerate of buildings that take up more than a few city-sized blocks. Look at the numbers and you will be intimidated when you think about exploring the Louvre with kids. Think about the treasures inside, and you will feel confident that you can tackle anything.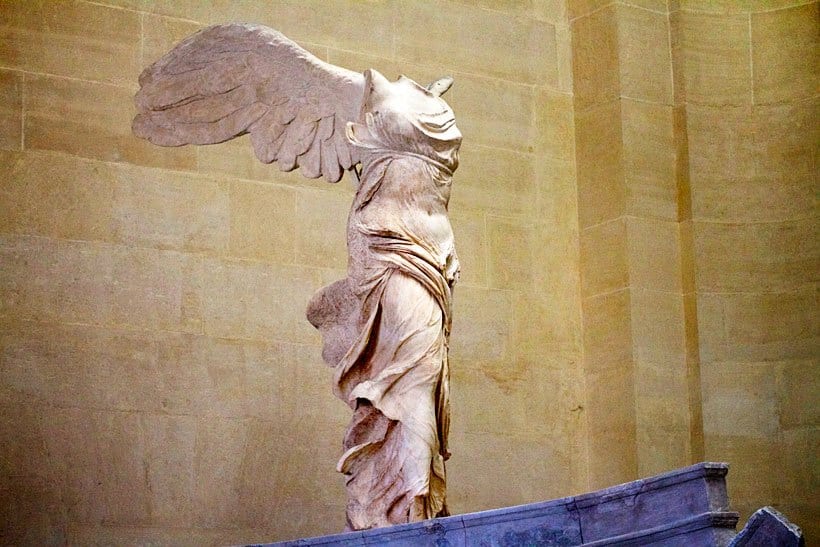 We were in Paris with kids for five short days and we had a lot to see. As art majors in college, my husband and I knew we couldn't skip one of the most impressive collections of western art in the world. Egyptian antiques, ancient Greek and Roman sculptures, crown jewels and paintings by the Old Masters graced the halls of this old fort turned palace then museum. However, touring the Louvre with kids on our own seemed a bit overwhelming.
Taking them on a Fat Tire Paris tour of the Louvre felt much more manageable. We would be able to see the highlights of this museum in Paris with kids, but also have time to explore a little on our own before the kids went crazy. At least that was the plan.
Book your Louvre tour HERE
Our group was a manageable size and our museum guide was a friendly French woman who really knew her stuff. She welcomed our boys into the fold and made sure they felt included by giving them their own headsets to follow along with her commentary.
Our Fat Tire Paris tour guide (the French guide was subcontracted, as per all museum tour guide rules), made sure we knew when the tour was moving to a new room and chattered away with us in the back so we wouldn't get lost while trying to entertain the kids. The headsets allowed us to roam around each gallery with the boys, but still listen to the details our guide was giving about a particular painting the group had stopped to explore. My husband and I took turns gazing at the artwork, and then checking out the rest of the room with the boys in tow.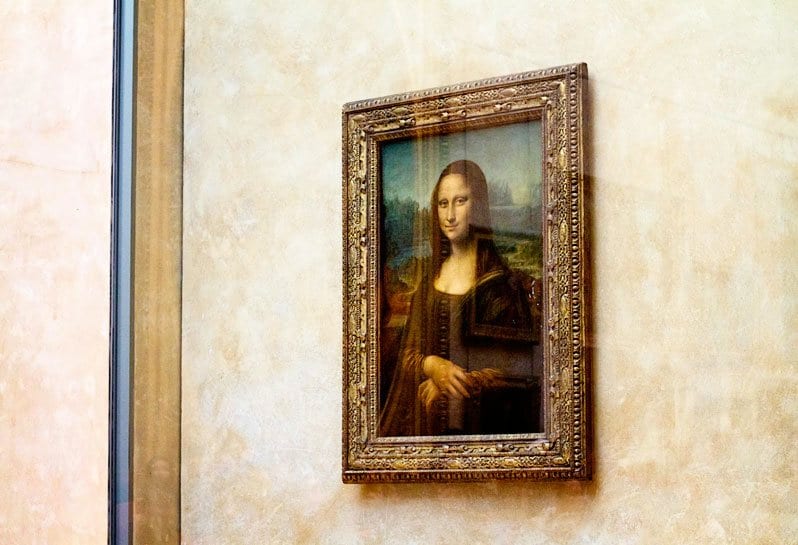 In about two hours we hit the highlights of the Louvre with kids. Somehow our boys made it through. We got to see the Mona Lisa, which is just as small as everyone warns you, and just as crowded too. I did get to push to the front with my oldest so he could catch a glimpse of the sly lady with the famous smirk. Other highlights included Winged Victory, the Venus de Milo and the crown jewels.
The museum knows that it is gigantic, which is why the museum map was our best friend. After seeing the highlights, we were able to quickly whisk our boys down one level and across a hall to see one of my favorite sculptors—Antonio Canova (1757-1822).
Grab your Louvre tickets NOW!
My husband and I caught a show of this Italian neoclassical sculptor's work in 2008 at the Villa Borghese in Rome, Italy. The curves in the stone flowed like water. I ached to run my fingers across the smooth stone. Canova's Cupid and Psyche are on permanent display at the Louvre and once again I found myself wanting to touch Psyche's heel and linger over Cupid's silky jaw. Alas, our boys hit a wall as soon as we found the sculpture, so I was forced to resist temptation, but still got a glimpse of another piece in Canova's mythic-themed repertoire.
One thing we did miss out on was the Egyptian art, another favorite time period for my husband and I in art history. There was no way we could see it all, so we had to satisfy ourselves with the highlights and return another day to the Louvre with kids. It would end up having to be another trip to Paris with kids as our time was booked with other tours and wanderings before we headed off to London to start the next leg our European adventure.

Know before you go
Louvre, 75001 Paris, France
Metro stop: Palais-Royal–Musée du Louvre station (line 1)
Strollers? No. You have to check your stroller. Carry babies in baby carriers. In a stroller kids will just get knocked around by the crowds.
Tours: I highly recommend the Fat Tire Paris tours of the Louvre with kids and other tours that they offer that are kid-friendly. Guided tours allow you to skip the line, which can be very long, and head right into the museum. That is worth the tour price alone!
Museum highlights

Mona Lisa
The Winged Victory of Samothrace
Aphrodite, known as the "Venus de Milo"
Medieval Moat
Napoleon III apartments
Crown Jewels
Canova's Cupid and Psyche
Egyptian art collection
Don't wait! Buy your Fat Tire Louvre tickets now,
before they sell out.
This post contains affiliate links. If you make a purchase after clicking one of those links I will receive a small commission.