My boys and I are all for odd attractions that get the attention of your average international visitor. If a few people are against it I am even more intrigued. When I started planning our trip to Bern, Switzerland this past October I knew we would have to check out the bear pits.
The mighty bear is the symbol of Switzerland's capital city. Its image can be found on flags, candy boxes, and the sides of buildings. The current pit opened in 1857, but bears have been part of Bern's culture since as far back as 1191, or so they say.
The Bärengraben, or bear pit, located at the edge of the old city of Bern and next to the river Aar, has since been turned into the BärenPark, or bear park, and is a disconnect part of the Dählhölzli Zoo.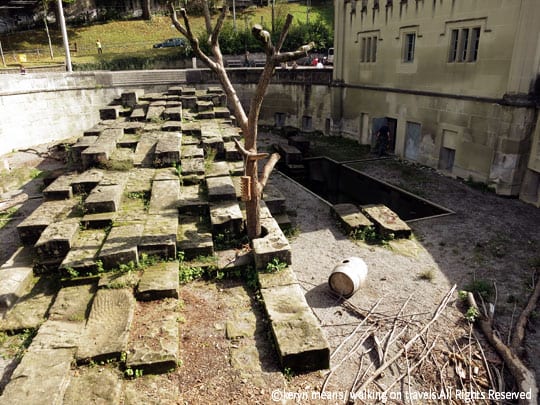 Controversy surrounded the bear pit for years. The condition of the animals was not ideal. Then Switzerland, deciding they cherished its bears, poured a couple million dollars into creating a space that is more like a modern-day zoo exhibit.
I can see why animal activists protested the pits. There wasn't much room to roam and kids could chuck peanuts at the bears all day long. There was no protection for the animals or way for them to escape when us humans started to annoy them a little too much.
The new space is quite nice. It includes a hill the bears can climb, a large swimming pool and tunnels that allow them to escape the crowds.
Was my family impressed? Not really.
Dek was more interested in the rocks leading down to the river. He wanted to jump on them. I was having none of that.
He did give the bears a glance, but like some attractions we go to, I was more excited about his possible excitement than he was in the actual space. Maybe it was just the day, the jet lag or perhaps he really just doesn't like bears. We are more of a tiger family after all.
Controversy and lack of toddler interest aside, I did enjoy seeing these beautiful symbols of the city. I am very happy that they have a much bigger home now with a little stimulation to keep them entertained, other than the thousands of tourists passing by their habitat each year.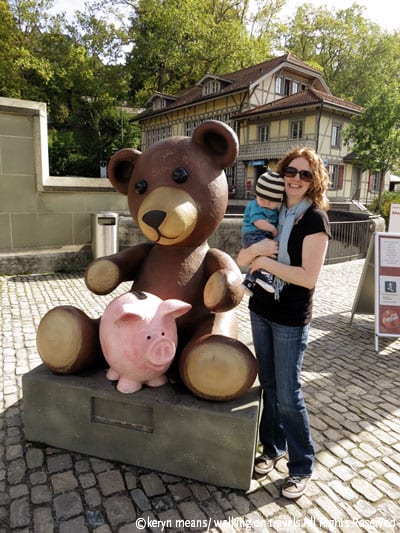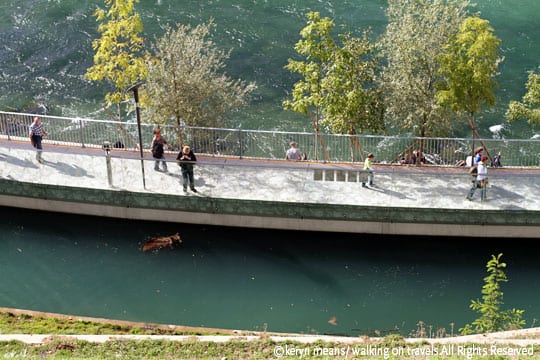 The scenery was my favorite part of the excursion. The walk we took through old town was gorgeous, if not a bit bumpy in the stroller with all the cobblestones. Our walk down a steep incline to the river to get up close and personal helped me burn off all those cookies I'd been eating. I decided I may need a few more cookies on the hike back up.
Although it doesn't need to be tops on your list, if you do happen to be in Bern , Switzerland make time to visit the bears. Even if you aren't a big bear fan, the journey there is well worth it. Plus you should know what all the fuss is about.
Know Before You Go
BärenPark, Grosser Muristalden 6, 3006 Bern
Getting there- Catch the number 12 bus towards Paul Klee Centre. It will drop you at the Bear Park in about 6 minutes from Bern's main station. Check the website for directions by car.
Hours- the walk around the park is open 24 hours a day. Keepers are available daily from 8am to 5pm
Strollers? There is a ramp that can go down to the bottom of the bear park, but it's a steep climb back up. You will definitely get your work out for the day. The easier, more direct path down to the river is filled with steps.
Food? Gift shop, restaurant and convenience store are available on sight for a trinket or snack during your visit.