Just off the coast of Florida, below the Georgia state line, you will find Amelia Island. Amelia Island is home to locals, golf enthusiasts and beach lovers.
For those visitors in the know, there is no shortage of things to do in Amelia Island during a weekend getaway, even if you are there in the cooler months of winter.

Although Florida is often thought of as a warm and sunny getaway, Amelia Island is located in the north of Florida, which does get chilly.
Taking a winter trip down to the island won't be filled with bikinis, sand and surf. This doesn't mean there aren't enough things to do in Amelia Island during the winter months.
Golfers are still driving balls across the course. The town of Fernandina Beach FL has plenty of shops, restaurants and things to keep you entertained during your Florida winter weekend getaway too.
THINGS TO DO IN AMELIA ISLAND FL
Fort Clinch
Fort Clinch State Park is a preserved 19th century fort located on the northeast side of the island. If you are interested in early American history the fort is a lot of fun to explore. The Fort staff dress in period costume and stay in character throughout your visit, so ask all the questions you want.
The beach just outside of the fort is also one of the best spots on the island to find shark teeth. We made the mistake of looking for white shark teeth at first. A local quickly corrected us, letting us know that the teeth would be black by the time they washed up in the bay.
Hit the park at low tide and you will find more than a few shark teeth hunters bending over to gaze at the sand. Don't worry; there are plenty of sharks teeth on Amelia Island for everyone.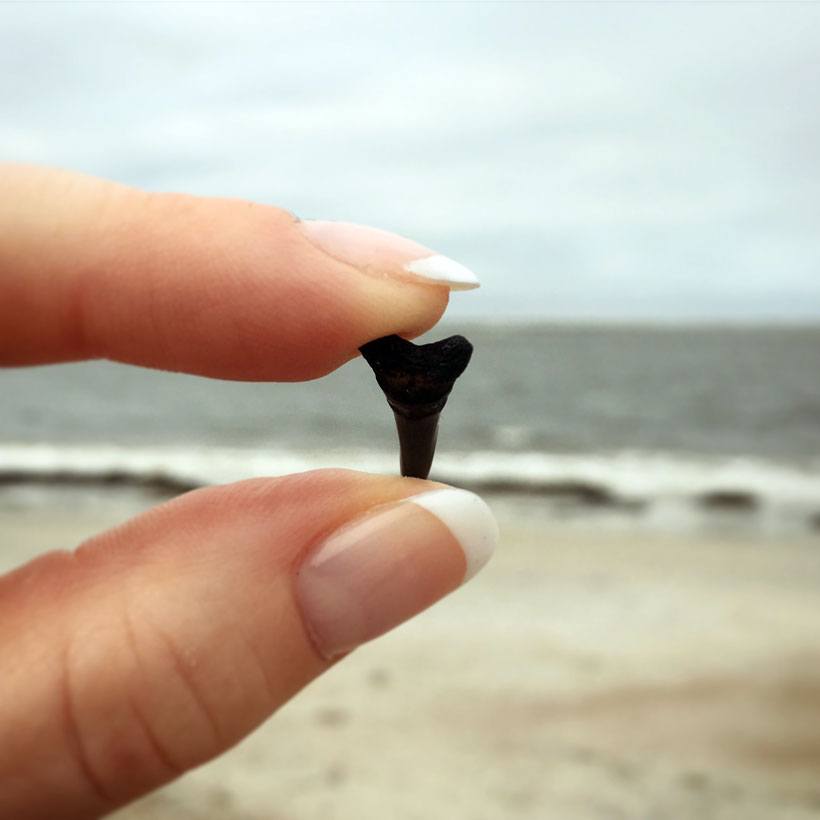 Amelia Island Kayak Excursions
Sometimes a gal just has to get out and explore the local waters in a kayak. My friends and I took a tour with Amelia Island Kayak Excursions.
Amber and her brother took us down river for about an hour. They shared the history of the area and the ecological impact it has (home to a few gators).
They also divulged a few of their favorite Amelia Island restaurants with us.
My friend Carrie, along with our group of novice to experienced kayakers, got into the water and immediately found herself in the weeds (literally). She could not figure out how to paddle backwards.
Thankfully, I've been kayaking up on the lake in New Hampshire for years and years. I've had to rescue my own kids when they get stuck, so we were able to get her out.
If a bunch of gals, some who have never stepped foot in a kayak, can do it, you can definitely bring your kids for this low-key adventure.

THINGS TO DO IN FERNANDINA BEACH FL
Shop Centre Street
While I have my favorites (Lemongrass!), you will want to find your own spot to shop in Fernandina Beach FL via our guide- Amelia Island Shopping
Amelia Island Trolleys
When the weather is chilly or the rain starts to creep in, a trolley tour of historic Fernandina Beach is a great way to pass the time. Your trolley driver will narrate as you pass historic homes, churches, and buildings that are still in use or have been repurposed after renovations.
Don't miss the house with the carousel horses. It's creepy and amazing all at the same time.
Ferry to Cumberland Island, GA
You can take a ferry from Fernandina Beach, FL to Cumberland Island, GA to see the wild horses in the national park. Bring your own bike or rent a bike at the Sea Camp Dock once you arrive.
Wind your way around the island looking for sharks teeth on the beach, and the Dungeness Historic District, where the horses are often found grazing.
The Ritz-Carlton Spa, Amelia Island
The Ritz-Carlton Spa knows how to cater to its location, and on Amelia Island it is all about the sea. While relaxing with friends I just had to try the Ritz Carlton Spa and experience their Himalayan Salt Crystal massage.
My massage was close to a hot stone massage, but oh so much more. The well-trained massage therapist expertly plucked crystals from the warmer. She made sure the crystals were cool enough and used them to help balance my body's energy field and central nervous system.
The hand-carved Himalayan salt crystals are also known for their detoxification and skin softening properties.
Once my massage was complete, I was given my own salt crystal to take home (it makes a great hand and foot warmer). I relaxed in the quiet room, all snuggled up in the warm, sinfully soft blankets on the chase lounge chairs.
Another perk of getting a massage treatment, is you get access to the spa. This is where the adults-only pool at the hotel is located as well as the steam room, sauna and hot tub.

WHERE TO EAT ON AMELIA ISLAND THIS WEEKEND
Drinks: Amelia Tavern Restaurant and Brewpub, 318 Centre St, Fernandina Beach, FL 32034
Lunch: Sliders, 1998 S Fletcher Ave, Fernandina Beach, FL 32034
Dinner: Timoti's Seafood Shak, 21 N 3rd St, Fernandina Beach, FL 32034
Super Fancy Dinner: Salt at The Ritz-Carlton, Amelia Island, 4750 Amelia Island Pkwy, Fernandina Beach, FL 32034

BEST AMELIA ISLAND HOTELS
The Ritz-Carlton, Amelia Island
If your budget allows, you need to stay at the Ritz-Carlton, Amelia Island. I would say this about most Ritz-Carlton properties across the globe, but Amelia Island certainly stands out as one of the top hotels with superb customer service, great amenities and delectable food options that even kids can love.
They also have a kids club, which does not encourage playing video games for hours while the parents are off having alone time.
Golf pros and enthusiasts can hit a few rounds with their friends. Spa lovers can relax in the adult only spaces. Families can enjoy time at the pool or walk just over the natural dunes to the beach.
Elizabeth Point Lodge
Not every Amelia Island weekend needs to involve the kids. If you want to get some quality time in with your husband or friends, book a room or cottage at Elizabeth Point Lodge.
This is one of the most romantic spots to stay on the beach, and is always in high demand. Locals and guests love the restaurant too. Sit on a rocking chair to watch the waves roll across the sand or simply lay in bed looking out your window. Amenities include free Wi-Fi, private beach access, complimentary beachfront breakfast and free parking.
Hampton Inn & Suites Amelia Island- Historic Harbor Front
You can easily walk to the restaurants and shops of Fernandina Beach from the Hampton Inn. Explore all of the things to do in Amelia Island, Florida from this homebase.
You will save you a ton of money with the included breakfast, especially if you are traveling with kids.
There is also a pool, which your kids will love, and probably require for all of your hotel stays by now. The suites make it easy for families or a group of friends to spread out for the weekend and relax without having to deal with any snoring.
Grab the best rates and availability on Amelia Island hotels now!


GETTING AROUND AMELIA ISLAND
Before you discover all of the Amelia Island things to do, you need to know how you are getting there and getting around, as well as discovering other great small towns in Florida. You have three Amelia Island transportation options you need to be aware of.
Closest airport to Amelia Island
Jacksonville, FL is the closest major airport to fly to that can get you to Amelia Island. It's about a 30-minute drive from the airport to Fernandina Beach, FL.
You could also fly into Fernandina Beach Municipal Airport. It would probably be quicker and cheaper to rent a car and drive from Jacksonville, FL.
Amelia Island Rental Cars
Your best bet for getting around Amelia Island is to rent a car. If you know you won't need a car, you can take a taxi or car service to your resort.
8 Flags of Amelia Island
Tami and her team of drivers are a wealth of knowledge. They are also a reliable ride when you are on the island. Don't stress about a night out on the town with friends. Never worry about driving back to your hotel.
Tami and her team can also act as your personal tour guide to show you all of the things to do in Amelia Island. This taxi service will take very good care of you. Tami also knows the best places to eat in town. Grill her if you need some recommendations.
Pin it and Start planning!
Many thanks to Amelia Island tourism for hosting me for two nights for the purposes of finding so many things to do in Amelia Island. As always, my opinions are my own. When they aren't you will be the first to know.
Amelia Island Destination Guide
Amelia Island Hotels
Omni Amelia Island Resort: Great resort right on the beach with free Wi-Fi and a pool on site.
Amelia Hotel at the Beach: A traveler's favorite. This hotel comes with free parking, breakfast included, and a pool.
Beachside Motel: Recently renovated and one of the only beachside motels. Pet-friendly and guests will enjoy the free Wi-Fi and pool.
Looking for more? Search the best Amelia Island hotels on Booking.com.
Amelia Island Airbnbs and Vacation Rentals