We love all things space in our family. Since our kids are in school full time, we are prioritizing educational travel whenever we can. When you are visiting Kissimmee, Florida and Orlando attractions, it's easy to plan a day trip to the Kennedy Space Center with kids.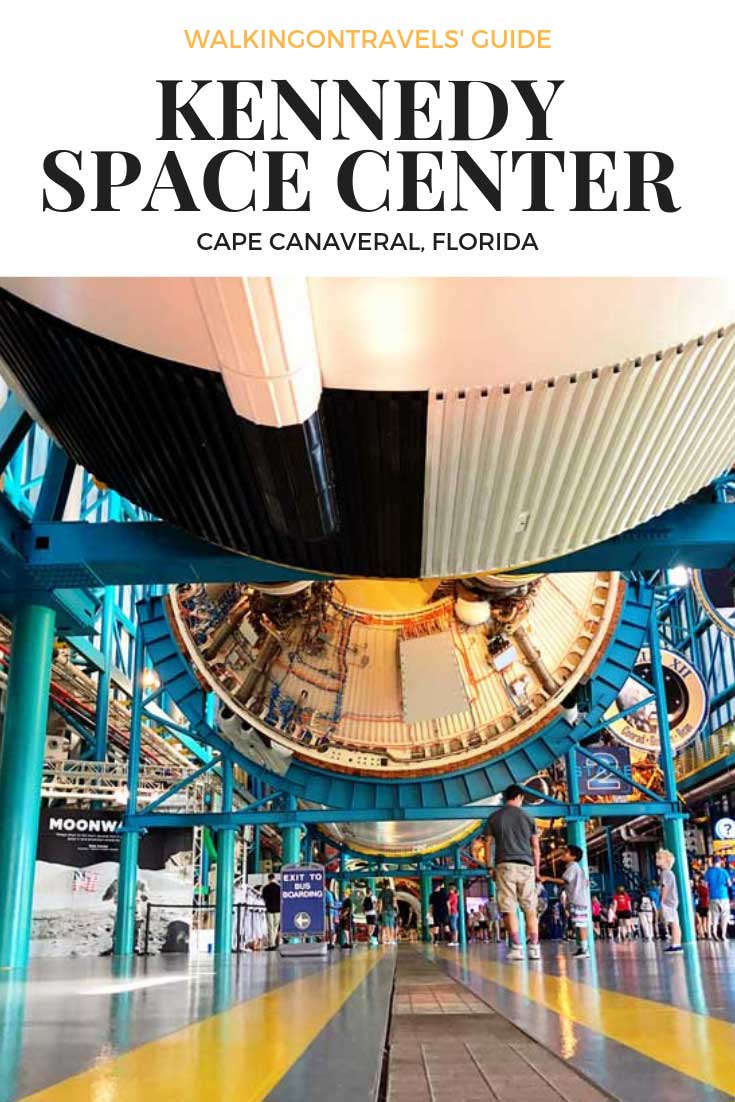 Things to look forward to– exploring the Space Shuttle Atlantis, getting a sneak peek at the Space X program, and having lunch with a real astronaut. It is worth driving out to the coast, especially when you'll have stories to share with your friends back home who have watched Apollo 13 and Hidden Figures.
Here is an easy itinerary to follow when you want to plan your own day trip to the Kennedy Space Center Visitors Complex, or a three-day weekend to Kissimmee, FL.


Day One: Travel to Kissimmee
Arrive in Orlando
Pick up Rental Car
Check into your Vacations Homes Collections rental house
Swim in the pool!
Grab dinner at Disney Springs

Day Two: Kennedy Space Center with Kids
9am: Kennedy Space Center opens
Arrive Early: It takes about an hour to get to the Kennedy Space Center Visitors Complex. Leave by 7:45am. Trust me. You want to get there by 8:45am, so you snag a great parking spot. Even if you arrive by 9am you will be happy with the spot you get. You will also beat the crowds.
TIP: After you arrive, head to the back of the center to the Space Shuttle Atlantis and work your way back to the front to beat the crowds.

Space Shuttle Atlantis
There is so much to see at the Kennedy Space Center with kids! Take the ramp up to the top and work your way down through the launch from outer space back down to earth. You will begin with a video presentation, followed by a very nice surprise at the end.
Wander the interactive rooms. There are a lot of buttons for kids to flip, press and switch. You have planned an entire day for this experience. Allow your kids to get fully immersed.
Run through the tubes in the International Space Station. Ride the slide down to the bottom. Yes, you can run back upstairs to take the slide back down multiple times. This is why you came.

Shuttle Launch Experience
The launch experience is on the bottom level, just off from the gift shop. You can opt against doing the entire Space Shuttle Atlantis Center (although I recommend that you do!) and just head straight to the Launch experience. Just cut through the gift shop to get there.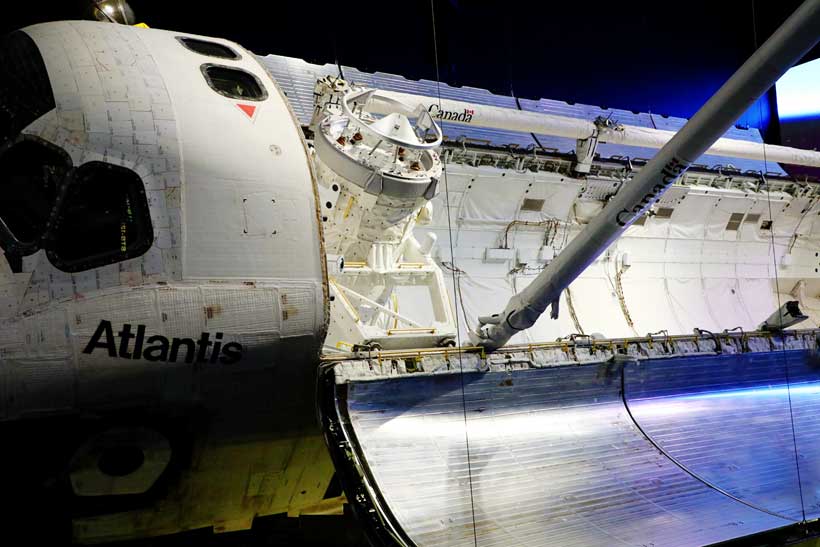 All of your belongings must be stored in a locker. This is a free service. The Shuttle Launch Experience does involve rapid movement, so you can lose items, especially if you put phones and eyeglasses in shirt pockets.
Phones in your trouser or jeans back pocket should be safe. Just double check the seat when you are finished.
TIP: Don't forget to write down the number of your locker. You will not remember this number throughout the ride. Take a photo of your locker if you bring your phone with you.

Shuttle Launch Experience Concerns
The ride begins with a video that describes and visually shows an actual launch. This is NOT what you and your child will experience. It freaked my kids out and they almost didn't go on the ride.
The actual ride does tilt up, shakes quite rapidly for about 30 seconds, and then tilts back down. Your cheeks shake more than anything else. Honestly, my back felt amazing during it. I felt like I was getting a mini massage or chiropractic adjustment.
It isn't too loud either, which was a concern for my oldest. He had his hands over his ears for the first half of the ride. I finally yanked his hands down, and he was like "Oh, this isn't bad at all."

Other Kennedy Center Activities
There are a few other audio/visual activities that you will want to check out. Keep in mind that each will take up time, so check what your next scheduled activity is so you know what can be squeezed in.
Heroes and Legends (1 Hour)
Journey to Mars (30 minutes)
Children's Play Dome (free play zone)
Nature and Technology (no time limits)
Lunch with an Astronaut
One of the highlights of the day is actually an add-on to your admission. Should you pay the extra fee for Lunch with an Astronaut at the Kennedy Space Center? Yes!
I rarely go in for the extras. I find we are much too busy doing everything else an attraction has to offer, but this was the exception.
First, by having lunch already set up, you are guaranteed a good meal in a very cool, air-conditioned space. Florida is hot 80 percent of the year. Take advantage of this time to cool down and relax with your kids. It will give you that second wind you need to keep going through the complex.
Second, they have Tang. Yes, actual Tang. That orange drink we all chugged while camping in elementary school. All of the adults at our banquet hall table marveled that Tang was still around. All of the kids could have cared less; they just wanted that bright orange drink.
And lastly, you get to hear from a real, live astronaut.
The day we visited, Anna Fisher, the first mother and one of the first women in space, was speaking. She was truly an inspiration not only to me, an all-girls public high school graduate, but also to my boys, who were seeing that a mother could reach for the stars and go far beyond anything she could imagine. My boys are being raised that men and women are equal, but they are still influenced by outside sources beyond my control. I like showing them that other women, not just their mom, are doing pretty amazing things.
After Mrs. Fisher had completed her planned presentation, the audience was encouraged to ask questions. The children in the group were given priority, which was great since so often times children are ignored in these settings, but you could tell the space geeks in the crowd were a bit bummed. Lunch concluded with a photo opp, which you better believe we jumped inline to grab (and yes, I bought that souvenir photo!).

Apollo/Saturn V Center
After lunch, you should dash over to the bus terminal to take the Apollo/Saturn V tour. The bus, which includes a detailed narration by your driver, will last about 45 minutes as you cruise through the NASA complex.
Keep an eye out for Launch Pad 39A and 39B, mobile launch pads moving down the river rock road at about a mile per minute, and the Space X and Boeing buildings, where private sector space travel is being developed.
Your tour will conclude at the Apollo/Saturn V Center where you will get a taste of the American space race, before walking under the 363-foot Saturn V rocket that launched man to the moon.
You and your children can also touch a moon rock, see Alan Shepard's space suit with actual moon dust still on his boots, and view an actual Apollo space craft. This one building is so chock full of space memorabilia, you could easily spend the rest of the day here.

5pm Cool off at Cocoa Beach
Packing tip: Always have swimsuits, a towel and umbrellas in your rental car. You never know when a quick rain shower will roll through or a swimming opportunity will pop up.
By now, you and your kids are getting tired. It's time to drive 30-minutes south to Cocoa Beach. As a child of the 80s, I couldn't help having my "I Dream of Jeannie" moment on this iconic beach, where Jeannie lived with her very own astronaut Major Nelson.
My boys, well, they will forever remember it as the spot they got to have a bright red snow cone and jump in the ocean for an hour.


7pm Dinner in Celebration, FL
Drive back to your rental, rinse off and get ready for dinner in Celebration, Florida. This quiet town is home to a plethora of restaurants, beautiful sunsets over a lagoon and a nice little splash pad.
Columbia Restaurant, Celebration Town Center, 649 Front St, Celebration, FL 34747. If you love Cuban and South American comfort food, this is the spot for you. Order up some mojitos (juice for the kids), Ropa Vieja (shredded beef with onions and peppers over rice), empanadas and grilled fish. Watch the neighbors cruise by on the street-level patio. End the night across the street at the splash pad. Thank goodness you still have those swimsuits in the car.

Day 3: Holler & Dash, Gatorland and Home
Spend a lazy morning sleeping in a bit. After all, this is your vacation. Drive back to Celebration for breakfast at Holler & Dash, and spend a few hours at Gatorland before you have to fly back home.
Holler & Dash, 6268 W Irlo Bronson Memorial Hwy, Celebration, FL 34747. Pop into this Southern chain for biscuits, avocado toast and nitro brew Stumptown coffee as you wrap up your last day in town. The staff is warm and welcoming, giving you a taste of that southern charm you have heard so much about. Order at the counter, but wait with your drinks at the table. If anything is missing, they will make sure you are happy and get it right out to you.

Gatorland
You can see a lot of Gatorland with only a few hours to visit. Five hours is a good chunk of time to get a lot done though, including zip lining, catching the shows and holding a baby gator for a bit.
Visit the albino gators and rare Leucistic gators. Meet my new buddy Chester, who Gatorland rescued because he was going after neighborhood dogs (he caught a few too. Eek!), baby gators in the nursery, parakeets, talking parrots, snakes, beautiful coral pink flamingos, and a whole bushel of nesting birds in the open-air aviary.
One thing I love about Gatorland is that there is a lot to do that is included with the price of admission, but the add-ons aren't super pricey either. I was able to let my boys each pick one $10 extra (zip lining and photo with a gator) they wanted to do without feeling like I was breaking the bank.
Fly Home
All too soon it will be time for you to fly home. If you are like us, and live on the East Coast, you are in luck. Most cities aren't more than a three-hour flight from Orlando.
If you live a bit farther away, have no fear, Orlando has a whole lot of non-stop flights you can book so you too can check out all the things to do in Kissimmee with kids this year.
This post is part of a paid partnership with Experience Kissimmee. As always, my opinions are my own. When they aren't, you will be the first to know.