Packing for a Brazil River Cruise can be surprisingly easy. It's hot and humid, which means you don't need snow parkas and heavy layers.
A few lightweight long pants and shirts will keep the bugs off during hikes (I loved my ExOfficio BugsAway pants and breathable pullovers), cotton shorts and tanktops, sneakers and flip flops did the trick.
Even with two of us traveling, our liquids didn't exceed carry-on limits. And trust me, I like my face lotions and I need my 110spf sunscreen.
One tip to remember though, is to separate out one outfit to wear home on the plane. After a week on the river, you and your clothing will smell. Shower the night before or the morning of your departure if you can and throw on those fresh, clean clothes. Your body, and all of the passengers around you, will thank you after your five hour flight back to the U.S. for your connection in Miami (unless you live in Miami, in which case, welcome home.)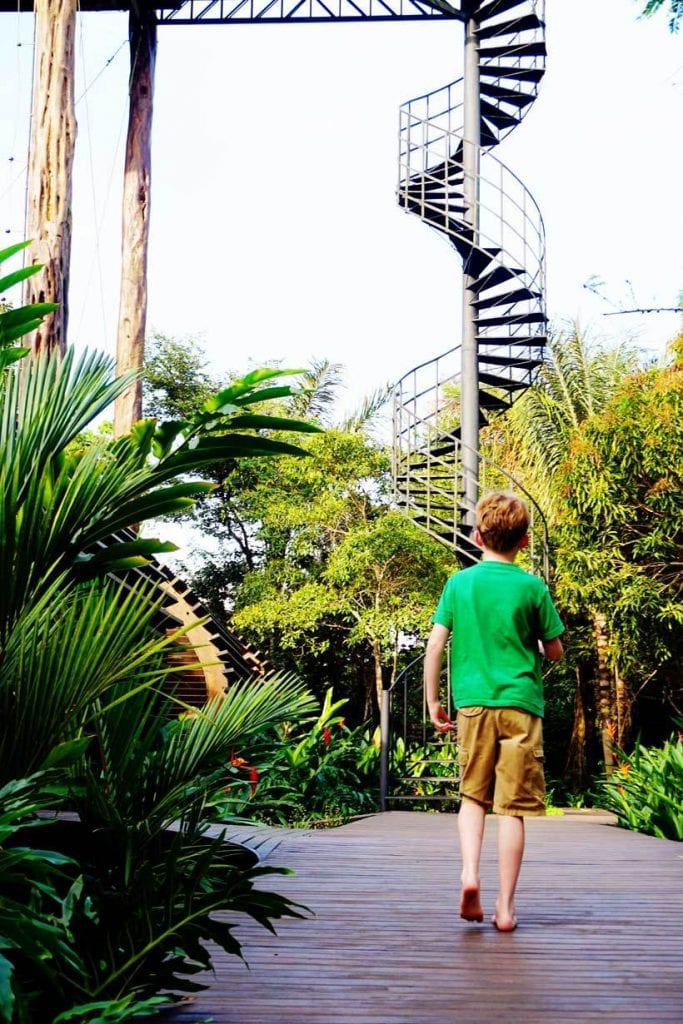 While this is only a guideline of what you can pack, it served us well when I traveled with my 9-year-old son. I am a clothes horse and tend to overpack, but found we wore it all, even wearing many things twice. The only thing I wish I'd brought was a lightweight sundress or maxi dress, which one woman on our trip did have, and wore often. I wore my swimsuit coverup instead, which worked out fine.

Luggage
Carry On Bag or Duffle Bag
Backpack
Shirts and Tanks Tops
For Women
7 Tank Tops
1-2 T-shirts (cotton)
2 Light-Weight, Long-Sleeve Shirts
1 Cardigan or Sweatshirt for flights
For Boys
7 T-shirts
1-2 Long-sleeve shirts
1 Sweatshirt for flights

Trousers and Shorts
For Women
2 Pairs of Trousers (Women)

ExOfficio BugsAway Sol Cool Pant (1 pair)
ExOfficio BugsAway Damselfly Pant (1 pair)

Cotton shorts (2 women's pairs)
Leggings
For Boys
1 pair of Trousers
3 pairs of Shorts
Underwear and Socks
Underwear (each day + 2 extra)
Socks (one pair for each day)
Bras (2-3)

Sports Bra (ExOffico Sports Bra was fabulous and dried out quick in the humidity)

Swimwear
Dark colors or an old suit you don't care about are a must as the water will stain your swimsuit.
One swimsuit (woman)
One pair of swim trunks (boys)
One UV shirt/rashguard (boys)
Shoes

Toiletries
Shampoo and Conditioner
Razor
Facewash
Night Cream (if you use it)
Toothpaste (adult)
Toothpaste (kid)
Toothbrushes
Small packs of tissues (can be used as toilet paper when out and about)
Deodorant (clinical strength is your friend)
Eye Drops
Contacts and Eye Glasses (as back up)
Contact solution
Hair Rubber Bands
Comb/Brush
Make Up (Waterproof Mascara is a must if you plan on wearing it)

Medicine
*Bring at least three doses of generic medicines

Bug Spray
This is separate because it is so important. While malaria is not prevalent on the Rio Negro, there are still reported cases. The yellow fever vaccine is strongly recommended, while malaria pills are a bit more optional. Talk through the choices with your local Passport Health office.
The bugs were biting while we were there. If you are allergic to mosquitos or they tend to like you a whole lot, please use a high-DEET mosquito repellent. I brought REPEL 98.1% DEET. A friend who is highly allergic brought Deep Woods Off and was eaten alive. After day one, I gave her one of my bottles and she wasn't bitten again. Yes, DEET has its own harmful effects, but Malaria is worse and more immediate.
You can also spray all of your clothing ahead of time with Permethrin. It will not stain your clothing, which DEET can. DEET will also scratch up your sunglasses, so be carefu l when applying it.
What worked best?

Sunscreen
I'm a redhead and my son is blonde. Thanks to our Ancestry.com report, we now know we are 64% Irish, which is a lot more than I thought. I am very careful with my skin. Yes, I still get color. Sunscreen doesn't stop you getting tan, it just blocks harmful rays. USE IT.
I bring cream and sticks with me. Sticks aren't counted as liquid, so I can get through more when only bringing Carry-On bags through TSA. I still like the liquid though because I feel like it gives me more coverage. The stick is great for under my son's eyes, where he doesn't let me get liquid, and is easy to bring on hikes.

Snacks
Cookies or treats, preferably something that doesn't melt.

There are snacks on the boat, but none on your hikes. You and your children will get hungry. Always have snacks on hand when getting off the boat.

Grayl Water Bottle: This bottle filters out multiple impurities no matter where you are. You could literally drink water from the Rio Negro… or just the tap from your bathroom in your hotel in Manaus.
Games and Entertainment
This post contains affiliate links. If you make a purchase after clicking one of those links I will receive a small commission.Many thanks to ExOfficio for supplying BugsAway and other travel clothes for the purposes of review. As always, my opinions are my own. When they aren't you will be the first to know.