New Orleans – birthplace of Oysters Rockefeller and Bananas Foster, home to gumbo, jambalaya and beignets – the names alone sing, and when the flavors land on your tongue – ooo mama!! But where to eat in New Orleans?
Culinary creativity sings through the blood of the city, with some of America's oldest family run restaurants (Antoine's has been serving creole classics since 1840, while Commander's Palace has been serving since 1880) sitting side by side with some of today's most famous chefs, including Emeril Lagasse and Paul Prudhomme, not to mention the young up and coming chefs found all through the city.
All this opportunity can be simultaneously inspiring and overwhelming, so we've taken up the task of offering a few highlights from our various trips over the years to tell you where to eat in New Orleans with kids and without them. As usual, any of the fine dining places are usually very kid friendly within reason – don't bring the crying baby in to the white tablecloth dining room at 10pm on a Friday, you know…..
This is by no means an exhaustive list – but each restaurant and cafe below has been visited at least once, and, as of early 2016, is still offering service.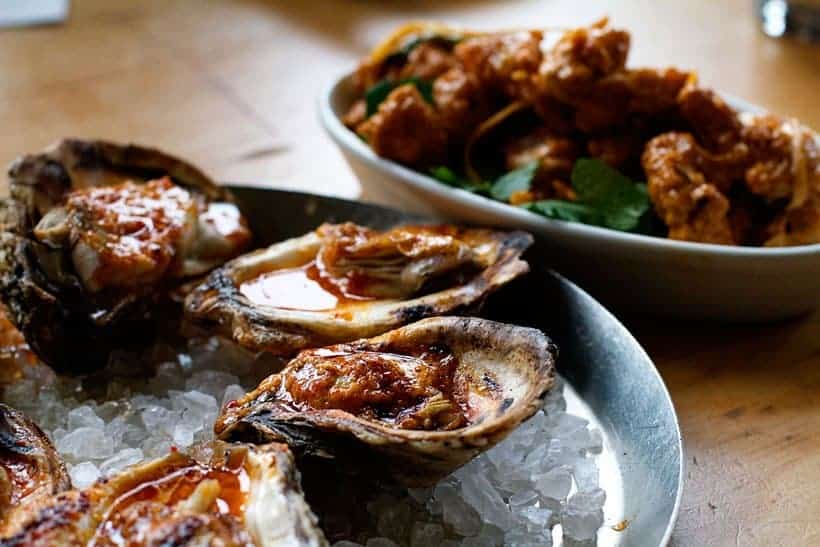 Arnaud's and Arnaud's French 75. One of the classics of the French Quarter, Arnaud's has been serving since 1918 – and takes pride in its history. Enjoy Jazz Brunch or an elegant dinner in the fabled dining room, or visit the adjacent cocktail lounge, the French 75. Do note, French 75 is cigar friendly, and can be uncomfortable for children. Upstairs is the Germaine Cazenave Mardi Gras Museum.
Booty's Street Food. A hip restaurant in Bywater featuring shareable bites inspired by worldwide street food, like crepes, pupusas,tacos and ceviche, as well as fantastic Stumptown coffee, local microbrews and curated cocktails. They are great for kids since there's plenty to choose from, and a casual atmosphere.
Cafe Amelie. A historic cafe in the heart of the French Quarter, Cafe Amelie has a gorgeous shaded courtyard, giving kids a place to run around, and a fountain to be distracted by. Serving breakfast, lunch and dinner, they get very busy and usually require reservations.
Chateau du Luc. Traditional French cuisine combines with original specialities in this cozy bistro. If duck is on the menu, make sure you order it. The bartender is always ready to recommend a good wine, and this being French food, you can't miss the onion soup. Bon Appetit!
Cochon. Grab your whole gang to chow down on nothing but pork-inspired cuisine. Cracklin, ribs and pork cheeks are just a few of the options you will find. Don't like pork products? Don't worry. Wood-fired Oysters and a bevy of desserts are just waiting for you. Children are welcome, and reservations are encouraged.
Croissant d'Or. A bakery at the north end of the French Quarter, this is a fabulous destination for morning coffee and midday sandwiches. Flaky croissants, marvelous baguettes, and just as many French speakers as English. There's a small central courtyard for protected outdoor seating.
El Gato Negro. Directly across from the French Market at the north end of the French Quarter, El Gato Negro is a pretty touristy lunch and dinner spot, but their heaping portions of classic mexican dishes, shareable plates and chips were fantastic. One more thing: Satsuma Margaritas. I was hooked!
Kingfish. In the middle of the French Quarter, Kingfish offers fantastic seafood for lunch and dinner in a very kid-friendly space. Plank roasted gulf fish, gumbo, creamed corn chowder, oven fresh baguettes with salted butter – we loved everything we sampled.
Restaurant R'evolution. This was our Big Splurge evening, as we were celebrating our anniversary while in New Orleans. Revolution features modern interpretations of classic Cajun flavors, created by superstar chefs John Folse and Rick Tramonto. They had a limited menu during Mardi Gras weekend, so we weren't able to enjoy the tasting menu, but we loved the turtle soup and triptych of quail! Super cocktails, an award-winning wine list, and superior service make this a very special treat. We did see lots of older, well-behaved kids at our not-so-early dinner.
Ruby Slipper Cafe. Breakfast, Lunch and Brunch in the Marigny – known for their variations on the Eggs Benedict, Pig Candy (sugar glazed bacon), and Eggs Cochon, there is nothing lightweight about the Ruby Slipper – but that's what you need for a day of walking the Big Easy!
Satsuma Cafe. A cafe in Bywater, great for a midday coffee, snack, lemonade. There's a lovely side garden with outdoor seating.
Verti Mart. A 24-hour cash-only takeout deli at the corner of Royal and Governor Nichols Streets in the French Quarter, Verti Mart is your destination for takeout meals. Muffulatas, po' boys, a variety of prepared salads, hot foods, mac n cheese, steamed broccoli – this is a super destination to prepare a picnic or grab a bite to take back to the room. It's not cheap, but it's robust! They also feature minor groceries, as well as some juice, wine, beer and sodas. No website.