As a girl who grew up in Kansas, I wasn't accustomed to the mountains, lush forests, and ocean of the Pacific Northwest. I'll never forget when my husband and I first traveled to Seattle to find a place to live, and we both remarked, "the air is so clean". It's true; there is something about all this moisture and greenery that makes you want to take a deep breath of fresh air.
Now as parents, we encourage our girls to venture outdoors and explore nature, especially when traveling. On our recent trip to Astoria Oregon, I was delighted to find the town offered an opportunity to breath in some of that clean Pacific Northwest air, while also exploring the outdoor activities in the area.
What makes Astoria so unique is its location, tightly nestled between three rivers including the mighty Columbia at the point where it empties directly into the expansive Pacific Ocean. And as we soon discovered, it's not just a convergence of rivers and the ocean, but one of history and adventure that makes this little slice of Oregon special.
Our first outdoor adventure led us to the Lewis and Clark National Historical Park, and while we thought we were going for the educational opportunities, it was the hiking along winding trails that captured our interest. I only wish we had come more equipped for longer distances, as they have a number of trails that resemble those followed by the Corps of Discovery many years ago.
The Fort-to-Sea trail ventures all the way to the Pacific Ocean and reportedly offers breathtaking views. Our family took the easy 1.5-mile trail along the Netul River, now called the Lewis and Clark River, and enjoyed walking through the sunlit trees and seeing the areas where Lewis and Clark's expedition would have launched their canoes.
If you head this way and have nice weather and extra time, I encourage you to plan a visit to Fort Stevens State Park during your visit to Astoria. Unfortunately strong winds and rains kept us from exploring this historical park, which offers camping, beach-combing, freshwater lake swimming, trails, wildlife viewing, a historic shipwreck, and an old military fort.
For outdoor-loving families, the park also features nine miles of paved bike trails and six miles of hiking trails that allow you to explore a variety of habitats including spruce and hemlock forests, wetlands, dunes, and shore pine areas. I know my girls would have loved to walk along the beach there and search for shells and sea glass.
Astoria offers another great opportunity to experience the beauty of the Pacific Northwest with a stop at the Astoria Column. Facing any fear of heights, you'll climb 164 steps on a spiral staircase to reach the top of the 125-foot column. You're rewarded with an astounding vista of Astoria and the mighty Columbia River.
For kids and adults alike, you can purchase wooden gliders from the gift shop and launch them from the top of the column. The Astoria Column is also part of a 30-acre city park, so there's plenty of room to relax and enjoy the outdoors.
Once you've worked up an appetite from your outdoor excursions, you can head into downtown Astoria and grab a bite to eat. As is popular in many towns in the Pacific Northwest, Astoria is home to a few microbreweries such as the Fort George Brewery where we enjoyed a nice family dinner. If you'd like to enjoy some city strolling, downtown Astoria also features a main street filled with cute shops, cafes, and eateries.
From parks to breweries, Astoria, Oregon is a perfect escape for families who want to explore the outdoors and enjoy breathing in the clean Pacific Northwest air. For more photos and information, read my post about Astoria, Oregon at Stuffed Suitcase, or watch my travel story video on YouTube.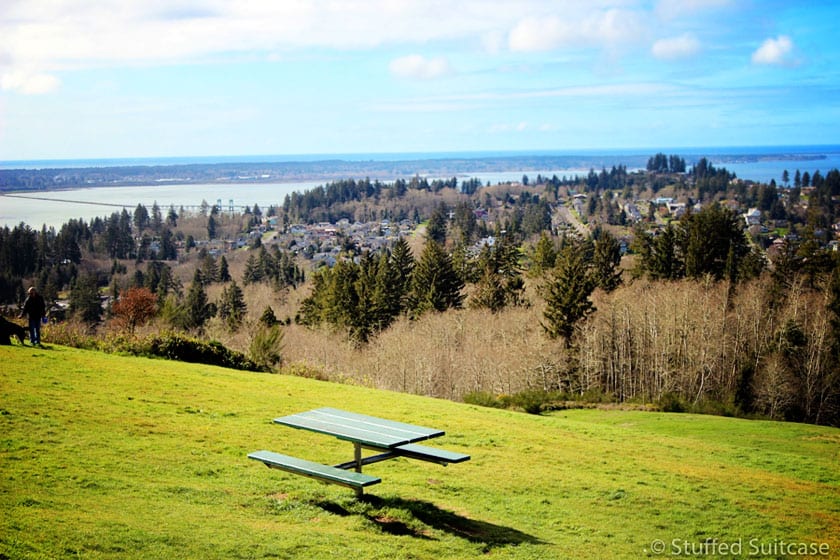 Kimberly is the founder of Stuffed Suitcase, a family travel & lifestyle website. She enjoys traveling with her husband and two daughters, and hopes to encourage other families to celebrate experiences together and create lasting memories. During her free time she enjoys running, reading, and spending time online. She also enjoys sipping coffee and wine, but never at the same time.