What do I know about Maine? Lobsters. Fall colors. Coastline – lots of it. And no vineyards. This last bit was the deciding factor for our babymoon destination. We had whittled the list down to 2 places I didn't know much about but really wanted to visit: Portland, Oregon and Portland, Maine. Both were contenders for hiking, dining and natural beauty. How did Maine win? It was simple, really….I would have been heartbroken to go to the middle of Oregon wine country and not have any fine reds…. while Portland, Maine features lots of microbrews, which would suit my husband just fine, and I wouldn't miss at all!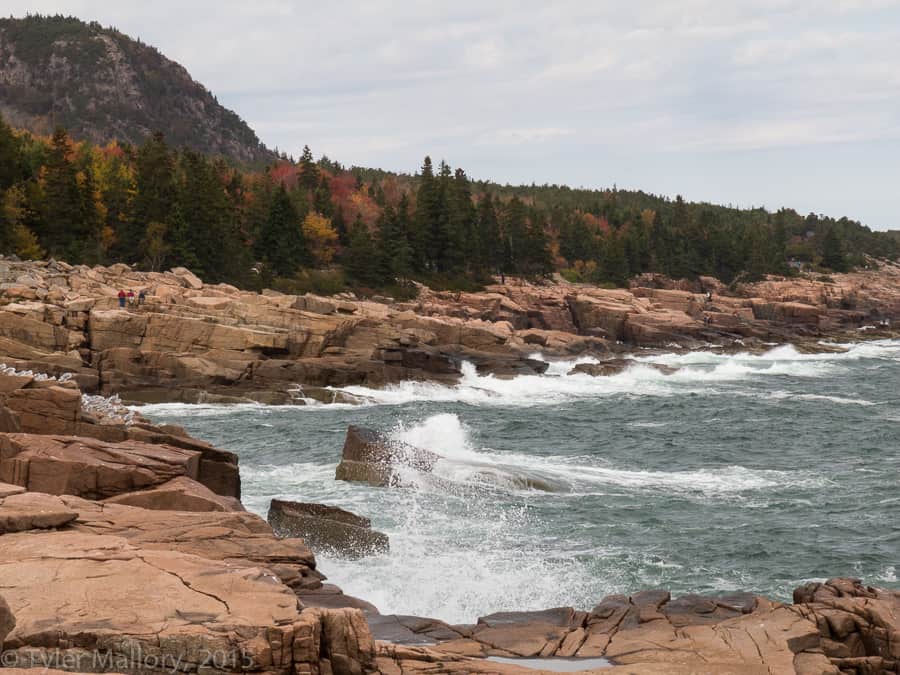 At 5 months pregnant, this was going to be a slow adventure as my body dictated the pace (and number of naps). We decided to take little sampler bites of the coastline, driving from Boston to Portland, Maine and then on to Bar Harbor and Acadia National Park. The inland drives were incredibly tempting – I wanted to take 2 weeks and loop Quebec, Prince Edward Island and Nova Scotia into the trip, in addition to meandering the Maine backcountry – but we had limited time and even more limited energy.
So here I am: a Chicago girl, used to flat land and a single line of coast, landing in New England for the first time. What a revelation! Narrow highways winding through postcard perfect villages. Steel bridges spanning inlets, coves and waterways. And terminally cute historical towns: layers of visual texture, brick and cobblestones and moody cloudy skies all bordering the jagged Atlantic coast. In mid-October, the trees were exploding with color – a patchwork quilt of rusts, burgundies and gold covering the rolling hills.
It was love at first sight.
Our first stop was in Portsmouth, New Hampshire – a quick pause on the road north for a bite of food and a little leg stretch. We pulled in on Market Street, suddenly mindful of the narrowness of the lanes and the postcard-cute streetscape. The Federal architecture appears so tidy and trim, with townhouses cheek to jowl reflecting the density of the original city; it felt that every window would offer dozens of stories. We strolled the main square, noting that Paul Revere had ridden to Portsmouth to warn that the British were coming – so many layers of history in an unassuming little town!
There are a number of options to refresh, and at 5pm on a Friday eve, the Portsmouth Brewery offered a great slice of local flavor: friends and colleagues meeting for a bite and a drink, a chat and a laugh. They offer a wide variety of local draft brews, as well as a rich menu. My choice? New England clam chowder, of course. Sometimes you just HAVE to be the tourist…
After a short pause, we were back on the road, and as we continued driving north, I became nostalgic for my old Volvo 240…. somehow a 35 year old maroon station wagon seemed like it might have been perfectly at home amongst the rolling hills and cobbled lanes. I realized that New England is a sucker for the nostalgic comforts of fall: apple cider, nubbly sweaters and crackling fires seem to have been invented there.
In Portland, we had booked rooms at the Inn on Carleton, a marvelously restored Victorian townhouse on the outskirts of downtown. The owner, Buddy, greeted us upon arrival with wonderful stories of the neighborhood and great tips on where to eat and enjoy our evening. We were shown to our room on the 2nd floor: spacious, with a fireplace, antique furniture and a 4 poster bed handsomely dressed with the most divinely soft bedding. It was far too inviting after a day of travel.
It took me a few moments to pull myself back up – the long flight and car ride had taken its toll in the form of swollen ankles – but we were determined to explore the city a bit – and more importantly, find some dinner. A short walk brought us downtown, where bars and chowder joints line the wharf. Seeking slightly more sophisticated fare, we decided to try Grace – a restaurant in a converted Episcopalian church, showcasing new American cuisine. The space is cavernous, but the lighting keeps it mysterious and intimate – we enjoyed dining on the gallery level, overlooking the busy bar below us. The most interesting touch? The kitchen is located over the former altar – and the chaos of piping exhausting the kitchen had been meticulously installed to look like a pipe organ rising over the floor.
After dinner, we walked back down to the waterside, enjoying the cacophony of harbor sounds – boats creaking as they shifted on the water, the splash of swells against the piers, and laughter and music coming from various waterside bars. We were sad that our itinerary only had us in town for a short evening – Portland offers a rich variety of sights worth exploring!
The breakfast at the Inn the following morning was inventive and delicious: bruleed grapefruit provided a tart yet satisfying start, followed by a french toast – in this case, croissants stuffed with a cream cheese filling. The coffee kept flowing, the house cat wandered through, and after a long chat with the proprietor, loaded up with tips and sights to pause at, we continued our journey with smiles on our faces.
We took scenic Highway 1 northward – meandering through whitewashed clapboard fishing villages, skiffs at the piers, lobster traps stacked and tumbling at the end of the docks. The rolling hills peeled away before us, revealing wave after wave of brilliant colors – red maples, golden oaks, trees of every hue rainbowing across the landscape.
Poring through my guidebook as my husband was driving, I noted that Freeport, just a few miles up the road, is famous as the headquarters for LL Bean as well as its outlet mall. We figured I might find a good cold-weather coat that could handle my growing belly, so we made the requisite pause.
The LL Bean campus is an impressive sight – especially if you are a fan of their gear. Open 24/7/365, the flagship store is only one component of the campus: clothing is housed in one enormous building, while another features hunting and fishing gear, and the adventure sports are located in yet a third building. As if that's not enough, the Home store features blankets, mugs, furniture – everything you need to live the LL Bean catalog life. The highlight for us was the giant water boot sculpture – those are some shoes to fill! After getting our photo, we hopped back in the car and continued our northward meander.
Driving Highway 1 is much like any semi-rural highway across US, peppered with antique malls and the occasional community crossroads. We stopped at a few antique shops along the way – partially for business reasons, as I am always on the hunt for quality goods for my clients, and partially for fun, as we both love digging around, seeing what we can find. Tyler scored some vintage woodworkers tools – a plane that he will polish back in to beautiful working order, and a pair of vise grips from the late 1800's, beloved for their character.
All this driving and exploring whets the appetite! Glimpses of waterways and the smell of the sea – or was that just shellfish? – reminded us that we had selected Maine for one key culinary ingredient: lobsters. We had been advised by our innkeeper, Buddy, to hold off on the hungers until we hit Wiscasset, where we should brave the line and lunch at Red's Eats – "you can't miss it," he said – "it's at the bottom of the hill just before the bridge, and the line will be long." As we rolled in to town, his description was apt – at noon, the wait was projected to be 45 minutes, but we tag teamed the line, alternating between waiting and exploring the little town.
When we finally got to the window, we ordered the lobster roll – heaping with the claws and tail meat of 2 entire lobsters, freshly steamed, no dressing other than some butter to dip and draw – as well as onion rings, fries, and fried shrimp. When I asked for mayo for my fries, the lady behind the counter gave me a huge grin and told me it's wicked awesome to mix some hot sauce in with that. Wicked awesome indeed! We took our bounty down to the waterfront and had a picnic on the grass, watching the tide roll in and the seagulls dive for their own catch.
Thus sated, we continued on to Bar Harbor, at the outskirts of Acadia National Park. A small village named for the sand bar that connects Mount Desert Island to neighboring Bar Island, Bar Harbor seems to survive on a healthy mix of outdoor sporting adventures and cocktail hour.
We happened to visit Maine during the government shut down of 2013, which affected National Parks – we weren't sure if we'd be able to visit the major attraction in the area. Acadia is anchored by Cadillac Mountain, which is known as the first piece of land to see the sun in the US – the first light of dawn on America. Comprised of hiking, biking and horseback trails, coastal edges and scenic drives, it's a gorgeous park for all – we'd be devastated to come so far and miss it.
Upon check in at the Inn, some other guests told us the "secret" – just park along the road and walk in. No vehicles were allowed to drive National Park roads – but the Park Rangers were letting foot traffic through. We had a delightful time exploring the coastline with a variety of easy walks, and even came upon a wedding taking place on the rocks – a winsome bride, terribly underdressed for the cold wind that had whipped up, walking towards her groom as a bagpiper played. They had about a hundred unintended witnesses, as we all paused to sigh at the lovely sight. Everyone we chatted with shared a bit of a conspiratorial delight in accessing the park off hours – a very subdued group of people "breakin the law."
The only challenge we encountered at Acadia was that the facilities were all shut, which made for some uncomfortable walks for this pregnant lady. If you are there during normal operations, you'll find the park quite comfortable.
There are a number of ways to visit special features of the island, including by plane and boat. Special adventures including whale watching, lighthouse cruises and sunset sails are all options. The one special adventure I wanted to find? Martha Stewart has a farmhouse on the island – I'd love to get invited to one of her seasonal soirees!
The island itself is comprised of a handful of small communities. Bar Harbor is by far the largest, with a variety of dining, lodging, galleries and shopping options at all price and quality points; but a pleasant meander around the island will take you to a number of small villages, with plenty of pull-offs and sights along the way. We didn't have much of an agenda, so we just drove around, pausing at interesting places. My favorite was a hike around Long Pond, watching eagles soar above, and the Asticou Azalea Gardens: a Japanese garden showcasing beautiful azaleas, rhodendrons, cherry trees and other plants that provide a sensory delight no matter the season. While we were there, the calm reflecting pools seemed ablaze, reflecting the burning reds, oranges and golds of the fall foliage.
Microbrews were one of the key elements we knew about Maine – and Atlantic Brewery fit the bill. We targeted it for an afternoon visit, as we wanted to try their BBQ restaurant, Mainley Meat. We were delighted to find out that we had arrived just at the start of the much-lauded Belt Sander Races. It turns out that at the end of their tourist season, Atlantic hosts a Kayak race followed by the Belt sander race. As my husband is quite interested in woodworking, we were eager to find out what this was all about. Each contestant decorates a belt sander – the theme was Las Vegas, so we saw some hilarious interpretations, including a wonderfully glammed out deck of cards. Through a hotly contested and wildly cheered set of heats, the fastest belt sander takes the title – and laughter and beer pour freely.
Feeling delightful after a day in the fresh air, we retreated back to our hotel, a small guest house, the unassuming Central House on Cottage Street – perfectly located within walking distance to anything Bar Harbor offered, with charming rooms and a fabulous covered porch on which to enjoy an evening's port. the living room and communal kitchen were great places to talk to fellow travelers and hear about the local goings-on. There are plenty of lodging options all across the island at all price points: the much more luxe Bar Harbor Inn and Spa and Harborside Hotel are both on the water, with price tags to match; charming B&B's line the roadways as well.
We loved wandering Maine and can't wait to go back to explore it more fully!
Know before you go
Check the calendar. Columbus Day weekend in mid-October appears to be the major tourist season cut off – hotels, dining and sightseeing options are sharply reduced after that! Conveniently that appears to be about peak color season – weather depending, of course.
Outdoor adventures beckon, but might not be entirely pregnant-lady appropriate. We'd love to come back for kayaking, hiking, mountain biking and more.
Overall, Maine is a perfect destination for people who like their outdoor time but might need some quiet indoor activities (or just sitting around). The coast offers something magical in every season.
Bar Harbor Dining
There's quite a variety of dining options in Bar Harbor, from places that feel like they haven't changed since the 50's to quirky little coffee shops. Here's a few of our favorites:
2 Cats Inn – organic, locally sourced, delicious breakfast. The line is usually long but it's absolutely worth the wait – and you can get a coffee to enjoy while waiting. Huge omelets, breakfast burritos, stacks of pancakes – this was our favorite breakfast find! It's also an inn, and does in fact feature some super friendly kitties!
Cafe This Way – a quirky little spot down a gravel road, Cafe This Way offers fantastic breakfast, strong coffee, early lunch, and robust dinner. the menu is creative, locally sourced, and everything coming out of the kitchen was delicious.
Blaze Restaurant – huge craft beer selection, good wine options, and fantastic wood fired pizzas. The Blaze is family friendly, and a great option for a bar-side evening drink.
Fathom – the only regret we had on this trip was not getting a spot at Fathom! The menu was phenomenal, but they were fully booked the days we were in town. this is the place to go for your celebratory, fine dining evening in Bar Harbor.
Atlantic Brewing Company – craft beer, a tasting room, and a BBQ restaurant featuring full pours. Well outside of Bar Harbor proper, it's a few miles closer to the mainland.
Lobster Pounds – these line the roads all over coastal Maine, featuring giant steaming pots of lobster, potatoes, corn – the works. Pull up, order a few plates, and dig in to the best of the coast!