Winter. Chicago.Blah. Time for a sun break!
It just so happens that I have family in Belize – and they have a small B&B on Ambergris Caye, Belize – right on the edge of the magical turquoise Caribbean sea. Done and DONE!
Ambergris Caye is a long, narrow strip of an island, about 20 miles east of Belize's mainland and practically touching the Yucatan Peninsula directly north. Anchored by the town of San Pedro to the southern end of the island, it's the most visited of the cayes (islands). It's an idyllic, relaxed barefoot tropical place, bordered just ¼ mile offshore by the hemisphere's largest barrier reef, which makes it a world class diving, fishing and other watersports destination.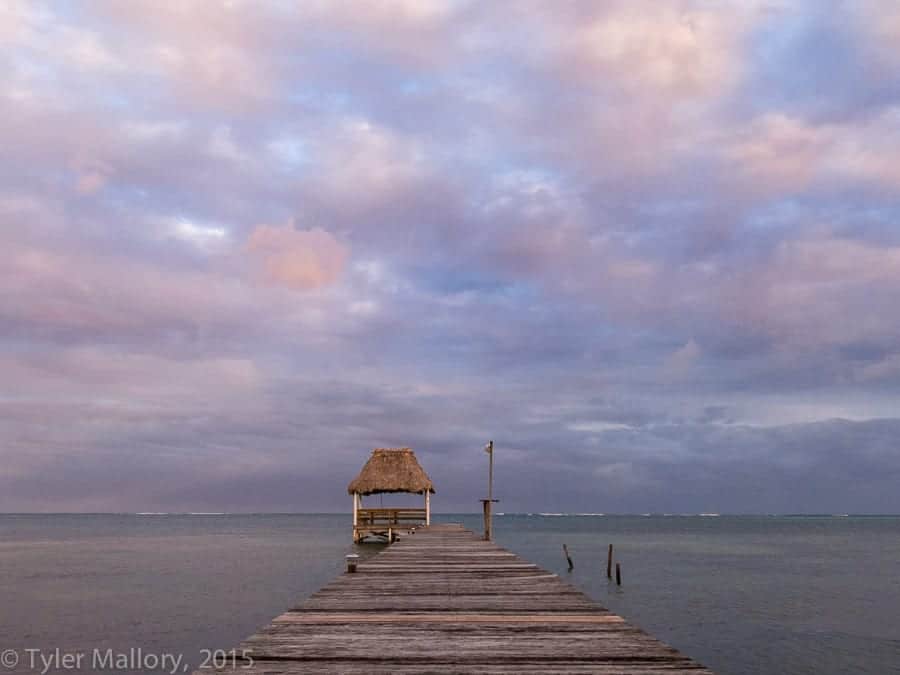 When I first visited San Pedro in 1999, the streets were sand, there were barely any cars and most people walked around barefoot and drove golf carts. Over the years, tourism and development have continually changed the island, but it remains at heart a waterfront village, full of palapa bars and boat docks pointing the way to the waters beyond.
Upon landing at the airport, my stepdad picked us (my husband, 8-month-old daughter and I) up in the golf cart. After some talented luggage wrangling, we were off on our 2-mile journey north. The busy town center quickly dissipates, and as you cross north of the river cut, the road winds past private homes and condo buildings flanked by lush bougainvillea, palms and tropical lilies. After about 25 minutes, we pulled into the narrow track at Blue Wave Villas – and into a marvelously lush jungle.
Blue Wave Villas is located right on the shore of the sea, offering 3 rooms and a cabana for rent, each of which boasts sea views, private baths and in-room fridge and coffee facilities. Two of the rooms also have kitchenettes, ideal for longer stays. There's some wonderful mosaic work showcasing the owner, Krystyna's, creative hand – take a look especially at the outdoor shower.
I actually lived in Belize in 2003, supervising the construction of this particular building, and it was quite a delight to come back and be able to enjoy it as a guest! Blue Wave Villas is just north of city services, which means that, like all the nearby properties, it relies on rainwater harvesting for drinking and cleaning water. There are signs throughout the home reminding you to conserve water and electricity. The weather on the island is so consistent that opening the windows to harness the cross breeze is usually all that one needs to keep comfortable throughout the year.
In the morning, we woke to a chorus of birds singing in the palms and geckos chirping on the walls. Nectar feeders strung along the porch invite hummingbirds, which come in pairs and quads, hovering and flitting about. Hooded orioles, great kiskadees, and golden fronted woodpeckers took up residence in the nearby palms, chattering away. The deep porches provide fantastic shade all day, giving us a carefree base to just hang out and enjoy the warmth and the hypercolored view: green palms, turquoise sea, blue skies all day long.
Ambergris Caye is a watersport lovers dream: paddle boarding has arrived; kayaking, diving, snorkeling, and fishing are all excellent. The largest barrier reef in the hemisphere lies just off the shore, so the adventurous can just paddle out there and snorkel away. Organized trips abound – from the popular Hol Chan Canyon and Shark Ray Alley, where even snorkeling novices can come in close contact with a wide array of sea life, to Blue Hole, Turniffe and night dive excursions for the highly qualified diver, there's something for every age (as long as you are comfortable putting your face in the water!)
Unfortunately the weather while we were in Belize wasn't ideal – the end of November is the tail end of hurricane season, and while we didn't experience anything really worth noting, it was variable enough (and our daughter, at 8 months, young enough!) that we decided to just stay on shore and enjoy the relaxed pace of the island. 
Lodging options
Long beach strolls became our adventure of choice. Bird watching, iguana sighting and just general beachcombing were wonderful ways to while away the day. A mile north of Blue Wave Villas lies Las Terrazas, a luxurious resort with a full array of services, including a beachfront bar, a swimming pool with poolside dining, and a spa. We discovered Happy Hour during which rum drinks and the island favorite, Belikin Beer, were a very reasonable 50% off. My husband and I would trade off pool time with our daughter, giving everyone some time to splash and play.
The Spa at Las Terrazas is full service, with a wonderful array of tropical-accented services: Papaya Body Smoother, Coconut Scrub and the Azucar Body Polish all use locally sourced ingredients. I opted for the hot stone body massage, melting into the table as my technician worked away on knots developed from lugging an increasingly heavy baby around.
Just south of Blue Wave Villas, the incomparable Ak'Bol Yoga Retreat offers another suite of distractions. Kirsten and Milio moved to San Pedro full time in 2003, establishing their yoga retreat with a waterfront restaurant and dockside yoga. Over the years they have added a variety of lodgings and a wonderfully secluded swimming pool. You can see the inventive influence of the owners in the conch-shell faucets, handlaid stonework, and creative tiling. Their beachfront restaurant offers delicious and fresh food all day – traditional fryjack and eggs for breakfast, large salads, quesadillas and burritos for lunch and dinner. Yoga is offered daily, out on the palapa at the end of the dock. There's nothing like watching little fishies flit beneath the floorboards of the deck as you're in downward dog.
Shops and food
In town, a colorful array of shops, bars and restaurants offer a day's worth of wandering. Fido's is a landmark and an institution, boasting a 45' tall palapa (the tallest structure on the island!) they have a lively bar and restaurant. It's well known for live bands, which play most evenings. Fido's also houses a few shops: The Island Gallery showcases local artists and artisans, including wood crafts, paintings and jewelry. Ambar Jewelry features wonderful island inspired jewelry for men and women, owned by a french woman who has made Ambergris home for well over 15 years. Offering mostly silver, with coral, glass and stone accents, it's the perfect spot to pick up a memorable trinket.
The main plaza is right across from the San Pedro church, with a beach area and a children's playground, though it's also the main barge loading area and can be very busy during the weekday. It's often flanked by vendors selling all kinds of crafts, as well as some of the best street food: stewed chicken, tamales, plantain and rice and beans are all served in heaping portions for very reasonable prices.
We lunched at El Fogon, a delightfully local little hideaway just north of the airstrip. Protected from the street by a tall thatch fence, with a palapa sheltering the open flame smoking pit, it's clean and well kept but with plenty of local charm. Picnic benches and small tables offer plenty of seating, and we were delighted to enjoy a starfruit margarita while waiting for our smoked chicken and pulled pork lunch. Delicious, heaping portions and very reasonable prices have had me coming back since they first opened!
Other notable businesses in town include the Belize Chocolate Company, further south along the beach – a recent addition to the island, they feature 100% Belizean sourced chocolates, which they offer as bars, nibs, and in a variety of drinks. Graniel's Dreamworld on Middle Street has wonderful wood crafts and furniture to take home, all created by the island's undisputed master carpenter. While you're walking the beach, you'll also notice Guatemalan families spreading out their textiles for sale – the products are breathtaking, and the quality superb.
One of the main things to do in Belize is enjoy a few cocktails or beers – nothing like watching the sunset over the water, tropical drink in hand – and there are are plenty of bars and restaurants that'll accommodate you. Belikin Beer is the most widely available beer in the country, and can cost as little as $2USD. There is a Belizean rum that comes in a light and dark option. Other alcohols can be shockingly expensive as they are imported and heavily taxed. If you are daydreaming of margaritas on the shore, you may be spending upwards of $14USD per cocktail. For a far more budget friendly option, try what I call the "Belizean Margarita" instead: fresh lime juice, white rum, and some seltzer or still water, over ice. The citrus is the key.
Nearby Islands
Ambergris Caye is the largest of the Belizean islands, and the most populated and developed. While the downtown area is small and charming, it's practically Manhattan compared to some of the other islands. Nearby Caye Caulker remains a sand-street fishing island, with hammock bars and barefoot living all over; some of the outlier cayes are ideal for living out your Robinson Crusoe daydreams. If you're only planning a short stay, you might consider checking out Caye Caulker on a day trip; or, plan a longer excursion and go island hopping, to get a feel for all the different waterfront ways of life.
While we loved visiting and relaxing, some might find that the beaches and amenities are a little too sparse for a family with a tiny one. We will eagerly go back when our daughter is older and ready to have some jungle explorations – we can't wait to show her some of the spectacular Mayan ruins and adventures available on the mainland as well.
photography by tylermallory.com
Need the nitty-gritty info on this island?
Grab our tips and must-know info HERE.