Every trip to Ireland begins with a story, whether you have family who emigrated from there, you are a rabid Game of Thrones fan or you just love a great lamb stew. More often than not, you have heard about leprechauns, fairies and will-o-the-wisps though; all tales passed down through the generations and written into Irish children's books.
Unlike other destinations like London and Rome, sightseeing books written about Ireland are rare. More often than not, comic books have been made to explain Irish folklore and the history of the Irish people. But the good ones really dig into the Irish myths that tell the tales of strong Irish women (there is a pirate in that one!), go beyond the fake St. Patrick's Day "green," insane rock formations like the Cliffs of Moor, and preserve the Irish language.
15 Best Irish Children's Books to Read Before You go to Ireland
While there are only a few children's books that serve as a guide, don't discount the history shared in the tales. They can provide valuable information and historical context about the sights you will come across and the Celtic and Gaelic culture that has shaped the Irish culture.
Children's literature covers all ages, from younger readers and young adults that are looking for their next great read by Irish authors.
Who knows, your kids may end up sharing you're supposed to kiss the Blarney stone at Blarney Castle or view the Book of Kells at Trinity College. They may even learn the legend of Saint Patrick ridding the island of snakes.
Keep in mind that these are not book reviews, but overviews that will let you decide for yourself if this is the book for you.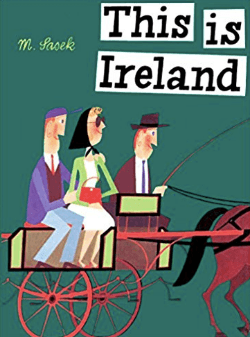 This is Ireland
by Miroslav Sasek
Part of Miroslav Sasek's series of classic children's books, This Is Ireland features beautiful illustrations and whimsical tales of the historically rich country. Children of all ages will enjoy reading this enchanting and informational story.

Let's See Ireland!
by Sarah Bowie
Let's See Ireland! is a delightful picture book featuring some of the famous sights in Ireland. Molly, her parents, and her cat Mipsy tour the country, visiting the Dublin Zoo, Cork City and many others.

Irelandopedia Activity Book
by John Burke and Fatti Burke
The Irelandopedia Activity Book is one part tour guide and the other part activity book. The book features coloring pages and search and find within Fatti Burke's delightful illustrations of Ireland. The book also includes a large pull-out map of the country.

The Irelandopedia Quiz Book: An `Ask Me Questions' Book
by Shauna Burke
The Irelandopedia Quiz Book is just as the title suggests, it's a book filled with facts and trivia about Ireland. The book is perfect for road trips or classroom guides and is best suited for children age 10 year old & up.

Tales from Old Ireland
by Malachy Doyle and Niamh Sharkey
Tales From Old Ireland is a whimsical collection of famous Irish folk tales. The magical stories are brought to life not only through written word but with the beautiful illustrations by Niamh Sharkey. Perfect for families to enjoy together!

The Story of Ireland
by Brendan O'Brien
The Story of Ireland shares the detailed history of Ireland and it's people. The book has 27 chapters of information and doesn't skip a beat regarding the county's storied existence. A great choice for older children!

Granuaile: Pirate Queen
by Morgan Llywelyn
A young reader novel written by Morgan Llywelyn takes place in the sixteenth century and shares the wild story of Granuaile the Pirate Queen, the most feared woman in Ireland. The fiction novel includes many historically accurate events and prominent figures. Ideal for grade levels 4-6.

Patrick and the President
by Ryan Tubridy and P.J. Lynch
A delightful picture book based on President John F. Kennedy's visit to County Wexford, Ireland in 1963. Patrick and the President is narrated through the eyes of a young boy named Patrick who dreams of shaking the Presidents' hand. The story is historically accurate and includes a timeline of his four day visit.

Spuds and the Spider
by Seamus O Conaill and Daniele Archimede
Spuds and The Spider is a heartwarming tale for children featuring an unlikely friendship between a spider and a leprechaun. The delightful story follows Spuds the leprechaun and his distain for spiders. Great for families and small children!

Irish Tales of Mystery and Magic
by Eddie Lenihan and Alan Clarke
Irish Tales of Mystery and Magic is a compilation of stories featuring some of Ireland's most beloved heroes. The book's illustrations are wonderful and entertaining in their own right. Perfect for children of all ages to enjoy.

Tales for the Telling: Irish Folk and Fairytales
by Edna O'Brien
Tales for the Telling: Irish Folk and Fairytales is a book filled with 12 stories featuring mythical creatures, ancient magic and traditional Irish folk and fairy tales. The brilliant illustrations help bring the stories alive and will be sure to captivate the entire family.
Finn McCool and the Great Fish (Myths, Legends, Fairy and Folktales)
by Eve Bunting and Zachary Pullen
Beloved children's author Eve Bunting shares a delightful tale of Finn McCool, the largest giant in all of Ireland. Journey along with McCool as he tries to catch a magic red salmon and learns a few lessons along the way in Finn McCool and the Great Fish (Myths, Legends, Fairy and Folktales).
Fionn MacCumhail's Tales from Ireland
by Eddie Lenihan
Fionn MacCumhail's Tales from Ireland is a book of tales featuring some of Ireland's most popular ancient heroes. The "hair-raising"stories capture a time when creatures of night walked the earth and magic was everywhere. Perfect for older children!
The O'Brien Book of Irish Fairy Tales
and Legends
by Una Leavy and Susan Field
Ten of the best-loved Irish stories compiled in one book–Fionn MacCumhail's Tales from Ireland! Passed down from generation to generation, the fairy tales are full of enchantment and adventure. The illustrations by Susan Field are a sight to behold and work beautifully with Una Leavy's retelling of the classic tales.
Best-Loved Irish Legends
by Eithne Massey and Lisa Jackson
Best-Loved Irish Legends is a compilation of ancient tales written down by Christian monks of medieval Ireland. Journey back in time with your children and share the magical stories from centuries ago that are sure to delight today!

Fiona's Luck
by Teresa Bateman and Kelly Murph
Fiona's Luck is a delightful tale about a Leprechaun King who has locked away all the luck in Ireland. Travel along with Fiona has she outwits the king and restores luck to the land!
Pin it and Start Reading!
Ireland (Dublin) Destination Guide
Dublin Hotels
Looking for more? Search for the best Dublin hotel on Expedia.com.
Dublin Vacation Rentals
This post contains affiliate links. If you make a purchase after clicking one of those links I will receive a small commission.