Gin tonics, tapas, and sunshine- oh my! There's something magical about Alicante, Spain and we couldn't wait to take our children to explore all that the country has to offer. Although my husband and I had been to Spain three times before, this was our first trip to the Costa Blanca region.
And it's all thanks to an incredible airfare deal on Iceland Air.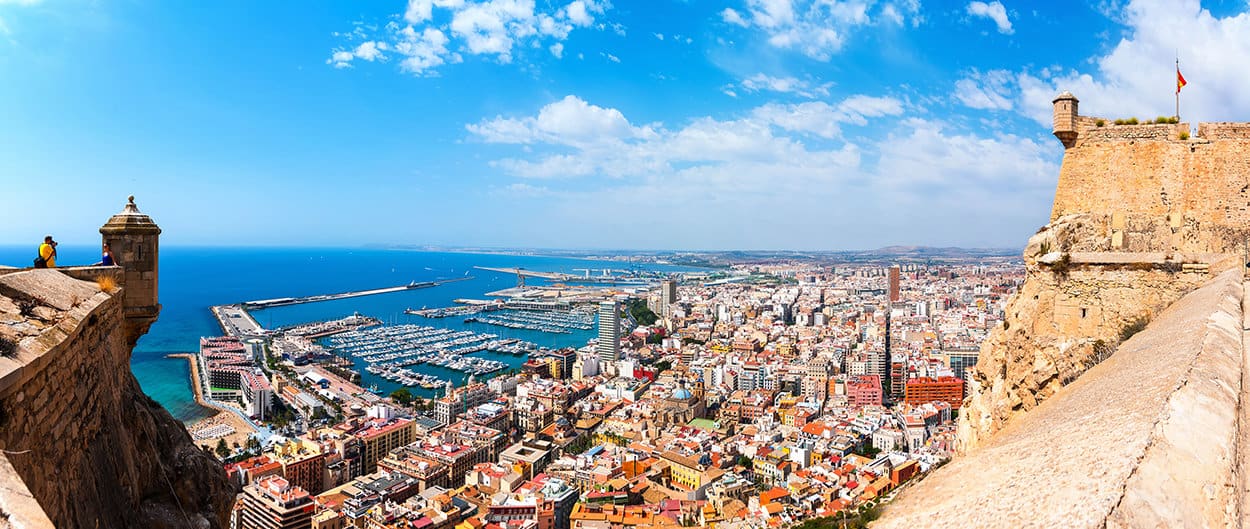 Arriving in Alicante Spain
We found ourselves flying into Alicante Airport. We knew very little about Alicante but gave ourselves 24 hours in the city to help us adjust to the time change and get our bearings. Turns out, it was the best way to acclimate to the country. What's better than siestas, exploration, and endless gelato?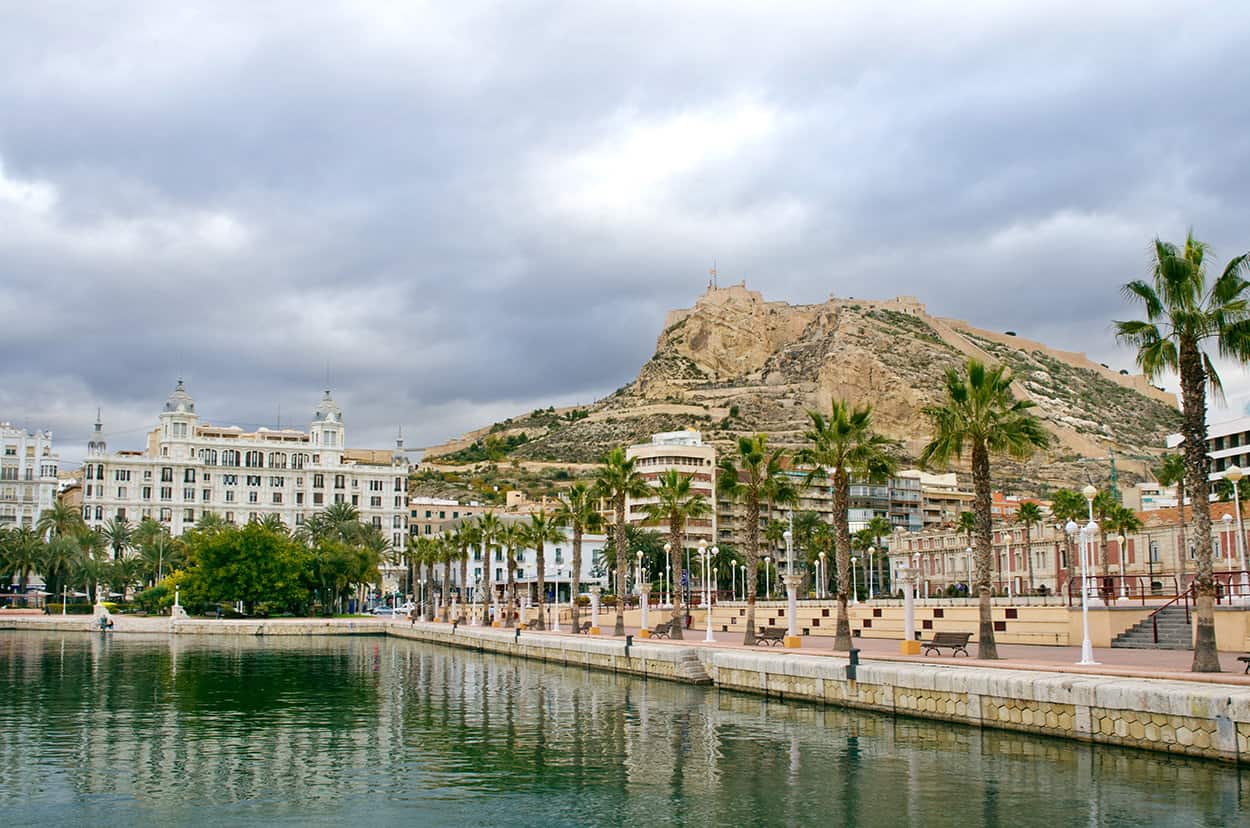 Alicante Airport FAQ
Where in Spain is Alicante airport?
The exact address of the Alicante–Elche Miguel Hernández Airport airport is 03195 L'Altet, Alicante, Comunitat Valenciana, Spain. It will take about 15 minutes to get to the center of town, which is about six miles from the airport.
Is Alicante airport busy?
It can be, especially in the summer months when everyone is headed to the coast.
Is Alicante airport open 24 hours?
Yes, the Alicante airport is open all day and night.
Does Alicante airport have a smoking area?
As of 2020, there is a new smoking area for passengers after they get through security on a terrace.
Which Alicante airport?
Alicante (ALC) Airport is the closest airport to town. Valencia (VLC) and Ibiza (IBZ) are the next closest airports if you are looking to hop around several towns.
How to get around Alicante
One thing that stood out to us right away was how easy it was to navigate Alicante. We found plenty of options for public transport, but honestly walking was extremely easy. It was a nice way to help the kiddos work out some jet-lag wiggles.
Alicante has a long history as a maritime city but feels like a young and vibrant town with gourmet food options around every corner.
Take a peek below at some of the best ways to spend a full day exploring Alicante.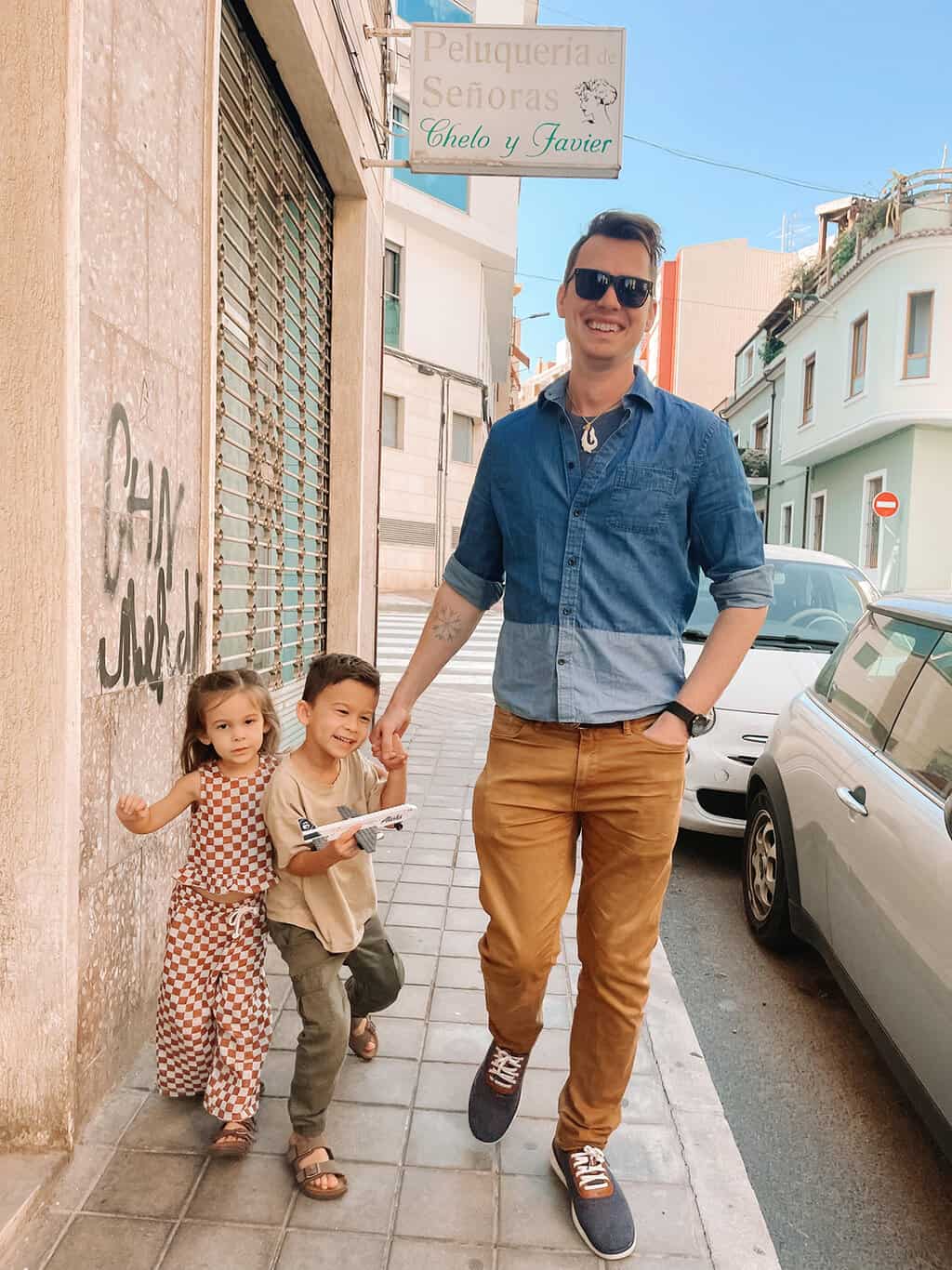 When to Visit Alicante Spain
The Costa Blanca region of Spain is known for its mild Mediterranean temperatures. Alicante boasts temperate weather with only around twenty days of rain per year.
There's truly no bad time to visit Alicante.
If you're looking for perfect beach conditions, we recommend visiting June through September (though you can expect summer tourist crowds). The city is bejeweled with not only Roman ruins but pre-roman architecture from the Iberian peninsula.
Strolling the streets was a treat after landing in Spain and because it was so easy, it makes Alicante a great idea for travel during school holidays.
Hotels in Alicante
Cuisine and Restaurants in Alicante
Breakfast in Alicante
The best way to start your day is with a delicious breakfast. Due to jet lag we were a little delayed in getting out the door but that ended up working in our favor.
Things run at a more relaxed pace in Spain and we often found ourselves too eager for meals. Bear in mind that many breakfast restaurants don't open until 9am or later.
For breakfast, head to Sip and Wonder Cafe. We loved this little cafe for its delicious assortment of farm-to-table breakfast items and its friendly atmosphere.
The staff spoke excellent Spanish, English, and French making ordering a breeze. We sprung for the avocado toast on freshly baked sourdough while the kids devoured their french toast and fresh fruit.
Gelato in Alicante
After lunch, you'll need something sweet. We recommend a trip to Heladeria Borgonesse. The establishment is within walking distance of the beach and is known for its assortment of mouthwatering gelato flavors.
Our kids practically begged for this gelato every day. There are numerous gelaterias throughout town (trust us, we tried many) but this one is by far our favorite.
Central Market of Alicante
The Central Market is a sprawling authentic market featuring local cuisine. Spanning more than 11,000 meters, this is a place that we awaken all of your senses and is definitely worth visiting. We recommend strolling through the market stalls and stopping at whatever catches your eye.
You'll find fresh fruits, vegetables, seafood, and souvenirs. We also recommend picking up some local produce for breakfast or for a snack.
Dinner in Alicante
Alicante is a city that merges the passion of the sea with the rich and bold flavors of the Spanish plains. As you stroll the Spanish promenade you will encounter endless options of restaurants that linger on the edge of the beach like seashells.
Finding the right one may seem like a challenge because they all look, and smell, amazing.
Since the Mediterranean sea will be your dinner guest and backdrop for the majority of these restaurants, it only makes sense that you will want to dive into the seafood aspect of the region.
Interestingly, Alicante is also a region famous for its vegetables with rice as the staple. One can expect a variety of rice-based dishes like paella to welcome you to coastal Spain. Chief among them is arroz a banda.
This Alicante special is rice boiled with fish broth and then mixed with garlic, prawns, and a sampling of the catch of the day. The octopus was the most exciting thing on the menu for my husband.
A few good dining options include:
Things to do in Alicante Spain
Explore Santa Bárbara Castle
Once you've finished breakfast, we recommend exploring the Castle of Santa Bárbara. This iconic monolith overlooks the city of Alicante and has a rich history, making it a beautiful place to explore.
The castle is perched atop M­ount Benacantil and is one of Spain's largest fortresses dating back to medieval times.
Summiting the battlements, you are rewarded by spectacular views of Alicante city and its beautiful bay. Plus, there are a few coffee and gelato shops within the walls to keep your littles fed and occupied.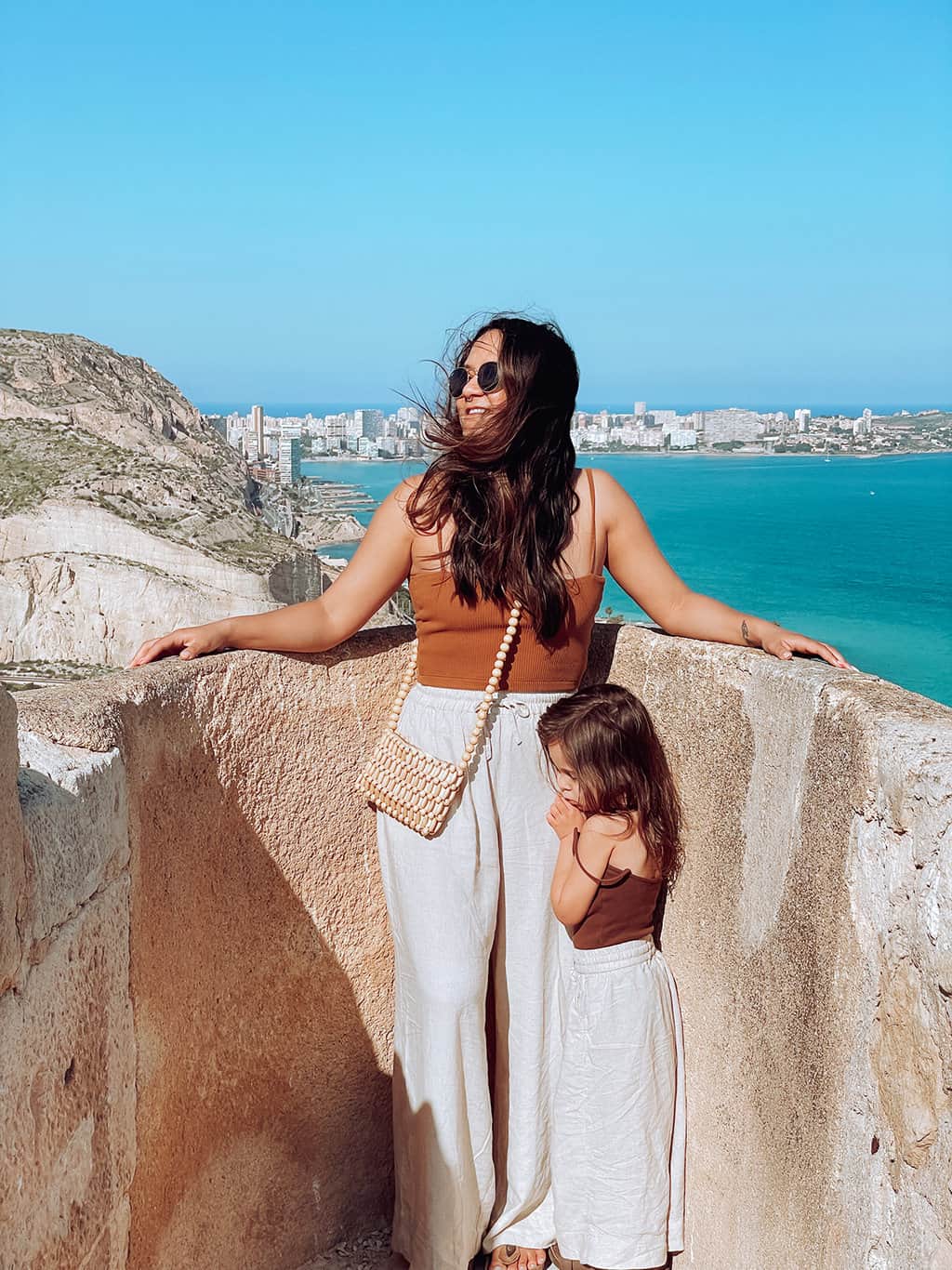 Many visitors choose to hike their way to the top (a great way to get in some steps) but for those that would rather save their energy, there's an elevator located across the street from El Postiguet Beach.
The lift costs about three euros per person (free for those over 65 and under 5) but is a great option if you're traveling with small children or those that need assistance.
For those that are looking to stretch their legs, there are two great paths to get to the fortress. The first route starts at City Hall and passes through picturesque Old Town. This route showcases the beautiful architecture of the city, the gorgeous Mediterranean sea, and the Alicante skyline.
If you're coming from the beach, we suggest taking the elevator to the first floor of the fortress. From there, you'll take in views of El Postiguet Beach from Calle Virgen del Socorro. You can then join the route on the western face of Mount Benacantil, which offers breath-taking views of the north of the city and the mountains of Alicante.
You'll want to set aside at least a couple hours to explore the grounds. Guests can even book an official castle tour to gain access to the old dungeons, cistern, and hospital. Be sure to check the website to see when tours are offered in your language of choice (between Spanish and English).
There are also specialized tours including an Alicante chocolate and nougat tasting, Alicante wine tasting, and Alicante craft-beer tasting. Prices range from nine euros to twenty euros.
There are so many fun activities available in this historic monument. We highly recommend a visit to the Castle of Santa Barbara on your visit.
Alicante Beach Hop
While the beaches of Alicante are a perfect place to escape the heat in the summer months, we found them a great place to visit all year round. Traveler favorites are San Juan beach, Cabo de la Huerta creeks, Almadraba beach, La Albufereta beach, Postiguet beach, Saladares-Urbanova beach, Tabarca island, and Aguamarga beach, an adapted beach for dogs.
With only 24 hours in the city, we recommend heading to one of the best beaches in Alicante: Postiguet beach (playa del postiguet in Spanish). It's at the foot of Santa Barbara castle making it the perfect stop after you're done exploring the fortress.
The beach is located in the urban area of Alicante, next to the port and at the foot of Santa Barbara castle. It is, without a doubt, one of the most popular meeting places for people from Alicante.
It is also a Blue Flag Beach, a certification given by the Foundation for Environement Education (FEE) for beaches that meet its high standards of environmental quality. This ensures clean sands and water excellence.
Whether you hop in the water or not, there's plenty to do at the beach. When you start feeling peckish, walk along the Paseo de Gomiz promenade. You'll find an assortment of local restaurants and tapas bars. There's something special about enjoying a delicious meal by the water.
Explore Alicante Old Town
One of the most beautiful old quarters of the coast, Alicante's Old Town is a great place to explore. The Old Town is in a triangular shape with three points marked by the Rambla de Mendez Nunez, the Explanada de Espana, and Mount Benacantil.
Alicante's Old Town is extremely tourist friendly with narrow streets that lead to some of the city's best restaurants and tapas bars.
Barrio Santa Cruz, the oldest area of Alicante's Old Town, features winding cobblestone streets and picturesque houses with balconies anointed in colorful plants and flowers.
Old Town is adorned by the blue dome cathedral of St. Nicolas and the Town Hall building (with its famous red marble steps and blue room). This is one of the most photo-worthy stops in Alicante.
You can spend the afternoon exploring on your own or hopping on a local tour. Either way, you'll want to have a camera on you.
The Palmeral de Elche
The temperate weather of the Alicante region can often lend itself to droughts. The Palmeral de Elche is an artificial oasis that was constructed during the end of the 10th century and represents the stunning architecture of the region when it was predominately Arab.
This rich fabric of architecture and culture comes together beautifully in the Costa blanca region of Spain.
The Palmeral de Elche hosts over forty five thousand date palms and dozens of orchards creating a stunning getaway and cool history stop to reflect on the 13th century and how delicious dates are. Maybe bring a "date" of your own.
Alicante Spain FAQ
Where is Alicante Spain?
Alicante is in Europe on the southeastern coast of Spain. It's a coastal city in Costa Blanca coastline. It's also the capital of the Alicante province.
What region is Alicante Spain in?
Community of Valencia
What language do they speak in Alicante Spain?
Spanish and Valenciano 
What is the currency used in Alicante?
Just like the rest of Spain, the currency used in Alicante is the Euro (EUR).
What is the population of Alicante?
As of 2021, the population of Alicante just over 330,000.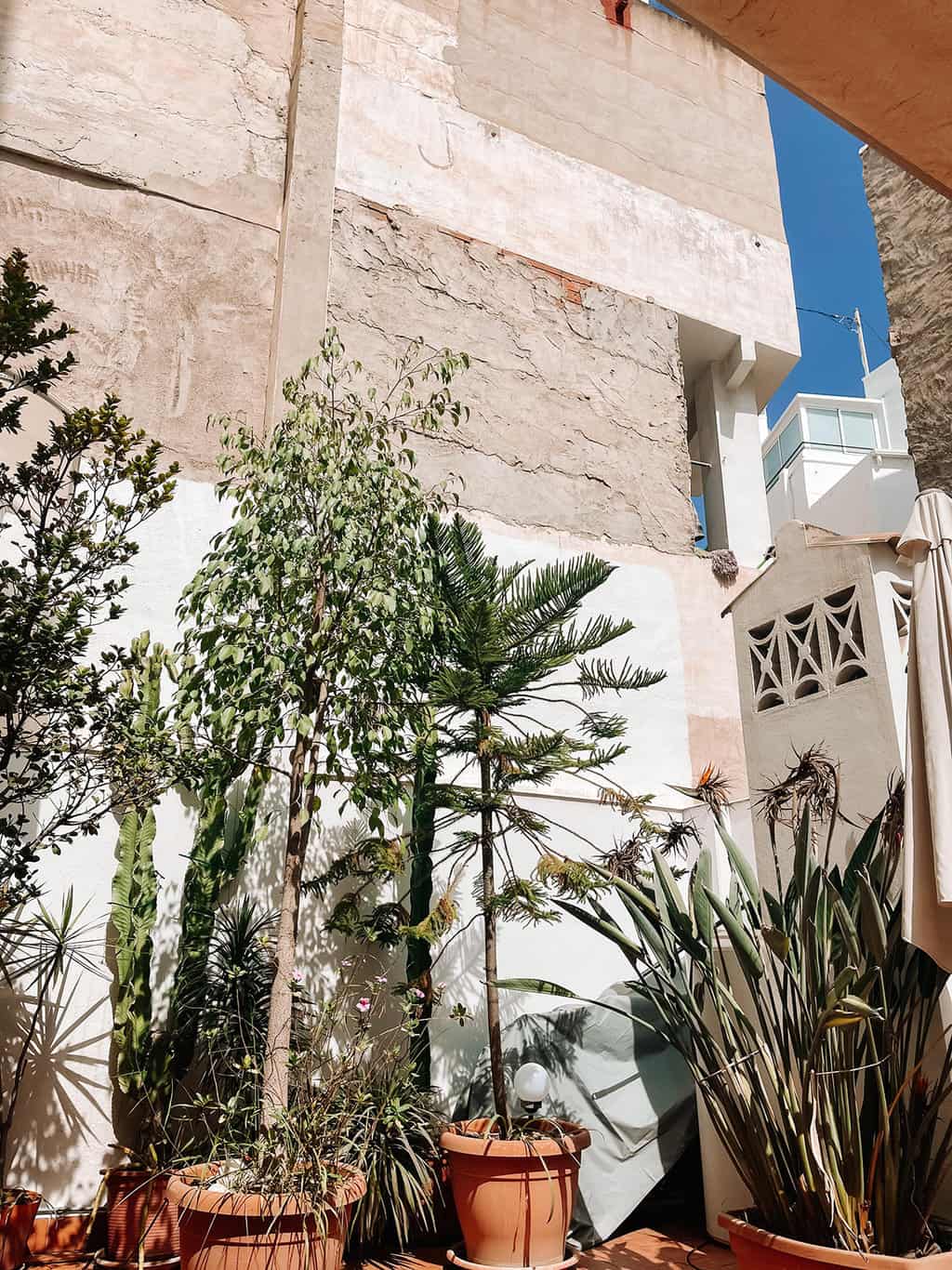 What is the climate like in Alicante?
Alicante has a Mediterranean climate, with mild winters and hot summers. The average temperature in the winter months (December to February) is around 15°C (59°F), while in the summer months (June to August) it is around 28°C (82°F).
Does it snow in Alicante Spain?
While January is the coldest month, it does not snow in Alicante. The average temperature in January is in the mid-50s (Fahrenheit), and the wettest month is October.
Is Alicante Spain humid?
Yes, in the summer months it gets hot and humid in Alicante. The sea breeze does help cool things off, but the best things to do is hit the beach and get on the water.
Are there sharks in Alicante Spain?
Yes, there have been reports of sharks off Alicante coastline. White sharks and tiger sharks have been spotted in the Strait of Gibraltar. While sharks don't show up very often, there is always a possibility that one will show up.
What are the popular attractions in Alicante?
Some of the popular attractions in Alicante include Santa Barbara Castle, the Explanada de España promenade, the Basilica of Santa Maria, and the Archaeological Museum of Alicante. The city also has beautiful beaches, such as Playa del Postiguet and Playa de San Juan.
What is the best time of year to visit Alicante?
The best time to visit Alicante is between May and September when the weather is warm and sunny. However, this is also the busiest time of the year, so be prepared for crowds and higher prices. If you prefer a quieter time, consider visiting during the winter months, when the weather is still mild.
What is the local cuisine like in Alicante?
Alicante's cuisine is influenced by the Mediterranean Sea, with seafood dishes being particularly popular. The city is also known for its rice dishes, such as paella and arroz a banda. Other popular dishes include tapas, gazpacho, and turron (a type of nougat).
How do I get to Alicante?
Alicante has its own airport (ALC), which is located about 9 km (6 miles) southwest of the city center. It is served by many airlines from around the world. Alternatively, you can also take a train or bus to Alicante from other parts of Spain.
Is Alicante a safe city for tourists?
Alicante is generally a safe city for tourists. However, as with any city, it is always important to be aware of your surroundings and take precautions to avoid pickpocketing and other crimes.