Sadly, The Celebration of Harry Potter at the Wizarding World of Harry Potter at Universal Orlando was cancelled and Warner Bros. has no plans to bring it back.
Comic-Con, Ren Faires, Megacon, Dragoncon, and every other Cosplay event across the nation brings together those who love to dress in costume as their favorite characters. The Celebration of Harry Potter at Universal Orlando Resort is no different.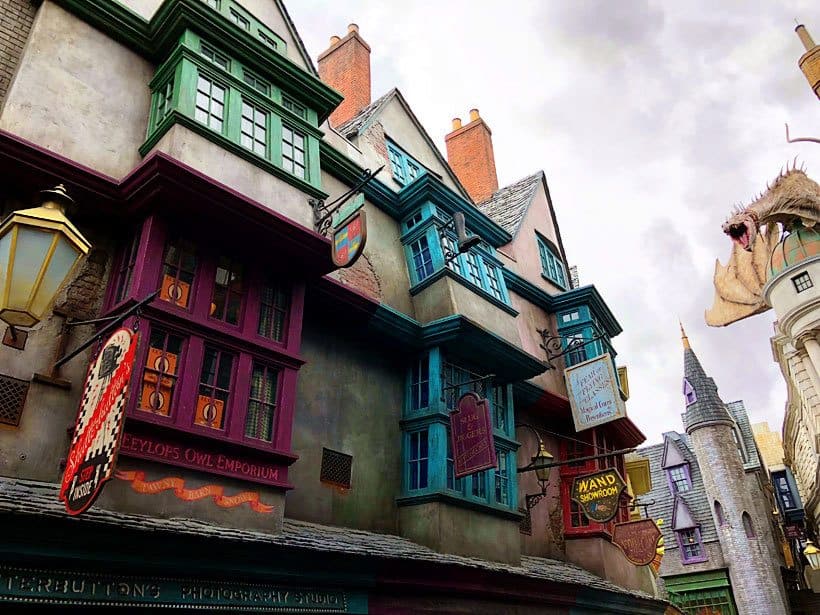 I have never been one to dress up for anything, even Halloween, unless I can find a fun wig. Let me tell you, after my first Celebration of Harry Potter Weekend, you better believe I will be dressing up next year and going all out.
But what character should I be?
WHAT MAKES THE CELEBRATION OF HARRY POTTER DIFFERENT?
The Wizarding World of Harry Potter at Universal Orlando Resort is technically a Harry Potter celebration every day of the year, isn't it? Well, yes. Like, you, I celebrate Harry Potter 365 days a year, but this is THE celebration, and true fans flock to the 3-day event.
Typically taking place in late January, the celebratory weekend is when actors from the movie pop into the park for panel discussions. You can also see costumes from the movie, hear exclusive announcements, and check out props brought in from the Warner Bros. Studio Tour London, and Harry Potter and the Cursed Child theater production.
Exclusive Pottermore and MiniLima items are for sale at the Universal Orlando Resort shops for this one weekend only. You can also learn wand combat skills, watch movies in the park, discover special effects secrets with John Richardson from the Warner Bros. Studio Tour London and listen in on a Q&A with actors from the films.
Love Harry Potter?
CLICK to get your Universal Orlando tickets.
HARRY POTTER CELEBRATION OPENING NIGHT
While every opening night can be different, and package holders may receive extra perks, like an exclusive preview of the Nighttime Lights at Hogwarts Castle when it first debuted in 2018, here are a few treats you may experience:
The Harry Potter Film Concert Series – CineConcerts
Surprise guest appearances from movie cast members
Special announcements from Pottermore, Scholastic and more.
CELEBRATION OF HARRY POTTER EXPO
Events often switch from year to year, but you can look forward to seeing some of these favorite past exhibitors again:
The Sorting Hat (yes, you can actually get sorted)
Scholastic exhibit
MinaLima
Harry Potter: The Exhibition (costumes, props and more)
Pottermore and Audible exhibit
Harry Potter and the Cursed Child Costumes and Contest Entry
Warner Bros. Studio Tour London- The Making of Harry Potter: a peek at the props and other goodies you can see on the tour (2018 featured the Goblet of Fire!)
Exclusive Merchandise sold only at the Expo
Warner Bros. Home Entertainment
Warner Bros. Interactive Entertainment
The Harry Potter Film Concert Series – CineConcerts
Don't miss a second of the Wizarding World of Harry Potter! Get your discount tickets HERE. 
WHO IS ACTUALLY IN THOSE HARRY POTTER COSTUMES?
During the Celebration of Harry Potter weekend is the only time you will see characters throughout the park. Yes, staff members are dressed in Harry Potter "world" costumes, but you will never see Harry, Ron, Hermione or any other named character in the park. Ever.
Even at Ollivander's Wand shop that isn't actually Ollivander, it is one of his employees.
Similarly, The Knight Bus driver isn't Stan Shunpike. It is just "a" Knight Bus driver, not "the" Knight Bus driver. Every character you will see is a guest, just like you, no matter how realistic the costume. People are just that good and invest a lot in their wearables.
HARRY POTTER COSTUMES OR NO COSTUMES?
The Celebration of Harry Potter brings out all of the characters, and as I already mentioned, not a single one of them is employed by Universal Orlando Resort. They are all guests, and outside of a Comic-Con, you will never see such amazing costumes. If you love to dress up, these are your people.
Bring your A game, but no one will mock you for bringing your C, D or even F game.
Come dressed as an ordinary Muggle and you are good to go. Harry Potter fans are the nicest in the land. Those in full costume for the most part are happy to take photos with you. Just be kind and always say thank you.
CLICK to connect with your Hogwarts family.
FOR SERIOUS COSPLAY ENTHUSIASTS
If you are interested in dressing up, now is not the time to slack. Check the hashtag #HPCelebration to see how people are prepping for the celebratory event. A lot of thought goes into the outfits.
Anything from the Harry Potter universe goes, including the "Fantastical Beasts" and "Where to Find Them" movies. There IS a costume contest, so get ready. Not only could you be scooped up on the streets, but on the stage as well.
DOGS IN COSTUMES
It is important to note that service dogs are allowed in the park, and some owners do dress their animals. DO NOT PET THE DOGS without chatting to the owners first.
Many service dogs are specifically trained, and petting them can be problematic. No vicious dogs are allowed in the park, but just like regular pets, it's always best to chat with the pup's mommy and daddy first.
WHAT TO EAT AT THE WIZARDING WORLD OF HARRY POTTER
Be prepared to indulge at the Wizarding World of Harry Potter because the food is delicious and especially sweet. Shops like HoneyDukes, Sugarplum's Sweetshop and the Fountain of Fair Fortune means you can load up on Butterbeer ice cream, Butterbeer fudge, No-Melt Ice Cream, Fizzing Whizzbees, Cauldron Cakes and Chocolate Frogs.
TIP: Make sure you get the box with the latest Celebration of Harry Potter card! Check for a gold sticker on the outside of the box with the year on it.
If you are not a fan of Butterbeer (horrors, I know), hop into Florean Fortescue's Ice-Cream Parlour for a scoop of Earl Grey and Lavender ice cream. If you are daring, get a scoop of the Sticky Toffee Pudding too. Anyone who is an ice cream connoisseur in cities like Portland or Seattle (Salt & Straw, Molly Moons, etc.) will appreciate these flavors.
If you do need a savory break, the Leaky Cauldron and the Three Broomsticks are your only options, outside of a few concession stands lining the streets. And really, why would any true Potter fan go elsewhere?
Universal Orlando is within reach:
Grab your discount tickets HERE
WHERE TO STAY DURING THE CELEBRATION OF HARRY POTTER
While there is no Harry Potter themed hotel yet (my fingers are crossed for a room in Gryffindor Tower one day just like the rest of you!), Universal Orlando Resort has five Loew's properties and one Hard Rock Hotel located nearby.
Family suites are available at all of the properties and each hotel has slightly different amenities. Perks can include in-room yoga, character breakfasts, a luau and Carnival dinner you don't want to miss if you can pull yourself away from the Wizarding World of Harry Potter!
And stay tuned because two additional hotels are slated to open in the next few years!
Orlando Destination Guide
Orlando Hotels
OK, Harry Potter fans, what did I miss? Tell me in the comments!
I am a member of the Universal Blog Squad, the official Universal Orlando Resort ambassador program and a paid partner. As always, my opinions are my own. When they aren't, you will be the first to know. This post may contains affiliate links. If you make a purchase after clicking one of those links I will receive a small commission.