Two days on a train. No Wi-Fi. Barely any cell service. No TVs or scheduled programming. The only entertainment for two days was gorgeous scenery as you ride on the Rocky Mountaineer. Oh, and spectacular food and endless drinks brought to you by a superb and hilarious staff. And yes, there are warm cookies at the end.
This was what was in store for me as I climbed aboard the Rocky Mountaineer, departing Vancouver and headed towards Lake Louise in Alberta, Canada. My friend Julia and I were onboard, as guests of the Rocky Mountaineer. Our mission was to share why the non-retiree crowd might want to hop onboard. We both have younger kids, and truth be told, we are tired.
It didn't take us long to realize that this train ride was like no other; the ultimate mom vacation, with a built-in nap. The only thing that could have possibly made the Rocky Mountaineer better would be a spa car, but you can't have it all!

Vancouver departures
Arriving in Vancouver from the East Coast on an early AM flight can feel brutal. Thankfully, if you want to do the Rocky Mountaineer right, you do it in luxurious fashion.
While you can do a more economic version of this train ride, for this trip, we went luxe all the way. And that started with a night at the Four Seasons Vancouver in the heart of downtown.
A blow out at DryBar Vancouver and dinner at the Four Season's YEW Seafood capped off a long day of travel. Train departure times with the Rocky Mountaineer are early with a capital "E." You better believe I crawled into my fluffy bed in my junior suite the second dinner was over.

All aboard the Rocky Mountaineer!
Morning rang dark, but dry; a blessing during autumn in the Pacific Northwest. Buses ferried guests to the train yard where everyone was milling around, enjoying complimentary coffee and juice passed around by uniformed attendants. The call to board began.
Bagpipes serenaded us all to the front of the train station and we passed through the doors to our double-decker Gold Leaf cars (Silver leaf cars are only single level). Our adventure was about to begin.

Get to know your seat mate
Boarding was easy, as our luggage was picked up from our hotel before we left. It would be whisked ahead of us and waiting at our hotel when we arrived (such service!). Julia and I settled into our seats. I grabbed a blanket to stay warm, but my heated seat had me toasty in minutes.
We played with all of the buttons just like our kids would, except no one yelled at us as we made our seats go back and the foot rests go up. Before we knew it, we were on our way, leaving Vancouver and headed into the wilds of the Canadian Rockies.

Dining on the Rocky Mountaineer train
Mealtime is no joke in my world and thankfully the Rocky Mountaineer chefs share the same sentiment. Gold Leaf service is divided into two seatings. Those who have breakfast during the second seating are treated to coffee, tea and mimosas at their seat, along with fresh scones. Trust me. You want those scones!
Breakfast comes with options for vegetarians and carnivores, including eggs benedict, spinach, feta and egg soufflé, and blueberry pancakes. Fill up, but not too much. Lunch is just as delicious with steelhead salmon and garden flatbread. Not sure what to order? That's OK.
Get something to share with the table, ask your server, or try something different each day on the train. Just watch out, some options do change each day. After all, the Rocky Mountaineer never wants their cuisine to get boring.
Dinner isn't served on the train, as you will most likely be at your evening destination just as your stomach starts to rumble. Snacks are always available at the front of the train, as well as drinks and passed hor d'ourves from your host and hostesses on the second level of your car.

Nights off the Rocky Mountaineer
The Rocky Mountaineer isn't like most train rides. It was actually hard for me to wrap my head around at first. I thought we would have sleeper cars and be covering large distances at night, similar to what people to do in Europe and India. Nope. You spend your days marveling at the beauty of your journey. Evenings are spent in a new destination, exploring the local scene.
Every train stops in Kamloops. Guests depart the train and wander off to their hotels where their bags are waiting for them. Guests can either book their hotel room on their own or book through the Rocky Mountaineer customer service center when booking their train tickets.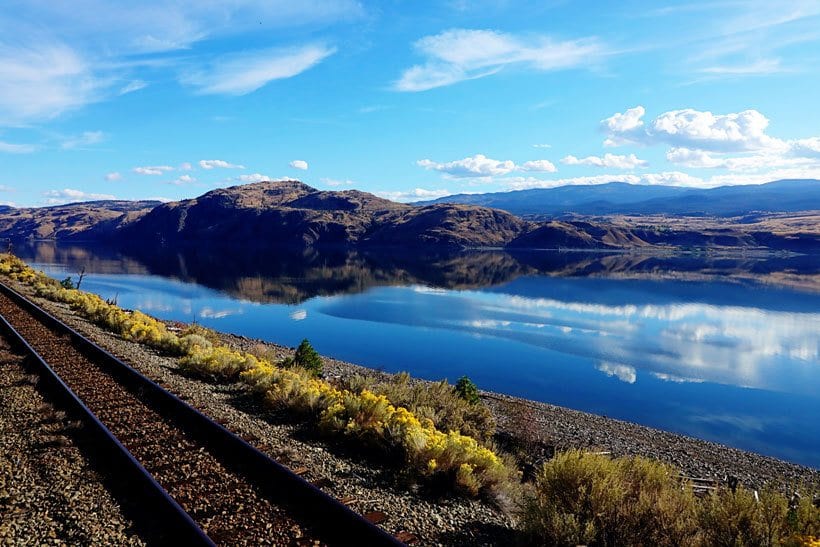 Many packages include hotel stays and can get you a better deal, so it is important to look into this option. You can also add on an Alaskan cruise to your trip. A little surf and turf adventure in the North!
Julia and I hopped off the train, checked into the Hotel 540, the only luxury property in Kamloops. Dinner at The Noble Pig was scheduled. You could tell this was a hot spot for train passengers looking for good burgers, beer, salads, and some crazy mac n' cheese.
One gal claimed that The Noble Pig had the best deep fried pickles in the world. I begged to differ; those could be found in Gatlinburg, TN, but to each her own.

Lake Louise in Alberta
In the morning, those headed to Lake Louise and Banff board one train, while those headed directly to Jasper board another. Don't worry, each train has a very different boarding time, so you won't get on the wrong train.
Overnight the train you rode from Vancouver to Kamloops was split, so you will notice you are now on a much smaller train depending on the number of passengers going to your destination.
Julia and I were headed to Lake Louise, a legendary site in my head thanks to a very successful Instagram campaign done by Tourism Alberta a few years ago. I mean really, who didn't want to see the Fairmont Chateau Lake Louise and that gorgeous lake surrounded by mountains?
We arrived late in the evening, having a green curry on the train after getting stuck behind a 10,000 foot freight train on our way into Lake Louise, which slowed us down. Such is the life of train travel when you have to share the rails with other trains. We did see a bear though, so you will get no complaints from me!
We also got to wave at Doris Lund, a woman who lives in a yellow house in the town of Canoe, located right along the train tracks. She has never missed the Rocky Mountaineer passing, and always runs out to wave at the train.
Her greeting is so appreciated that the staff popped over to invite her and her husband onboard for a complimentary trip for bringing such joy to their passengers. She missed her very first wave that week, but everyone was thrilled she got to see the view of her home from the train.

Motor Coach to Jasper
With only a few hours to enjoy the view at the Fairmont Chateau Lake Louise, Julia and I got up before sunrise to attempt the hike to the tea house. We didn't make it, but we did catch the sunrise over the lake, something no one should miss.
Breakfast at the buffet was swift, as we had a bus to catch and the driver would not be delayed. Seriously, don't be late for your driver. He will not be happy. He has a schedule to keep.
We hopped aboard bright and early, not really sure what we were in for. We just knew that we were going to be driving the Icefields Parkway.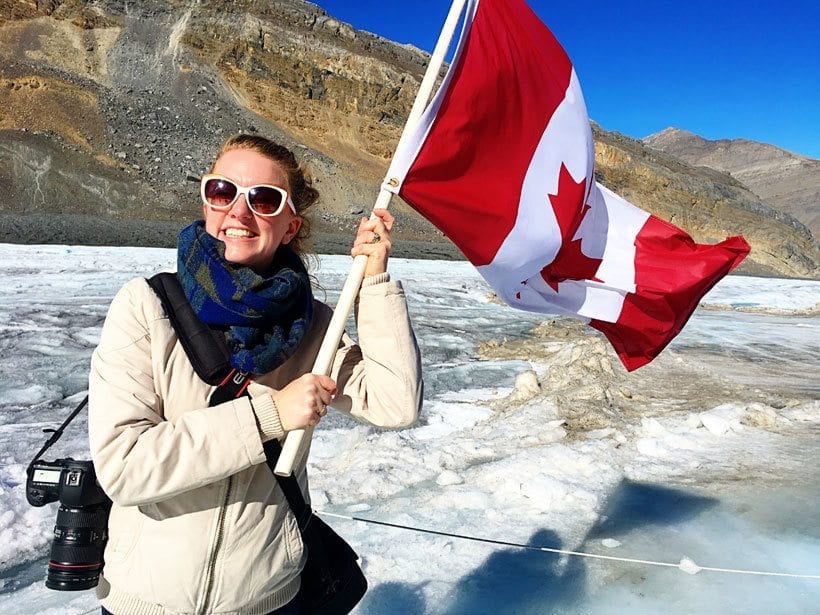 Now, if we had done any research ahead of time, we would have known that we were about to embark on one of the most scenic journeys through the Canadian Rockies. But no, we just assumed we were going on a long drive from one Fairmont Hotel to the next.
Ha!
Our drive would include five stops, including lunch at one of the few roadside rest stops. Each and every stop was more impressive than the last.
We walked across a glacier, gazed down at chalky blue alpine lakes and watched gushing rivers crashed onto rocks below as the water raced south to warmer climates before winter set in.

Jasper National Park
While everyone thinks of Lake Louise being the most epic spot in the Canadian Rockies, don't discount Jasper National Park. The Fairmont Chateau Lake Louise has that one killer shot you can get on a hike. The Fairmont Jasper Park Lodge has multiple shots around the property.
Best of all, this is where Julia and I found our zen. We arrived early enough in the evening that we could take a hike around the lake that they hotel sits on. Thankfully the elk, who were in the middle of rutting season, stayed clear of us while we roamed close to the water. Later that evening as we tried to go to dinner, we were not so lucky.

Bucks of Jasper
All throughout our stay, a giant buck was pursuing a lovely lady elk friend around the property (she was having none of it). He happened upon us as we were about to cross over to a cabin that had been set up for a special evening dinner that would be followed by stargazing and hopefully a bit of Northern Lights viewing.
The thing with male elks is that they are stubborn men who just don't get the hint. Security had to be called so they could chase him back into the woods. He wandered back out while we were stargazing, but kept mostly to the trees and away from our campfire.
We were not so lucky with the Northern Lights. While we did get a glimpse of the Aurora Borealis, Edmonton farther north got the full show. We just got a little flashlight effect along the tops of the trees.

Autumn Breeze, Booze and Zen Moments
As Julia and I lounged in our bright yellow Adirondack chairs, thinking back on the last week of travel through the Canadian Rockies, we breathed in a bit of the crisp autumn air that was starting to float through. It was late September and somehow we had enjoyed nothing but clear blue skies and temperatures in the 70s ( 20s Celsius).
I sipped on my pear cosmopolitan, savoring the transitional flavor that was bringing me into the fall season as I looked at the mountain reflecting in the water. This is what we both needed. Tomorrow we would return to our babies.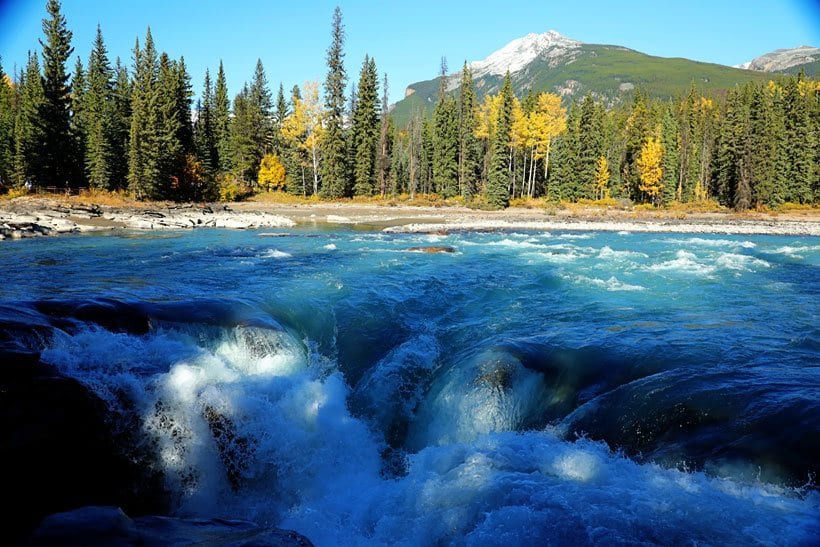 Between the two of us, we have four kids under the age of eight who needed us everyday. Homework, diaper changes, sports practices and nighttime wakings were still everyday occurrences for us.
As moms, it can get draining to be needed all day, every day, and every night. Getting this time to recharge, disconnect (although we did check in with our husbands and kids everyday), and find ourselves again was important as we headed into autumn and anticipating the busy holiday season.
We started dreaming about a return trip in the spring. If the colors were this beautiful in the fall, just image what those mountains and valleys would look like in the spring!