New England has been in my blood since I was born. Every year we would road trip up the East Coast from Philadelphia into New Hampshire to hike around the White Mountains, and through the small towns along the coast of Maine.
My parents took us hiking up Cadillac Mountain, exploring historic Kennebunkport, and walking the beaches of Acadia National Park, trails on Mount Desert Island and streets of Bar Harbor. We camped, stayed in cabins and even a few hotels.
When it came time for me to bring my boys up to Maine, we headed straight to Portland to explore, and even made our way up to Freeport to see the home of L.L. Bean and the northernmost desert in the United States.
As we began to plan our next road trip in Maine, I knew I wanted to head south. I grew up thinking that Maine was filled with only rocky beaches. After a stay in Cape Elizabeth, and knowing what awaited me in the quaint town of Kennebunkport after visiting as a child, I knew my boys and I would love to wander the southern sandy beaches of Maine together.
They would get outside, I'd be able to sneak in a little educational activities, and we'd get to sample lobster and crab, because everyone knows that Maine is one of the best places in the world to grab a lobster roll and fresh seafood.
Why Coastal Maine?
Planning a coastal road trip through Maine isn't that tricky. There are plenty of spots along the way, so you are never in the car for too long.
You'll find gorgeous sandy beaches in southern Maine, rocky cliffs, lighthouses and cute historic downtown spots filled with delicious food, and historic districts with art galleries, locally-owned shops and people watching galore.
When should you go to Maine?
The summer months are for sitting on the beach, eating too much ice cream and enjoying any number of epic Maine road trips.
Autumn brings a rainbow of fall colors and loads of leaf peepers to see the leaves start to fall.
Winter is low-season, which means more things will be closed, but there are also more deals to be had. And snow, lots of snow.
Spring is when the locals start to come out of hibernation, leaves start to pop back on the trees and wildflowers fill the fields and rocky coastlines on Maine.
Planning a Maine Road Trip
Before you start planning one of the best road trips you will ever take, you need to figure out a few logistics. A family vacation can't start until you know where you are going, how you are getting there and what to do in Maine once you start your journey.
Portland, ME is a great spot to start your journey, as the airport offers numerous direct flights from across the country. It's an easy drive south down to York along I-95, so you can make this a truly leisurely road trip that the whole family can enjoy, without feeling like they need a vacation from their vacation at the end.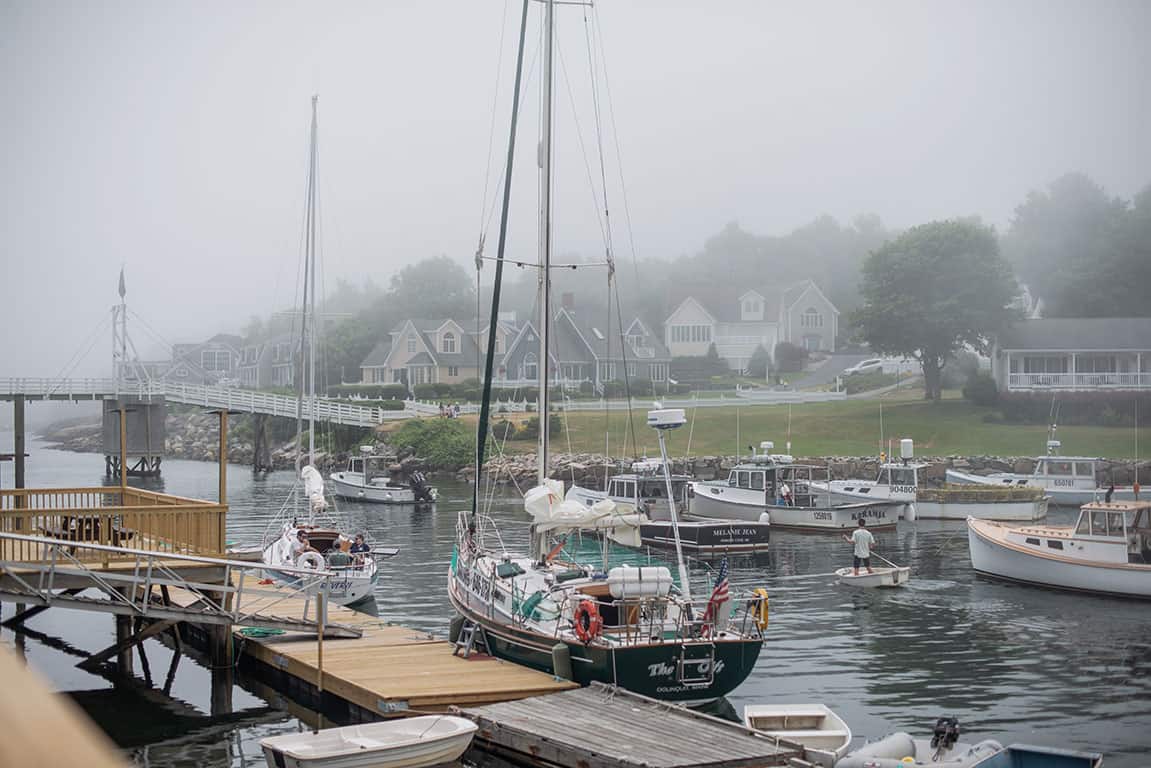 Which airport in Maine?
Portland, Maine, the largest city in Maine, also has the largest airport in the state. Search for flights to Portland International Jetport, using airport code PWM.
If you live in Boston, or it's easier to fly into Boston, Massachusetts, you can drive north along I-95 right out of Boston and journey from York, through Kennebunkport to Cape Elizabeth to end your journey.
For now, we'll pretend you flew into Portland though, and take the southern route down the coast of Maine.
Grab a Rental Car in Portland, ME
All of the major car rental chains have a parking lot in Portland. If you have loyalty points to spare, don't worry, you can cash them in here with Hertz, Alamo, Avis, Enterprise and your other favorites.
Check rates and availability on car rentals.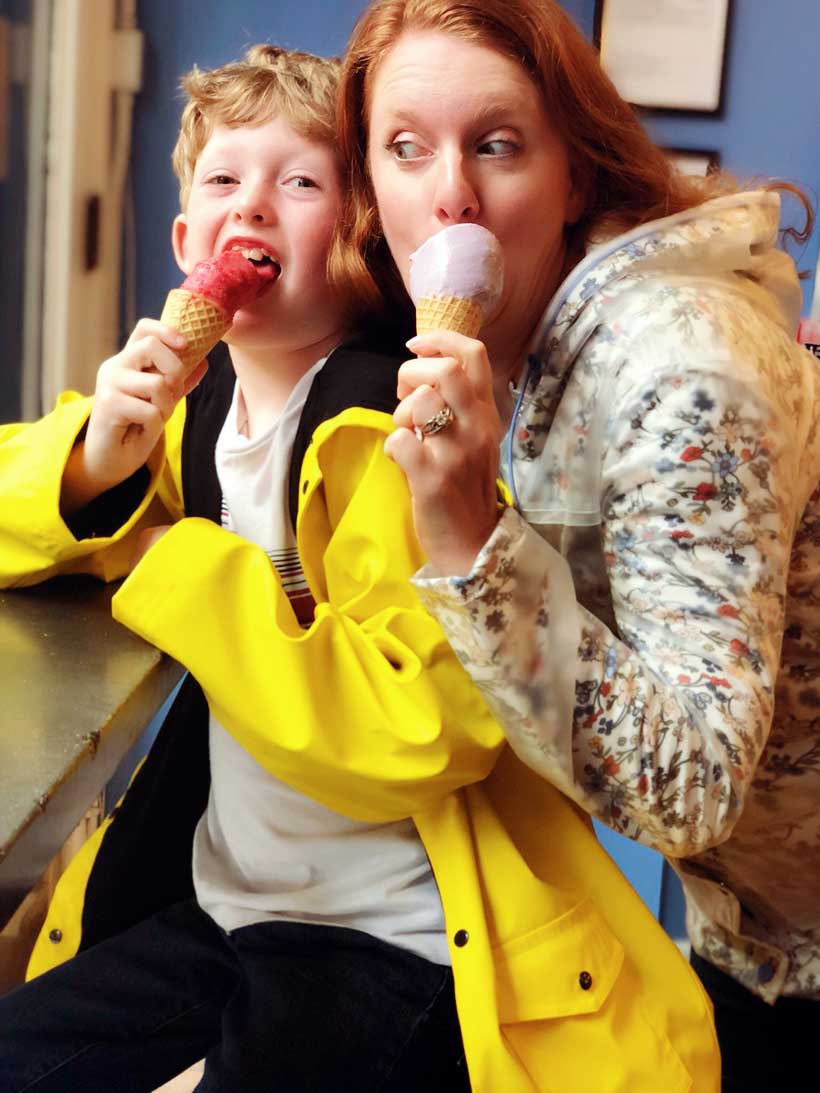 Portland Hotels (in case you get in late)
While I like to head straight to Cape Elizabeth to spend a few days, there are a few hotels in Portland, ME you can check out.
Bed & Breakfasts in Portland, MD
Things to do in Portland, ME
If you are spending any time in Portland, Maine, you will want to grab a hotel in Downtown Portland. Even if it's just for one night, you can grab a beautiful hotel room, have a delicious meal, and keep the kids entertained at the Portland Museum of Art, the Portland Head Light and the incredible Children's Museum & Theatre of Maine, which has recently opened in new space at Thompson's Point.
Even if you aren't a big fan of children's museums (like me), this one is worth checking out if you have little ones. And yes parents, there are plenty of places for you to sit down.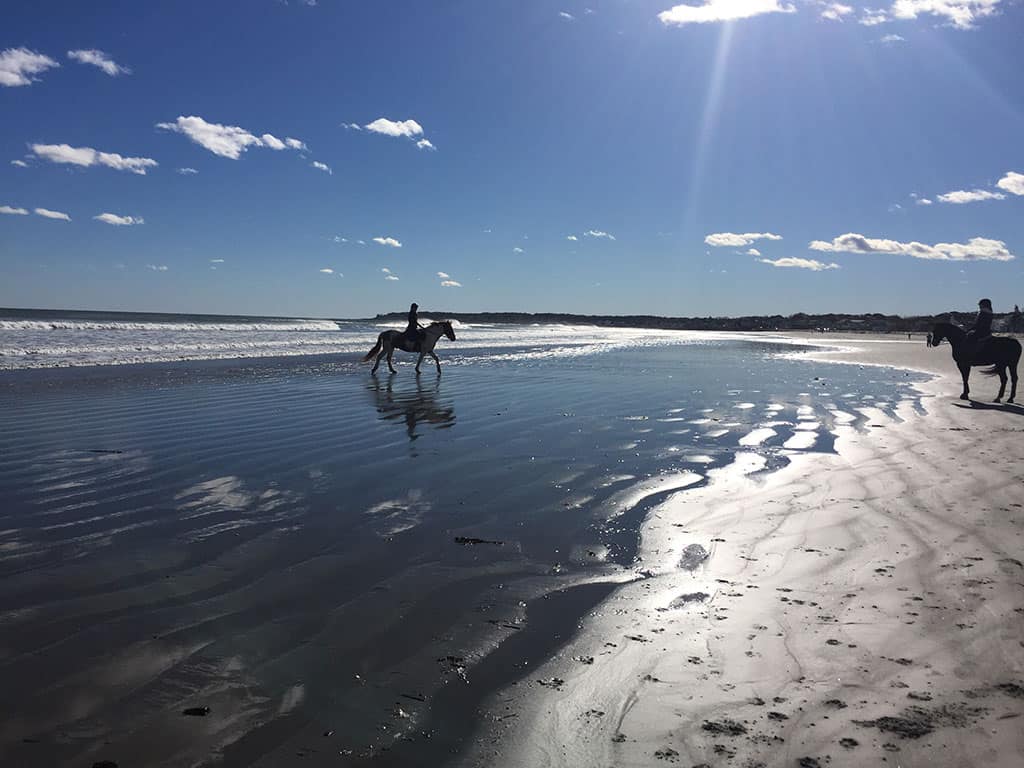 Road Trip Stops Along the Southern Maine Coast and the Maine Beaches Region
You may be surprised to learn that it is only an hour drive from Cape Elizabeth to York, Maine, if you drive without stopping. This is why I love starting our Maine trips from Cape Elizabeth. It's convenient to everything in Portland, including rental cars and the airport, but you feel worlds away from the big city.
It also makes me want to get out and explore even more since Cape is beyond gorgeous.
Cape Elizabeth
With less than 10,000 people making up Cape Elizabeth, you know you are in for a scenic drive filled with green spaces and beaches worth visiting.
The first time I visited, I was so confused– how could there be sandy beaches in Maine? Rocky cliffs are all I knew of the Maine beaches from my youth.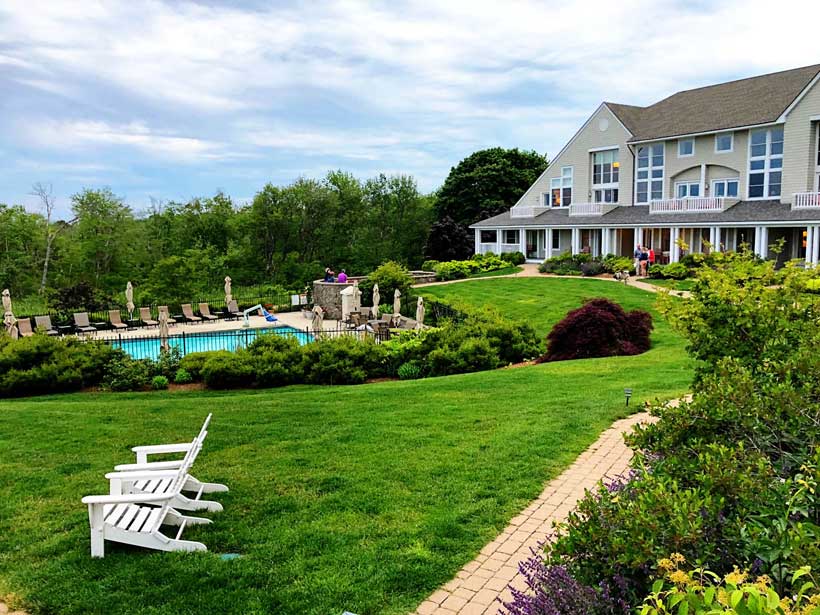 Hotels in Cape Elizabeth, ME
The Inn by the Sea is pretty much THE spot to stay when you want to be in Cape Elizabeth. It's a destination in and of itself, with hotel room and condo-style lodging options perfect for families. You get sea views, and it's just a short walk down a private path to the sandy beach at Crescent Beach State Park.
If you can't find a room at the Inn by the Sea, spend the day in Cape Elizabeth and return to Portland for your overnight stay. Alternatively, you can stay further south in Scarborough at the Comfort Inn and Suites.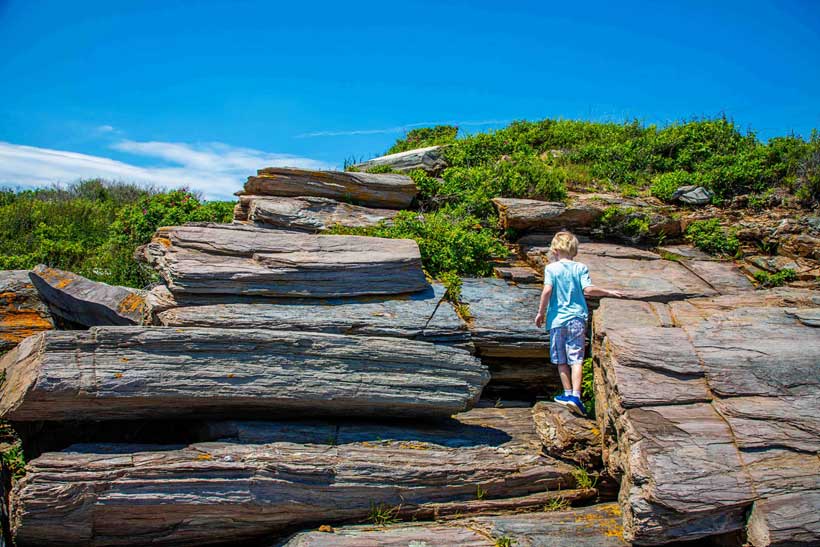 Things to do in Cape Elizabeth
When you visit Cape Elizabeth, it's all about the outdoors. Check out the local lighthouses, Fort Williams or one of the state parks and trails in the area. If you are looking for history, the Goddard Mansion is where you will find Maine's past.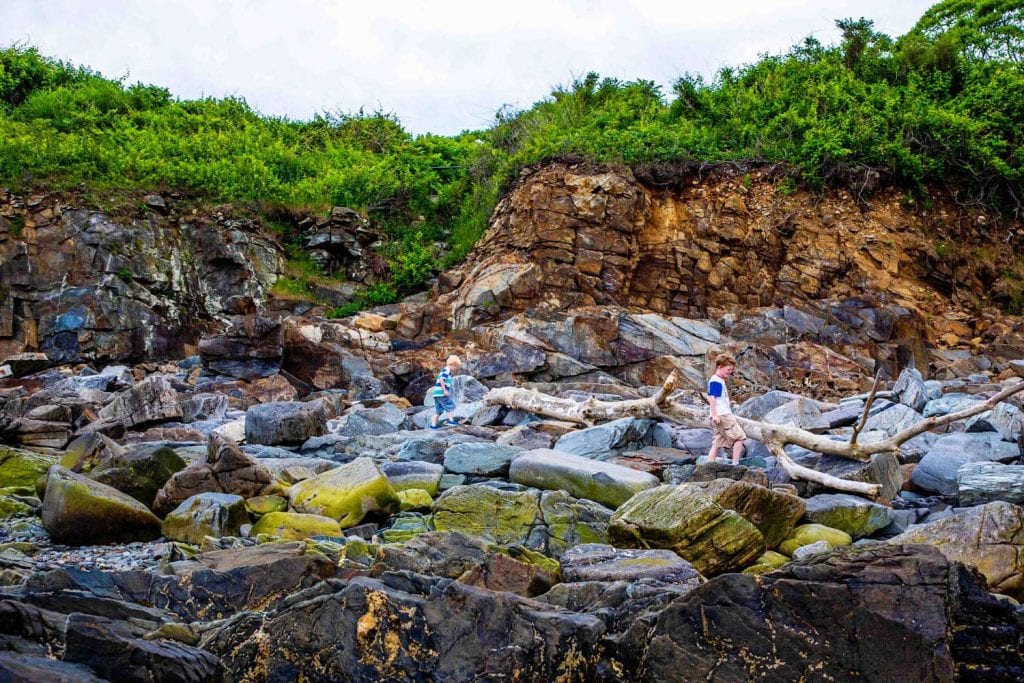 Fort Williams Park
My boys loved running around Fort Williams Park. They are obsessed with wars from the past, and any military installments they can climb around and wander. While much of Fort Williams has been destroyed by time and long-past residents to clear space for other buildings, you can still wander past the remaining structures and the remnants of old buildings.
Portland Head Lighthouse
Portland Head Lighthouse is the most popular attraction in Fort Williams Park, but plan at least a morning or long afternoon to explore. The ricky beaches are fun for kids to climb, and the cliff walk gives you beautiful views of the Cape.
Goddard Mansion
The Goddard Mansion is on the grounds of Fort Williams Park, but is fenced off to the public as it is in disrepair and not safe to enter. You can view the mansion's exterior from the public trails in Fort Williams Park.
More Cape Elizabeth Parks
Crescent Beach State Park
Great Pond Trail
Winnick Woods Greenbelt Trail
Cape Elizabeth Lighthouses
There are two lighthouses in Cape Elizabeth, but only one you can actually visit.
Portland Head Lighthouse was the first lighthouse in Maine and has a museum and seasonal gift shop that are accessible to the public.
Two Lights, used to be home to two working lighthouses– East Light and West Light. The East light was the most visible lighthouse in all of New England. Sailors could see the lamp shining from 27 nautical miles away.
Walk out on the rocks overlooking Casco Bay and the Atlantic Ocean to get a look of the rocky coast and rough surf Two Lights warned incoming ships to avoid.
Drive from Cape Elizabeth to Kennebunkport
The drive from Cape Elizabeth to Kennebunkport isn't boring for anyone of any age. You can check out a new-to-you beach, hike around a state park, or simply splash around (and zip down slides!) at FuntownSplashtown USA.
Things to do between Cape Elizabeth and Kennebunkport
Saco Bay
Saco Beach Preserve
Old Orchard Beach
Ferry Beach State Park
Fortunes Rocks Beach
Funtown Splashtown USA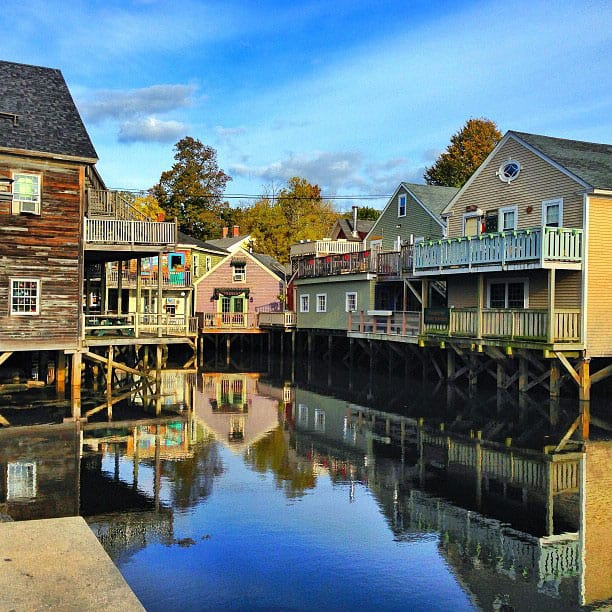 Kennebunkport
Kennebunkport is a quiet coastal town filled with good food, art galleries and small, locally-owned boutiques. Most people head to town in the summer for the beaches, but it is beautiful all throughout the year. Yes, even in the colder months.
Former President George H.W. Bush has a home in Kennebunkport. If you cruise by and the flag is up, it means someone is home on Walker's Point.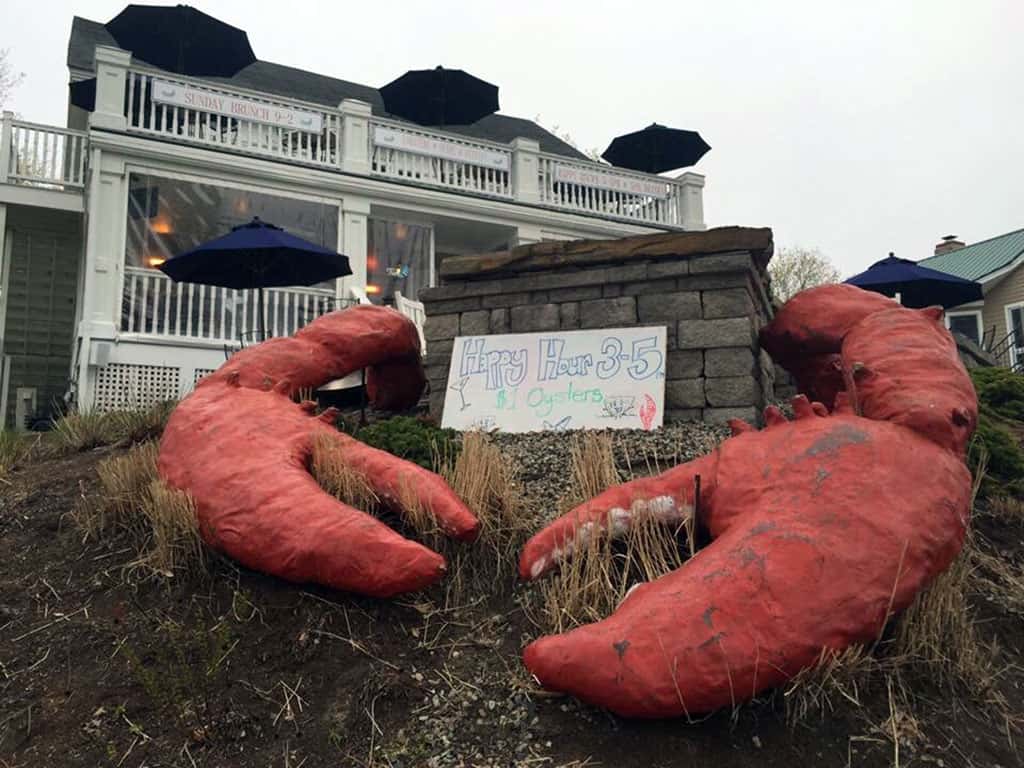 How much time should you spend in Kennebunkport?
Kennebunkport is small but mighty. Personally, I'd plan at least three days if possible. You could enjoy a day trip as you pass through, but this coastal town really deserves a lot more time.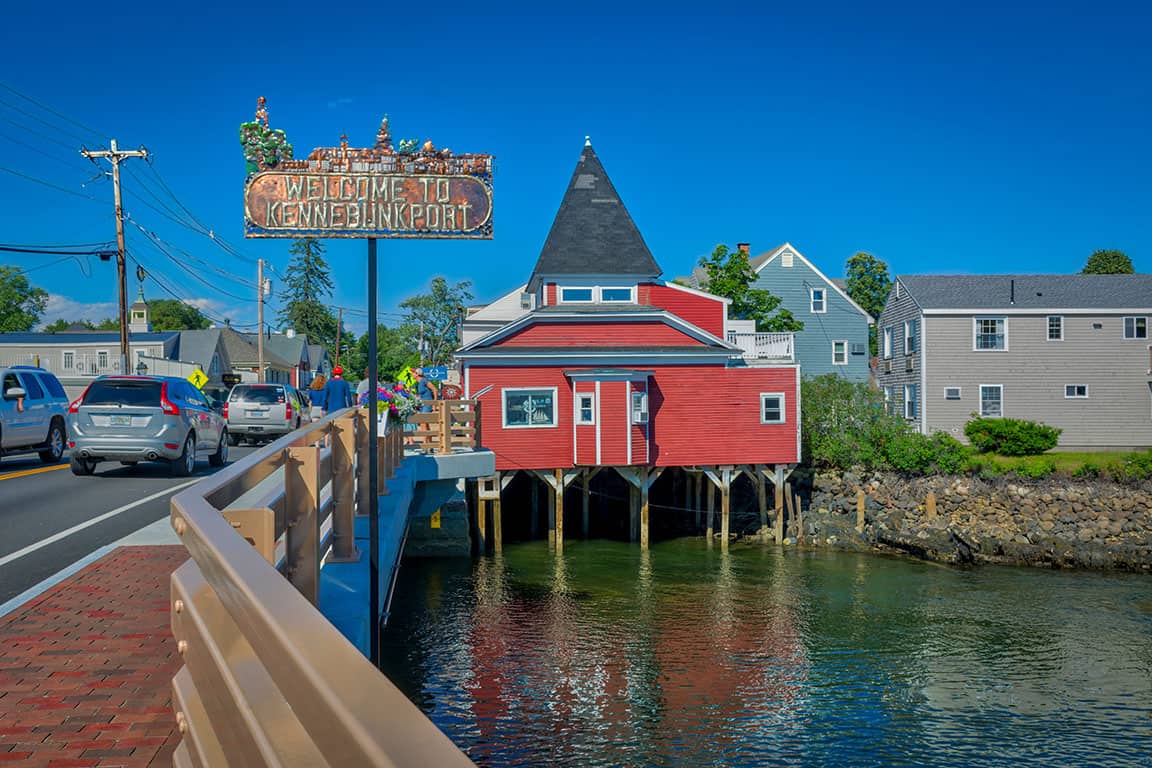 Hotels in Kennebunkport
What to do in Kennebunkport, ME
There are a lot of things to do in Kennebunkport, but if you only have a few days, here's the highlights you don't want to miss.
Shopping in Dock Square
Dock Square is filled with adorable shops, art galleries and restaurants with patios that are perfect for people watching. Enjoy a lobster roll with a local beer, before you shop til you drop.
Gooch's Beach
Head to Gooch's Beach, sometimes called Kennebunkport Beach, to play in the water, watch the surfers try to catch a wave and soak in the beauty of Southern coastal Maine. In the summer months, there are lifeguards on duty.
Goat Island Lighthouse
One of the best lighthouses in Maine, Goat Island Lighthouse is just off Cape Porpoise near Kennebunkport, ME. Built in 1835, the current lighthouse was updated in 1859 with a brick tower and a fifth order Fresnel lens.
Keep in mind that you can only access the lighthouse grounds by boat. If you get there, the keepers are happy to give you a tour during the summer. You can not climb the tower.
Kennebunkport Museums
There are two museums in town worth checking out when you aren't gallery hopping– First Families Kennebunkport Museum and the Seashore Trolley Museum. Both dig into the history of the area, but the trolley museum is a bit more kid-friendly just because, well, there are a lot of trolleys to explore.
More things to do in Kennebunkport, ME
Drive from Kennebunkport to York Maine
As you head out of Kennebunkport you will want to stop in two spots– Rachel Carson National Wildlife Refuge and Ogunquit, Maine.
Rachel Carson National Wildlife Refuge
Just south of Kennebunkport in Wells, ME, you will find the 9,125-acre Rachel Carson National Wildlife Refuge. Carson was a marine biologist, author, editor-in-chief for the U.S. Fish and Wildlife Service and environmental activist, who thanks to her book Silent Spring, is credited with launching today's environmental movement.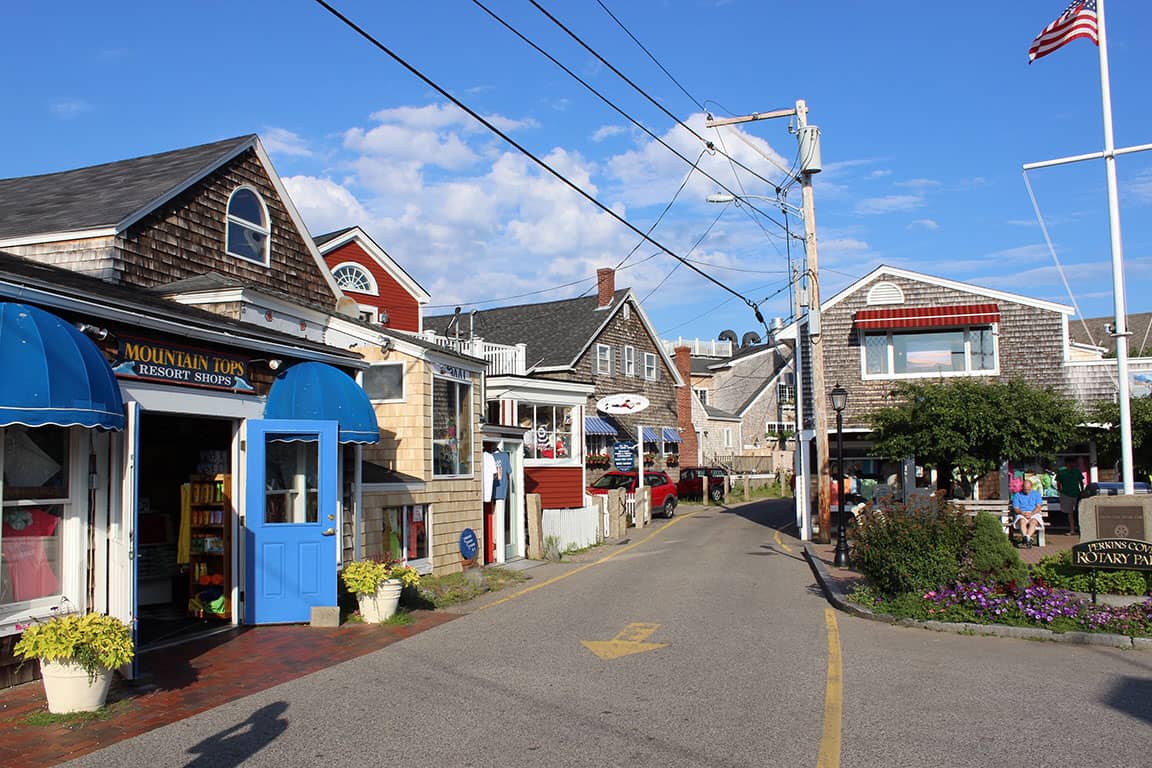 Ogunquit, Maine
Ogunquit Beach is filled with grassy dunes and a long sandy beach. If you are looking for rocks, head over to Marginal Way for the cliff walk and the Ogunquit lighthouse.
A big draw to the town, besides the beaches, is the Ogunquit Museum of American art, which features artists who have lived in and were inspired by the unique beauty of Maine. If you have time, book a boat tour with Finestkind Scenic Cruises. They offer lobster boat tours, cocktail cruises and breakfast cruises for the whole family.
There are plenty of places to stay in Ogunquit if you want to spend the night, or you can head south to York, ME.
Ogunquit Hotels
York, Maine
York is pretty much the last town in Maine you will hit along the coast before you cross into New Hampshire and land in Portsmouth. Pump the breaks though, because York has a lot to do.
There are four main parts to the town of York– York Village, York Harbor, York Beach and Cape Neddick.
How much time should you spend in York?
York, ME has enough to fill a couple of days during your coastal Maine road trip. If you want to truly relax, plan for 3-4 days, but 1-2 is plenty if you are trying to cram everything into a one week trip.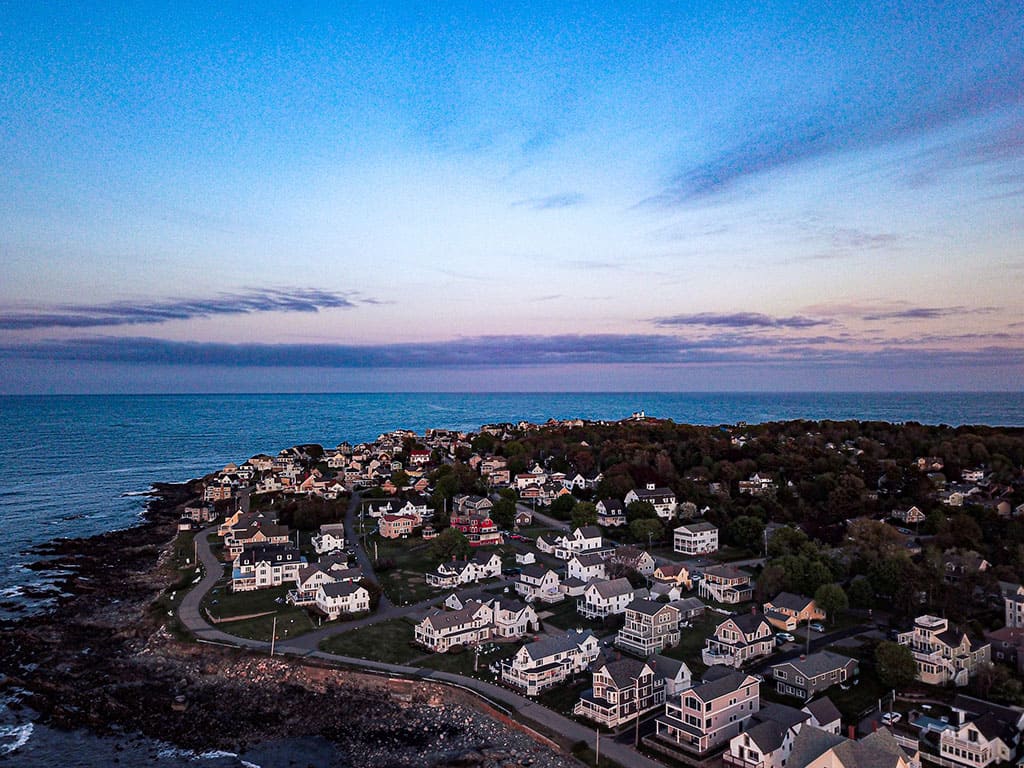 Hotels in York, Maine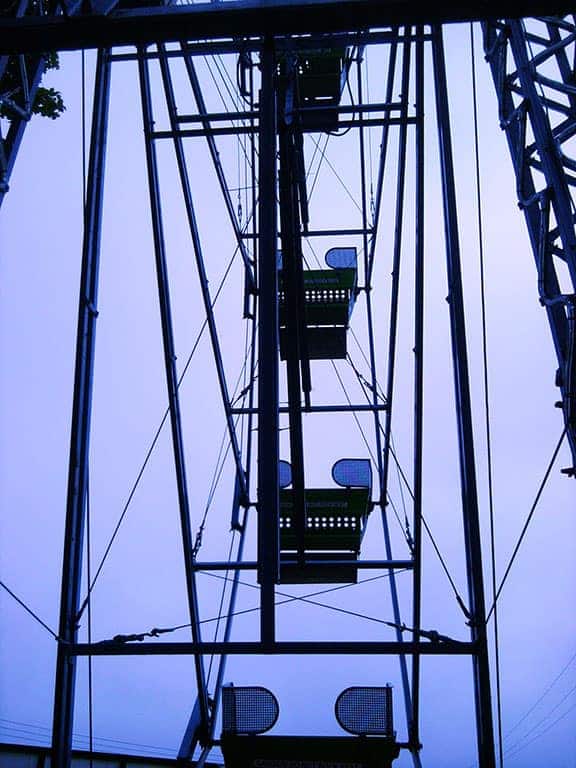 What to do in York, ME with Kids
Kids don't need a lot when it comes to the beach, but if there are animals, amusement park rides, bowling and candy involved, it's pretty easy to get them off the sand to explore in York.
York's Wild Kingdom
Enjoy a ride on the ferris wheel, bumper cars, the merry go round and a number of other amusement park rides. Then head to the zoo where you can see lions, lemurs, a pot belly pig, pygmy goats, prairie dogs and more critters you don't often get to see in the wild.
Fun-o-Rama
Check out this classic arcade with games your kids will love, but you grew up playing (don't be afraid to dominate at pinball). There's also bowling onsite if you want some real family fun. Let the competition begin!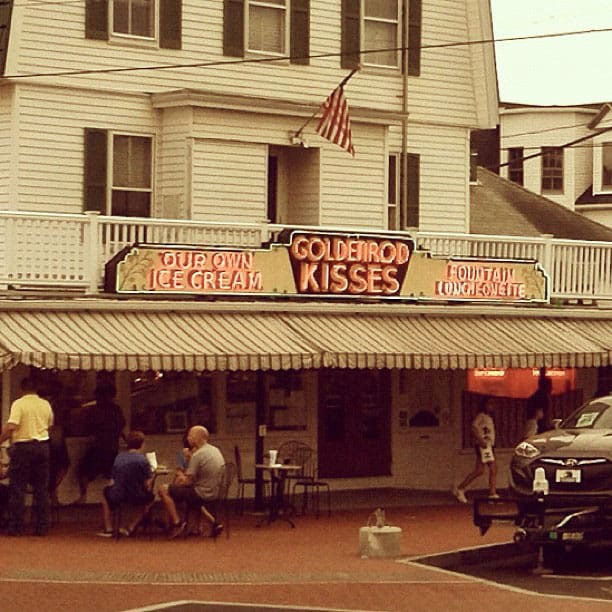 The Goldenrod
Part old-tyme ice cream parlor, part candy shop and part restaurant– you just can't go wrong when you pop into the Goldenrod with kids. Just be ready for the sugar coma afterwards.
Mount Agamenticus
Take the kids hiking on Mt. Agamenticus for a birds eye view of town and the beauty of the Maine coast. There are several shorter trails, as well as more difficult longer trails for those looking for a challenge.
Long Sands Beach
Kids will love the mile of white sand beaches, while parents will love that there are restrooms at the halfway point down the beach. Metered parking is available on the street.
Those who booked a York hotel close by can simply walk across the street to enjoy the sand and surf. Volleyball and surfing are big draws to this beach, and it can get crowded, but the waters are family-friendly as long as you keep an eye on young swimmers.
More things to do in York, ME
This post is part of a paid partnership with Visit Maine. As always, my opinions are my own. When they aren't you will be the first to know.
Pin it and Start Planning!