I'm not going to lie. Traveling to a ski resort with a baby can be a bit of a downer. While children over age three have ski school and snow camp with loads of fun activities, babies are often forgotten.
Parents are forced to either take turns watching the baby while the other one gets some time on the slopes, or you have to hire a private sitter, which can be both expensive and inconvenient. Keystone Resort has decided not to ignore their youngest guests, but to make babies and their parents feel welcome.
With plenty of snow fun for little ones and excellent childcare options, the entire family can enjoy the mountain and spend time with each other and their peers.
Snow Tubing at Adventure Point
If you have a child not quite ready for ski school, you can bring them up to Adventure Point for a bit of tubing down the mini hill while big brother, sister and parents take on the larger tubing hills together. You can also play knights and dragons in the snow fort for some added excitement.
Be warned that tubing at Adventure Point does require a reservation and is above 11,500 feet near Summit House. If you are concerned about the increase in altitude there are options down at 9,000 feet that may be more suitable.
Nordic Ski Center tube hill
Not everyone was meant to take on a giant tube hill. I for one don't like activities that require me to vault myself at uncontrolled speeds down hills. Even county fair slides freak me out. The Nordic Ski Center offers a gentle slope that is the perfect size for young children and their scardy-cat mom. Sleds and tubes are available for a fee. Don't miss out on the all you can eat soup buffet in the center too. For $11 you can get your fill of homemade soups and rolls with jam and butter.
Snow angels and snow tasting
You are never too young to make snow angels. OK, perhaps infants won't be very good at it; you do need to be able to move your arms through the snow a bit. If you have a crawler, and definitely if you have a baby walking, give it a go and see how the baby likes it. Oh sure they may eat a little snow; what kid doesn't want to try out that fluffy, cold white stuff? Just make sure you scout out a nice clean, white spot to play in.
Kidtopia
Let your baby express their artistic side at Kidtopia's indoor headquarters. Whether your baby likes crayons, painting a canvas or wants to take on the Ready, Paint, Fire pottery shop there is more than enough to do while keeping warm.
When you are ready to don your winter layers, bring the kids outside to enjoy the weekly Kidtopia parade featuring mountain mascot Ripperoo along with a few horse friends, dancers and a fabulous float. End your night with fireworks that will have the youngest snow bunny in the family shouting "wow!" with each new sparkle and pop.
Daycare
I am not a big fan of daycare. It is one of the reasons I left my full-time job to be home with my boys. However, if the River Run Childcare Facility had a branch near our house I may be tempted back into the office.
The woman who runs the center is fantastic. She is ready to answer every question and concern you could possibly have. Her staff is calm and caring. I saw more than one child crying when their parents picked them up. No, not dropped them off, picked them up.
Even my own baby Ty (now 20 months old) who rarely likes to be anywhere without us or at least his big brother, was pretty darn happy to go play with some little friends, draw, read books and explore new toys. The daycare offers half and full day rates*.
The staff always tries to get the kids outside, and they provide healthy, and nutritious snacks and lunch that my very picky eater devoured.
Babysitters
If mom and dad want a little quiet time at night there are babysitters on hand that can come watch the kids while you sneak out for a romantic dinner alone. The River Run Childcare Center has a list of sitters, most who work at the resort daycare and have gone through their rigorous screening process. Budget in about $20 per hour for a sitter, which may seem steep, but it can also give you the alone time you rarely get with a baby on vacation.
Many thanks to Keystone Resort for hosting my family for a weekend of winter fun. As always my opinions are my own; when they aren't you will be the first to know.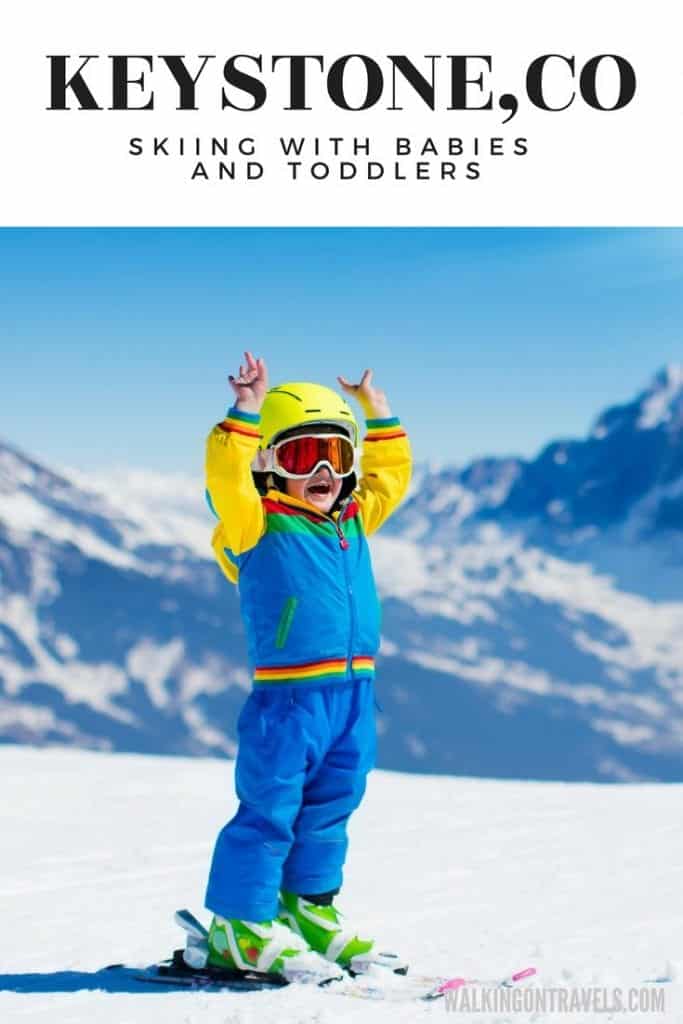 Photo of little boy skiing via Shutterstock