Newport, RI is one of my favorite summertime destinations. Having grown up in Rhode Island, I admit to being a tad biased and filled with my own childhood nostalgia. If you have a weekend to spend in Newport RI with kids, there is an endless amount of activities to choose from.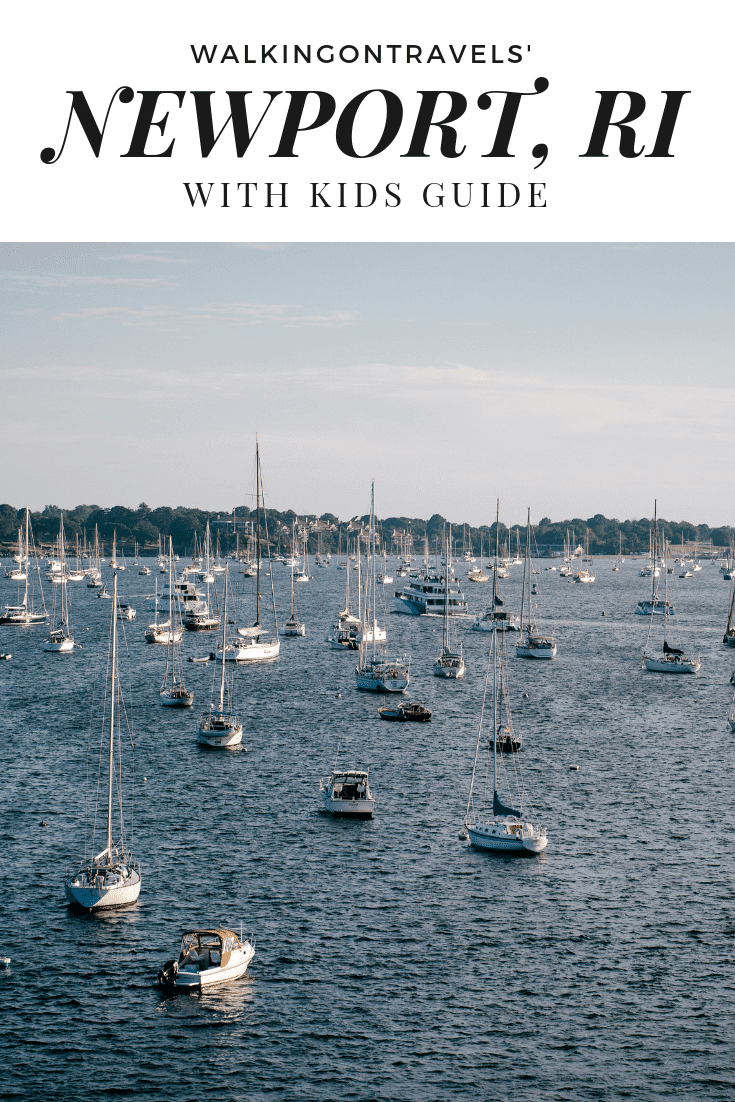 One of my favorite things about Newport is the constant stream of motion and activity. You can easily spend an hour watching the fisherman tend to their boats or the surfers down at Easton's 1st beach.
There is no end to the way to explore the city of Newport.

Newport Beaches
If you want a leisure-filled weekend, lounging on one of the many Newport and Middletown beaches is a nice way to start.
Easton Beach, locally referred to as "1st Beach", is located right off the heart of downtown Newport and the famous Cliff Walk. Easton's beach has an old carousel, Save The Bay Exploration Center and Aquarium, and an impressive snack bar serving up local seafood. You can rent beach umbrellas and chairs, and there are showers and restrooms located on the premise.
In addition, a mile down the road is Sachuest Beach, technically in Middletown, RI. We experienced this stunning beach firsthand during our recent trip.
Sachuest is larger and the waves are a bit stronger than at Easton beach, but we loved it even with little ones. There are restrooms and a small snack bar located at this beach as well.
Gooseberry is a small cove-side beach perfect for small children and those uninterested in chasing the waves. There are portable restrooms and a small snack bar located nearby.
Most of the beaches in and around Newport charge between $10-$20 for parking and beach access is free. Surf rental trucks can be found parked along the beaches with larger waves.

What To See In Newport RI with Kids
Mansion Tours
We've traveled to Newport from the New York area since my daughter was really young and we've since welcomed our son into the family. I will tell you from firsthand experience that small children will not enjoy the famous (and fabulous) Newport Mansions. The houses are breathtaking, and absolutely shouldn't be missed for families with older children.
To be clear, you can tour the mansions at your own pace, but there are perimeters set within many of the rooms to separate visitors from touching various things. Restraining a little one from crossing a roped barrier time and time again might just ruin your entire experience. Trust me on this one, wait a few years and come back.

SWEET BERRY FARM
For a break from the beach and downtown Newport, trek 20 minutes to Sweet Berry Farm in Middletown. The farm offers seasonal pick-your-own options. It was blueberries and wild flowers during our visit in early August. Furthermore, you can shop a small selection of artisanal groceries and local produce, and bakery items galore.
My kids, ages five and two, absolutely loved the farm and taking part in the harvesting/eating process. The blueberries were delicious and our visit was definitely a highlight of our trip to Newport.
Still More to See…
Some additional activities to check out if you spend the weekend in Newport RI with kids would be the International Tennis Hall of Fame (better suited for older children) or The Save The Bay Exploration Center and Aquarium. If they're in season, try to catch a Newport Gulls baseball game at the stadium downtown or walk along Bowen's Wharf to visit the shops.

OUR FAVORITE NEWPORT RI RESTAURANTS
Newport has a great food scene, from fine dining restaurants to lobster shacks, it has it all. Having grown up in Rhode Island and spent many summers in Newport, ordering seafood is a bit of a no brainer. Fish and chips, lobster rolls, clam cakes and chowder are just a few of the native delicacies found on menus throughout the city. I think you'll find dining in Newport RI with kids quite easy!
The Mooring Seafood Kitchen & Bar, 1 Sayers Wharf, Newport RI
The Mooring embodies classic downtown Newport. The fish and chips, native oysters, and delicious cocktails are a must. They have a nice children's menu with very generous portions.
Perro Salado, 19 Charles Street, Newport RI
Fresh, authentic, and off the downtown Newport "beaten path". The margaritas are divine, the staff is super friendly, but snag a reservation for dinner to avoid the wait.
Flo's Clam Shack, 4 Wave Ave, Middletown RI
For no frills, classic Rhode Island fried seafood, Flo's Clam Shack is a must. Also, the lines can be quite long and the restaurant has a dive bar-type vibe, but the food is delicious.
Pasta Beach Newport, 140 Bellevue Ave, Newport RI
Pasta, salads, pizza and super friendly family, the perfect spot when you need a break from seafood for a meal.
Scarpetta Newport, 1 Goat Island, Newport RI
For a taste of Manhattan dining in Newport, Scarpetta serves upscale American dishes (try the lobster tagliatelle) and delicious cocktails at the new Gurney's Hotel location.