Stepping out of the cab onto a blanket of brilliant orange flamboyant blossoms, I was greeted by two beautiful Mayan women with drinks in hand. I happily accepted the cool beverage after a long day of flying and surveyed my surroundings. I looked up at the ancient, no longer crumbling, Hacienda Petac located just outside of Merida, Mexico, a building that had long been a factory to process the major crop in the region—henequen. This would be my home for the next four days. Somehow it felt like a dream and I couldn't believe I was here, much less with five of my girlfriends, but I quickly fell under the hacienda's spell and daily rhythm. We were to be pampered, fed and loved by the people who ran the hacienda, and I would savor every moment of it.
Hacienda Petac is a 17th century estate that was in ruins after being abandoned in 1974, until the current owners bought the property in 2000. It took three and a half years to restore the hacienda into a private, luxury estate that could be rented out to travelers starting in 2004. The hacienda employs 24 people, including the incredibly warm and knowledgeable hacienda manager Colleen, an expat from the states who fell in love with Merida several years ago when her husband came down for business.
Packing List
Daily laundry service is provided with your stay, so you can pack as light as you want. A swimsuit, sunscreen and warm weather clothing should also be in the mix. We've created a handy Caribbean packing list that can cover all of your packing needs. Grab it and let us know if we missed anything!
What special items should you bring?
Cute skirts and dresses. Although there is no dress code, you may want to look a little nice (sundress, maxi dress, etc.) while you dine with your friends.
Pajamas
Swimsuit
Swim coverup
Sneakers (if you plan on hiking or explore)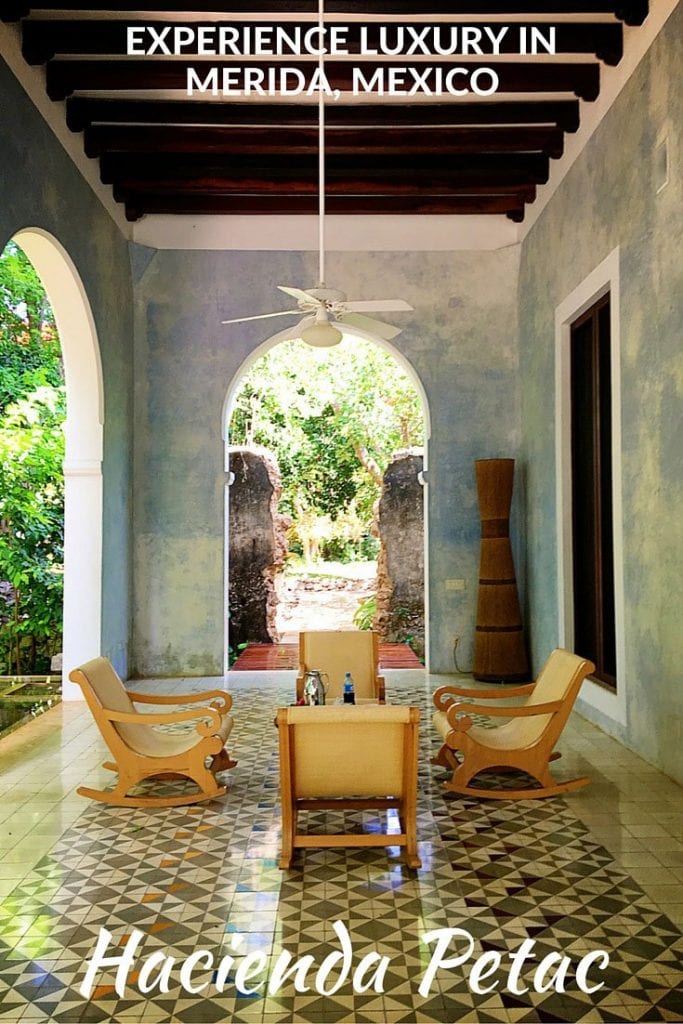 Within minutes of arrival, Colleen had one of the gentlemen working on the estate carry our bags to our rooms, while she gave us a tour. Out of all the rooms and buildings at Hacienda Petac, my blue room in the Casa Ramón was by far my favorite.
Rooms you will never want to leave
Casa Ramón is a two-bedroom building with a large living room that connects the two bedrooms together. The living room housed an 80-inch flat screen TV, where we could curl up on the sofa to watch movies at night. A well-stocked bar and a powder room was opposite the television, so friends didn't have to walk through our rooms to freshen up. The second room, belonging to one of my friend's, Andrea, housed a king-size bed, while I had two queen beds that were draped in fresh flowers for my arrival. I felt like a queen, and after a long month of travel and a conference the week before, a little royal treatment didn't go unnoticed.
Mornings you could find Andrea and I on our massive veranda, seated around a small rounded table where a tray of coffee appeared moments after we woke up. This was not the work of magical beings, but the local Mayan women taking care of us. Each night we would hang a small hand stitch "café, por favor" sign on our door knob, so the ladies would know if we wanted coffee for our room each morning. The veranda also sported a long table for working, dining or just playing a few games with friends.
Hacienda Petac Room amenities
Consistent air conditioning
Wi-fi
Good quality shampoo, conditioner, body gel, loofa mitt and a bar of soap
Bug spray
Lantern
Umbrella
Bottled water
Bathrobes
Daily laundry service (included in your stay)
Morning coffee service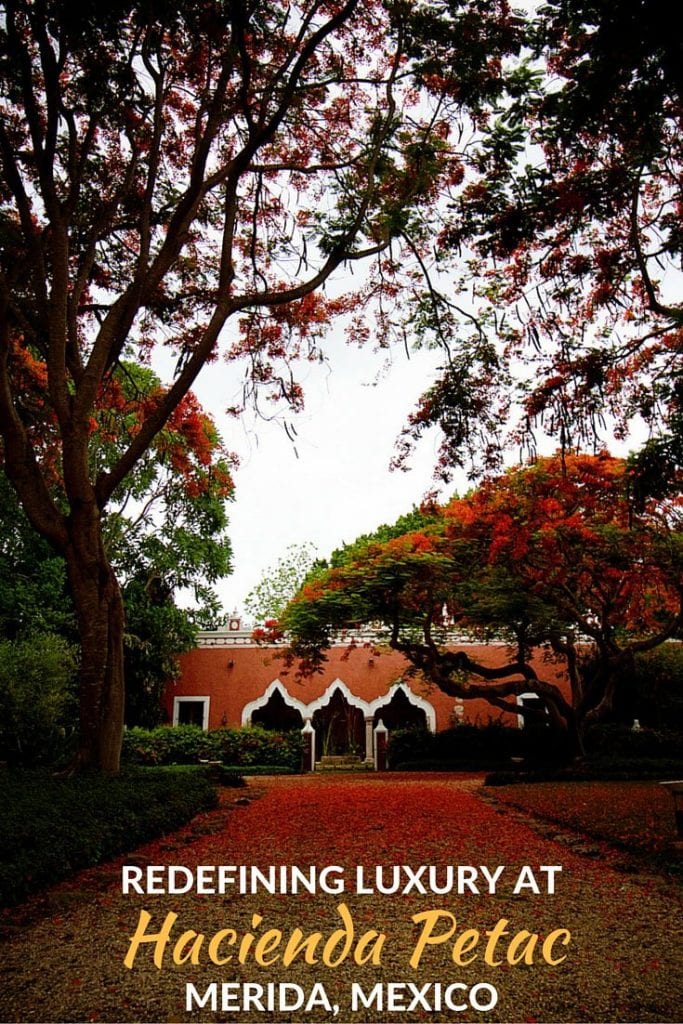 Have you ever had a dream about a relative that could cook well, and who loved to cook for you? This is what life is like at the Hacienda Petac. Breakfast, lunch, dinner and snacks were handmade by Mayan women in the Hacienda kitchen. I want to say it was like going to your grandmother's house and being overindulged, but these ladies were too young to be my grandma (and my grandma sure doesn't make Mexican food like this!), so I'll call them my favorite aunts.
Dine like your favorite aunt is cooking every meal
During a cooking class with Saoccorro (one of the cooks in the kitchen) we got the chance to see all the work that goes into each and every one of our meals. So many fresh, local ingredients and flavors were blended together for each meal. All six of us got our hands dirty as Paige peeled sour oranges, Katie and Kara chopped cabbage, Katja sliced onions, Andrea diced tomatoes, and I chopped all the veggies for guacamole. We learned to make Panochos (black beans stuffed in tortillas and then fried, with chicken, cucumber, orange soaked onions and avocado on top) that day in class, but my favorite dish has to be the Cochonitas Pidil (corn tortillas stuffed with pig roasted in the ground with sour orange soaked onions and black beans on top.). Lunch and dinner generally included soup to start (sopa de tortilla and sopa de lima being the best in my opinion), followed up by a meat dish. Naturally wine (vino blanco o vino tinto) was served with every meal.
No meal was ever the same, including breakfast. Ever morning a different Mexican specialty was enjoyed, starting with fresh fruit, juice and coffee. Homemade banana and multigrain bread was served, as well as dishes like huevos rancheros, and a mint and egg omelet that at first I baulked at, but ended up being one of my favorite breakfast dishes.
Dessert could never be left out, and my favorite guanabana (soursop fruit) sorbet appeared one night, much to my delight. Sorbets, the best flan you have ever tasted, and other sweet delights graced our palates every evening. It was not easy to stick to a diet while staying at the Hacienda, not that you would ever dream of trying to count your calories while there. Plus, there was a small gym in the spa, so if you really needed to, you could run on the treadmill or lift a few weights.
Although the food was impressive, the table held its own, being decorated with intricate napkin folds and flower displays. No two meals looked alike when we walked up to the table. Most of the flowers were found on the property, with a few, like the white lilies, being brought in by a florist. No detail was overlooked, and the ladies who set up the tables made it look so effortless, but I knew it would take me hours to recreate. We all begged the hacienda manager Colleen to put out a book of recipes and table settings so we could recreate our meals at home. It's in the thought process right now, but the second it is published I will be the first to buy it.

DIETARY RESTRICTIONS AND ALLERGIES
Please let the Hacienda know if you have allergies before you arrive. They can easily make a menu that avoids these items. Also, let the Hacienda know if you do not eat meat or any other foods for dietary or religious reasons.
Alcohol is not included in your stay, but will be stocked based on your preferences with a 15% mark up. All bartending services are included.
It wasn't hard to unwind and get into vacation mode at Hacienda Petac. The onsite spa offered massages, facials, manicures, pedicures, and body wraps at a very reasonable price. There is one woman who does all of the spa treatments (facials, massages and wraps) and was trained at a local school run by a European instructor. Her techniques are of the highest quality and better than you will find at most spas in the States.
Relax like your kids aren't with you
The pool was always the perfect temperature, large enough to do a few short laps, and just deep enough that if your kids are with you they can do multiple cannon balls. I regularly lounged in the hammocks over the pool, while sipping a fresh mojito and catching up with my friends as they sipped their margaritas. Staff members regularly check in to make sure we didn't need any water, more cocktails or some of their fresh guacamole. Clean towels were always available, and the staff was quick to cover up all of the lounge chairs when we weren't using them or if rain started to fall so that when the rain stopped, the lounge chairs would be clean and dry when we returned to the pool. If the rain did drive us indoors, we could head to the game room to play pool, ping pong or any number of board games. Our favorite pastime was simply sitting in one of the many seating areas under the shelter of a roof, chatting and eating more guacamole.
Sample of onsite activities that can be arranged
Yoga
Salsa Dancing
Cocktail making class
Cooking class
Hacienda Petac wants to welcome you
A book could be written about a stay at Hacienda Petac, but sometimes you just have to experience a place to really get a feel for it. This was one of the most stunning and luxurious properties I have ever stayed at, but don't be fooled, the price is actually quite affordable for what you get, and this is not a snobby sort of place. At time of publishing, you could rent the hacienda for a week (complete with meals, laundry, staff, and all sorts of extras) for 14 people for $14,000. If you got 14 of your closest friends together that is only $1000 per person, or $2000 per couple.
Included in your stay:
One transfer to and from airport (if there are multiple people coming in on separate flights, a taxi driver can be scheduled, but you will need to pay the taxi driver directly)
Exclusive use of the entire property
One Merida City Tour
One Evening of Music with Los Tres Yucatecos
One Cooking Lesson from Menu
All meals and non-alcoholic beverages
Daily Laundry/Nightly Turn Down
Use of the gym
Check the website for smaller group prices, including a four-day girlfriend getaway rate that includes alcohol and two-spa treatments for $1200 each.
Remember: This is not a shared property. When you come down with your friends and family, you get the entire estate to yourselves. No strangers. No rude people at the pool that you don't know.

BRING YOUR KIDS TO HACIENDA PETAC!
Children are welcomed at the Hacienda with open arms. Families with children that don't want to share their parents' room should ask to stay in Casa Ramón, as the rooms are connected through a large living room, which gives parents their own room, but keeps younger kids and teens from getting into too much trouble on their own. Although this is the only building with connecting rooms, other buildings have rooms side by side that share a porch, which is perfect for parents with teens, or grandparents who are along for the trip.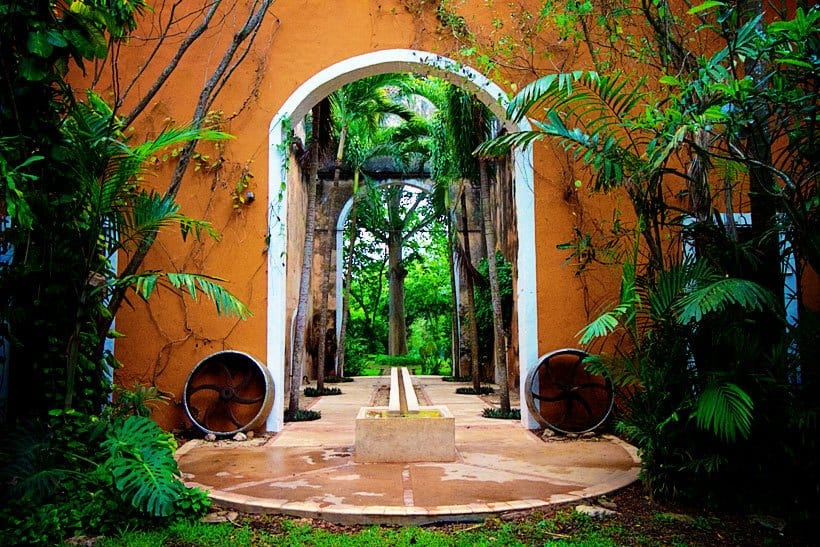 Sampling of family activities
Piñatas (make your own piñata and smash it open the last night)
Junior Archaeologists' Treasure Hunt (Colleen creates an exciting scavenger hunt using an "old" map of the property for kids to explore and find treasure)
Games
Ping pong and Billiards
Swimming Pool
Excursions with Ralf from Lawson's Original Yucatan Excursions

Uxmal Mayan Ruins
Cenote caves
Merida City Tour

Kids Cooking classes
Smoothie making
Local market scavenger hunt
Photogram class: Children collect leaves, flower petals, or other found articles to design permanent photograms on special sun-sensitive paper. Photograms can be colored afterwards and are the perfect souvenir.

After four days of sun, exploration and more food than I thought I could eat in a weekend, we headed back to the airport in Merida with a few tears in our eyes. I loved seeing my friends; we had bonded again over good food, drinks, exploring a sliver of the Yucatan Peninsula, and being pampered by the incredible Hacienda Petac staff (I mean seriously. Someone else did my laundry, cooked and did the dishes for four days!). The only thing that could tear me away were my boys waiting for their mom to come back home. I hugged Colleen, thanking her for her generosity of spirit and knowledge of the area as she taught us more about the people and city of Merida than we could get on most guided tours. We all agreed it had been a special weekend, and started planning our return the following year immediately. After all, when your friends are spread across the country (two even flew in from Mexico City and Costa Rica!), it's not hard to find excuses to come back to a gorgeous place to reconnect in style.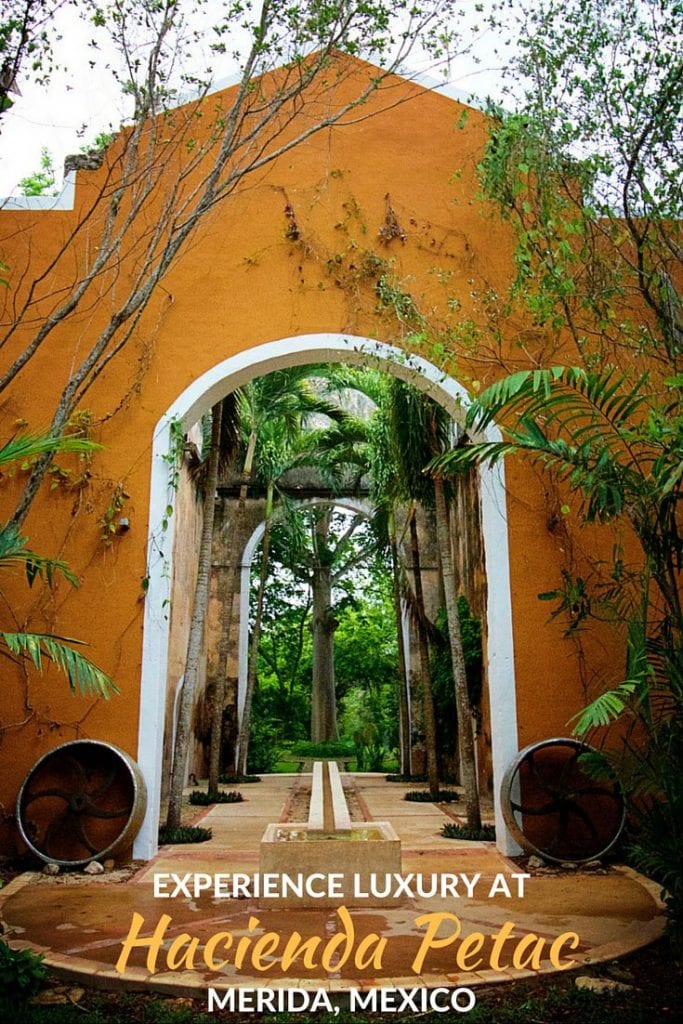 Many thanks to Hacienda Petac for providing a complimentary three night stay for the purposes of review. As always, my opinions are my own. When they aren't you will be the first to know.