Adrenaline mixed with water always seems like a good idea, whether you are traveling with your kids or not. At the Damajagua 27 Waterfalls outside of Puerto Plata, you will find both, although be prepared to only experience 12 of the 27 waterfalls, depending on how much time you have and how adventurous you are feeling that day.

WHAT ARE THE DAMAJAGUA 27 WATERFALLS
Locals have known about the 27 Charcos (waterfalls) along the Rio Damajagua for decades, if not centuries. Water has been pouring through the rocks, carving its way through the terrain for millennia.
Tourists didn't start showing up until 1994. Once word got out, a new industry appeared, providing jobs for the local men and women in the area.
In 1998, the Association of Guides of Rio Damajagua was formed, and tourists have been pouring in by the thousands every year (average about 50,000 per year visit the 27 Charcos). Although your guides will joke and kid with you (and even show you a few daring stunts along the way that you are not allowed to do), they are all trained in First Aid and CPR.
All visitors MUST have a guide to visit the waterfalls, no matter how experienced you may be.

Booking a 27 Waterfalls tour
While cruising to the Dominican Republic, we booked an excursion with Iguana Mamas. This was not an excursion offered onboard. You will need to book it on your own.
Normally you will book the 12-waterfall tour, but if the conditions and timing are right that day, you can upgrade to the 27 waterfalls for $20 more.
Sadly we couldn't upgrade to the 27-waterfall tour during our visit as we had guests from a larger Carnival ship on the tour with us who had to be back to port by 4:30pm.
We still had a great time, and trekking 12 waterfalls was much more of a workout than you would imagine.
What is provided by Iguana Mamas?
Park Entrance Fee
Transportation from Amber Cove to the Damajagua 27 Waterfalls
Life vest
Helmet
Snacks, water, Coca Cola, Sprite and Rum (for Cuba Libres on the ride back to port)
Lunch after your waterfall hike

Experiencing the Damajagua 27 Waterfalls
Your tour will start out with a one-mile hike, which is mostly uphill. Children eight years old and up are allowed to do the hike, while younger kids can head to Waterfall One with an adult family member and a guide.
We saw one family break off from grandmom and their three year old so they could hike the trail. The guide with the grandmother carried the three year old to the first waterfall where we would later meet up.
The hike is hot and sweaty, but you are encouraged to bring a disposable water bottle up with you, which is provided by Iguana Mamas.
As you get closer to Waterfall 12, you begin to hear the hoots and laughter of other travelers experiencing the wonder of the waterfalls. Finally, FINALLY, the trees open up and you see the Damajagua River below you.
A steep walk down wooden steps lands you at the top of Waterfall 12.
One of my biggest worries before the 27 Waterfalls tour was whether my adrenaline would kick in and fail me. I've been known to cry when I zip line. I don't mean to, or even want to, but my body can't seem to metabolize fast, uncontrolled speeds, which throws me into a panic attack and the tears start to fall.
I didn't think this would happen at the waterfalls. When water is involved, I do pretty well.
So, to put your mind at ease, let me tell you this- I had more of a panicked moment on the simple water slide at Amber Cove that all of the little kids were going down than I did at the waterfalls.

SAFETY FIRST
You MUST wear a life vest and helmet. You will not be able to take the tour without it. All of the guides have life vests and helmets on as well.
Listen to the guide. Do not run off and try to conquer one of the waterfalls on your own, or find an alternate route when you have to cross a bridge or use a ladder. The water levels change depending on the season and the amount of rain the area has had. Although the water may look deep enough to jump into, it could only be three feet of water down below.
The guides will give you options on some of the waterfalls—jump, slide or walk down. Do what you feel comfortable with and do not be ashamed if you have to pick the easier option. You know your comfort level and capability better than anyone else.
There are no critters swimming around to bite you in the water at the waterfalls. The water is not clear; it is a cool murky blue thanks to the mineral deposits coming off of the local rocks.
Water depths can be misleading, so try to stand whenever you aren't sure. More often than not the water was waist deep for me, and I'm only five foot, seven inches.
Throughout the 12 waterfalls you will slide, jump and swim through smooth rock formations that have been carved out over centuries of water passing through.
Definitely bring your water camera, as you can take photos in caves, with your head in a waterfall, and swimming in the chalky blue water.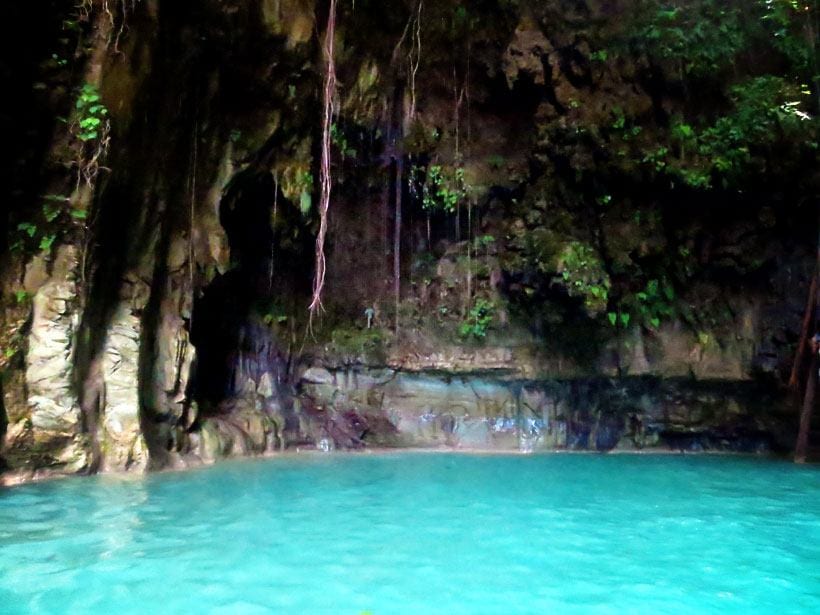 The final waterfall, Waterfall One, is the best for most adventure seekers. You jump about eight to ten feet down into the water.
If you are a bit nervous you can take the steps (the guides do call it the "chicken way" though) or you can take a step or two down on the rock so you aren't jumping as high. You swim to shore, and you are done.
You will need to hike about 10-15 minutes back to the park entrance, but you get to cool off your feet in the river every few minutes, and it is all flat or downhill, which makes it a bit more enjoyable than the sweaty walk up.
End your trip with a few Cuba Libres (rum and coke for the adults), Coca Cola or water, plus a lunch buffet with some of the best-grilled chicken you will experience on your visit.
The park entrance has a little shop where you can load up on the local vanilla, snacks, and summer gear (sarongs, hats, bracelets, etc.), which is cheaper than the cruise ships and port stores charge you.
On the drive to and from the waterfalls, make sure you ask your guide questions about the waterfalls, Puerto Plata, the north coast of the Dominican Republic, and about their families. They are happy to chat, learn more about you and tell you more about themselves.
However, don't be surprised when you fall asleep on the 25-minute bus ride back to Amber Cove. You've had a long hot day, and you just conquered 12 of the 27 waterfalls. You deserve a glass of wine and a snooze when you get back.

WHAT TO WEAR
Water-friendly clothing. Bathing suit or t-shirt and shorts
Women must wear shorts of some kind. Your bathing suit will ride up and you will want to protect your upper thighs from any rough patches on the rocks.
Water shoes or old tennis shoes. You are hiking and stepping on rocks. You cannot do this barefoot at all. The park does have shoes you can rent, but they aren't very good. We love these Cudas water shoes for cheap, comfy water shoes that made the trip and back.
Sunscreen and bug spray. Yes, the bug spray will probably wash off in the water, but you will want it for the hike up. A sport sunscreen is preferred, along with a DEET bug spray. If you have sensitive skin, Blue Lizard Australian Sunscreen is great for adults and kids.
Many thanks to Iguana Mamas for the complimentary tour for the purposes of review. As always, my opinions are my own. When they aren't you will be the first to know.