Elk, bison, prairie dogs and fish. One of these things I never thought I'd be actively looking for in the wild. Can you guess which one it is? If you said fish, you would be correct. But, Devils Lake, ND is known for its fishing, so much so that serious dudes drag their families up there every summer, and even in the winter months for ice fishing.
Now, I am no fisherwoman. I love to eat fish. Hand me a plate of sushi, fish tacos or a nice fillet, and I am very happy. Tell me I have to put a worm on a hook and sit in a boat for hours waiting for a wiggling, scaly fish to bite… no thank you.
Naturally, that's exactly what I did when I took my youngest son to North Dakota. What can I say, I'm a sucker for that kid and what he wants to do on our trips.
Learning to fish in Devils Lake ND
When North Dakota asked us to explore the region and check out the fishing, he was the first to say yes. For my son, I would do it. What I didn't realize was that I would become crazy competitive with myself and need to hook that fish before we could go back to the dock, despite the fact that it was cold and windy; not ideal conditions on the lake for fishing.
No matter, we still had a blast fishing Devils Lake, but it was more about the journey getting up there than just sitting around on a boat. As most trips are, this was filled with surprises, wine, a giant buffalo, and of course, bacon. So let's get going.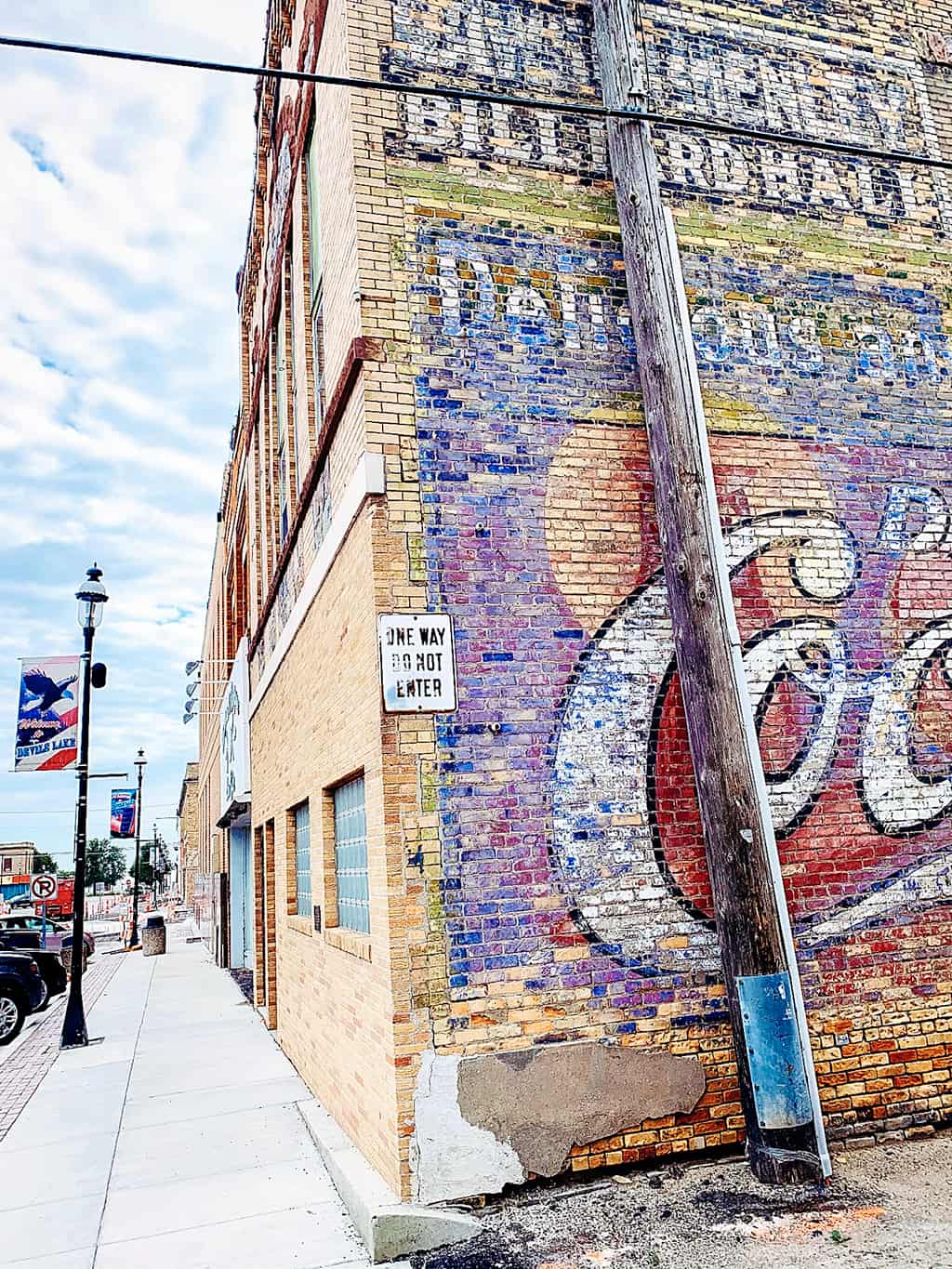 Bismarck to Devils Lake North Dakota Road Trip
It's time to hit the road. Whether you have spent a few days in Bismarck or you just flew in, you better be ready to drive north into the prairie lands and lake region of North Dakota. We are getting up close with bison, elk, birds and a whole lot of fish. Even if you never thought you would try fishing, if you are ever going to do it, especially for your kids who have been begging to give it a go, Devils Lake, ND is where you do it. But it's a three hour drive from Bismarck to Devils Lake. Naturally we will need a few rest stops to get us there.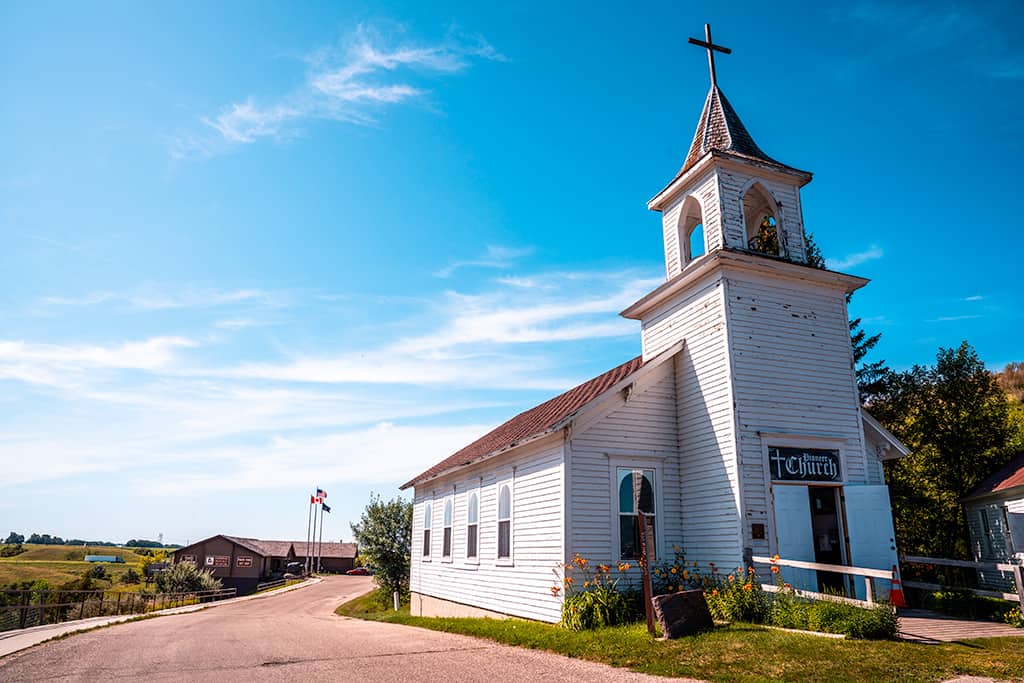 Jamestown, North Dakota
Jamestown is located about an hour and a half east of Bismarck on Highway 94. The James River winds its way around the town meeting up with the Pipestem Creek, creating little waterways for local residents. North of downtown you will find the Jamestown Reservoir with plenty of hiking, biking, fishing, swimming and even a frisbee golf course for the entire family to enjoy. Students from the University of Jamestown certainly take advantage of this man-made recreation zone whenever they have a little free time. You might not have time to swim, so you should head to Jamestown's main attraction
World's Largest Buffalo Monument
Who doesn't love a buffalo? Well, how about the world's largest bison. Every road trip needs a largest/greatest/tallest/biggest stop along the route, and this is yours. Dubbed Dakota Thunder, this 26-foot, 60-ton concrete buffalo can't be missed from Highway 94.
Don't drive by though. Stop and take a photo with the behemoth. Try to arrive earlier in the morning or late in the day for the best light with him. Your kids won't mind a selfie or two for the Christmas card. In the field just beyond, you can see Dakota Thunder's brethren in the form of a live bison herd roaming around the grasslands.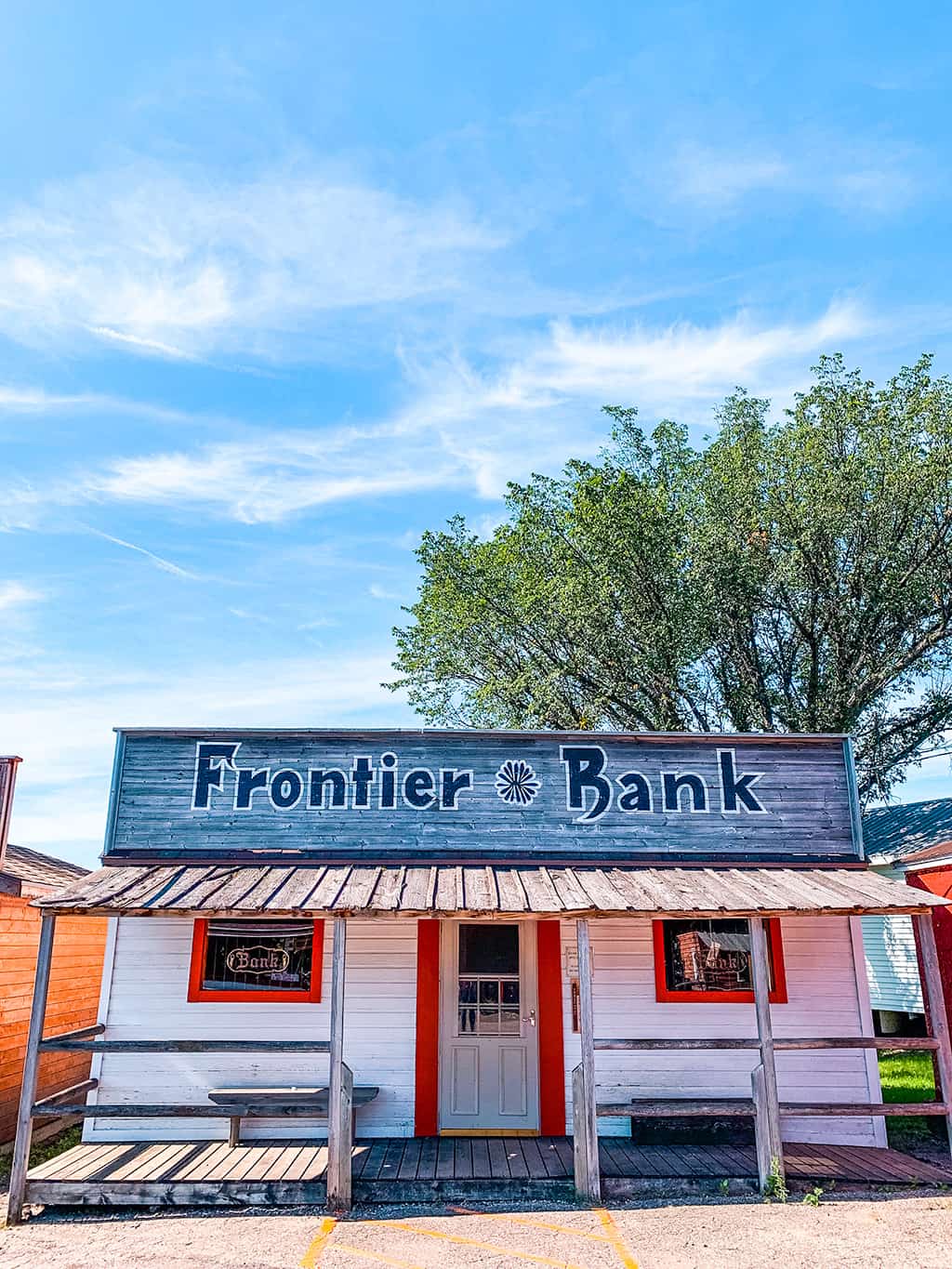 Frontier Village
Kids will love running around Frontier Village, as they stretch their legs after being in the car for a few hours. Parents be warned– there is an active parking lot and street running through town, so tell your kids to stick to the sides. There are several play spaces, including a stage couch and playground for kids to climb around. Pony rides are offered daily, and many of the buildings are open to wander. A few have been converted into shops, with local history guides.
One notable figure who frequented Jamestown was author Louis L'Amour. His recreated writer's shack is part of Frontier Village and comes with a lovely gentleman who is happy to tell you stories about the writer, his books and fun facts about the area.
My dad is a huge fan of L'Amour, so naturally I had to take a few photos with all of the author's books for him. Even better, the World's Largest Buffalo Monument is on Louis L'Amour Lane. You better believe my son and I sent that photo back to grandpa.
National Buffalo Museum
Just around the corner from Frontier Village and the World's Largest Buffalo Monument, you will find the National Buffalo Museum in a 6000-square-foot log building. As the exhibits show, the buffalo has a special place in American history, although not always a happy one.
Buffalo, more accurately known as bison, used to graze across the plains of North Dakota and much of NOrth America, feeding and clothing the Native America people and early settlers. As more humans, particularly white settlers, moved in, hunting the bison to near extinction, the bison numbers went from millions to dozens across the continent.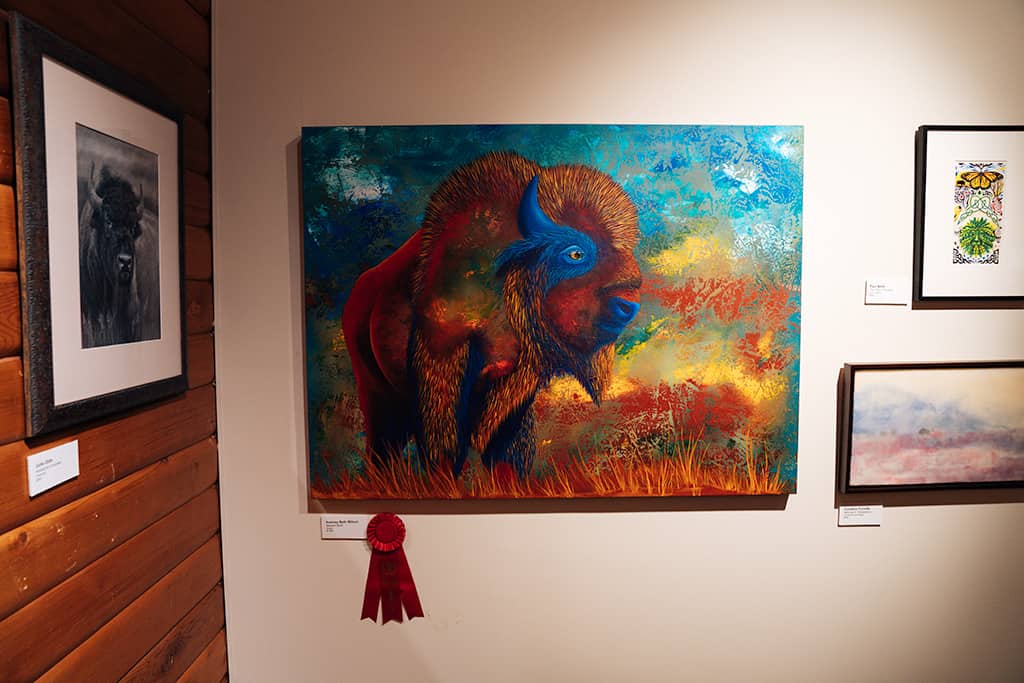 NATIONAL BUFFALO MUSEUM EXhibits
Exhibits focus on the Native American's relationship with the bison, how close the bison came to extinction and how the bison numbers were brought back up. In 2016, President Obama named the bison the official mammal of the United States in the National Bison Legacy Act. You can even find bison at the National Zoo in Washington DC once again.
There are still 25-30 bison munching grass in the 200 acres behind the National Buffalo Museum. You can sit on the back deck of the museum watching them wander by. If the herd is a bit farther away, you can view them through the museum binoculars. Since your kids are probably just like mine, even if the bison are right below you, your kids will still use those binoculars.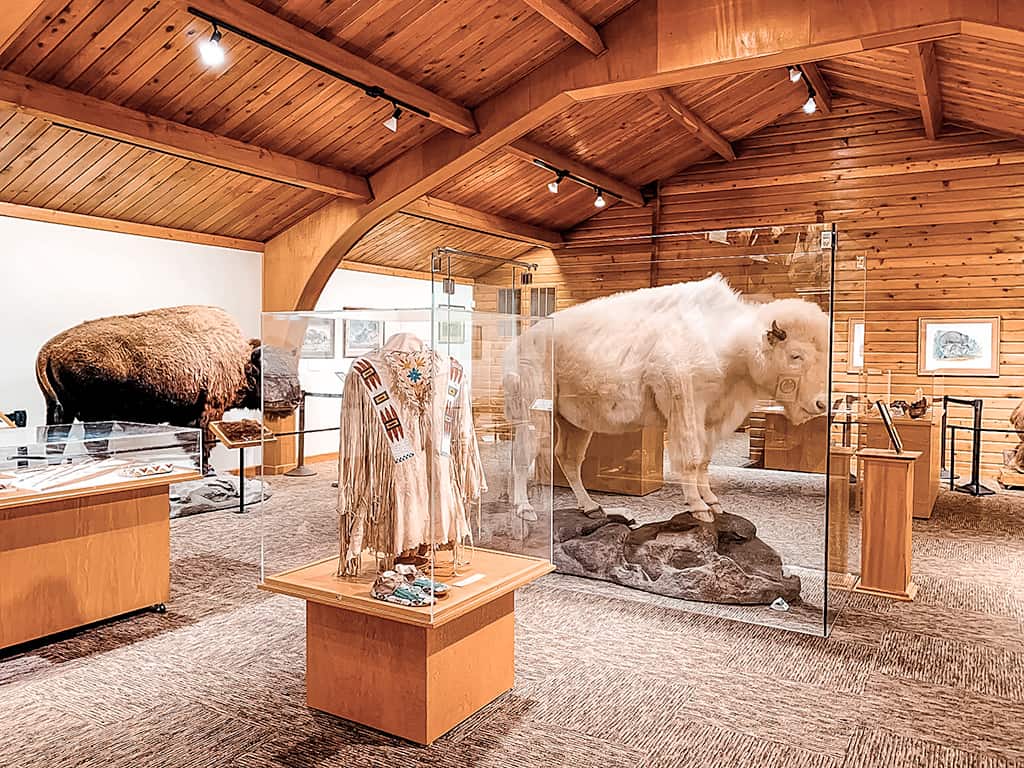 White Cloud in Jamestown ND
The most famous residence to ever wander the museum was White Cloud, a rare albino buffalo. Although she passed away of old age in 2016, she is on display inside for all to see and learn about thanks to taxidermy.
White Cloud inspired the town of Jamestown through White Cloud Days, parades, special Native American events, and more than 3 million people who came through town to see her during her 20 year life. She went on to have several calves, including Dakota Miracle, another white bison assumed to be an albino, who roamed the fields until June 2019 when he passed away.
During our visit, there was a beautiful art show on display in a few of the rooms. Most were paintings and drawings depicting bison in various pursuits and natural backgrounds. Many pieces were for sale, and the prices were actually within reach for the average traveler. If the exhibit is not on display during your visit, make sure you hit the gift shop. Not everything is bison inspired, but there are loads of goodies to stock up on, especially if you need more entertainment for your road trip.
Carrington North Dakota
It's time to head north out of Jamestown and get off the main highway through North Dakota. As you drive up Route 52, you may think you should only stop for gas in Carrington, ND. Yes, you should definitely fill up the tank, as it is one of the few places you can grab gas along the way to Devils Lake. However, there is a hidden gem lurking just outside of town in Foster County for those living in Carrington, or traveling through the area.
Dakota Sun Gardens and Winery
Bruce and Merleen Gussiaas live about 10 minutes out of Carrington, ND, on land that Bruce's family settled back in 1883. That's before North Dakota became a state in 1889. After selling off their bison herd up north, and a few other twists and turns that got them there, Bruce and Merleen started distributing the fruit wine they had been making for themselves, as well as offering garden tours.
Merleen had started building out her garden, and never really stopped. Bruce began to add sculptural elements, grabbing rusted, cut out sheets from farming equipment companies that created a beautiful pattern. He then hung them up, creating a curtain in the back of the garden. More ideas grew from old farm parts that were salvaged. Some pieces have since been commissioned, but all tie back to the rustic garden theme.
Wines of Dakota Sun Gardens
As for the wine, Bruce is producing 35+ varietals these days, many of which are winning awards at an international level. My favorites? The Pear wine and Aronia Berry wine. Aronia Berry is said to be the next superfood, so I should drink more, right?
Best of all, since these are not grape wines, those of us suffering from migraines and can't sip red wine, can have many of the red varieties because they aren't grapes. No red grape microbials (or tannins, no one is 100% sure) here to trigger those nasty headaches that have me throwing up for 24-hours (too much information? It's just the truth of what migraine patients suffer).
Things to do in Devils Lake
Now that your car (not you) is loaded up with fruit wines, you can keep heading north into one of the prettiest parts of the state. As you might have already figured out, Devils Lake, ND is all about fish. Everything revolves around fish in this lake region. At first, I wasn't really sure what to do with this though.
I'm used to visiting places with tons of things to do, especially on a lake. Every summer we sit at a cabin in the woods right on a lake. We swim, kayak, watch water skiers, pontoon boats, jet skis, and the sunset dip below the mountains. Ice cream is always involved, as are s'mores.
A new lake experience in North Dakota
Devils Lake was a very different experience. Boats lined the lakefront at Woodland Resort where we were staying. The resort didn't get the beach front view, the boats and boat ramps got it. There were no trees, just sand and gravel. Lodge rooms faced east for sunrise, not west for sunset. Cabins were tucked behind the lodge in the woods far from the water. RVs were parked close by. Everyone had a boat… except us.
Groups of men pulled up with boats in tow during the week (kids were already back in school). Families arrived on Friday night. Storms had been brewing for days, but rain never came. Everyone held their breath, keeping an eye on the windsocks at the marina, waiting for the wind to die down. A few brave kids dipped their tows into the water at the sandy beach, but none lasted very long. We were lucky, we'd gotten our fishing in early before the wind really picked up across the lake.
As a storm continued brewed down south, we found a few more things to do in Devils Lake, ND to keep us entertained off the water. There were some critters, besides fish, that we needed to find. It was also time for my son and I to go for a hike. He claims he doesn't like hiking, despite the fact that he loves it every time we do.
Devils Lake Fishing
If you do want to fish, book a Perch Guide through Woodland Resort (if you have kids, ask for Rich) to take you out on the lake. The guides can provide everything you need– boat, fishing poles, lines, tackle, and their expertise so you actually catch a fish.
Devils Lake has some of the best fishing in the Midwest, so this is an experience you don't want to miss. Perch and Walleye are the top catch of the day, and fairly easy to grab on a calm morning. When the wind is kicking up, it gets much trickier, but the kids will still have a great time no matter how big (or small) the fish.
Grahams Island State Park
Grahams Island State Park is one of the largest, and most popular state parks in North Dakota, especially if you like to camp and fish. For those who don't do either, you can still hike the two trails within the park and enjoy swimming along the rocky shore at the beach. In winter, they have some great cross country skiing.
If you do want to go hiking, follow the blue arrows from the Silvert Thompson Activity Center parking lot. The hiking map isn't very well marked, but you can figure it out as you go along. The grass is mowed where the trail leads. When the trail splits, just pick a direction. We always headed towards the lake to capture great views, which is considered the Silvert Thompson Loop. The other trail, the North Campground Loop, takes you around the campground and through more woodlands.
Make sure you pack your bug spray and sunscreen. Ticks are a problem in the state park, as is poison ivy. Know how to recognize poison ivy before you go into the park. Check for ticks as soon as you are off the trail and back at your car. Lyme disease is no joke, as we learned when my oldest had it a few years ago.
For those looking to do a spot of camping, but didn't bring their RV or tent, there are four cabins you can rent for under $100 at Grahams Island State Park. Each cabin can sleep up to five people, but you will need to bring all of your own linens.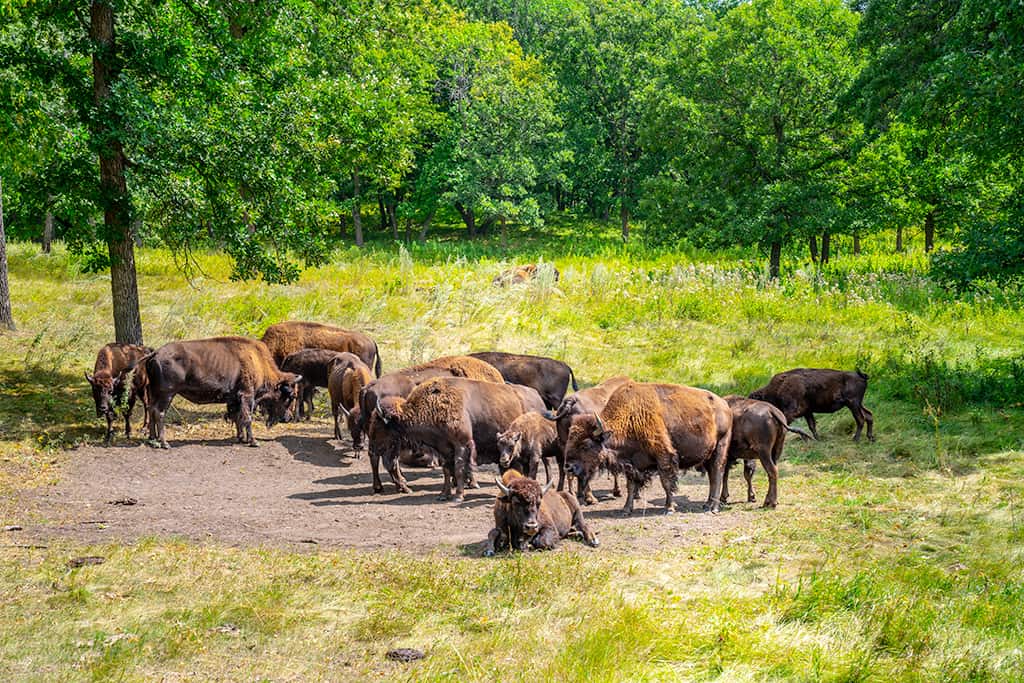 Sullys Hill National Game Preserve
Sullys Hill is the best Devils Lake attraction to visit if you aren't interested in fishing. President Theodore Roosevelt set up this game preserve in 1904 as a refuge for wild animals and birds. Nowadays you are most likely to see bison, elk and prairie dogs, along with migrating monarch butterflies and several species of birds. Every Saturday in the summer, the visitor center hosts educational programming aimed at children (but all are welcome) that focuses on a different aspect of the park or creature native to North Dakota.
Keep in mind that a large part of the park is viewed from your car. A herd of bison and elk are given free range and these animals should never be approached by humans. You are not to get out of your car, except in designated viewing areas, and only if animals are not near your vehicle. More than one person has been tossed by a bison at a national park, especially when baby bison are present. Female bison are very protective of their young, just like human mamas.
Prairie Dog Town is one of the highlights of the park, especially for kids (and excited moms). You can pull your car right up to the side of their grasslands. Stay in your car to watch these little critters eat grass, while their friends keep a look out for large predators. If you hear a high-pitched chirping, that means a predator is close by. Surprise– you might just be that predator they are warning their friends to watch out for today. Staying in your car will get you closer to these little critters as you will be quiet and well hidden.
If you need a good workout, climb up to Sullys Hill Overlook for a view of the valley and lakes below. It can get windy up there, but the climb is worth it. Enjoy a snack while you sit on the bench and your kids peer through the binoculars on the viewing platform.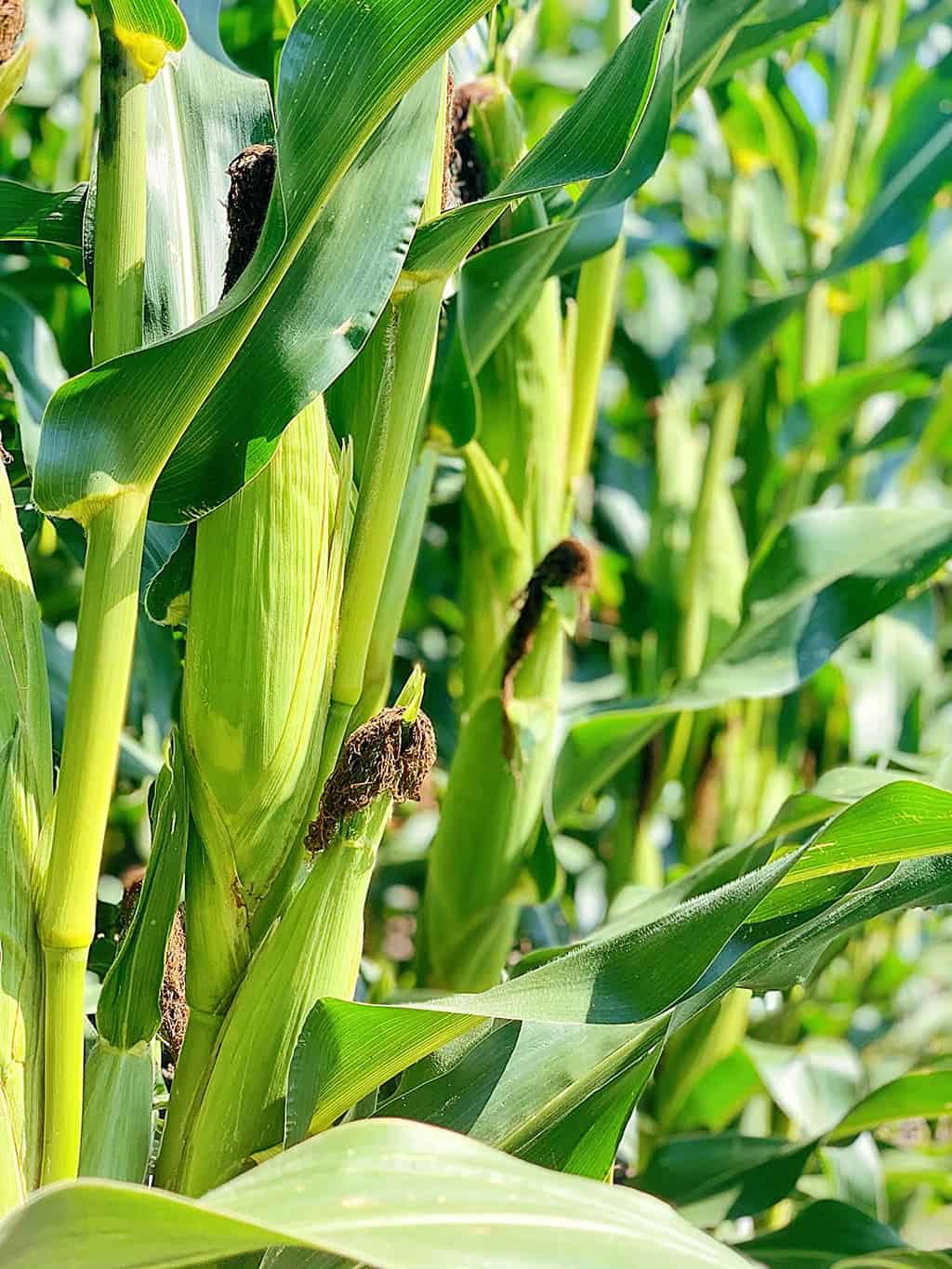 Devils Lake ND restaurants
Load up on groceries at Leevers (great organic food section) to save on food while staying at Woodland Resort. Each cabin has a full kitchen, so take advantage. You can also dive into the local food scene, visiting favorites like Cedar Inn Family Restaurant. Breakfast is served all day, which was definitely a favorite for our crew (bacon for dinner!). Other local favorites include:
Proz Lakeside at the Cove
Kneadful Things
Cedar Inn Family Restaurant
Devils Lake Donuts
Blue Hippo Frozen Yogurt
The View at Spirit Lake Casino
Annual Community Fish Fry & Corn Feed
If you happen to be in Devils Lake at the end of August, make sure you pop into town for the Devils Lake Annual Fish Fry and Corn Feed. This community gathering celebrates the local walleye and corn grown at the farms you will see all across the region. It is also a fantastic place to meet locals.
Just don't be late! They won't save you a plate if you show up even 30 minutes before it ends. We made that mistake.
Downtown Devils Lake ND
While Devils Lake is best known for its water pursuits, there is actually a downtown to explore. It's about three square blocks, with a few shops, restaurants and bars. For those taking Amtrak into town, you can't miss it. The best part of is the history behind the buildings you wander past. Twenty buildings are on the national register for their turn-of-the-century architecture, built between 1885 and 1914. If you pop into the alley ways between buildings, you will see remnants of the old advertisements, including Coco-Cola painted right on the walls.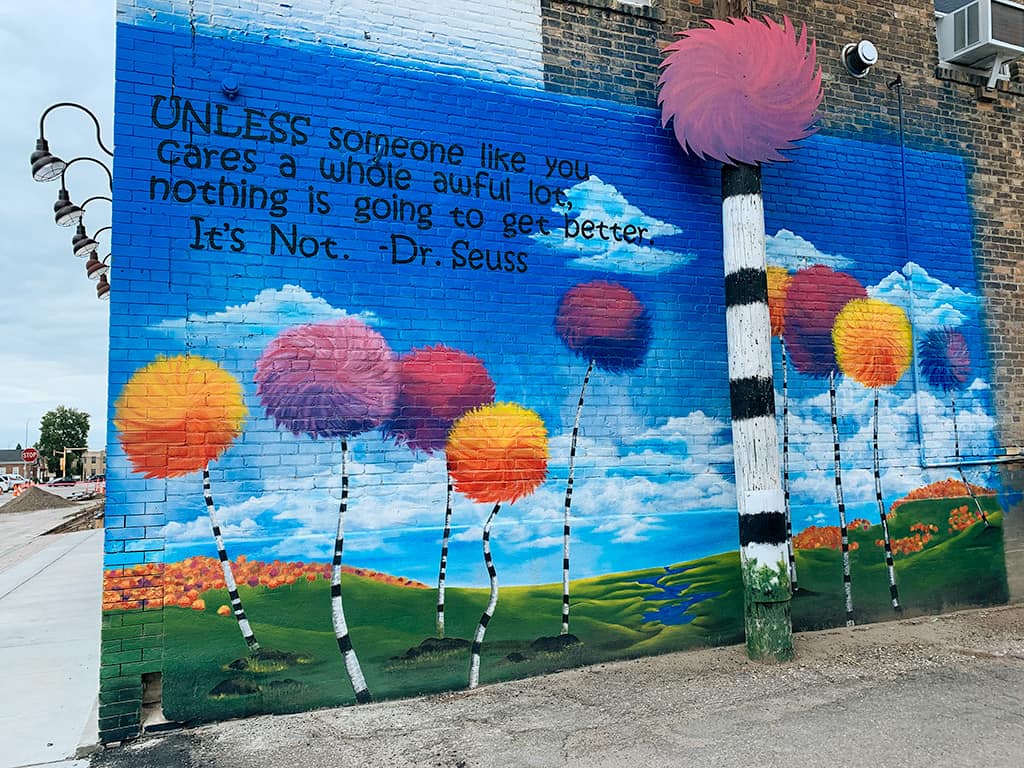 There is also one very special surprise for Dr. Seuss lovers in the form of a mural straight out of The Lorax. The Engen Law Firm, where the mural is placed, commissioned the truffula tree mural in Devils Lake, creating a bright spot that is popular throughout the community. Using the existing brick on the side of firm's building brick and an electrical pole, the artist brought this beloved eco-friendly tale to life. My son just stared in wonder as we read the well-worn phrase "unless someone like you cares a whole awful lot, nothing is going to get better. It's not."
Devils Lake Hotels
Devils Lake hotels tend to stick to the smaller, budget chain hotels and local motels, with one major exception. The Woodland Resort is the best spot for out-of-towners to camp out while exploring the area. The staff is ready to help, and it is right on the lake.
Woodland Resort
One of the largest Devils Lake hotels, as well as the most luxe you will find in the area. Families can rent cabins or opt to stay in the lodge for lake views. All cabins and lodge rooms come with a full kitchen, cable television, all linens (towels, sheets and blankets).
For moms needing a little more comfort, definitely book a room in the lodge with lake views. If you are traveling with a larger group, book a few cabins together so the kids can run around while you sit on the deck. You can all take advantage of the communal grills and firepits.
There is one restaurant on site, the Proz Lakeside at the Coze, which serves up your typical bar food (mostly fried, but a few salads) and drinks. You can easily get a taste of the local walleye caught right off the lake. The Bait Shop/Check In building has fresh coffee every morning and a limited supply of groceries if you run out of milk in the morning.
Camping in Devils Lake
If you are a fan of camping or have an RV to park, Devils Lake is ready for you. Grahams Island State Park has several campgrounds for tent camping, as well as RVs. There are also a few cabins to rent if you didn't bring your gear. Woodland Resort also has RV parking on site, and there are multiple RV parking sites in and around the town of Devils Lake. A simple search brings up:
Bayview Resort
Kenner's Campground
APRV Park
Black Tiger Bay Campground
Eagle Bend Henegar RV Park
Spirit Lake Casino & Resort
Getting to from Bismarck to Devils Lake
Fly into Bismarck. Stay a few days to enjoy the state parks, historic forts and great coffee. Rent a car (we love RentalCars.com), and start driving east on I-94, before heading north on Route 52. There are slightly faster routes, but they are more remote and you will want to make sure you have a full tank of gas. There is only one, maybe two, self-service pumps along the way.
If you are traveling through North Dakota in the summer months, don't skip a chance to see the sunflower fields in bloom. They are worth (carefully) pulling over to get a closer look.
This post is part of a paid partnership with North Dakota Tourism. As always, my opinions are my own. When they aren't, you will be the first to know. This post may contains affiliate links. If you make a purchase after clicking one of those links I will receive a small commission.