Flying over Bismarck North Dakota I was bewildered by the rivers and trees below. Wasn't this one of the plains states, filled with only corn and cows? While many do simply fly over the capital of North Dakota, there are plenty of reasons to get off the plane, or stop for a few days on your road trip across the Midwest.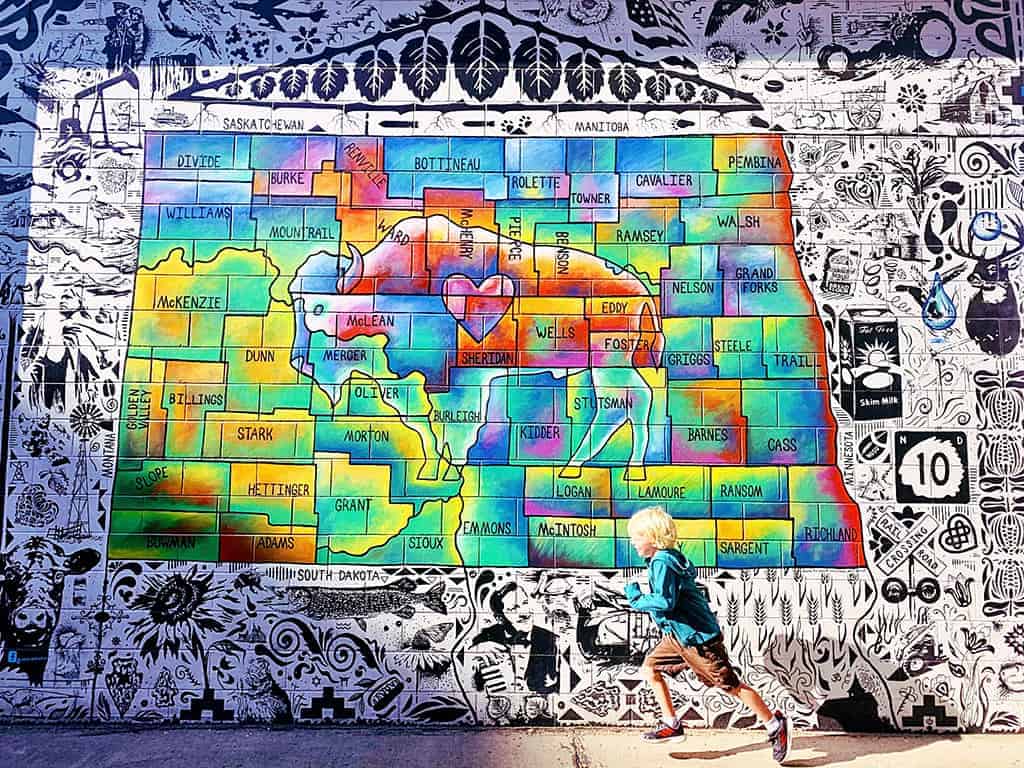 Want to track those planes? North Dakota residents use the Flightradar 24 app to see what planes are going where.
Don't race through North Dakota
I met one mother/daughter duo who were driving from Bozeman to Fargo to pick up her son from French Immersion camp, then onto Minneapolis where her husband would meet up with them. They would then go onto Chicago before landing back at home in Maryland just before school started.
This is a common tale.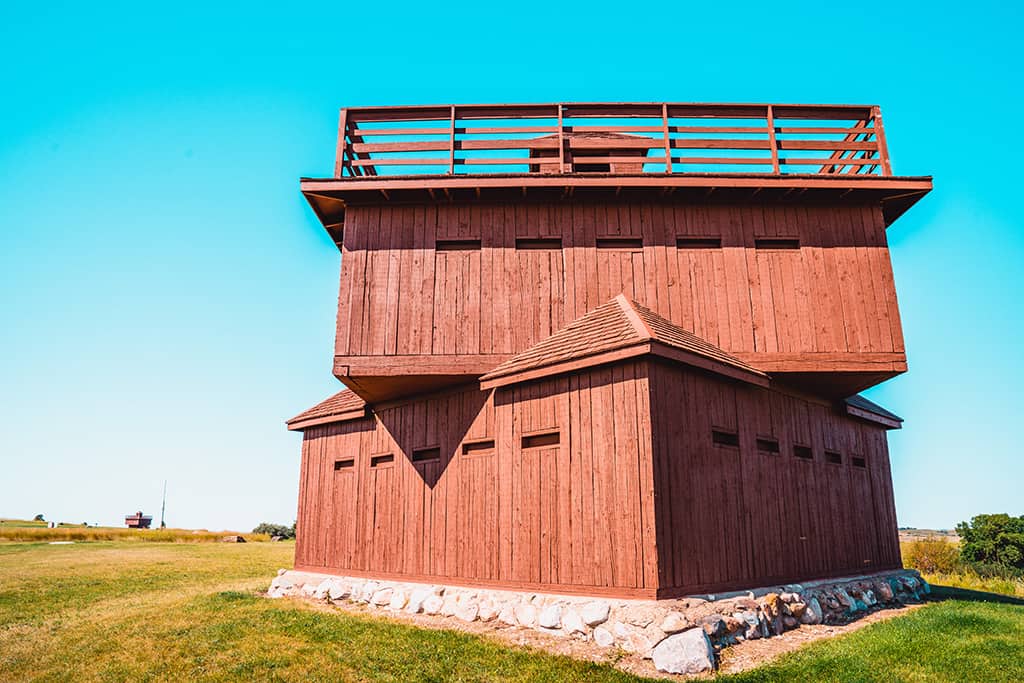 People wiz through town on their way to somewhere. The problem is, you miss out on a lot of the best stuff. While chatting with the mother, I ran through the list of things my son and I had done in under 24 hours, and still had yet to do. The mother was astounded. She was suddenly regretting their timeline.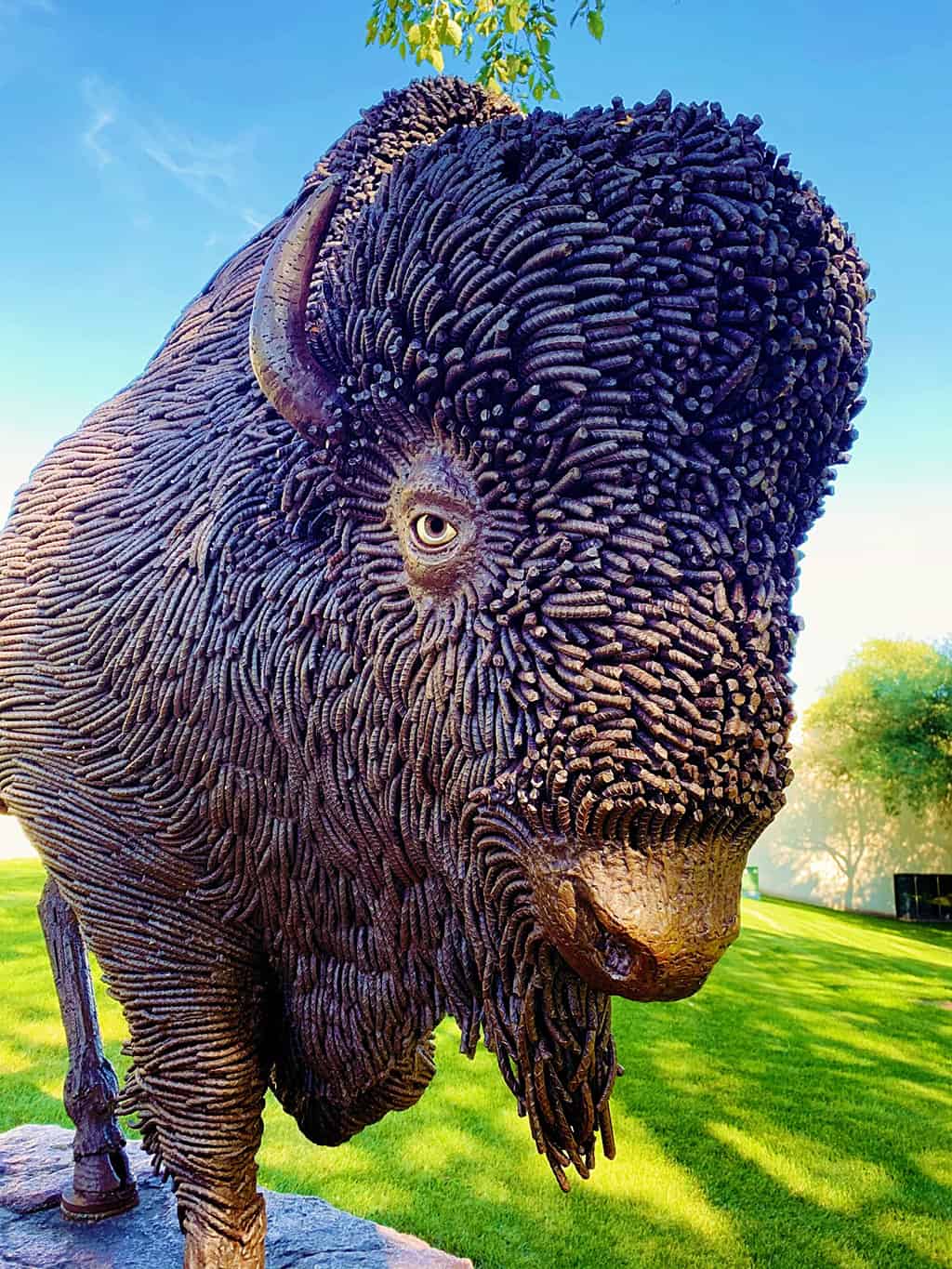 Things to do in Bismarck North Dakota
There were are so many things to do in Bismarck, also referred to as Bismarck-Mandan do to the proximity between both cities. North Dakota is a treasure trove, not only of activities, but coffee lovers rejoice, Bismarck has great coffee and they open up early. The food and art scene shouldn't be dismissed either.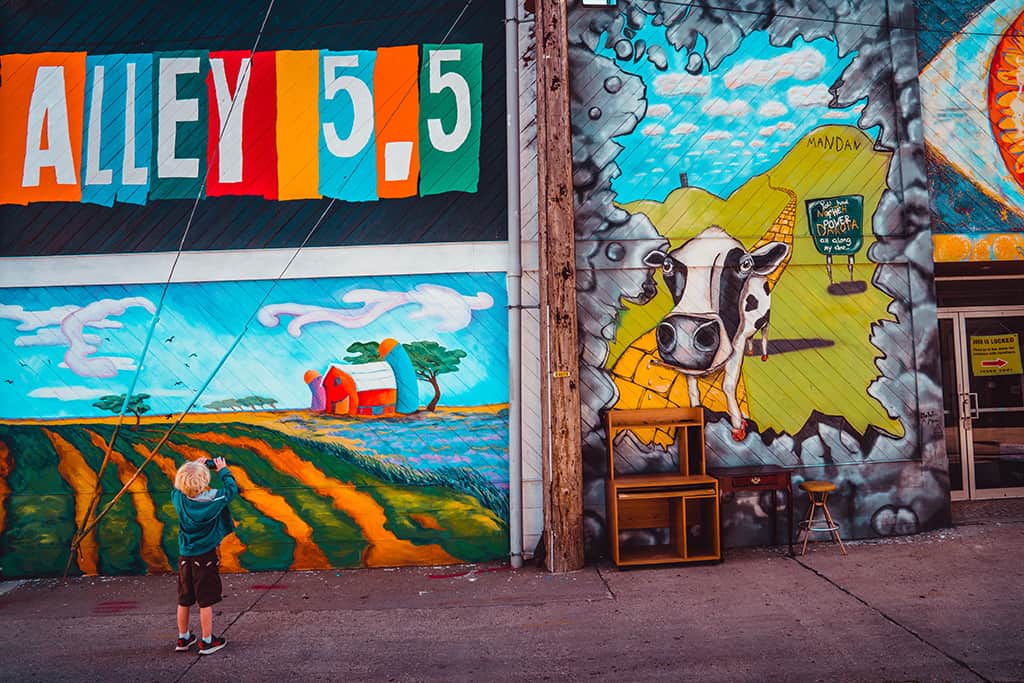 Bismarck Art Alley
If you are a mural stalker, you won't want to miss the unassuming alley off of 5th Avenue, known as Art Alley. Right next to FireFlour Pizza, you will be greeted by large scale paintings depicting scenes from across North Dakota, as well as the history of the region. Students and local artists have all contributed pieces, but there is still a bit more space. Don't be surprised if you see a new murals around Bismarck next time you are in town.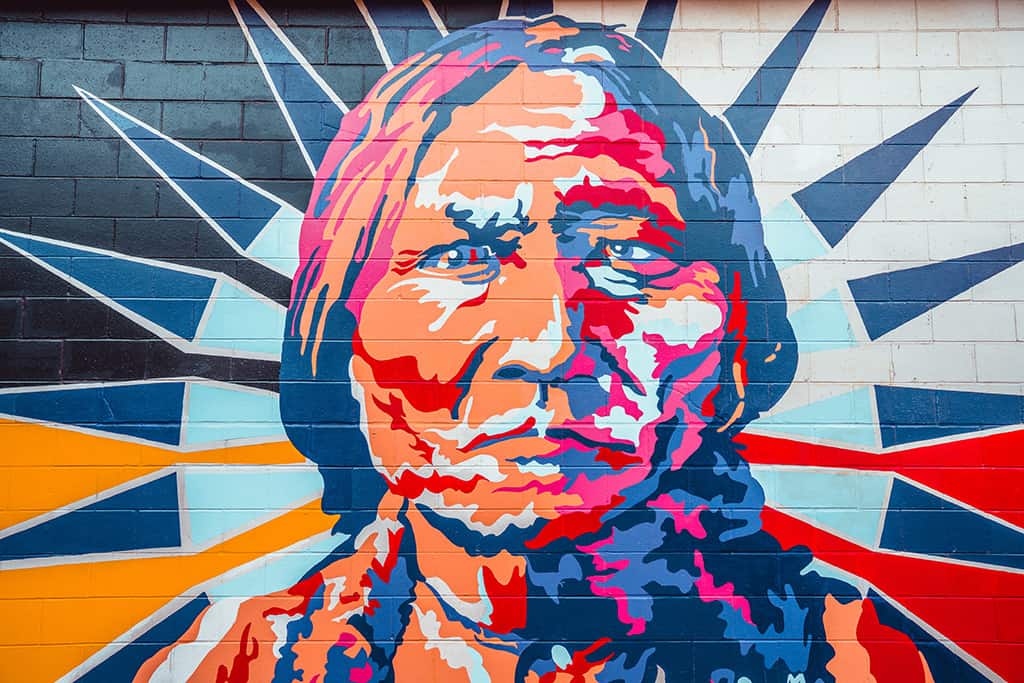 North Dakota Heritage Center & State Museum
We love free museums, and when they have dinosaurs and an airplane, you know we will be the first ones through the door. The North Dakota Heritage Center and State Museum has several educational exhibits, all located around the state capitol grounds, but most parents know it for two things—the Treehouse and Geologic Time exhibit.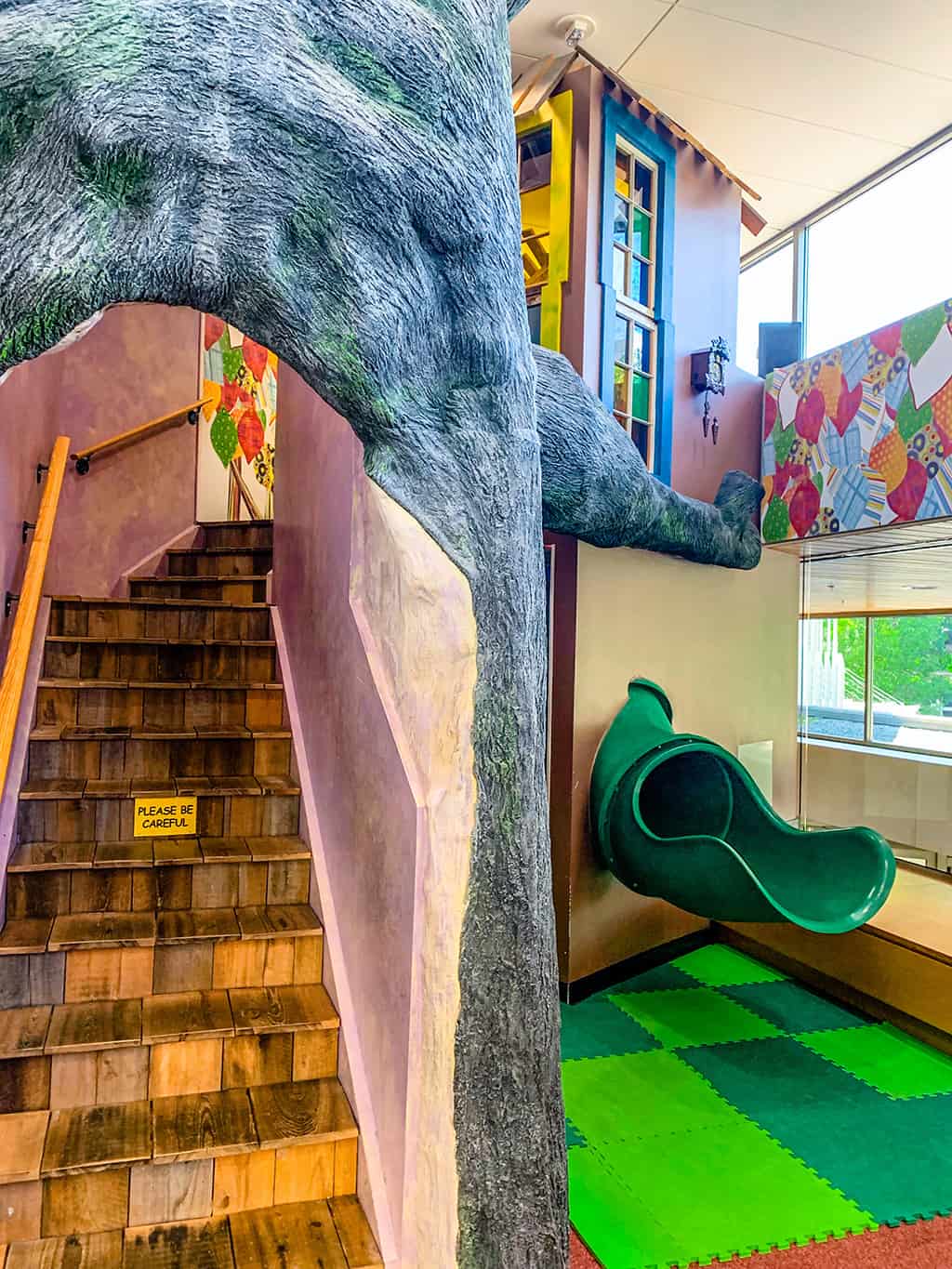 The Treehouse is a mini children's museum within the museum. Climb through the treehouse, slide down the shoot, have a dance party in the trunk, soar above the trees in the cockpit of a real airplane, learn all about local farming with a few tools, ride in a train (touching ALL the buttons), and of course, steer a boat. Best of all, there are plenty of spots for parents to sit while their children play.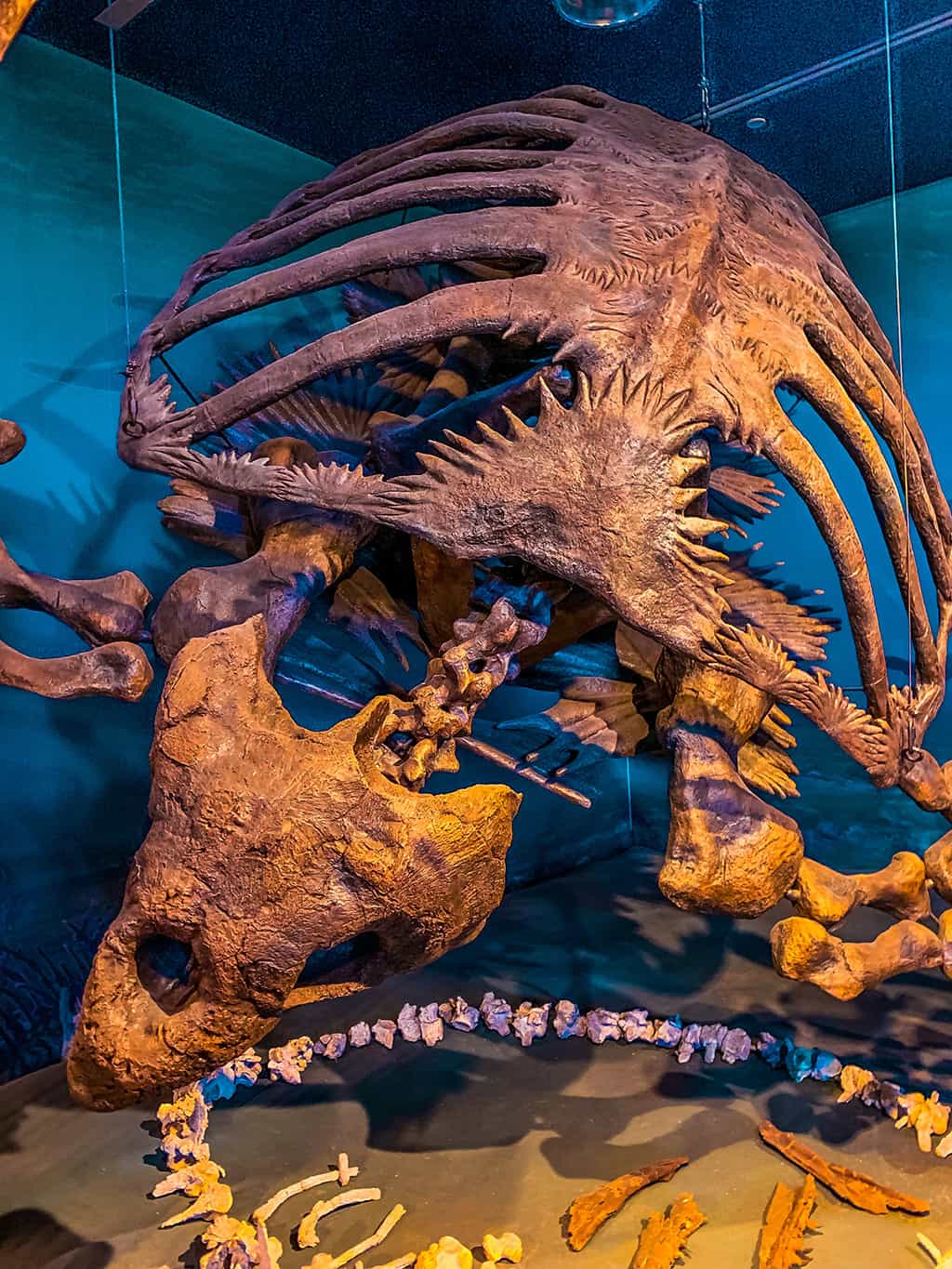 The Adaptation Gallery: Geologic Time is where you will find the dinosaurs. Not only that, there is a turtle larger than a grown man in there too. Interactive screens allow the kids to sneak a little video game time in, while also learning about how dinosaurs battled each other, as well as exploring the different dinosaur time periods.
Life-sized casts of a Triceratops and T-Rex battle it out, as if you stepped back in time to see North Dakota as it was 65 million years ago. Western North Dakota was a dinosaur hot spot. Scientists are still discovering new bones throughout both North and South Dakota, as well as Montana.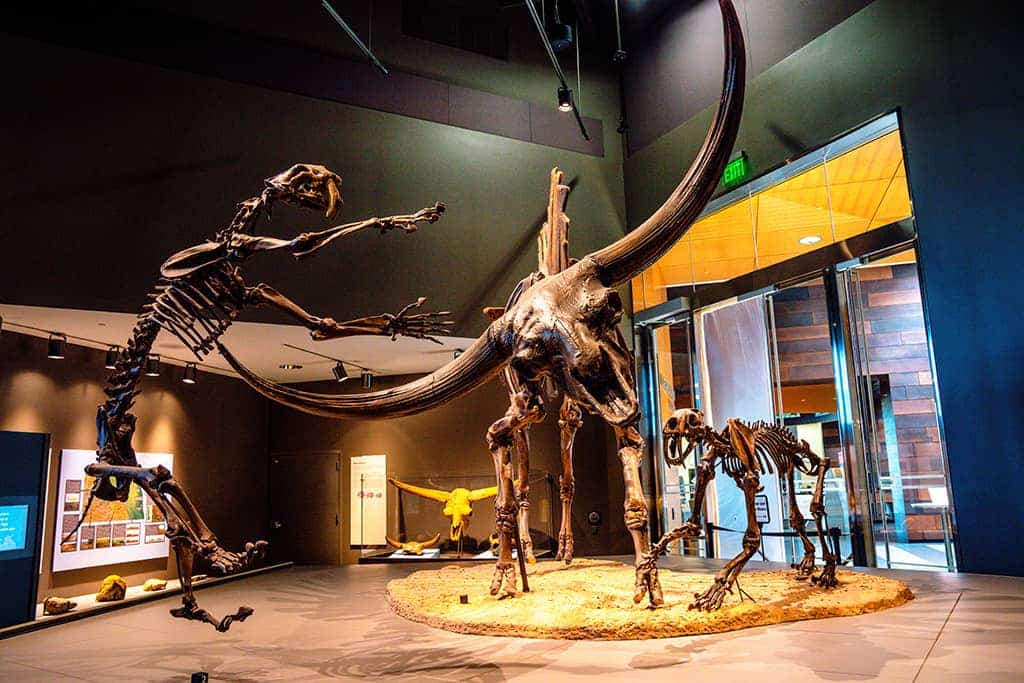 The exhibit brings you from the time of dinosaur through climate change and the ancestors of horses, dogs, camels and deer. Our favorite—the giant sloth. He sure didn't look like his cuddly cousin we know today. Although, maybe he would have been fun to ride.
Other exhibits include the Innovation Gallery: Early Peoples where the indigenous tribes of North Dakota come to life. Bison roamed free, providing food and clothing to the people across the plains, as well as the United States. The Governors Gallery hosts traveling exhibits, but don't miss the hallway exhibits either. You will find moon rocks, local gems and rocks, and paintings in this Bismarck state capital building.
Former Governors' Mansion State Historic Site
Step back in time to the days when gentlemen wore hats because they had to, and ladies skirts were heavier than a bison (well, almost). From 1893 to 1960, the Former Governors' Mansion housed chief executives, transferring over to the State Historical Society of North Dakota in 1975.
The two and a half story Victorian home is now a museum, featuring furniture used by governors in the 19th and 20th centuries, as well as exhibitions on the restoration process. While this might not be the best attraction for young kids, history buffs will love it.
Lewis and Clark Interpretive Center
Just about 45 minutes outside of Bismarck is an educational experience no parent with grade school students should miss. For any child studying American history, and the great expansion west, the Lewis and Clark Interpretive center is a must.
Exhibits dive into the tools Lewis and Clark packed for their journey, and the soldiers that accompanied them on their adventure to map the trail out west. You will also get keen insight into the roll Sacagawea played in their journey. She may seem like a myth, but this woman has played a huge roll in American history.
The center is a great spot to load up on snacks, refill your water bottle and use the restroom before you make the short drive down to Fort Mandan.
While you don't have to stop at the Interpretive Center before Fort Mandan, it does lay the ground knowledge for what you will see in the fort. You will get a good background on the expedition. You can also pay your entrance fee at the Interpretive center and find out when the next fort tour will depart.
Fort Mandan
Get ready to step back in time as you explore Lewis & Clark's winter camp. The Fort visitor's center has a wonderful play area for kids, which includes costumes, a dugout canoe to paddle, and child-size tent to camp in. Don't miss a photo with Seamen, Lewis & Clark's trust Newfoundland pup who joined them on their journey.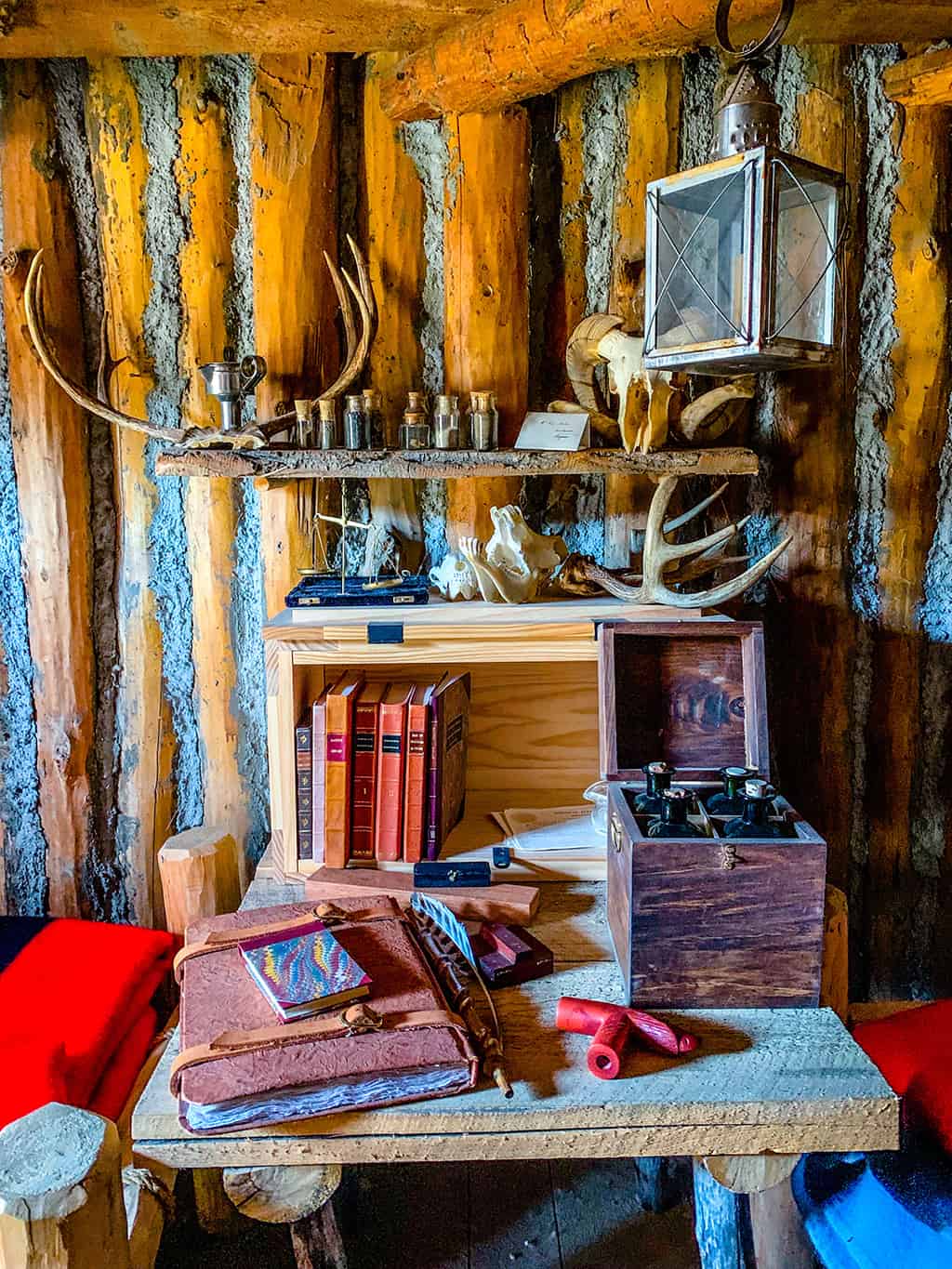 Park rangers give guided tours of the fort every hour, on the hour (or just about). It is a short, level walk from the visitor's center over to the recreated fort. The tour lasts about an hour. Most guides will cater their tour to children, keeping things moving along, while still satisfying the curiosity of adults who are eager for as many historic details as possible.
After your tour, take time to hike the nature trails and paths along the river. The mighty Missouri played an important role in Lewis and Clark's expedition west, and was the reason they had to stop in North Dakota for the winter. When the river got too icy, they decided to make camp until their boats could navigate the waters once again in the spring.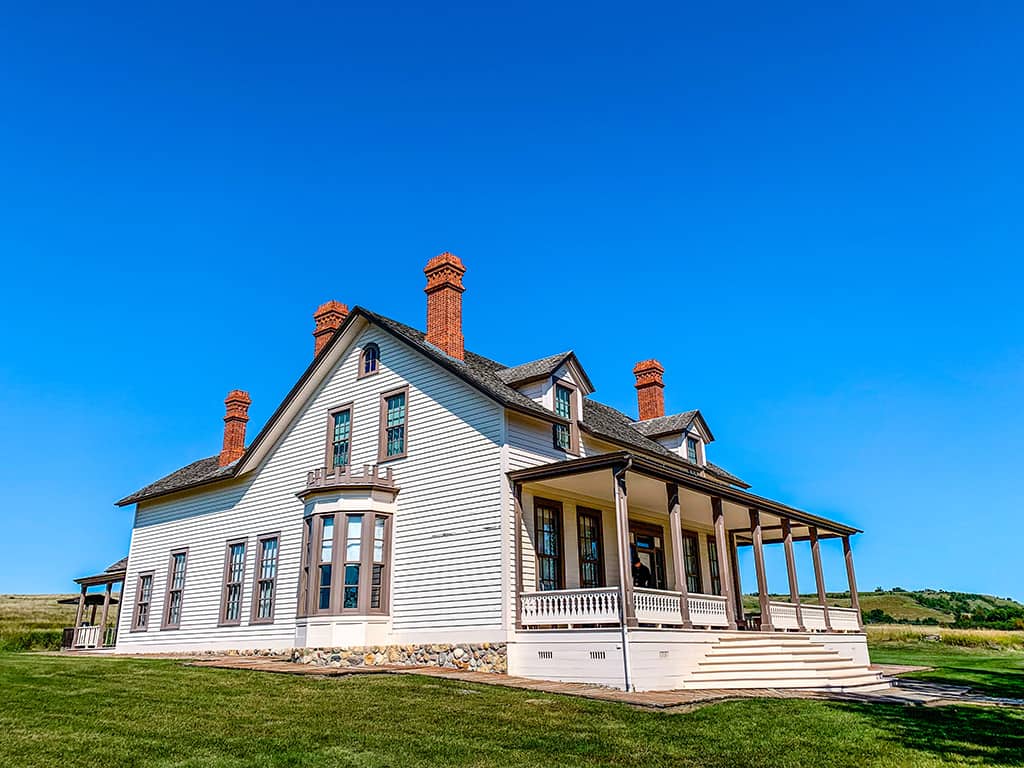 North Dakota State Parks
North Dakota State Parks are plentiful and ready to educate you and your kids, whether your kids are willing or not. It's easy to sneak in a few hikes, as well as some learning, if you know where to go. If you are staying in Bismarck, you go to Fort Abraham Lincoln State Park.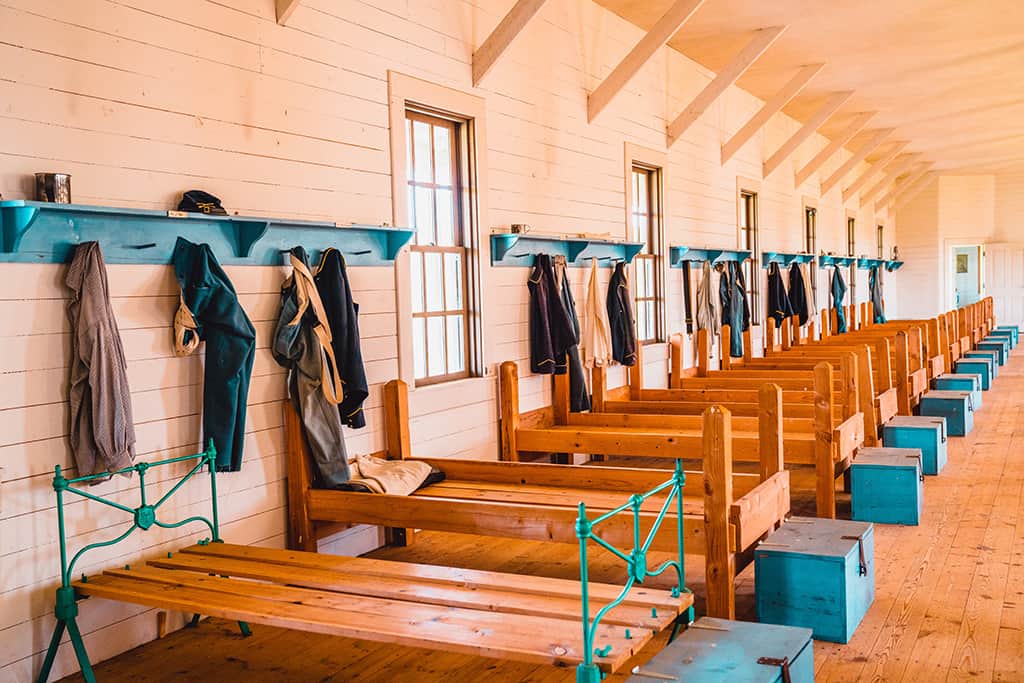 Fort Abraham Lincoln State Park
My little boy is obsessed with battles right now. Getting to see the barracks, general Custard's House and the commissary just about made his day. We wandered the Infantry Post Blockhouses, taking in the view of the valley and Missouri River below.
You can climb all the way to the top of the blockhouses and walk around the roofs. My youngest thought it was pretty cool to see the slots the soldiers would stick their guns through if enemy came up the hill.
Horseback riding and historic trolley rides are available during the summer months. Check in at the visitor's center for departure times, and to check out the mini exhibit featuring On-A-Slant Village and the restoration of Fort Abraham Lincoln.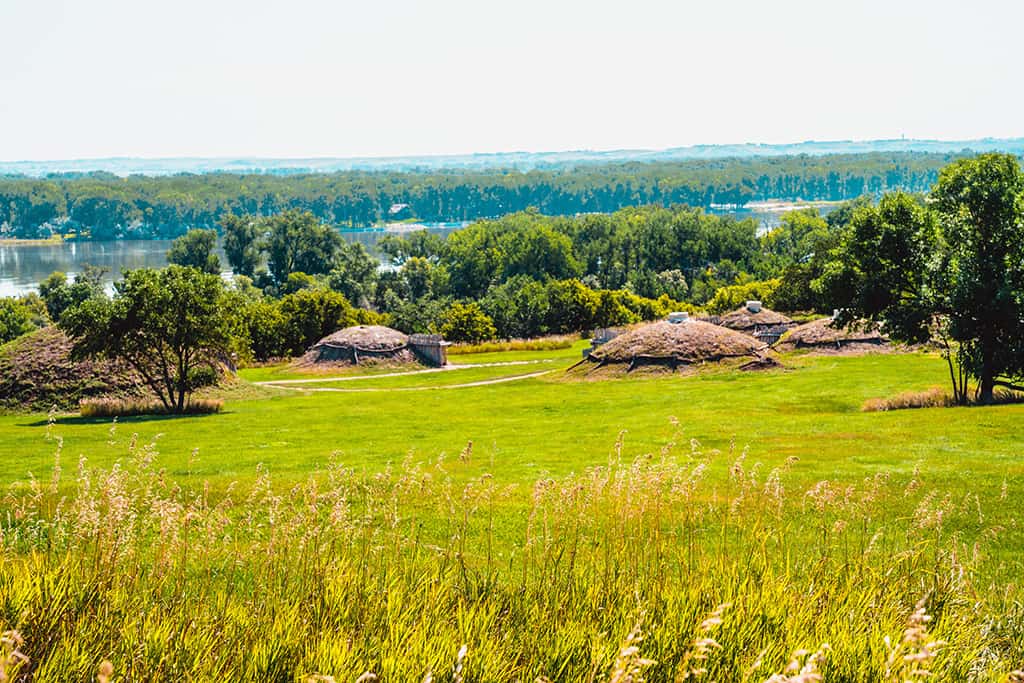 On-A-Slant Indian Village
On-A-Slant Indian Village is the earliest known settlement in the area, and named because of the slope towards the river. The Mandan Indians, or "Nu'Eta" built earth mound homes that were later recreated by the Civilian Conservation Corps.
The original village was abandoned sometime in 1781 after smallpox epidemics and attacks by other tribes. Lewis and Clark passed through in the early 1800s. In 1872 the area would be reestablished as the Fort McKeen infantry Post, which would later become Fort Abraham Lincoln State Park.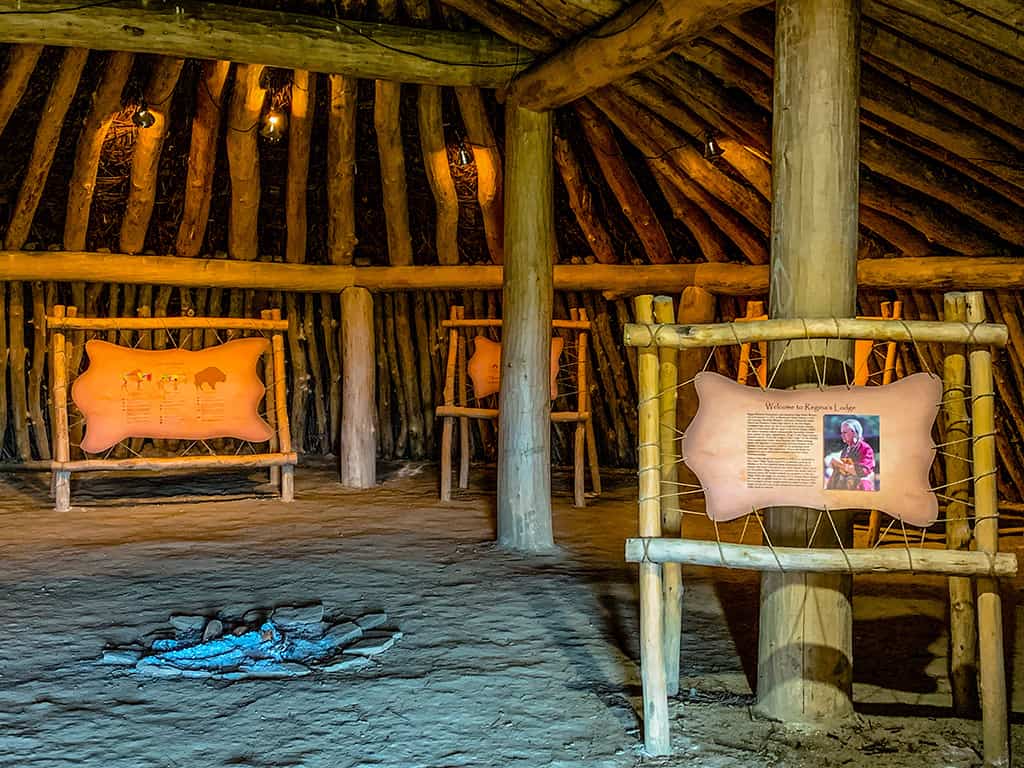 Today, you can walk in and out of several of the village homes. Regular programming takes place to dive deeper into the culture of the local people who inhabited the land. Check with the visitor's center to see if anything is happening during your visit.
Want more state parks? Read our guide to Devils Lake ND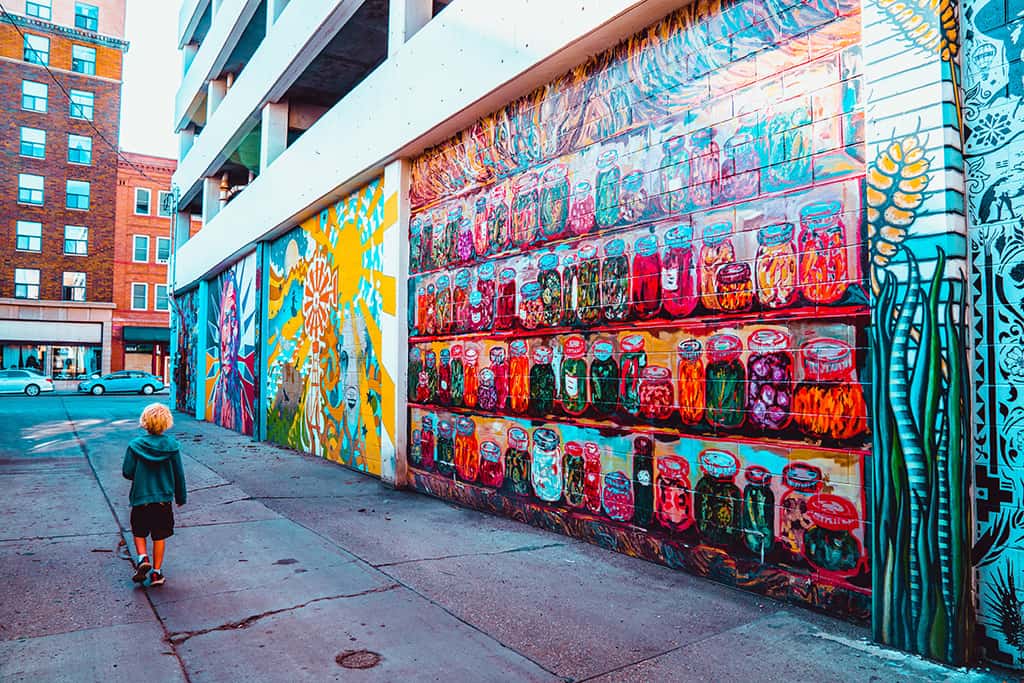 Bismarck Restaurants
We had many surprises during our trip, but none more than the Bismarck restaurants. Breweries are popping up all over town, but the cocktail culture is also emerging. Pizza is easy to come by, even for those looking for a high-end slice (yes, it's a thing). Coffee is definitely easy to come by, especially if you want to get beyond Starbucks, which we always do.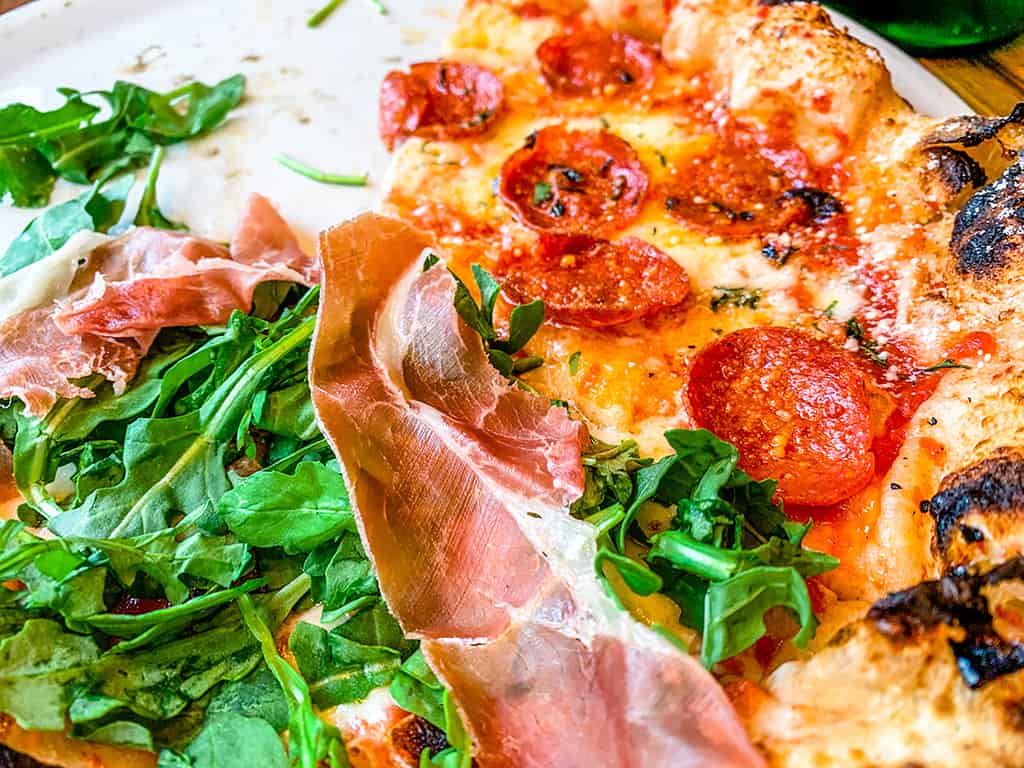 Fireflour Pizza
If you love brick-oven pizza, go no further than Fireflour pizza. Grab a salad to start and then dig on in. They can make half and half pizzas if your kid doesn't want to be adventurous with you. Pizzas are thin crust, but larger than a dinner plate. A family of four could easily eat two or three. We enjoyed a half pepperoni/ half prosciutto arugula pie.
Butterhorn
Fine dining comes to Bismarck, along with some of the best service in town. I walked in for a hot date night with my seven-year-old son. The staff greeted us with open arms, producing a kid's menu too. Not only that, but another mom and her eight-year-old daughter came in as we were wrapping up. The cocktail menu was imaginative, blending gin with fennel and arugala, or whiskey and blackberries. Dinner included a fresh watermelon arugula salad, and roasted chicken with skillet vegetables over creamy parmesan polenta.
One thing you do not want to miss are the Butterhorns. What are these? Imagine the best dinner roll had a baby with the best crescent roll, and you may get close. Soft, buttery, light, with a sprinkling of salt, made these the highlight of the night for my beige-food loving son. Even better, they make a bread pudding out of these butterhorns. Make sure you save room for dessert. You won't want to miss this sweet after-dinner treat.
Terra Nomad Company
Quite possibly the best coffee in town, but then again, we may be biased. I love a smooth lavender latte and honey coffee. If they can make it decaf and put it in my reusable mug for a drive to Devils Lake, ND, all the better. The smoothie bowls are healthy and delicious, and the pastries are easy to pack up for any road trip.
Bearscat Bakehouse
Bearscat, what the cowboys used to call donuts (maybe they still do?), is an institution in town. There a are at least 20 varieties to choose from, none of them labeled, so we will help you out with a few suggestions.
Make sure you order a Bismarck donut! This jelly filled, angel iced confection is a must when in town. After all, how often can you say you had a Bismarck in Bismarck? The maple bars are also delicious. There are no cream-filled donuts, only Boston crème. You can also never go wrong with an iced donut with sprinkles.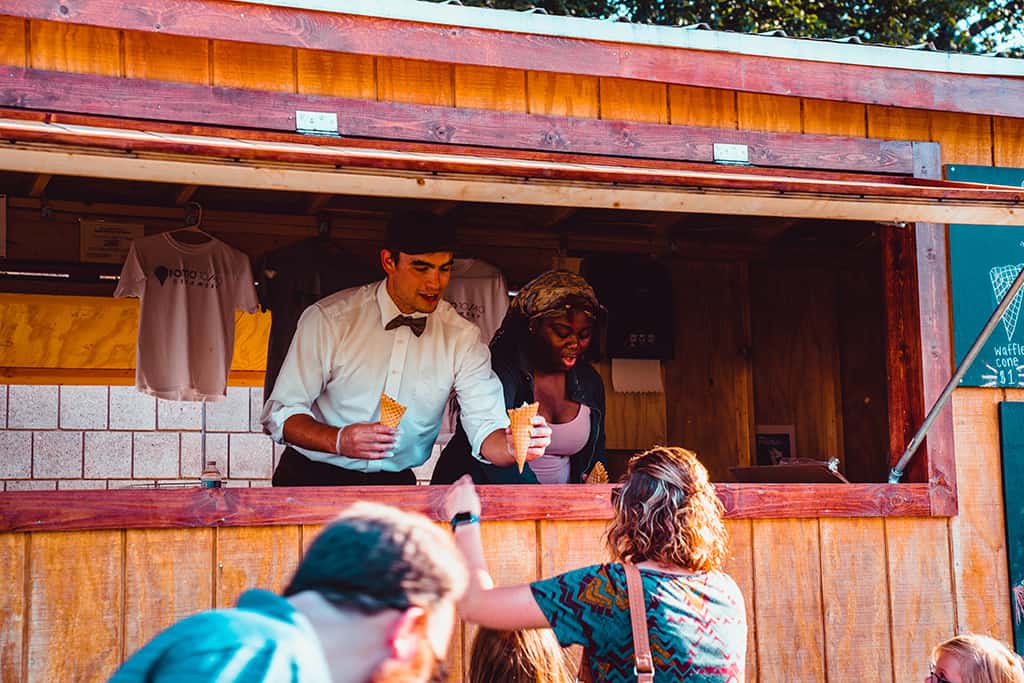 FOMO 10/40 Creamery
Ice cream with a mission? We can get down with that. Andrew Hershey created FOMO 10/40 to support those in countries close to the equator (latitude of 10 degrees and 40 degrees north of the equator). Part of the proceeds are donated to help start small businesses in these communities, even if it is simply selling, running or producing purified water, ice, goats, jams, coffee, or ice cream.
Ice cream flavors are named after the countries the company supports, but it doesn't end there. The spirit of giving back resonates throughout the community with a "Scoop it forward" board. Patrons are able to buy a scoop (or two or three) for friends in town who pop in. That ice cream surprise brightens someone's day when they least expect it, creating even more goodwill and joy throughout Bismarck.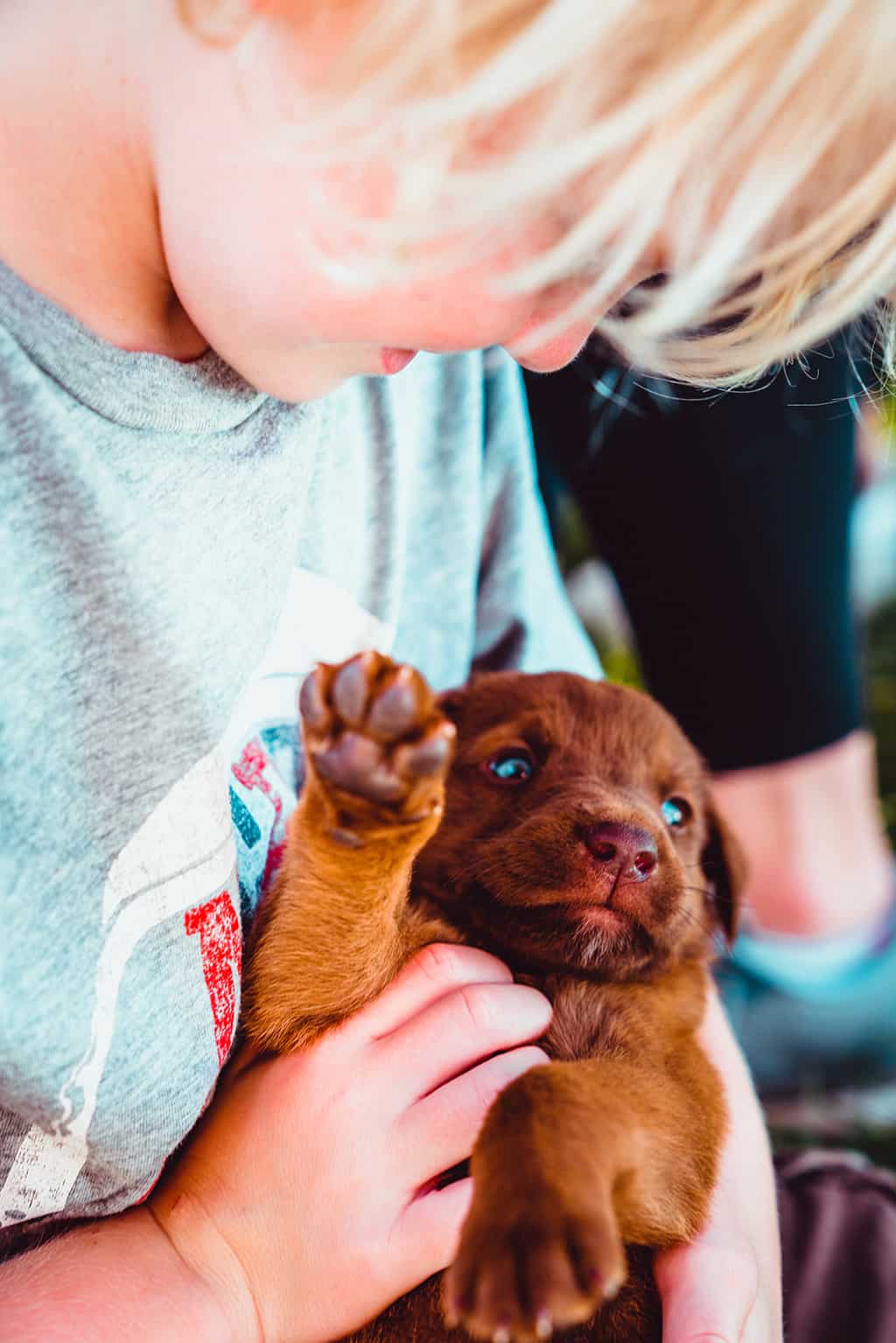 On the night before school started, FOMO 10/40 through a party to celebrate the "end of summer." Giant Jenga games, a photo booth and a corral of puppies were out for everyone to enjoy at Tatley-Eagles Park. Of course, ice cream was available for purchase too.
The line only got longer as the night went on, never shortening, as more people showed up to enjoy the event. As strangers to the area, no one looked twice as we mingled, chatted and enjoyed the puppy snuggles along with the other kids and grown-ups (when we could steal a puppy from a kid that is!).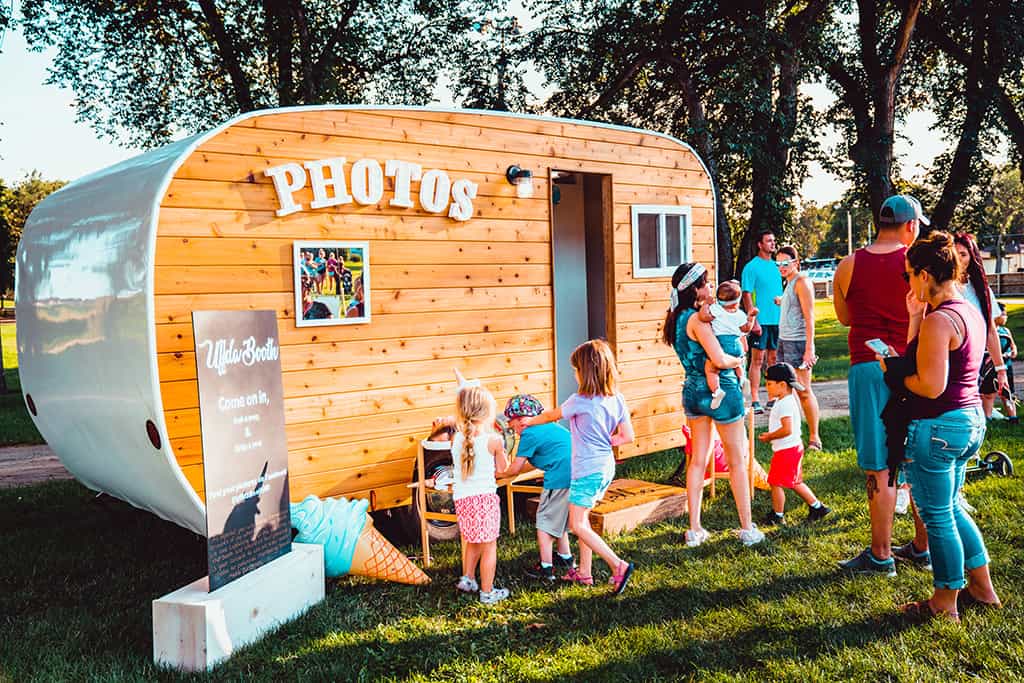 This is just the type of town Bismarck, ND is we found. Come as a stranger, leave as a friend. As I grabbed my coffee from Terra Nomad on our last morning, the coffee shop employees recognized me. Granted, I had just been there the morning before, but the town isn't THAT small that they should know every stranger.
When you are traveling solo with your kids, a little welcome, and some conversation goes a long way. As does that coffee they handed over. Off to Devils Lake ND we went.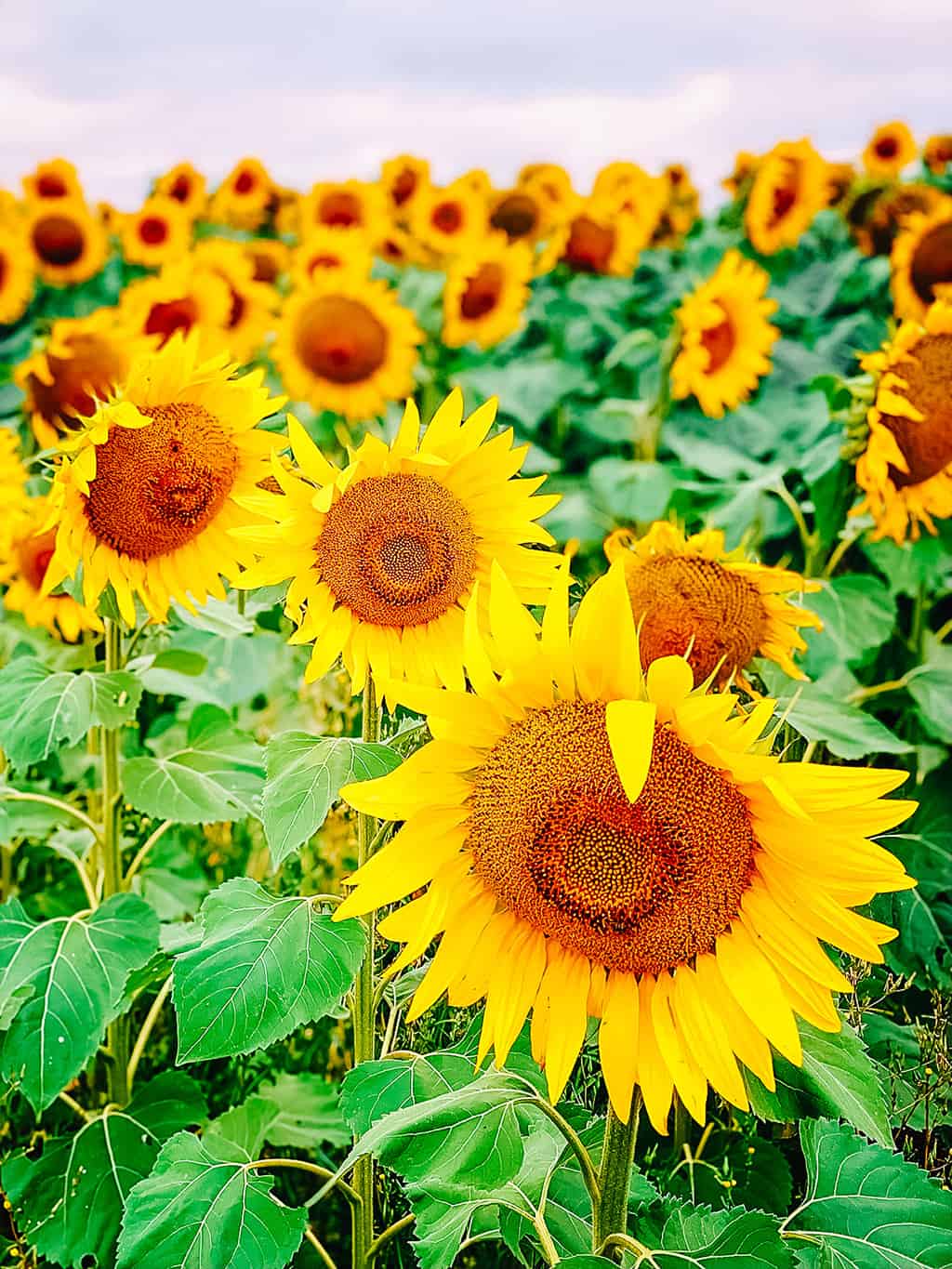 Looking for a Bismarck Hotel? Check out the following!
Looking for more? Search for a great deal on Booking.com!
Like it? Pin it for later!