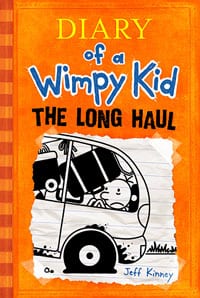 Road trips are awesome. They are filled with great family memories and photo opps. Well, unless you are the Heffley Family in Diary of a Wimpy Kid The Long Haul.
The ninth book in the Diary of a Wimpy Kid series tackles the ever quintessential American family road trip. In Diary of a Wimpy Kid The Long Haul, Greg Heffley's mom finds an article in a parenting magazine and has a starry-eyed vision of the adventure she could have with her husband and three boys in tow. They would see historically significant sights, eat locally grown food and grow closer together as a family through this trip. It would be perfect.
Never has a road trip gone so wrong.
Diary of a Wimpy Kid The Long Haul
From lost keys to flat tires, biting pigs and cheese snack loving seagulls, you can bet you and your kids are in for a wild ride as you venture out on this classic family vacation with the Heffleys. While reading it with my 5-year-old son I was reminded of our own cross country road trip. The car was packed to the gills since we were moving from Seattle to Maryland. We had bags overflowing with snacks and more activities than could possibly entertain the kids. Unlike the Heffleys, we also had a plan. After reading The Long Haul I have never been so happy to be a travel planner in my life. We get spontaneous with our adventures, but nothing like mama Heffley tried to do.
Who should read Diary of a Wimpy Kid The Long Haul?
Although my son couldn't read Diary of a Wimpy Kid The Long Haul on his own when it first came out, I found it was the perfect chapter book for us to read together because of the illustrations on each page. He was able to hear the story as I read it, but also stay focused thanks to the fun black and white drawings. This was our first Diary of a Wimpy Kid book, mainly picked up because of the road trip we had just finished. I think we are hooked now and will certainly go back to read the first eight. I have a feeling we have missed out on a few fun adventures with the Heffley family.
Publisher's Synopsis: A family road trip is supposed to be a lot of fun . . . unless, of course, you're the Heffleys. The journey starts off full of promise, then quickly takes several wrong turns. Gas station bathrooms, crazed seagulls, a fender bender, and a runaway pig—not exactly Greg Heffley's idea of a good time. But even the worst road trip can turn into an adventure—and this is one the Heffleys won't soon forget.
Title: Diary of a Wimpy Kid The Long Haul (Book 9)
Author: Jeff Kinney
Series: Diary of a Wimpy Kid
Publisher: Amulet Books; 1st edition
Publication Date: November 4, 2014, $7.75 hardcover, $6.99 Kindle
Format: Hardcover, eBook
Language: English
Pages: 217
ISBN: 978-1419711893
For ages: 8-12

This post contains affiliate links. If you make a purchase after clicking one of those links I will receive a small commission.