Racing across the U.S. to see as many sights as possible isn't always the best thing to do with kids on a road trip. There is a lot to see in the state of Arizona.
We just happened to be passing through on our cross-country road trip. I couldn't imagine a trip across the country without a stop at the Grand Canyon, even if we only had a morning to check it out.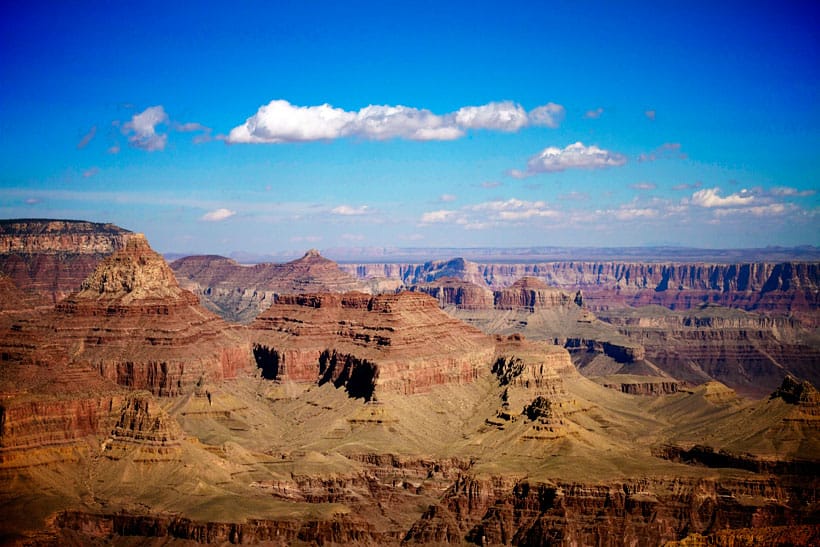 We started our Grand Canyon adventure on the South Rim late at night as we pulled into a parking spot outside of Yavapai Lodge in the park.
This would be our home for the night. The boys, who were 2 and 5 at the time, were passed out. They were not really willing to move as we loosened the buckles on their car seats and hauled them to our room.
We had driven down from Bryce Canyon that same afternoon; none of us was in the mood to drive over to the canyon rim to see if we could get a glimpse of one of the most popular attractions in the nation.
Morning dawned, and although we had limited time, we were in no hurry. I wanted to savor the moments of quiet in the park. I also wanted a really good breakfast.
El Tovar on the Grand Canyon National Park South Rim
El Tovar Hotel is the place to stay in the Grand Canyon. As one of the Fred Harvey Company hotels opened in 1905, it is still considered one of the top park lodges in the nation.
We weren't lucky enough to snag a room before it booked up, but we could have breakfast there.
I wanted to soak up a little of the early 1900s decadence that attracted so many visitors to the canyon when train travel was the easiest way to get there.
We had a table close enough to the windows to catch a glimpse of the Grand Canyon in the morning light. My husband ordered the pancake trio. As soon as it arrived the boys started picking at his blue cornmeal pancake bit by bit.
My oldest son Dek's gingerbread waffle was all but forgotten. That is until I reminded him that he had whipped cream to smear all over it. That gave my husband at least one reprieve from our sons, the pancake vultures.
Sipping on our coffee and listening to the kids' chatter, I sat and marveled at just how far we had come.
We had already seen the Redwoods, Yosemite, Zion and Bryce. All we had left to go was the Grand Canyon and the Petrified Forest.  There was no time to stop in Page, AZ to see Antelope Canyon.
After that we would start making up time by cruising from Albuquerque to Nashville in just two days. No stops in Texas or Arkansas.
It was time to get to Maryland—but not before we had a little family visit in the park.
Grab the best rates at Grand Canyon National Park lodges now!

Hopi House at the Grand Canyon
Hopi House is another historical part of the original Fred Harvey Company buildings around the Grand Canyon.
Mary Colter, a prominent architect of her time who designed several buildings in the park, designed Hopi House. She modeled Hopi House after a traditional Hopi pueblo house, one of the local Native American tribes of Arizona. I
t was built as an arts and crafts shop to show off local Native American wares tourists could bring home. The artists worked on the top floor while shop clerks sold their goods on the ground floor.
My great great grandmother was one of those shop girls.
As I walked through the different sections of Hopi House, searching for a few trinkets to bring to our new home on the east coast, I imagined my great great grandmother here, tracing her steps as she walked through the door frames, picking up the hand-woven rugs and Carl Moon photos that were still on sale over 100 years later.
My family still has a Carl Moon photograph and a Navajo blanket from the shop that she has passed down through the generations.
What it must have been like to be part of the Grand Canyon's history it grew as tourist destination for Americans, especially after El Tovar opened just months after Hopi House opened in 1905.
I'm sure the walls were not covered from floor to ceiling with tourist trinkets back then.

Driving tour of the Grand Canyon National Park South Rim
Spending our morning at El Tovar and Hopi House left little time to explore the canyon before we had to start driving to Albuquerque.
We were trying to squeeze the Petrified Forest and Painted Desert too. It was time to do the quick tour of the Grand Canyon National Park South Rim; no leisurely hikes for us.
Viewpoints we hit
Mohave Point
Hopi Point
Market Plaza and Mather Point
Grandview
Desert View
All of the viewpoints have their own bit of magic and unique views. If you have kids that need to be entertained, the Desert View stop will fit the bill.
Climb to the top of the Desert View Watchtower, where you will look down at crows sailing on the wind currents of the canyon.
Catch glimpses of the mighty Colorado River that has carved its path through this canyon for thousands of years.
We only had a morning to spend at the Grand Canyon National Park South Rim, but I really did feel like it was enough.
We had seen one of America's natural wonders and eaten a really good breakfast, which was a relief after more than one bowl of cereal in a hotel room. I'm not sure I would need to spend more time in the park unless we were rafting down the Colorado River.
I feel no need to take a donkey down any steep cliffs into the canyon. Perhaps I was made to be a car and walking traveler.
Either way, we had one more stop to make in Arizona before we pushed the pedal to the floor and raced to Maryland.
If we caught a few hours in the Painted Desert and Petrified Forest it would be a miracle, but we were going to try to make it happen before we stopped in Albuquerque, New Mexico for the night.
Next time, we would take Route 66 for a more nostalgic, leisurely journey.
Know Before You Go
Pack plenty of water. This is the desert. You will dehydrate faster than you think.
Keep a close eye on children. More than one person has fallen into the canyon. Keep 6 feet away from the edge at all times.
Enter the park with a full tank of gas. The Grand Canyon is not a small park. If you want to do a lot of exploring you need to have gas to get you around. There is no gas in Grand Canyon Village.

Visitors Centers Worth the Stop
Shoppers beware. You may come home with a lot of stuffed animals, paintings, postcards and t-shirts. These Visitor Center gift shops are packed with everything you could imagine trinket wise, but Hopi House will give you the most unusual items in the park.
Park rangers are normally on hand to help you with trails, which viewing spots are the best and where to fill up on water and food. Ask about the Junior Ranger Program for your kids and what family friendly activities are happening during your stay.
Desert View Visitor Center
Hopi House
Grand Canyon Village Visitor Center
Hikes in the Grand Canyon
You can see a lot of the canyon from the rim viewpoints, but if you are determined to do a hike, check out Bright Angel Trail.
The Upper Tunnel is easiest with small children.
The Lower Tunnel can be a bit more challenging, but not too much for families with older kids.
Check with park rangers at the visitor centers for more hike ideas for your specific age group.
Catch the sunrise or sunset
Hop in the car and drive to Lipan Point for some stunning views as the canyon changes colors with the rising or setting sun.
You can also walk down the Trail of Time between Yavapai Geology Museum and Verkamp's Visitor Center.
Check out the peaceful views only the early birds or night owls will get a chance to see.
Stay
Yavapai Lodge is not located on the canyon rim, but it is within walking distance. You will also find more last-minute availability in this lodge than many of the lodges on the rim. Prices are decent for inside the park.
The lodge building looks like an old camp barracks. Inside the rooms have been updated and look like a mid-range hotel room. As a family of four we were very comfortable in the room for one night. The lodge check in was open late for our evening arrival.
Check for the best rates and availability at the Yavapai Lodge now!

Eat
El Tovar Hotel is an institution at the Grand Canyon South Rim. It is one of the original Fred Harvey Hotels and restaurants that were built in conjunction with the Santa Fe Railway.
Rooms fill up at the hotel quickly and aren't always budget friendly for a family, which is why we opted to only have breakfast here.
We could still soak up the historical feel of the hotel, browse through the old memorabilia and get the sweeping views of the canyon this lodge on the rim is known for.
The gingerbread waffles and corn pancakes were unique and added a bit of local flavors to our morning as well.