Dickens in Dundee Illinois, the annual celebration kicking off the Christmas season, takes place throughout East and West Dundee. We decided to venture from the city and explore some small town holiday charm.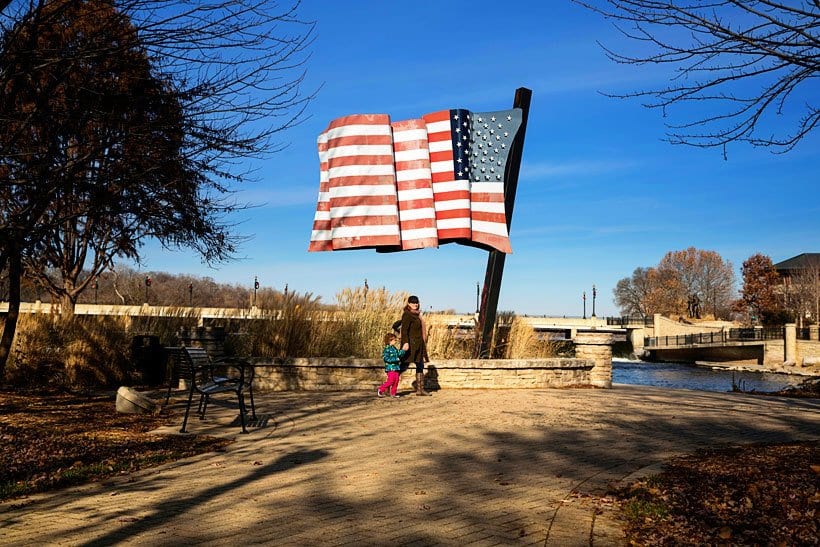 We left the crush of Chicago traffic behind for the Northern Fox River Valley, just a short hours drive from downtown Chicago. Heavy city traffic eased into speedy highway driving, and as we exited the highway and began to slow down to the pace of village streets. It seemed we had entered a different world: sparkling lights everywhere, giant families and friends laughing and chatting, carolers at every corner. What a perfect adventure for holiday cheer!

What To See In Dundee
Downtown West Dundee was celebrating winter and the coming holidays with Dickens in Dundee, and we were in the thick of things! Events kick off with the Tree Lighting Ceremony in front of the West Dundee Village Hall. We cheered and sang along with a wonderful choir, dressed in Victorian era finery, as the Christmas tree sparkled to life.
Santa hats warming our noggins and candy canes in hand, we passed through Grafelman Park, examining all the Christmas trees for sale. The beautiful Episcopalian Church gave way to a beautifully maintained Victorian era downtown district, bustling with neighbors and visitors alike.
The windows along Main Street were coming to life with Living Window. From Santa and Mrs. Claus reading to children in one storefront, to the Baby Jesus and Mama Mary vignette, and even a quirky window showing the aftermath of "Santa Got Run over By A Reindeer"…..
Where to Eat at the Dickens in Dundee Celebration

Next, we were happy to snag a table at Bleuroot, located at the edge of the Fox River. A new addition to Dundee, the restaurant features organic and local produce and meats, celebrating the farm traditions of the area.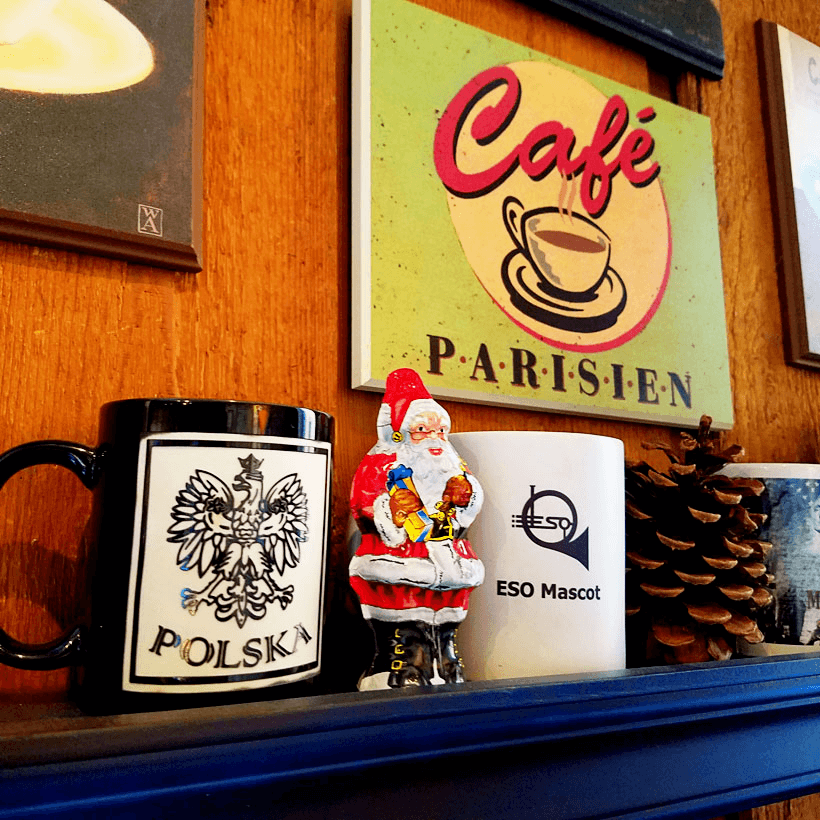 A band was setting up for live music in the bar area, and the rear dining room was vibrant, but quiet enough for conversation. The tables were filled with couples, families, and friends. The large windows overlook the Fox River, offering plenty of distractions for a toddler, and a relaxing scene for a tired mom!
The menu at Bleuroot was fantastic. They served a fresh fennel green bean and kale salad with preserved lemons and olive tapenade. It was a perfect mix of crunchy and robust, the lemon cutting through rich bites of olive, while the fennel and green beans provided a delicious crunch. The holiday special menu had just started, so of course I had to order the Filet with bordelaise sauce. I'd swear it was sous vide, perfectly tender and delicious. Avi enjoyed the panini-style grilled cheese, and we finished with a little desert. Berry crumble for me, and a mint chocolate chip ice cream for Avalon. "Oooh mommy, it's so delicious!"
After dinner, the Living Windows had closed, but we had coveted an invitation to Fezziwig's Family Festivities at the VFW. (Well, truth be told: all are welcome for free family fun and a cash bar!) Avi was a bit wiped out by the time we arrived, therefore she insisted I carry her. We took a walk around the hall, but didn't make it very long. At risk of a meltdown, I made like the Ghost of Christmas Past and disappeared.

Why You Should Visit Dickens In Dundee
Dickens in Dundee promises a weekend packed with fun for all ages. On Saturday morning, the Spirit of Santa parade sets off the rest of the holiday activities. Girl Scouts, ballet dancers, the local baseball team and high school band, the fire and police departments all parade to show a wonderful municipal spirit. Local businesses celebrate the season with special hours and festive spirits.
We were absolutely charmed with Dundee and the entire Northern Fox River Valley. It's such a charming area that maintains all of its small town feel!