Planning a trip to Italy with kids, grandparents, aunts, uncles and cousins (aka multigenerational travel) can get complicated. And that is saying it mildly. Hotels, flights to Italy, Italian restaurants, places to visit in Italy, rental cars and travel insurance all has to be figured out. Just like planning a family wedding, spreadsheets, and massive email and text threads are sure to pile up.
Take a deep breath.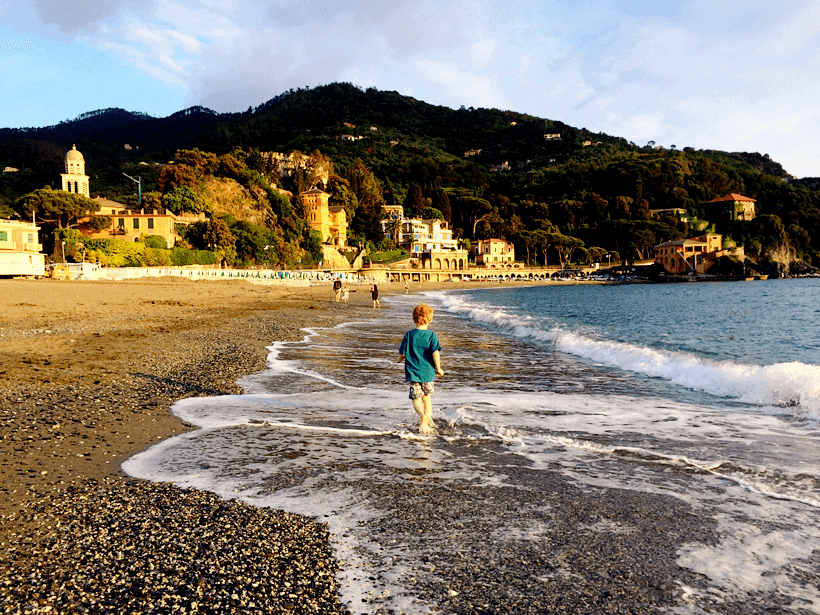 I've done it. Multiple times in fact, with friends and family, traveling to various locations. I have yet to use a travel agent, but sometimes it is easier to call one (we'll talk about that later). But here is what you need to know when you want to plan a trip to Italy with kids… and the rest of your extended family.
Start thinking about Italy

My dad declared that he was finally ready to go to Italy. Did my sister's family and my family want to join him and my mom? Oh, and did my aunt want to come too? Not only would we have four separate family units traveling, but they would be traveling out of three different airports and flying in on two separate dates, and out on three separate dates. Confused yet? Understanding why we use a spreadsheet?
We don't like to do things simply in our family.
It was time to start planning, and we started the process nine months ahead of time. This is not necessary, but my father was in a panic. What if everything booked up? We needed at least four rooms, or a big rental, everywhere we went. No matter how many times I reassured him, I knew it was just better to get it booked, so we could move onto the fun part. What's the fun part? Planning our gelato tour of Italy of course!

Talk about your Italy Budget
We were all on a very specific budget. My parents, unlike many other boomer parents out there, were not footing the bill on this one. We knew we could not be extravagant, but we also knew none of us were going to be backpacking with kids or staying in hostels anymore.
Airfare would be the kicker. The sooner we could book, the better. Our kids didn't get discounted rates any longer. No babies were going to be sitting on laps.
Hotels would be where we really would save or splurge. If we could stay around $5000 per family for the two week trip to Italy that would be ideal.
My dad and I, the chief vacation planners on this trip, dug in.
Italy with Kids

When people ask me where to go in Europe, Italy with kids is at the top of my list. The food is kid-friendly, and the people are warm and welcoming to kids of all ages.
No one wants to visit a country that looks down on their children for being there. I know that I can enjoy a leisurely meal, with multiple courses, really good wine, and my kids won't go crazy. Why? Because they will be running around with all of the other children in the Piazza who's parents are doing the same thing.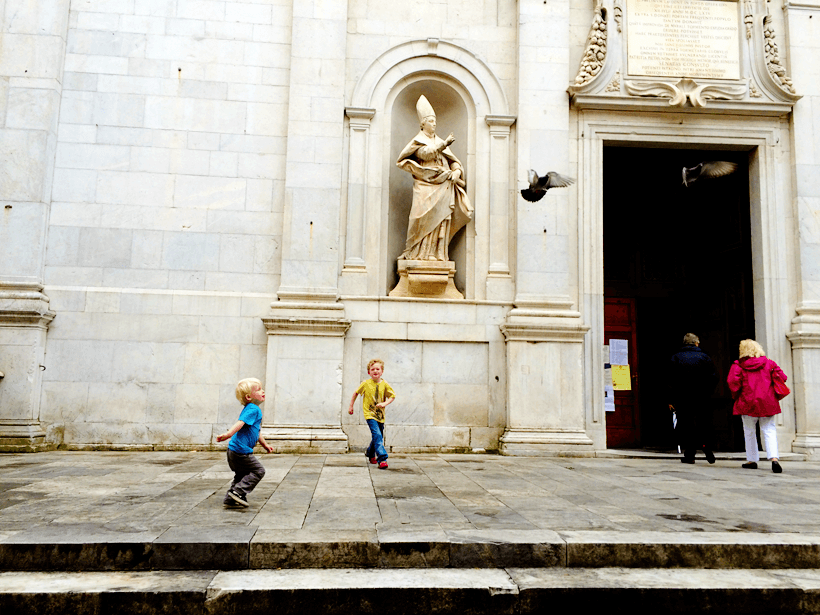 I remember the first time I was in Italy back in college. I was mesmerized by the little boys and girls playing football (soccer) in the square. They would run up to their mothers, take a bite of pasta and run back to their friends. The adults continued to converse, arms waving as they spoke animatedly with one another. This was a scene I knew well from my own upbringing, my father coming from a large Irish Catholic family. Holidays were never a quiet, subdued occasion.
When I had my own boys, and we headed to Europe for the first time together, I wasn't surprised when the grandmothers walked up to me, lecturing me in Italian that my infant was too hot, too cold, needed a hat, or was just too cute that she had to hold him.
Italy is a communal culture. Even though I barely knew what each grandmother was saying, the intent was clear. Grandma knew better than me, and she was going to let me know that. I smiled, fixed my son to her liking and she moved on. I then removed the layers once she was out of site. You don't piss off an Italian Nona!
Planning a Trip to Italy

Planning a trip to Italy with kids is just like planning a trip anywhere else in Europe. Yes, there is a different language involved, but there are still plane tickets to buy, cars to rent and hotels to book. Thanks to modern technology, you can do most of the research online. But you do need to stay organized, especially if you are planning the trip for a large group.
Designate one to two people as the chief vacation planning officers. Everyone can have an opinion, but these people are in charge of all of the moving pieces.
Set up a Google spreadsheet so you can easily coordinate information back and forth between the organizing parties. This is where hotel options can be placed. No one needs to get 25 text messages about different hotels someone found. House all of the options in one tab on your spreadsheet so you can go over them during a phone call together.
One person is in charge of booking lodging. This will stop double bookings and confusion from happening. Do this together in person or over the phone if you like to make sure no mistakes are made.
Once your lodging, flights and car rentals are booked, keep all confirmation numbers, addresses, etc. in your spreadsheet so everyone can access the numbers before your travel dates.
Places to Visit in Italy

There are a lot of gorgeous spots to visit in Italy. If this is your first trip, as I was facing with my family and sister's family, you will want to hit the highlights. Make sure everyone has a say, and remember, Italy is a small country, but packs a powerful punch. It feels like you can see and do it all in two weeks, but you will want to linger. You can NOT do the entire country in two weeks.
Suggested Itinerary:
3 days in Venice
6 days in Tuscany
5 days in Rome
This itinerary gives you a lot of wiggle room for day trips, especially when you are in Tuscany. If you set yourself up in a central location, just outside of Florence, near Sienna or down in Cortona, you will have multiple spots you can explore. Depending on your accommodations, you can also leave some of the family back at the hotel, rental or agriturismo to relax, while you hit the road to explore the Cinque Terre, Assisi, and farther afield.
Flights to Italy

Round trip flights make the most sense to many families and can be the most cost effective, but it may not always save you time. Think about flying into one airport and out of another if you are going to be exploring the northern and the southern parts of the country. For example, fly into Venice and out of Rome so you don't have to spend time driving between the two just to make your flight.
It may cost you $100 more, but think about the extra gas, tolls and rental car day you won't need a book. You could end up saving money in the long run. Your sanity and time is also worth money, which many people often forget.
Accommodations in Italy

When you are traveling to Italy with kids, you can book a hotel room, or you could rent a small apartment to grab a little more space. Whenever we are in Europe, we look at rentals first. A rental generally gives us more space for our money, and a little privacy. Plus, my kids snore and it drives me nuts. If I have to spend a few dollars more for a good night sleep, I'll do it.
If you have a larger family or extended family traveling with you, make sure you ask these questions first:
Do you want to share rooms?
Do you need communal space?
Do you need a kitchen?
Can the kids all squeeze in with parents or do you want some space?
Do grandparents want separate space from kids and grandkids?
Do you want to rent a large house or apartment to share?
Do you want to all book rooms in the same hotel or rent apartments close to each other?
There are a lot of options, and many can be sorted by cost alone.
We look at Booking.com, Tripadvisor.com and KidandCoe.com whenever we start our accommodation search. It will give you a good idea of your options and what sort of configuration you may want. One thing to note, and that I had to remind my father about– if it says there is only one room left, but the property only has one room, do not panic. It's a booking tactic. Yes, that one room could book out, but it may not. They only have one room, so they will always only have one room left!
Rental Cars in Italy

You could take the train from city to city in Italy, but I prefer to rent a car to get around. It gives you a little more flexibility, especially if you want to go to Tuscany. If you are flying into Venice and out of Rome, you simply pick up a car when you are leaving Venice and return the car when you get to Rome. You do not need a car when you are in major cities. It's a huge headache and you can walk everywhere.
As for the size of your car, smaller is always better in Europe. Trust me. I've taken off a side view mirror in Sicily. It was not fun. Driving in Ireland, Scotland and Spain also taught me a thing or two about driving in Europe.
My father and I momentarily thought about getting one four passenger and then a larger van, but nixed that idea pretty quickly. After a quick search on RentalCars.com, we found that it was cheaper to get three Intermediate cars for our group.
Check Best car rental rates in Italy HERE.
Since we also had two people flying into Florence to meet up with us later in our trip, it just made sense to have three cars too. Everyone would have the flexibility they wanted to explore without feeling dependent on anyone else or what they wanted to do.
Trip to Italy Cost

What can you expect your trip to Italy costs to be? Well, it really is dependent on you, what airline you fly and what time of year you are flying. However, for a family of four, we are looking at about $6000 for a two-week trip, which includes decent hotels in Venice and Rome, a beautiful suite in an agriturismo in Tuscany, a 7-day rental car, and all the gelato I can eat, which is a lot. Our airfare is also a bit more because my husband has to fly home early, and not on optimal days to fly, but it being summer and all, I'd say that isn't too bad.
Travel Insurance for Your Italy Trip

Yes, you do want and need travel insurance. If you plan on traveling more than twice this year, domestic or international, you will want a multi-trip policy too. No, that travel insurance add-on with your flight won't work. It just doesn't cover EVERYTHING that can happen on your trip. Oh sure, it will cover your flight, but what about your hotels, rental car, accidents on the road, lost luggage, kids falling out of trees, etc.
My family of four is renewing our Allianz Travel Insurance policy for the fourth year in a row. I'm making my extended family buy an Allianz policy before our trip as well.
Sample of Allianz covers (depending on your plan):
Emergency Medical Transportation
Travel Accident Coverage
Collision Damage Waiver*
Emergency Medical
Trip Cancellation and Interruption
Baggage Loss/Damage
Travel Delay and Baggage Delay
Rental Car Damage Protector (available to residents of most states
Need another reason: My grandmother had an accident in Rome that no one in my family will ever forget. She was in the hospital for a month before she could be medevacked home. If she hadn't had travel insurance, we would still be paying that medical flight bill. Instead, her insurance covered it all. Thank goodness!
And let me tell you, even if you travel domestically, if you break your leg, yes, your health insurance will cover that leg, but they sure won't cover that first-class ticket home you will need. You can't fly economy with your leg in a cast.

Italian Food Options
The best part of Italy with kids is the food. What kid doesn't like pasta, pizza and gelato (better than ice cream, I swear). Actually, there is one kids—my oldest son didn't like pizza or anything with tomato sauce for years.
Read our guide on where to eat in Italy
if you need more convincing.
Not a problem. Italian food isn't just red-sauce pasta and pizza. They make a wild boar pasta (recipe here) that makes me cry, roasted rosemary chicken, fried zucchini and pumpkin flowers, salads, cheeses, cured meats, grilled fish, bread soup, risotto, ossobuco, steaks, things with truffles I only once dreamed about, and more desserts than I can even list so you might as well just book that plane ticket and come over to eat with me.
Need an Italy Travel Expert to Plan it for You?

Bit overwhelmed by the idea of planning a trip for your entire family? I understand. I was too. Drop us your questions and we will try to help you as much as we can or connect you to a travel agent friend who will be happy to help you out.
This post is part of a partnership with Allianz Travel. As always, my opinions are my own. When they aren't you will be the first to know. This post contains affiliate links. If you make a purchase after clicking one of those links I will receive a small commission.