Pack your bags ladies. We're heading up to the Canadian Rockies on the luxurious Rocky Mountaineer train. You are going to see a part of the world that very few, except those working the train lines, get to see.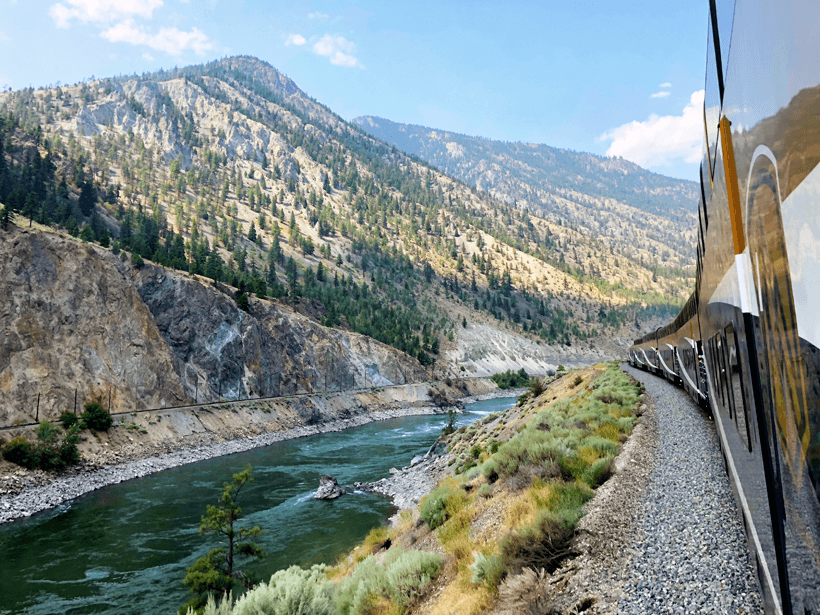 True, you will see a few highways and towns along the way. You will also view pristine meadows, unspoiled lakes and mountain passes that even hikers can't figure out how to get to.
Oh, and we are going to drink, shop, eat and hit the alpine spas like they were built just for us. Let's be honest, the first person to think up the idea of a spa was probably a woman anyway and a man stole it. After all, we need to relax more than anyone else in this world since we hold the weight of it on our shoulders.
But let's stop yapping and start planning. There is a lot to see and do in every town and city you will pass through. What will you prioritize? That's a good question, and one only you can answer. We can however, help you figure it out with a little formula we like to call "Eat, Play, Stay."
Vancouver BC

Most Rocky Mountaineer trains depart from Vancouver, British Columbia. If you grew up on the West Coast, you are already familiar with this city in the western-most province of Canada. For those of you who grew up on the East Coast like me, let's just say Vancouver is giving Toronto a serious run for its money.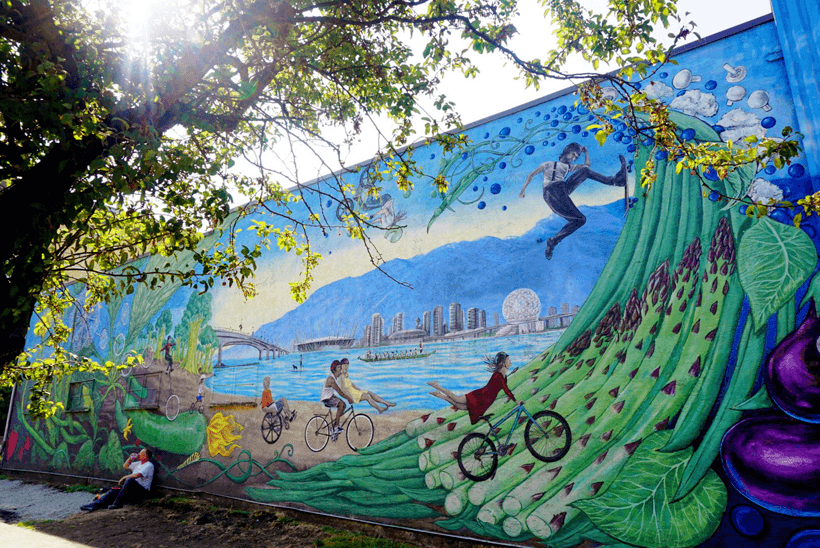 Vancouver is holding its own with a thriving mural scene, an explosion of world-class food, including some of the best Japanese cuisine this side of Tokyo. There is more shopping in the area than you could even conquer over a long weekend. All of this is besides the number of museums and attractions you could experience.
Most guests arrive a day or two before their Rocky Mountaineer train departure, so I'll keep it short and sweet for you.
Vancouver Restaurants

Major cities are never lacking in food, and Vancouver is no exception. The hardest part of your trip will be narrowing down your choices. If you only have one day, the list below is where you should eat for breakfast, lunch and dinner. Just make sure you save room for a scoop of milk chocolate and salted caramel gelato from award-winning Bella Gelateria (you can thank me later for that tip).
The Wallflower, 2420 Main St, Vancouver, BC V5T 3H9, Canada.
Meat + Bread, 370 Cambie St, Vancouver, BC V6B 1H7, Canada.
Nightingale, 1017 W Hastings St, Vancouver, BC V6E 0C4, Canada.
Vancouver Hotels

Vancouver has no shortage of hotels either, and the Fairmont is one of our favorite brands to splurge on while visiting the city. There are three to choose from, whether you want the traditional Fairmont Hotel Vancouver, the modern Fairmont Pacific Rim with its Asian flair or views of the harbor at the Fairmont Waterfront.
The Four Seasons Hotel Vancouver is another luscious spot to rest your head before an early morning train departure. It is located in the CF Pacific Centre, giving you access to great shopping, even when it's cold and raining outside.
Fairmont Hotel Vancouver, 900 W Georgia St, Vancouver, BC V6C 2W6, Canada
Fairmont Pacific Rim, 1038 Canada Pl, Vancouver, BC V6C 0B9, Canada
Fairmont Waterfront, Vancouver, 900 Canada Pl, Vancouver, BC V6C 3L5, Canada
Four Seasons Hotel Vancouver, 791 W Georgia St, Vancouver, BC V6C 2T4, Canada
Best of all, each of these hotels can be booked through Rocky Mountaineer, and are part of their GoldLeaf packages.
Vancouver Shops

Robson Street is the most well-known strip to do your shopping, with CF Pacific Center close by. If you want to hit the local boutiques, head into the neighborhoods. South Granville has a few of the major chain shops we love like Free People and Anthropologie.
Local boutiques start to really shine in Mount Pleasant along Main Street. Much & Little and 8th & Main make this neighborhood worth the taxi ride from downtown Vancouver.
Things to do in Vancouver

In a big city like Vancouver, there are countless museums, but it's the natural escapes you'll want to check out. Inside the city you can bike, walk and run through Stanley Park, or rent a kayak to paddle through Vancouver Harbour. The Mount Pleasant neighborhood is known for its murals and local shops, making this worth a morning or afternoon visit.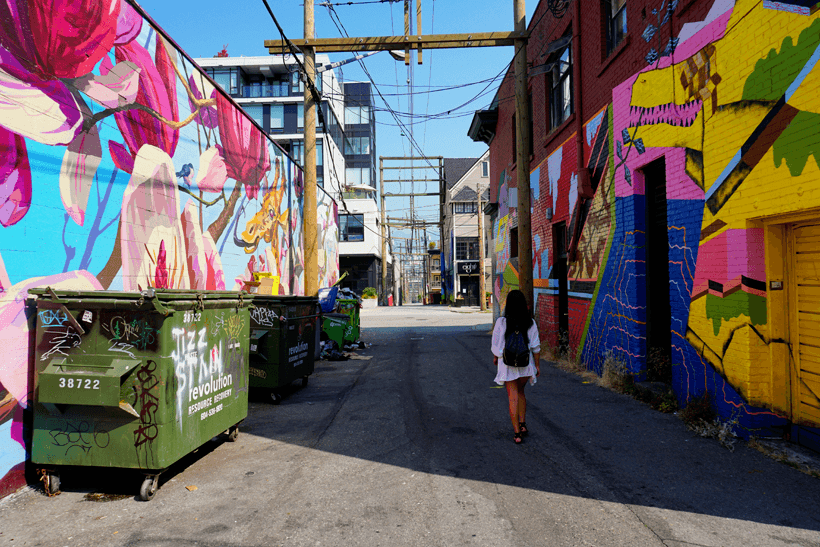 If you want to get out of the city, take the gondola to the top of Grouse Mountain for sunset views of the city while you sip on a hot toddy.
Still need more? Check out our favorites:
Walk across the Capilano Suspension Bridge
Day Trip to Whistler
Eat your way through a Granville Island Food tour
Relax at the VanDusen Botanical Gardens
Say hello to the jellyfish at the Vancouver Aquarium
Take a day trip to Victoria, BC via ferry
Stare at the architectural marvel that is the Vancouver Public Library
Enjoy the latest exhibit at the Vancouver Art Gallery
Kamloops BC

Kamloops is the first stop on your Rocky Mountaineer train journey. Most of the shops will be closed when you arrive. Be prepared to tuck into a nice dinner, enjoy a few drinks, walk around the town to see the sunset and call it an early night.
Kamloops Restaurants

While the shops are closed, many of the restaurants do stay open for the train traffic that comes through town. Kamloops is also home to the World Junior Hockey Championship, so they know how to cater to a crowd.
The Noble Pig is your best bet for a group, especially if you love fried pickles and Pulled Pork Mac & Cheese. Mittz Kitchen is better for the salad and seafood crowd that enjoys a more low-key atmosphere.
The Noble Pig, 650 Victoria St, Kamloops, BC V2C 2B4, Canada
Mittz Kitchen, 227 Victoria St, Kamloops, BC V2C 2A1, Canada
Red Collar, 355 Lansdowne St, Kamloops, BC V2C 1X9, Canada
Frick n Fracks, 577 Victoria St, Kamloops, BC V2C 2B3, Canada
Kamloops Hotels

You really can't go wrong with the hotels in downtown Kamloops. All are within walking distance of the riverfront and restaurants. This is essential if you came in on the train.
DoubleTree by Hilton Hotel Kamloops, 339 St Paul St, Kamloops, BC V2C 2J5, Canada. Cookie welcome with very comfortable beds.
HOTEL 540 Kamloops, 540 Victoria St, Kamloops, BC V2C 2B2, Canada. Great bar area in the front of the hotel and easy walking distance to The Noble Pig.
Things to do in Kamloops

Kamloops is a sleepy town, but that doesn't mean there isn't anything to do. Once you hop off the train, take a walk along the river. You will need to stretch your legs after sitting most of the day, even if you drove in.
Live music is often playing in the park. In the summer month, giant games, like Jenga and Connect Four, are set up throughout town, creating the perfect photo op for a little fun with your friends. Grab dinner, a few drinks and you will be all set for the night.
Jasper

Jasper is a little town inside of Jasper National Park, which means it's quite unique for several reasons. It means that developers can't come in to build more hotels or other structures whenever they want. If building has to happen, it requires a lot of paperwork, red tape and more rejections than approvals. The Canadian government wants to keep Jasper clean and pristine, and really, who can complain about that?
It also means that the town remains small, hotel rooms are limited, and you need to book early if you want a spot in your preferred accommodation. This is all part of the Jasper charm though. Embrace it. You will appreciate the small, natural feel that everyone flocks to year-round, especially in the summer months.
Jasper Restaurants

Jasper has a number of notable restaurants, but the relaxed mountain vibe is what you want to look for when choosing a spot.
The Fairmont Jasper Park Lodge is perfect for fine dining at dinner in the Moose's Nook Chophouse or a relaxing lunch on Thompson's Terrace, but if you want to head into town, these are our favorite spots.
Tekarra Restaurant, Hwy 93A South ,1km South of Townsite, Box 2016 Hazel Ave, Jasper, AB T0E 1E0, Canada
Famoso Neapolitan Pizzeria, 607 Patricia St, Jasper, AB T0E 1E0, Canada
Jasper Brewing Company, 624 Connaught Dr, Jasper, AB T0E 1E0, Canada
Bear's Paw Bakery, 4 Pyramid Road, Jasper, AB T0E 1E0, Canada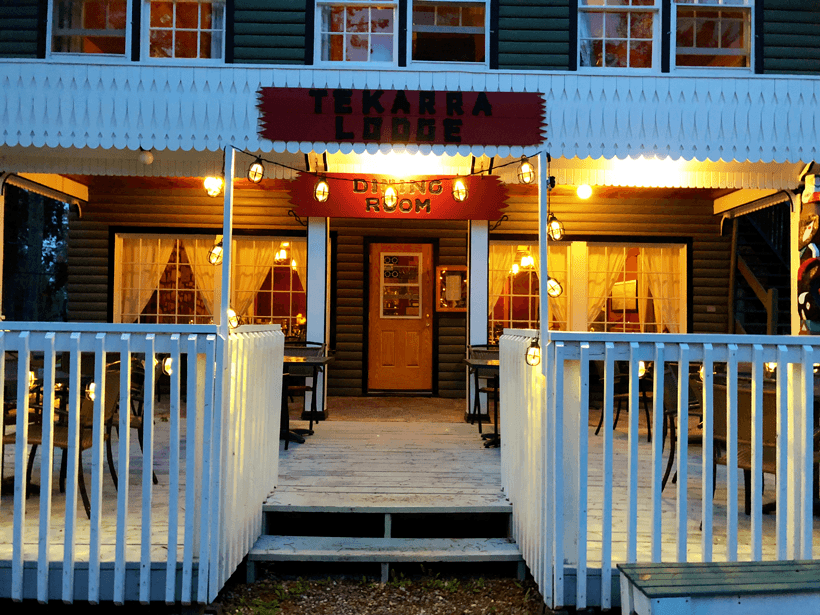 Keep in mind that only Tekarra Restaurant takes reservations. The rest are first come, first serve and you may have to wait for a table. Always ask if there is open seating at the bar for smaller groups. It is your best bet for getting seated quickly.
Jasper Hotels

If you've ever stayed at the Fairmont Jasper Park Lodge, you have officially been spoiled for all other lodging in the area. It is by far my favorite hotel in the park, and quite possibly the province. However, the price point isn't for everyone, and sometimes it is nice to be in town.
Keep in mind that lodging is at a premium since development is next to impossible in Jasper. Even residents have a hard time finding a place to live when they come to work here. If you plan on visiting, you need to book your hotel or campsite almost a year out to get your desired spot.
Fairmont Jasper Park Lodge, 1 Old Lodge Rd, Jasper, AB T0E 1E0, Canada
Chateau Jasper Hotel, 96 Geikie St, Jasper, AB T0E 1E0, Canada
Tekarra Lodge, Highway 93A South, Jasper, Alberta T0E 1E0, Canada
Jasper Shops

Despite Jasper being a small town, it still has a surprisingly good shopping scene. It isn't all mountain and snowboard gear either. Ransom is our first stop when looking for cute boots, hats and tops that embody the local vibe. Best of all, prices are reasonable, especially with the Canadian exchange rate being so good against the U.S. dollar.
The Tea Leaf Boutique is a bit more high-end, but the sales rack is fantastic. Bombshell is sister to Ransom and just down the street, with a much more curated collection.
Ransom, 609 Patricia St, Jasper, AB T0E 1E0, Canada
Tea Leaf Boutique, 626 Connaught Dr, Jasper, AB T0E 1E0, Canada
Bombshell, 611 Patricia St, Jasper, AB T0E 1E0, Canada
Things to do in Jasper


Have I mentioned that Jasper is a Canadian national park yet? Good. Now get ready for some outdoor adventures. You can drive it, hike it, bike it, walk it, or paddle it, but do not miss out on breathing in some of the freshest air in North America.
Ride up the Jasper Skytram for views of Jasper and the surrounding mountains
Hike and do some eagle spotting at Medicine Lake
Jump on the Maligne Lake- Spirit Island Cruise
Go Horseback riding at the Fairmont Jasper Park Lodge
Take a Helicopter Tour with Rockies Heli Canada over glaciers and waterfalls
Ski Marmot in the fall through spring (snow falls early, so check the mountain guide to see if you can ski in fall and late spring).
Banff

Banff is a gorgeous four-hour drive from Jasper, although you will want to plan a full day to cross the Icefield Parkway between the two towns. You will be stopping for pictures along the way. There is no need to rush that kind of beauty.
The town is about three times the size of Jasper, and with it comes more restaurants, shops, and crowds. But have no fear, it also means more spas, distilleries, hotel options and room availability throughout the year.
Banff Restaurants

Banff has two main streets, plus side streets teaming with restaurants. If you have a particular spot in mind, call ahead to make a reservation, especially if you are a party larger than two. Breakfast should always start at TooLouLou's, despite the massive line. It does move quickly, so don't be daunted. Grab a coffee at Evelyn's to stay warm throughout your wait. Park Distillery is a must for drinks. Saltlik usually has enough open tables for walk-ins if you forget to make a reservation elsewhere.
Evelyn's Coffee World, 215 Banff Ave, Banff, AB, Canada
TooLouLous, 204 Caribou St, Banff, AB T1L 1A6, Canada
Park Distillery Restaurant and Bar, 219 Banff Ave, Banff, AB T1L 1A7, Canada
Saltlik Banff, 221 Bear St, Banff, AB T1L 1B3, Canada
Banff Hotels

Banff Avenue is filled with hotels, which makes it one of the best spots to stay if you want to be in walking distance to all of the amenities of town. If you want a bit of luxury, stay up the hill at the Fairmont, or dive further into the mountains. Personally, we love the spa at the Fairmont Banff Springs, so we will always shack up there, but the Elk + Avenue Hotel is central to all of our favorite shops and restaurants. Staying close to town means we don't need a car, which is pretty nice too.
Elk + Avenue Hotel, 333 Banff Ave, Banff, AB T1L 1B1, Canada
Fairmont Banff Springs, 405 Spray Ave, Banff, AB T1L 1J4, Canada
Banff Shops

While Jasper had three solid boutiques, Banff brings in the heavy hitters when it comes to shopping. They have the usual chains, like GAP, Helly Hansen Store, Cool As A Moose and the Body Shop. There are also tons of sports apparel shops, but the two I never skip are Quiksilver (it carries Roxy) and Unlimited Skate and Snow, because they always have epic sales going on throughout the year. The staff is friendly, has helped me pick out more than one jacket and swimsuit, and the shelves are stocked with great colors for crazy redheads like me.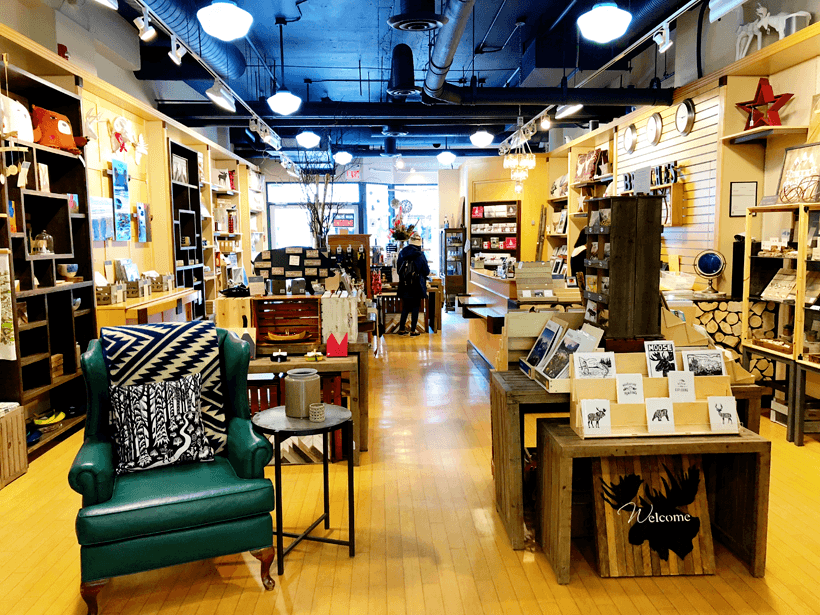 House of Angelica, a small boutique on Bear Street, has a small assortment of more club wear and even a bit of office wear, while Branches is serving up everything Canadian when it comes to artisan crafts, jewelry and even a few edibles.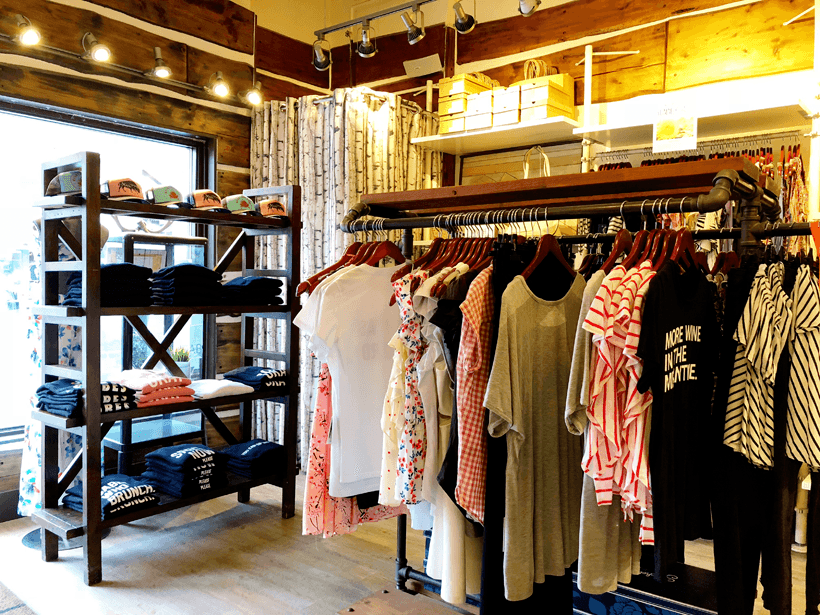 But the shop that makes us want to book a trip to Banff every season is Cabin 108. No matter what time of year it is, we always walk out of this store with an arm full of sale items and new arrivals. The prices are just right and their selection is always spot on for the season. These aren't disposable fashions either. These are must-haves for years to come.
QuickSilver, 114 Banff Ave, Banff, AB T1L 1A5, Canada
Unlimited Skate and Snow, 319 Banff Ave, Banff, AB T1L 1B3, Canada
House of Angelica, 204 Bear St, Banff, AB T1L 1C1, Canada
Branches Marketplace, 202 Wolf St, Banff, AB, Canada
Cabin 108, 108 Banff Ave, Banff, AB, Canada
Things to do in Banff


Banff is situated near so many national parks, it's hard to know where to start. First of all, Yoho National Park and Kootenay National Park are both easy day trips. If you are short on time however, you should start in town and work your way out from there.
Wander through the town of Banff, checking out the museums, murals and gardens
Take a ride on the Banff Gondola
Soak in Banff Upper Hot Springs
Hike Marble Canyon and Johnson Canyon
Explore Cave and Basin Historical Site
Kayak on Lake Louise and hike around the Fairmont Lake Louise
Drive up to the Peyto Lake lookout
Ending Your Rocky Mountaineer Adventure

Sadly, Banff is the end of the line on this Rocky Mountaineer train adventure. Don't worry. There will be more. Now it's time to repack those bags. You may have to sit on them to cram in all of those goodies you bought.
Take your prearranged shuttle back to Calgary airport. If you rented a car in Jasper, you can drive yourself back to the airport. It's only about an hour and a half drive. If you have a late flight, stop at Kananaskis Nordic Spa on your way. It's a bit of a detour, but the soothing geothermal pools and a massage are just what you deserve after your adventure.
This post is part of a paid partnership with Rocky Mountaineer. As always, my opinions are my own. When they aren't you will be the first to know.