New England is one of those funny pockets of the country that will always have sentimental value to me (I grew up going to my great uncle's place in New Hampshire every summer) and it has its own vibe. Some of the best rock radio can be found in the Northeast, as well as a few fabulous breweries, and a whole lot of of little lakes. The one thing I never really associated with New England is resort life. I think of Hawaii, Mexico or the Caribbean when words like "all-inclusive" and "kids' club" get thrown around, but resorts have long been a standing tradition in New England. You just won't find them on tropical beaches. More often than not they are settled on lakes or in the woods so families can take full of the natural beauty and nature around them.
My boys and I drove up to the Basin Harbor Club Vermont on Lake Champlain this summer on our way to New Hampshire. I'd heard good things about it, but I wasn't entirely sure what to expect. I pored over the website, but I was still a bit confused. There were loads of activities, and meals were included, and yet this wasn't exactly an all-inclusive resort.
Families have been coming to the Basin Harbor Club since it opened in the 1940s. Almost all of the buildings are the original structures that were built back then. Renovations have been made to keep up with the times, and one cabin was remodeled due to extensive damage, but overall, this place still holds that same 1940s lake resort charm that families continue to come back to year after year.
Before the financial crash in 2008, the resort saw an 80 percent return rate in families. Due to finances and a change in the way families travel, they now see about a 50 percent return rate. Families want the same cabin every year. They look forward to it and for good reason. This is a safe place to visit. Kids can ride their bikes all over the grounds. Gangs of teenagers hang out on the dock and trampoline soaking up the summer sun. Friendships are formed throughout the years, and at least one romance has blossomed into marriage after two kids met years ago, grew up seeing each other every summer and finally got engaged to be married this year.
Kids' Camp
Parents don't really have to worry about their kids. There are tons of staff members on property, and they are always on hand to help if someone gets lost. The staff knows a lot of the kids by name, as they have seen these kids grow up throughout the years. Kids are free to roam around, meet up with their friends and just be kids without mom and dad hovering over them all day long. This can be a little intimidating for new families who are on their first trip to the resort. It's pretty obvious that most people know at least one other family there. The kids morning camp is the perfect solution.
It's true, I'm not a big fan of shipping my kids off to play video games in kids' clubs, but Basin Harbor Club has one of the best camps I've come across. It's just like sleep away camp in that the kids have different morning activities, swim time and field trips, except the kids stay with you at night, and kids only go to camp in the morning. The rest of the day is spent with family and friends around the resort or exploring the nearby towns.
My husband's jaw dropped (or at least I assume it did since he was on the phone) when I told him they also had kids dinner camp, where the kids all eat together so mom and dad can have a romantic meal on their own. Call us dreamers, but that is a little slice of heaven for us since date nights are so hard to schedule, and having a fancy meal is next to impossible with the kids.
Kids' Camp is for ages 3 through 12. Teens get their own lodge to hang out in and can schedule activities around the resort (water tubing anyone?). Teens get a bit more freedom, and really they should. And those friends you were craving when you first arrived? After one morning at camp your kids will know all of the other kids in their age group. You will see those same kids at lunch, dinner, the campfire at night and breakfast the next morning. The resort may feel big, but it really isn't. Your kids will always find their friends.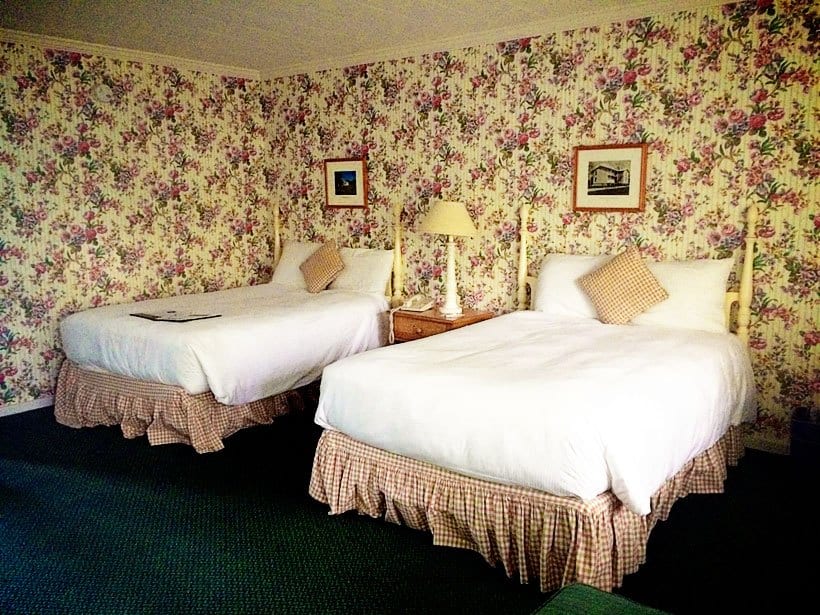 Rooms and cottages
Most of the accommodations are individual cabins, but there are still lodge rooms in a few buildings throughout the property. Most families prefer the cabins as it gives them more space to spread out and parents can get a little privacy. I loved the balcony off the back of our room (not a cabin, more of a hotel room), which allowed me to work and chat with my husband on the phone at night while the boys slept. The décor was kitschy, but definitely reflected that lake resort life that New England is known for and families crave.

Dining
Basin Harbor doesn't have your typical resort or all-inclusive dining options. There are only a few places you can eat and the food is not mediocre at any of them. The managers of each restaurant circulate the room all evening, lending a hand where it is needed, and checking in on diners, many by name, to see if they are having a great time. The manager of the main Dining Room adopted my boys and even took them outside to play one evening so I could finish up my meal. That rarely happens to a mom traveling solo with her kids, and is a welcome treat. My last sip of wine was all the more sweet since it was sipped in silence.
Breakfast is a full buffet in the main dining room with Green Mountain Coffee, an egg station, and more pastries, fruit, bread products, bacon, sausage, cereal, pancakes/French toast, and yogurt then you could imagine. It's not super fancy food, but there is something for everyone to fill up on before you start your day.
Lunch is either buffet style in the Ranger Room (highly recommended. Great selection of soups, at least 8 different salads, hot dogs, burgers, sandwich fixings and desserts), the Red Mill where you can order off the menu or order a box lunch from the concierge the night before if you plan on doing some exploring outside of the resort.
Dinner is where the fun really starts. The Dining Room offers fancier cuisine, but also requires fancier dress. Gentlemen are still required to wear a jacket and jeans are not allowed. I was never so happy to have packed my heels when I walked into the room. Families do not mess around when it comes to looking good for dinner here. There have been a few complaints about the dress code, but personally I like it. I don't have many opportunities to dress up for dinner these days. It was a nice change of pace for the boys and I to look good, even if their table manners didn't always reflect that.
The staff was beyond patient with my boys. They thought my youngest Ty was adorable. I'm just happy he actually loved his pizza. My oldest Dek was even happier that he was allowed to get the adult filet mignon since they didn't have a steak on the kids' menu.
Your other Dining option- the Red Mill– did have a steak on the kids menu, which Dek happily devoured our last night at the resort. I took a little sampling of a few things on the menu, and I have to say, their sweet potato fries are some of the best I've ever had. Trust me, with two boys who love fries, I have tasted a lot of sweet potato fries in my life. The Maple S'mores dessert wasn't a bad way to end the night either. Best of all there is a playground behind the restaurant. Ask for seats with a view of the playground and you can let the kids go crazy while you wait for your food to arrive. They can hang out with all of the friends they made in camp and you can chat with the other parents and maybe make a few friends of your own.
Meal Plans
Like most all-inclusive resorts, your meals are included in the price of your room. However, due to economics, the resort has started to offer different meal plans you can buy. One includes all meals, while another only includes breakfast and dinner. Most families still go for the three meals a day, as there are no kitchens in any of the rooms or cabins, only a mini fridge.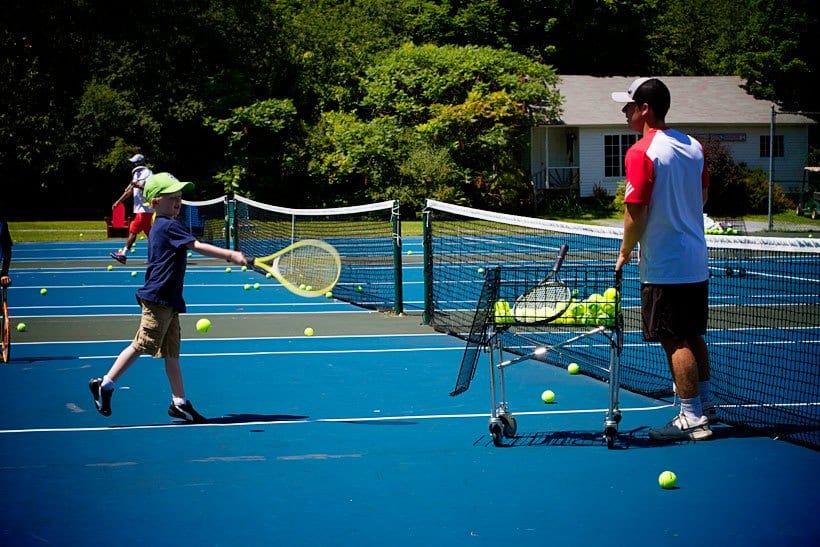 Activities
The resort has a full schedule of activities that you can jump into at anytime throughout the week. Every day is a little different, although a few, especially when it comes to tennis clinic, run all week long. Golf and tennis lessons from kids up through adults are always a popular choice, but you can also do a mini triathlon, enjoy a glass blowing workshop, sit for a family portrait with a local photographer, take a fitness class, practice yoga, or even go on an organized hike.Night time heats up at the campfires with s'mores, movies, trivia contests, bingo and a little dancing as a DJ spins. Some activities do require an added fee, but there are plenty of free activities that you can enjoy.
Since you are on the water, you can't miss getting wet during your visit. Take a dip in the pool or just practice your back flip off the diving board. Bounce on one of the two trampolines on the lake (one is reserved for kids under age 10), borrow a kayak or stand up paddle board, swim, go fishing, or go tubing behind a motor boat.
Although there are a few different boat tours, we took the Escape Cruise, which brought us around Lake Champlain, showed us where the bald eagles are nesting (we saw babies!) and gave us the history of the lake and towns that have grown up around it. The cruise can be a little long for smaller children, but it is still loads of fun if you like being on the water.
Basin Harbor Resort in Vermont isn't your run of the mill all-inclusive resort. I like to think of it more as a summer camp for the whole family. The mix of kid time and family time is a nice balance so that everyone can get the rest they need and pursue the activities they love. It isn't easy to find this combination at other resorts. The price may feel steep, but when you add up meals, childcare and activities that are included it is a great deal. Plus, you really can't put a price on all of those family memories and friends you meet during your stay.
Know Before You Go
Basin Harbor Club, 4800 Basin Harbor Rd, Vergennes, VT 05491
Stroller friendly? Yes.
Bikes? Yes, bikes are encouraged and welcomed at the resort.
Restaurants? Yes, there are three on the grounds plus a snack shop. Snacks are not included in the meal plans, but are very reasonably priced.
Many thanks to Basin Harbor Club for hosting my boys and I for the purposes of this review. As always, my opinions are my own. When they aren't you will be the first to know.